5 Reasons Dwight Howard and Los Angeles Lakers Would Be the Perfect Marriage
Harry How/Getty Images
Despite general manager Rob Hennigan's most recent pleas, Dwight Howard reportedly still wants a ticket on the first train out of Orlando.
As much as this painful story has evolved since the outset of last season, little has actually changed. At the very least, however, we now have somewhat greater clarity surrounding the question of where the big man will eventually touch down.
HOOPSWORLD's Eric Pincus reports that one scenario would team Howard with Kobe Bryant, Steve Nash and Pau Gasol in a starting unit for the ages:
HOOPSWORLD has learned that there have been preliminary discussions between the Orlando Magic, Los Angeles Lakers and Houston Rockets that would involve sending Andrew Bynum to the Rockets, Howard to the Lakers and a number of first-round picks, prospects and significant cap relief to the Magic.
The Lakers are indeed Howard's most probable destination in the event he's moved any time soon. There's no chance he'll find his way to the Nets any time before January, given that Brooklyn can't trade recently re-signed center Brook Lopez until January.
Lopez would be the centerpiece of any deal between the two sides, so talks with the Nets will remain on hold for the time being.
Of course, according to Pincus, the Magic would prefer not to tie their future to the kind of robust contracts guys like Lopez and Bynum command. That means a deal with the Lakers requires a third team to enter the fray so that Orlando can get its hands on its preferred haul of young talent and draft picks.
The Houston Rockets fit the profile perfectly.
They could take on Andrew Bynum while sending the Magic draft picks and some combination of prospects like Jeremy Lamb, Terrence Jones, Royce White, Chandler Parsons and Patrick Patterson.
And we all know what becomes of Howard. Here are five reasons his relocation to the Los Angeles Lakers makes a world of sense.
Dwight Howard Isn't a First Option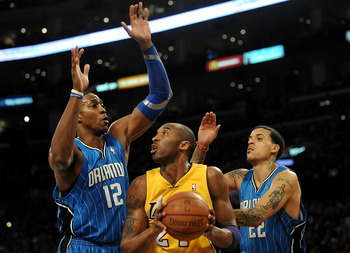 Harry How/Getty Images
Let's make one thing completely clear about Dwight Howard.
He's no Shaquille O'Neal.
It's not just that he's built differently and relies on athleticism more than sheer brute force. It's also that he simply isn't the same kind of scorer. Whereas O'Neal could carry a team and serve as the driving force for an offensive game plan, Howard is a different breed.
He's a more complementary piece, a guy who would be at his best if only expected to score 15 or 16 points a night instead of 20 or 25.
With Kobe Bryant, Steve Nash, Pau Gasol and Antawn Jamison carrying the scoring load, D12 would have the luxury to be himself with the Lakers.
Yes, he can occasionally take games over. And yes, he's virtually unstoppable when close enough to the basket.
But, Howard doesn't have the repertoire in the post to qualify as a legitimate go-to scorer. When asked to force the action, he's prone to turnovers and poor decisions. Too steady a dose of Howard will just land him on the free-throw line, and that's not an especially ideal scenario either.
Though Howard himself may be made of steel, his mid-range game is made of bricks.
The opportunity to wait for the offense to come to him could make Howard even more efficient than he already is, and that's saying something for a guy who consistently makes over 57 percent of his field-goal attempts.
Howard's Defense Would Transform the Lakers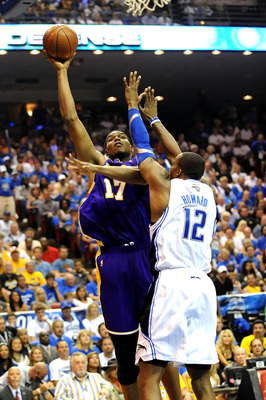 Ronald Martinez/Getty Images
Howard's most important contributions will come on the defensive end, shutting down lanes to the basket and altering shots. He's one of the few guys on the planet who could actually out-rebound Andrew Bynum, and his superior mobility would extend Los Angeles' defense to wherever it needs to go.
While he may be better off deferring to the Lakers' primary scorers on offense, he would instantly become the focal point on the other end of the floor.
When Steve Nash and Kobe Bryant struggle to keep opposing scorers in front of them, they'll simply need to force that scorer toward Dwight.
He'll do the rest.
It would be far too limiting to describe this guy as a "defensive specialist," but there's no doubt his defense is special. There's a reason he's been named the NBA's Defensive Player of the Year three times already.
That reason would become all the more apparent in Los Angeles.
Despite head coach Mike Brown's defensive pedigree, this club was incredibly average last season, ranking 15th in the league in points allowed. Andrew Bynum's inconsistent effort and relatively limited mobility had something to do with that.
Howard would have something to do with fixing it.
Dwight Would Make Lob City Even "Lobbier"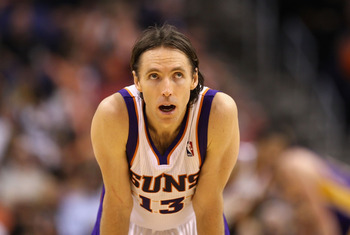 Christian Petersen/Getty Images
Though the Lakers have retained an edge over Los Angeles' other team when it comes to talent, that doesn't mean they're still the most entertaining ticket in town.
With Chris Paul throwing lobs to Blake Griffin and DeAndre Jordan, the Clippers quickly became the city's more highlight-friendly club. As good as Kobe Bryant is, watching him stand around and take jump shots is thrilling for only the most studied roundball enthusiasts.
The average fan would much rather see a flurry of improbable alley-oops.
With Dwight Howard in purple and gold, Angelinos will have some tough decisions to make. For all of Andrew Bynum's talent and production, his vertical doesn't compare to D12's. And, with Steve Nash taking over the point, the opportunities for Howard to do his damage from low-earth orbit won't be lacking.
It's All in the Name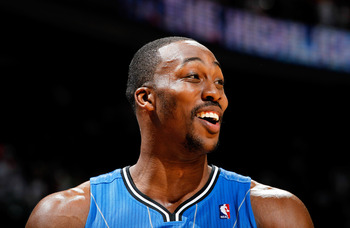 Kevin C. Cox/Getty Images
If you want to win an NBA championship, big names are every bit as important as big talent.
Perhaps that's because the league's most prominent stars somehow manage to get all the whistles. Perhaps those icons simply intimidate their opponents into star-struck submission. Maybe a team simply plays better when it knows someone larger than life is on its side.
It's not that today's NBA prioritizes style over substance. It's that style is substance.
There's a real connection between image and outcome.
A case could certainly be made that Andrew Bynum and Dwight Howard are interchangeable. One could even maintain that Bynum has more long-term potential.
But, there's absolutely no way you can pretend Bynum is or ever will be a comparable star. Howard has the personality and marketability that belong in Los Angeles.
And, if the big story comes to L.A., don't be surprised if another championship isn't far behind.
Howard Fits the Culture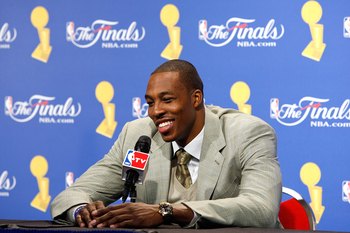 Chris Graythen/Getty Images
For all the reasons Dwight Howard fits the Lakers on the court, he's also a good fit for Los Angeles.
Just ask Tracy McGrady (via Fox Sports Florida's Chris Tomasson):
That's why we play the game, to win a championship. Shaq obviously felt that, with his personality, he didn't fit down there. So he wanted to go to Hollywood, which worked out for him. Dwight is kind of on that same cusp with the same personality. He wants to be Hollywood. He's just that type of dude.
Of course, TMac's sentiments are mere hearsay. But, they sure do seem consistent with what we've learned about Howard.
He likes the attention and have never been a stranger to sharing comments with an ever-interested media. He's even got a knack for awkwardly crashing interviews when he's the subject of conversation.
His priorities aren't entirely skewed, though.
Howard also wants to be part of a winning culture, and you'd be hard-pressed to describe the Orlando Magic in those terms. The franchise has had its moments, including a trip to the NBA Finals in 2009.
Those moments just look to be a thing of the past, whereas the Lakers rarely take a break from contending.
Keep Reading

Los Angeles Lakers: Like this team?