New York Knicks: Predicting Their Statistical Production in 2012-13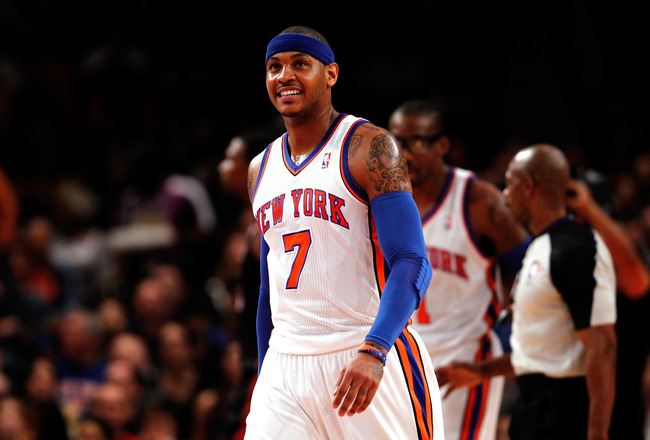 Jeff Zelevansky/Getty Images
Statistics play a big part in sport, and though they don't tell the whole story, they're still very important in basketball.
On offense, and to an extent on defense, basic statistics can give you a good idea of exactly how well a player has been playing over the course of a season.
Things weren't perfect for the Knicks last season, with a few players posting surprisingly low numbers in the lockout-shortened season.
I'm going to take you through my predictions for the statistical production of the Knicks' key rotation players in 2012-13.
Carmelo Anthony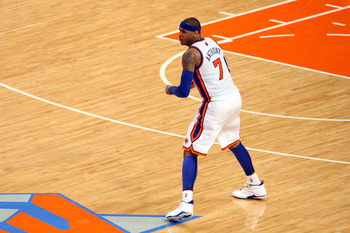 Chris Chambers/Getty Images
2011-12 Averages: 22.6 points, 3.6 assists, 6.3 rebounds, 43% FG, 34% 3PT
Predicted Averages: 23.1 points, 3 assists, 6.5 rebounds, 47% FG, 33% 3PT
Carmelo Anthony's 22.6 points per game last season were the lowest he's posted since 2005, and it really hurt the Knicks early in the campaign.
With Amar'e Stoudemire hopefully returning to form, Anthony probably won't return to his career average of 24.7 points per game, but he should still improve over last season.
Efficiency was the real problem for Melo last year, as he posted the lowest field-goal percentage of his career at 43 percent.
With a bolstered squad around him, and the return to health of Stoudemire, Anthony will be able to take fewer ill-advised shots, allowing his percentage to rise.
If the Knicks are to win a championship with Melo, his passing is what really needs to change, but rather than being a facilitator, he could help out by simply letting Raymond Felton and Jason Kidd run the offense on most possessions.
Ronnie Brewer
Jonathan Daniel/Getty Images
2011-12 Averages: 6.9 points, 2.1 assists, 3.5 rebounds, 1.1 steals, 43% FG, 28% 3PT
Predicted Averages: 6 points, 1.9 assists, 4 rebounds, 1.4 steals. 48% FG, 32% 3PT
Though on a new team, Ronnie Brewer will essentially be playing the same role he did last season for the Chicago Bulls in New York.
Until Iman Shumpert returns, Brewer will likely start for the Knicks, splitting time almost 50-50 with J.R. Smith off the bench.
What Brewer brings to the table is almost exclusively on the defensive end, and with many a talented offensive player around him, he won't be asked to do much scoring.
Brewer's agent, Henry Thomas, told ESPNNewYork.com that "his outside shooting has improved" which will really help both his field-goal percentage to rise.
The swingman has a career shooting percentage of 50 percent, and he'll likely be much nearer that than the 43 percent total he had last year.
Marcus Camby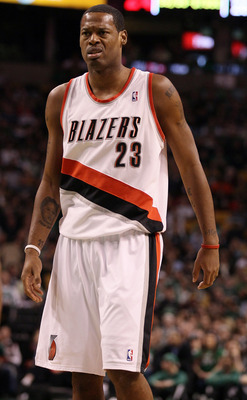 Elsa/Getty Images
2011-12 Averages: 4.9 points, 9.0 rebounds, 1.4 blocks, 0.8 steals, 45% FG,
Predicted Averages: 4 points, 8 rebounds, 1.2 blocks, 0.6 steals, 50% FG
With the ability to back up both the power forward and center positions, Marcus Camby should see a lot of court time upon his return to the Knicks, but not quite as much as he did last season with Houston and Portland as a starter.
Still one of the league's premier rebounders, Camby will continue to pull down a ton of boards on both ends of the floor and could end up with the league's best rebounding rate, much like he did last season.
Offensively, the Knicks won't be looking for too much from Camby, but point guards Raymond Felton and Jason Kidd should find him some easy looks every now and then.
Tyson Chandler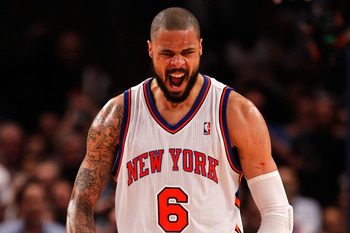 Jeff Zelevansky/Getty Images
2011-12 Averages: 11.3 points, 9.9 rebounds, 1.4 blocks, 0.9 steals, 68% FG
Predicted Averages: 12 points, 9.4 rebounds, 1.4 blocks, 0.7 steals, 65% FG
Tyson Chandler was ridiculously efficient on the offensive end last season, leading the NBA in field goal percentage at 66 percent.
Though it's unlikely he'll be quite as good again, he should still shoot around the same, as the Knicks only really need him to finish on second-chance plays or alley-oops.
His offense has improved year-after-year for his career, and the same should happen next season, especially if the rumors of him potentially working with Hakeem Olajuwon are true.
Spending time on the floor with the likes of Kurt Thomas and Marcus Camby will take the onus off of him to bring down every rebound, and as a result, his rebounding numbers should drop a little bit.
Chandler has never really been a dominant rebounder, but over nine per game is still a very nice total.
Raymond Felton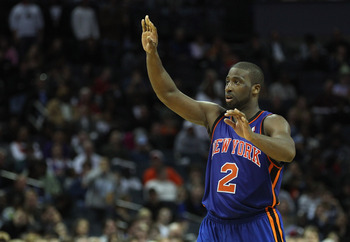 Streeter Lecka/Getty Images
2011-12 Averages: 11.4 points, 6.5 assists, 2.5 rebounds, 1.3 steals, 40% FG, 30% 3PT
Predicted Averages: 10 points, 7.8 assists, 3 rebounds, 1.5 steals, 44% FG, 33% 3PT
Raymond Felton is coming off the worst year of his career, but now that he's back in shape and motivated, we should expect a lot more of him now that he's back in New York.
That said, Felton's scoring won't stand out, as he's on a team that already has two volume scorers that it's his job to find.
Now that he's lost weight, Felton's jump shot should be a lot smoother, and his ability to get up and grab some rebounds should improve, too.
The assist numbers are what will really change dramatically from last season to next, because a pass-first point guard like himself should thrive with the sort of pieces he has around him.
Last time he was in New York, he finished with nine assists per game, and he should be close to that mark this time. The only thing that will hold him back is the isolation ball that Carmelo Anthony and Amar'e Stoudemire will play at times.
Jason Kidd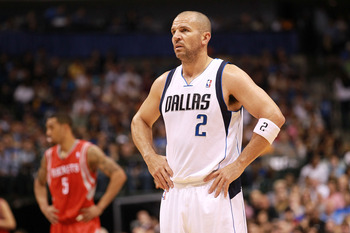 Ronald Martinez/Getty Images
2011-12 Averages: 6.2 points, 5.5 assists, 4.1 rebounds, 1.7 steals, 36% FG, 34% 3PT
Predicted Averages: 5.0 points, 5 assists, 4.0 rebounds, 1.5 steals, 40% FG, 35% 3PT
Jason Kidd is not the player he once was, but now that he's coming off the bench rather than starting, he should still be capable of helping out the Knicks.
Kidd should be at least as good as Baron Davis was with the Knicks last season, which would mean scoring around six points and dishing out four or five assists per game.
Of course, Kidd is more of a passer, so you can expect for his point totals to be a little down compared to Davis.
With great shooters around him such as J.R. Smith and Steve Novak, Kidd will have a field day finding the open man, and his assist numbers will be great for a backup.
Steve Novak
Chris Trotman/Getty Images
2011-12 Averages: 8.8 points, 1.9 rebounds, 48% FG, 47% 3PT
Predicted Averages: 9 points, 2 rebounds, 50% FG, 47% 3PT
Steve Novak was a fantastic three-point shooter last season and even led the NBA in shooting percentage from outside the arc by about two percent.
With Jason Kidd now playing with him on the bench, and J.R. Smith—with whom he had a great on-court relationship—re-signing with the Knicks, he should do more of the same. And with Landry Fields gone, he should see more minutes as the full-time backup small forward.
The Knicks will need him to do a little more from inside the three-point line now, but you shouldn't bank on him doing too much from there.
His rebounding leaves a lot to be desired for a player of his height, but with Marcus Camby and Kurt Thomas on the bench with him, it's not essential that he improves dramatically.
Iman Shumpert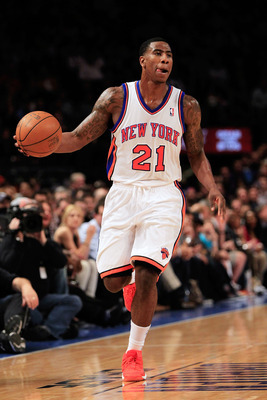 Chris Trotman/Getty Images
2011-12 Averages: 9.5 points, 2.8 assists, 3.2 rebounds, .7 steals, 40% FG, 30% 3PT
Predicted Averages: 9 points, 2 assists, 3 rebounds, 38% FG, 30% 3PT
Iman Shumpert could be out for quite a while next season, but once he returns, he should be inserted into the starting lineup ahead of Ronnie Brewer.
Even as a sophomore, Shumpert has a much more developed offensive game than Brewer and is equally good, if not superior, on the defensive end.
Shumpert could struggle offensively in the 40-odd games that he plays next season, which may hurt his percentages, but hopefully defensively we'll see more of the same.
With the Knicks missing Baron Davis early last season, Shumpert played a lot of point guard, but now that he'll be used solely as a shooting guard, his assist numbers should drop ever so slightly.
For the regular season, Shumpert's numbers probably won't be too impressive as he'll be nursed back into action following his injury, but come playoff time we should see some improvements.
J.R. Smith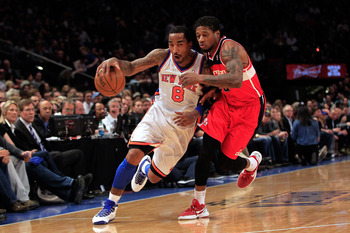 Chris Trotman/Getty Images
2011-12 Averages: 12.5 points, 2.4 assists, 3.9 rebounds, 1.5 steals, 40% FG, 34% 3PT
Predicted Averages: 12 points, 2 assists, 4 rebounds, 1.7 steals, 42% FG, 35% 3PT
With Iman Shumpert out injured for the first half of the season, J.R.Smith should have an increased role off the bench, especially now that Landry Fields has departed for Toronto.
Smith's role will be that as the scorer, and he'll definitely do a lot of that, but the question is more about his shot selection and efficiency.
Though a shooting guard, Smith was asked to bring the ball up quite a lot last season, but now that he's free of that role, he'll have more chance to be utilized as a spot-up shooter.
The additions of three new pass-first point guards will really help J.R. out, and I'd expect him to have a great season.
After taking a pay-cut this year, Smith will be looking for that big contract, and that should come out in his play.
He made some real strides under Mike Woodson last season defensively and was a lot more aggressive on that end of the floor than he ever has been.
That trend will continue into 2012-13 and should come out in his steal numbers increasing yet again.
Amar'e Stoudemire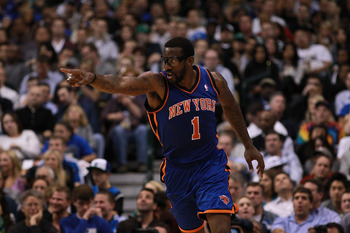 Ronald Martinez/Getty Images
2011-12 Averages: 17.5 points, 7.8 rebounds, 1.0 blocks, 48% FG
Predicted Averages: 19 points, 9 rebounds, 1.2 blocks, 52% FG
The biggest question mark for the Knicks next season from a statistical standpoint is Amar'e Stoudemire.
After a career-best year in 2010-11, Stoudemire went on to have a career-worst year in 2011-12, much to the surprise of many.
The lockout, injuries and the death of his brother were the main reasons for Stoudemire's troubles last season, but now that he's healthy again, he should be ready to produce.
With Carmelo Anthony also on the roster, his days of putting up 25 a night are over, but an efficient 19 will do just fine.
Working with Hakeem Olajuwon will really help STAT out in the post, and an enlarged array of offensive moves can only help his efficiency.
With his injuries past him for now, Stoudemire's lift should be a lot better, which will help him to crash the boards and get up to block shots.
Keep Reading

New York Knicks: Like this team?