2012 Kansas Football Season Preview: Quarterbacks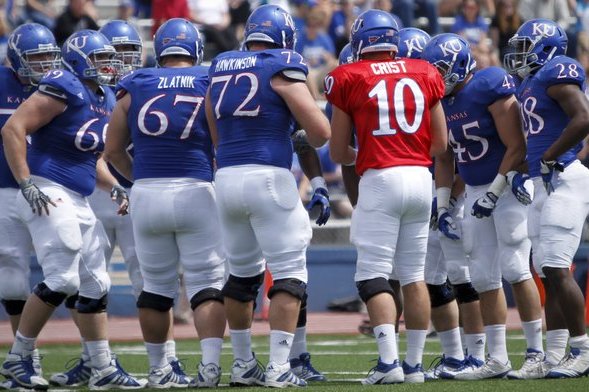 Photo by Nick Krug, LJworld.com
The arrival of Charlie Weis as the head coach at Kansas meant that some players transferred over to Kansas to have a better shot in the eyes of the NFL scouts under a name coach.
A couple of those transfers were quarterbacks looking to give themselves a better shot at the NFL while making the program at Kansas better.
For part two of the 2012 season preview for the Kansas Jayhawks, we take a look at the field generals. Here is the quarterbacks preview.
Begin Slideshow

»

From KUathletics.com
One of those transfers was former Notre Dame man Dayne Crist. Crist was the opening day starter for the Fighting Irish last season, but he lost the starting job after some poor play in the beginning of the season.
In 2010, he was the starting quarterback for the Irish for the first nine games before he was injured with a ruptured patella tendon. Almost one year earlier he tore his ACL, which ended his freshman season in 2009. He was a redshirt in 2008, when Charlie Weis was the coach.
Being a Weis recruit is the main reason he chose to come to Kansas, coupled with the lack of playing time he would have received in his senior year at Notre Dame.
The two injuries are cause for concern. Two major injuries in two years might send up a red flag that he is injury prone, but his experience with the big-name program should offset that.
In 2010 he passed for more than 2000 yards and 15 touchdowns—all in under nine weeks. He has a career quarterback rating of 117.3 in three limited seasons.
If Crist can stay healthy, he is going to be the starter. If he can avoid the meltdown he had in 2011, he is going to be a very good quarterback for the Jayhawks.
Prediction: 2,508 yards, 19 TDs, 7 interceptions, 120.5 QB rating.
I realize those would be career-high stats, but I'm operating under the assumption that he is healthy and plays the entire season.

From KUathletics.com
Jake Heaps will redshirt the 2012 season due to NCAA transfer rules, but he will most likely take over the starting role in 2013.
Heaps transferred from Brigham Young University, where he excelled his first year as a freshman and was still serviceable his sophomore year.
In 2010 he came in guns blazing for BYU, breaking every BYU quarterback record, including passing yards, touchdowns and wins. In the New Mexico Bowl, he threw for four touchdowns and was named the Offensive MVP of the game.
In 2011 as a sophomore, he played for the first five games but started to falter and was later benched for the remainder of the season. He opted not to play in the Bell Helicopter Armed Forces Bowl when he decided to transfer to Kansas.
While Kansas fans won't see his impact this season, this pickup is fantastic for Kansas. He was the No. 1 quarterback coming out of high school, according to both Scout and Rivals, and was the 2009 Gatorade Player of the Year in Washington.
There will be a great quarterback manning the offense in 2013 and 2014, which gives Jayhawks fans something to look forward to if the 2012 season doesn't pan out the way they hope.

From KUathletics.com
Blake Jablonski is a redshirt sophomore that will most likely be the backup to Dayne Crist.
Jablonski redshirted the 2010 season and was a very highly-touted prospect coming out of high school. He was a great basketball player as well as a talented baseball player.
He hasn't had any college game experience, but his age will probably give him the backup nod over redshirt freshman Mike Cummings, who will be looked at in the next slide.
He looks to be a career backup for Kansas. After this year he will be on the same age level as Jake Heaps, and it would take a horrendous performance from Heaps to knock him out of the starting role in 2013.
So, this is the season that Jablonski has the opportunity to prove himself, especially if Crist goes down with an injury during the season.
Prediction: 305 yards, 1 touchdown, 0 interceptions.
I assume he may get some time in the early season games if the Jayhawks are ahead by a lot (or down by a lot), which would give him some stats. This is assuming Crist remains the starter for the entire season.
From KUathletics.com
Mike Cummings is the fourth and final quarterback on the Kansas roster. He redshirted his freshman year in 2011 and will be the third-string quarterback to Dayne Crist and Blake Jablonski.
Cummings is a dual-threat quarterback, able to both pass and run, which is a valuable asset to have in the high-powered offensive conference that is the Big 12.
Cummings will have the chance to knock Jablonski off of the second-string role, but, because Jablonski played second-string in the Blue and White spring game, it should be expected that Cummings stays third-string.
He will most likely get his chance to start in 2015 for his senior season.
Prediction: 103 passing yards, 52 rushing yards, 0 interception, 0 touchdowns.
Unless there is a serious injury outbreak, Cummings should only get garbage playing time this season.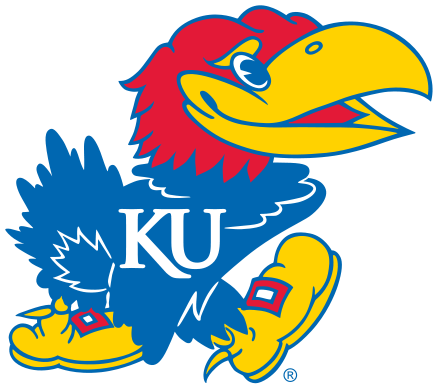 From SBnation.com
That wraps it up for the quarterback preview. The quarterback situation this season looks to be much better than last year. The play of the Kansas quarterbacks should be extremely better than the play of Mecham and Webb from last year.
The Jayhawks are going to need some good offensive leaders if they want to begin the turnaround from the horrendous play the past two years, and I believe these quarterbacks, especially Crist, can provide that.
Thanks to KUathletics.com and ESPN.com for information and player images.
Next in the 2012 Kansas Football Season Preview: July 31st: Backfield
In case you missed it..