Better BCS Championship Bet: Alabama Crimson Tide or LSU Tigers?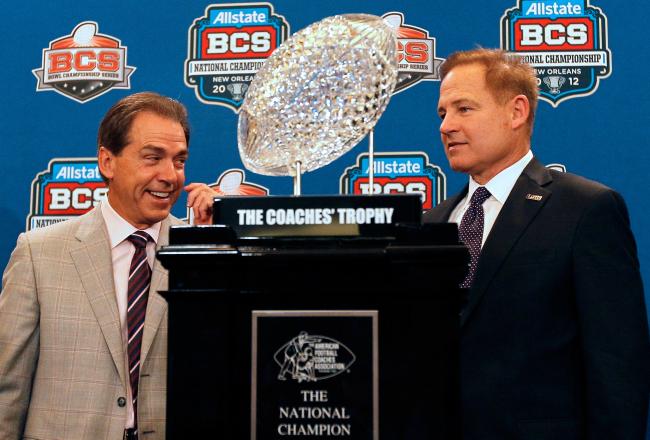 Kevin C. Cox/Getty Images
No matter where you look, LSU and Alabama are amongst the top teams favored to win the 2013 BCS National Championship.
The reason for that is simple, really. Both teams have great coaching staffs and athletes galore. A winning recipe indeed, but which team has the better chance of winning the national championship this season?
That's a tough call. But if you break down both teams by all three phases of the game, coaching staffs and schedule, one team emerges as the favorite.
Offense
Let's get things started on the offensive side of the football. The most talked-about player in the Southeastern Conference heading into 2012 has been Zach Mettenberger.
Everyone wants to know if he's the real deal or not, and though he's looked good throwing the ball around in the spring and at the 2012 Manning Passing Academy, we still don't know what he can do against elite SEC defenses. Experience is key for quarterbacks, and though Mettenberger may be skilled, he lacks real game experience.
Because of this, Alabama has an advantage over the Tigers at the position, especially after A.J. McCarron completed 67.6 percent of his passes and threw for 234 yards against the Tigers in the 2012 BCS National Championship Game.
But the Tigers undoubtedly have superiority at running back. With four running backs who could easily start—Alfred Blue, Spencer Ware, Michael Ford and Kenny Hilliard—they have arguably the best running back stable in the country. The four totaled 2,338 yards and 30 touchdowns in 2011.
And while Eddie Lacy, Jalston Fowler, T.J. Yeldon and Dee Hart are an impressive running back committee, it's not nearly as impressive as LSU's.
As for the men blocking for these backs, well, LSU's offensive line will be the second best in the SEC, but Alabama's will be the best in the nation. Led by "All-Everything" Barrett Jones, the Crimson Tide return four fearsome starters.
And while both Alabama and LSU's rushing attacks look to be two of the best in the country, their passing games don't exactly feature superstars on the outside. Are they capable and athletic? Absolutely, but you won't find any Julio Jones or Rueben Randle types on either squad.
Though Russell Shepard has the most experience of both receiving corps, Alabama's Kenny Bell and LSU's Odell Beckham are considered to be the best on each squad, and rightfully so.
Because Shepard and Beckham were starters all season last year and Bell is the only full-time returning starter for the Crimson Tide, LSU has the advantage at wide receiver simply because of experience. Still, McCarron's one year of experience and breakout game against the Tigers, along with Alabama's returning offensive line, gives the Tide's offense a slight nod over LSU's.
Defense
Now to the most important phase of the game to both squads. Offense sells tickets, but defense wins championships in the SEC. And you better believe both teams take tremendous pride in their defenses.
LSU sports the stronger defensive front. In fact, there's not a defensive line in the country that can match LSU's. With two potential first-round draft picks at both defensive end positions, Sam Montgomery and Barkevious Mingo provide the Tigers with a solid pass rush, while Bennie Logan and Anthony Johnson will be a brick wall in the middle.
Alabama returns Damion Square and Jesse Williams, who together accounted for 52 tackles last season. While both men are expected to produce heavily for the Tide in 2012, they're still inferior to LSU's defensive line.
Moving on to the next level, Alabama's linebackers certainly outshine LSU's. The Tide will have to replace Dont'a Hightower; LSU will have to replace Ryan Baker. But both squads still have experience returning.
Alabama has Nico Johnson and C.J. Mosley coming back, while LSU's Kevin Minter and Lamin Barrow should head the Tigers linebacking corps. Both Johnson and Mosley were picked to be on first- and second-team All-SEC by the media at SEC media days, while neither Minter nor Barrow were selected at all. With Johnson and Mosley both having to step up and become leaders on defense, they are already prepped to become two of the best linebackers in the league.
But the Tide will have to replace two first-round draft picks in their secondary, while LSU will only have to replace one. Oh, and Tharold Simon, the guy that will replace LSU's Mo Claiborne, has the potential to become another LSU great at "DBU."
It was Simon, not Claiborne, who led the Tigers in pass breakups last season, and joining him in the secondary this season will be Eric Reid and Heisman finalist Tyrann Mathieu. Alabama returns Robert Lester and Dee Milliner, but other than that, it'll be mostly new faces for the Tide.
LSU has a big advantage in the defensive backfield, and that gives them leverage on the defensive side.
Special Teams, Coaching and Schedule

Let's keep special teams short and sweet. LSU had the best special teams in the nation last year, and they return the key players that made that special teams so great.
The first factor is Brad Wing's amazing ability to turn the field position in LSU's favor time and time again. As a freshman, he broke LSU's career punting average record with 44.4 yards a punt. Wing is one of the few punters in college football that can be categorized as a true weapon for his team.
The Tigers will also have Mathieu's return abilities again, along with Drew Alleman's field-goal kicking and Jarvis Landry's ground-shaking hits on special teams. Advantage LSU.
But then we move into coaching, and this can still be a sore subject for LSU fans. Deep down, Tiger fans know that Nick Saban is a better coach than Les Miles. You'd be a fool to say otherwise.
Saban's won two national championships in the past three years and brought both LSU and Alabama back to prominence. Heck, some could argue that he's the reason this article is being written right now. He's simply the best coach in college football, and after laying all of that on the table, the obvious advantage in coaching goes to the Tide.
So with both teams being fairly evenly matched on offense and defense, LSU's undeniable advantage on special teams and Saban's elite status as a coach, it all comes down to the schedule.
That, of course, is an advantage for LSU. Not simply because Alabama will play LSU at night in Tiger Stadium, but LSU gets a bye before the big game. Last year, both teams had two weeks to prepare for the "Game of the Century," but Alabama will play Mississippi State the previous week this season.
And I know what you're thinking: "It's just Mississippi State." Well, the Bulldogs usually give Alabama a tough outing. Alabama beat the Bulldogs by 17 points last season, and the season before they beat them by 20. That's still a large margin of victory, but it's not like Alabama breezes past little ol' State.
Verdict
So after analyzing every position, coaching battle and taking both schedules into account, it's plain to see that LSU has the better chance. But then again, games aren't won on paper.
Oh no, they're won on a field by athletes prepared by excellent coaches.
And the best part about discussing which of these two teams will make the championship is the fact that they will meet in time and settle this discussion on the field. But hey, until then, feel free to argue amongst the opposing team's fans.
This is turning out to be quite the rivalry, isn't it?
This article is
What is the duplicate article?
Why is this article offensive?
Where is this article plagiarized from?
Why is this article poorly edited?