Jeremy Lin Signs with Houston Rockets, Fans Go Yahoo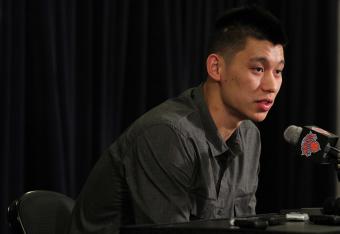 Anthony Gruppuso-US PRESSWIRE
Jeremy Lin has returned to the Houston Rockets courtesy of a three-year $25.1 million contract. A transcendent 26-game stretch in February and March of 2012 helped create the phenomenon known as Linsanity.
It was a powerful synergy of hoop stats, marketing and location, location, location. If you make it there, can you make it anywhere, New York, New York?
The management of the Rockets certainly hopes this is the case. For a purely basketball standpoint, this negotiation simply does not add up over the life of the contract. The first two years conform to the league average of $5 million per season. The final year of nearly $15 million was apparently a "poison pill" the Knicks refused to swallow to retain the Harvard grad.
In a basketball sense, it is a deal unprecedented in league history—unprecedented given it was based on a two-year career consisting of 64 games.
If there are members of the Rockets' Red Nation unhappy with the signing, they can take consolation in another implausible hiring that recently took place in the business world.
On July 16, Marissa Mayer was named chief executive of Yahoo after spending 13 years climbing the company ladder at Google. Her engineering background combined with the looks of a runway model has created the kind of buzz rarely seen in the high-tech sector.
While Ben & Jerry's is unlikely to name an ice cream flavor after her, there are several parallels between the ascendancy of Lin and Mayer to the heights of their profession:
The chief difference between the two is that Mayer has the heftier resume—even if it does not include any experience at the top of the corporate food chain.
The chief similarity: What got them their jobs seem to be qualities that are marginally related to actually doing them. This is no predictor as to whether they will succeed, naturally.
No one could have foreseen that Apple, the wealthiest company in the world, would have been co-founded by a college dropout who took LSD and toured India as a prelude to starting the company in his garage.
So take heart, Rocket fans and Yahoo shareholders. Sometimes greatness springs from the most unorthodox beginnings.
Loren Steffy, business columnist for the Houston Chronicle, contributed to this story.
This article is
What is the duplicate article?
Why is this article offensive?
Where is this article plagiarized from?
Why is this article poorly edited?

Houston Rockets: Like this team?