Jeremy Lin: Why Pairing the Point Guard with Omer Asik Won't Work for Rockets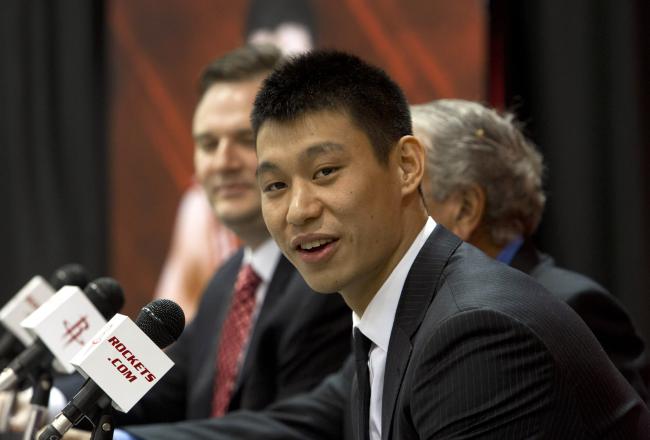 Bob Levey/Getty Images
With $50.2 million invested over the next three seasons, an inordinate amount of the Houston Rockets' immediate future rests in the hands of point guard Jeremy Lin and center Omer Asik.
On the surface, both signings could pay massive dividends for Houston general manager Daryl Morey. But I couldn't think of two players more ill-suited for each other while taking the franchise reins.
Lin, 23, is an offense-first point guard whose only real defensive contributions are his quick hands. As we saw during Lin's magical 11-game run to start his Knicks career, he's a brilliant open court player. Lin's has a great pull-down jumper that makes him deadly in open space, making Mike D'Antoni's offense a perfect fit.
Lin's effectiveness is directly correlated to a breakneck pace. His performance is built on fluidity, open space and exploiting the most minuscule holes in the opposition.
His signing seemingly could have made the Rockets one of the more exciting young teams in the league. All three of Houston's first-round picks are the type of players who would excel in a high-paced offense. The team also returns Kevin Martin and Chandler Parsons, two guys who could play the Steve-Novak-on-steroids role.
The up-tempo style also could have artificially enhanced the numbers for players the Rockets would part with in a trade for a superstar.
All that was missing was a center who could run the pick-and-roll with Lin when things broke down, like Tyson Chandler did in New York. With that the Rockets' young core would have promise with or without a superstar.
Omer Asik isn't that player.
The 26-year-old Turkish center is a slow, plodding player whose skill set is best utilized in forms of ultimate structure. Asik is at his most effective under the basket, trying to put back errant shots. to place him in a system where he would constantly run up and down the floor nearly negates everything he brings to the table.
Plus, he may be one of the worst pick-and-roll partners in the league.
Skeptical? Watch here as Asik runs the PNR during this past year's playoffs with C.J. Watson.
Even in a successful situation, Asik exposes his worst habit as an offensive big—he brings the ball below his waist. Keeping the ball high is a basic basketball fundamental that all bigs learn at an early age. By not keeping the ball high, Asik exposes himself as a possible turnover liability.
Asik has also never played more than 14.7 minutes per game in his entire NBA career, which leaves his defensive prowess in question as well.
While his rebounding (13.0 boards per 36 minutes) and shot blocking prowess (2.5 blocks per 36 minutes) place him in the upper echelon of NBA big men, his inability to stay out of foul trouble (4.5 fouls per 36 minutes) means he's much more likely to regress with extended minutes than improve.
Should Jeremy Lin and Omer Asik start together in Houston?
As a poor fit all around, the Rockets could theoretically move Asik to the bench and utilize him in the same (albeit slightly expanded) role he had in Chicago. That would allow Lin and the youngsters to run the up-tempo offense and Asik to continue his aggressive defensive style.
But teams don't invest that heavily in players just to throw them on the bench. We're getting a Lin-Asik for an extended period of time, regardless of fit.
Just don't expect it to be pretty.
This article is
What is the duplicate article?
Why is this article offensive?
Where is this article plagiarized from?
Why is this article poorly edited?

Houston Rockets: Like this team?