Lakers Rumors: Bynum Extension Would Be Best Move for Both Player and Team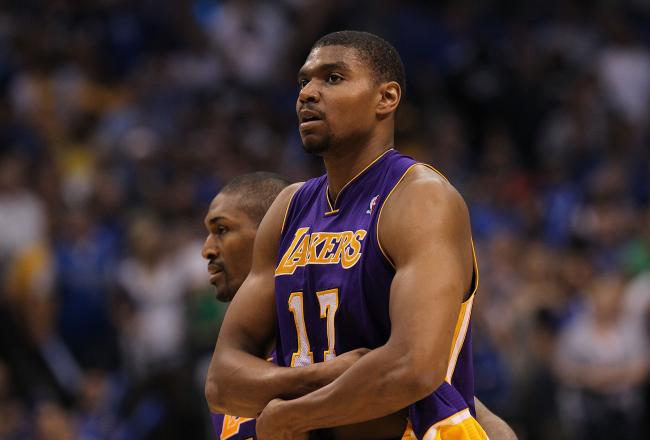 Ronald Martinez/Getty Images
It appears that Los Angeles Lakers general manager Mitch Kupchak and Lakers center Andrew Bynum have finally picked up the purple and gold courtesy phone and answered the call from logic.
If recent reports are to be believed, then the Lakers and their star center have started down the road to a contract extension that's the best move for both sides.
According to a report in The Orange County Register, Kupchak and Howard's agent, David Lee, sat down Wednesday to discuss a potential contract extension for the 2012 All-Star.
Kupchak declined to comment other than to say that the talks were "productive and positive" (which could mean that all they agreed to was what to have for lunch), but the sitdown would seem to be the first step toward the Lakers locking up Bynum long term.
If so, good for Kupchak. It's time for the Lakers to bow out of the Dwight Howard nonsense. Enough of the waffling by both Howard and the Magic, the constantly changing demands and the neverending uncertainty.
Sure, Howard's a supremely talented player, but he just isn't worth the grief.
If Bynum truly is amenable to working out an extension before hitting free agency, then good for him too. Sure, if Bynum waits until after this season he could get a couple of years tacked onto the max deal he's sure to receive, but there are a couple of reasons why waiting may not actually be in Bynum's best interests.
The first is the simple fact that, to paraphrase Kupchak's comments to The Register, a bird in the hand is worth two in the bush. Bynum has had issues with his knees throughout his NBA career, and should those issues crop up again this season that three-year extension would start to look pretty darned good in hindsight.
Second, the fact of the matter is that no team in the NBA can offer Bynum the combination of money and the opportunity to win next summer more than the Lakers can right now. Note that I'm excluding the Dallas Mavericks, because as Chris Mannix of Sports Illustrated reports if Howard's most recent comments can be believed (and oh boy is that an "if") then he'll be driving Dallas nuts next year.
Also, what better way is there for Bynum to put to rest questions about his dedication to the team and perceived lack of maturity then to sign on the dotted line, put this matter to rest and get down to the business of trying to bring another NBA title to L.A.?
There isn't.
Sure, Bynum's knees and attitude are concerns, and they should be taken into consideration. That is, right up until you consider the fact that 24-year-old big men with Bynum's talent don't grow on trees, and the fact that a starting five of Steve Nash, Kobe Bryant, Bynum, Pau Gasol and Metta World Headcase doesn't look too bad at all.
So, rather than the team chasing its tail trying to land an even bigger headcase than the artist formerly known as Ron Artest and Bynum trying to milk every last cent out of a potential contract next summer, sit down now, let logic lead the way and get a deal done.
An NBA championship may well follow if you do, and the last I checked that's sort of the point.
This article is
What is the duplicate article?
Why is this article offensive?
Where is this article plagiarized from?
Why is this article poorly edited?

Los Angeles Lakers: Like this team?