Olympic Opening Ceremony 2012: Live Reaction, Highlights and Recap from London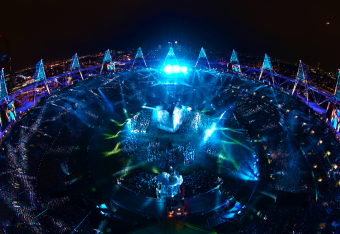 The Olympics Opening Ceremony is always a must-see. It's spectacle at its finest.
Check out the full breakdown from the night's festivities. If you're following along for the tape-delay, scroll down to the bottom and join me from the beginning!
I'll leave you with this awesome GIF of the fireworks tonight. Thanks for joining!
Overall, a very enjoyable opening ceremony. Difficult to live up to the bar that Beijing set last Olympics, but Danny Boyle did the best with what he had available.
Kind of wild that it cost almost $43 million to put on, though. That's a lot of sheep.
When it's all said and done, the final Olympic torch looks really cool. I just wish they had found a better way to finally light it.
Paul McCartney rocking out to Hey Jude, will lead into the world's biggest singalong at the end.
The fireworks show going on right now is epic. It's insane, looks almost like London is under attack. The smoke after that showing has to be overwhelming.
Is that it?
Over 200 separate flames converging into one giant one is kind of cool, but it pales in comparison to past lightings.
David Beckham bends a flaming soccer ball into the cauldron. Bam. I just thought of a way cooler lighting just off the top of my head.
The Olympic flame enters. Lot of pressure here. The lighting of the Olympic torch is how every opening ceremony is remembered and judged.
Wait, a boxing judge is going to take the Olympic oath? Are they sure they don't want to rethink that one? Boxing doesn't exactly have the best reputation.
Beckham returns on the speed boat, hands off to Britain's greatest Olympian who runs up some stairs and into the stadium.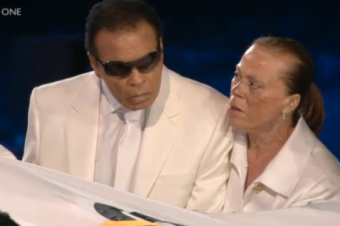 Muhammad Ali sighting! Looking sharp in his white suit.
The Queen opens the games and quickly looks to sit back down. Inspiring stuff.
Hey London, pro tip here: less boring speeches, more James Bond and corgis.
I'm sorry, but all the grass in the background makes this come off as taking place in a park somewhere, it doesn't really scream "world's biggest event" to me.
A winged bicyclist is now flying over the proceedings E.T. style.
The Arctic Monkeys are covering the Beatles as guys on bikes with illuminated wings come riding out. It's about to get opening ceremony-y again folks.
Oh man, I wish.
"And the Queen has entered the mosh-pit!"

— netw3rk (@netw3rk) July 27, 2012
Finally we're done with that parade. Good thing it only took forever.
Great Britain with the gold, shiny collars. The Queen looks on indifferently while David Bowie's Heroes plays on.
Strangely awesome.
Yemen! Look out for Chandler Bing in the group.
...I knew my extensive knowledge of Friends would come in handy someday.
"That is a real star. If you're a grapple fan, you'll know why," says the English announcer, speaking to no one.
An American seriously just threw out a "BabaBooey, BabaBooey!"
That pretty much sums us up, doesn't it?
In case you were wondering who USA's flag bearer is, it's Mariel Zagunis, a fencer. Here's what you need to know about her.
Ukraine definitely put their hats together at the last minute.
This article is
What is the duplicate article?
Why is this article offensive?
Where is this article plagiarized from?
Why is this article poorly edited?