If you don't recognize her name yet, you will after the London Olympics.
Leryn Franco is a Paraguayan star who enters the 2012 Olympic Games having broken her personal record in the javelin throw twice in the past 14 months. And while she'll certainly arrive in London full of confidence throwing the javelin, the 30-year-old athlete is perhaps even better known for her stunningly good looks and new found modeling career.
Franco, the athlete, failed to stand out on the world's biggest stage at the 2008 Beijing Olympics, as she placed just 51st.
Her athletic performance fell far short of American swimmer Michael Phelps, who won a record eight gold medals in Beijing.
Predictably so, Phelps' record-shattering performance made him the most-searched Olympic athlete in 2008. However, No. 2 on the list wasn't Kobe Bryant, who led the Americans to a gold medal in men's basketball, nor was it Lionel Messi, who led Argentina to a gold medal in men's soccer.
Instead, it was Franco. Yes, the Paraguayan beauty who finished 51st out of 52 competitors in her event.
Franco—and her pleasantly jaw-dropping appearance—caught the global spotlight in 2008, and she's since expanded her career to far more than just throwing the javelin. Nike featured Franco, with a full interview and plenty of pictures, in their 2012 "Look of Sport" series.
Although her popularity is certainly spreading throughout different regions of the world, the spotlight is nothing new to Franco. Competing in the 2006 Miss Paraguay pageant, Franco was the runner-up to similarly stunning pageant queen Lourdes Verónica Arévalos Elías. While Elias can claim superiority to Franco in her country's beauty pageant, her global appeal is dwarfed by Franco.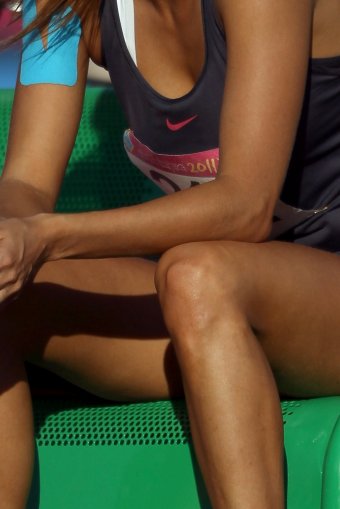 Scott Heavey/Getty Images
Bleacher Report went as far as to rank Franco the No. 1 "Hottest Athlete of All Time" in 2010—and Anna Kournikova still isn't over it.
Franco posed in the 2011 Sports Illustrated Swimsuit edition, and as a result, her appeal in the U.S. skyrocketed. AskMen ranked Franco No. 64 on their list of the "Top 99 women of 2012," jumping 22 spots from their 2009 list that followed the Beijing Olympics.
The London Games will her the third time competing in the Olympics, and despite finishing 42nd out of 44 competitiors in 2004 in Athens, and second-to-last four years ago in Beijing, her fame and public adoration have continued to rise.
And now that she's performing athletically at the highest level she ever has, the public eye will focus even more on the Paraguayan bombshell.
In her first two Olympic appearances, Franco's best throw was 50.37 meters in the 2004 Games in Athens. Last month at the Ibero-American Championships, Franco threw the javelin 57.77 meters—which broke her previous record of 55.66 meters that she had set one year earlier.
The winner of the women's javelin throw in 2004 was Cuban athlete Osleidys Menéndez, with a world record toss of 71.53 meters. Four years later in Athens, Barbora Špotáková won the event at 71.42 meters.
Franco hasn't shown anything to suggest she'll rival those numbers and become a serious contender to win gold this year in London, but she was already one of the biggest stars in 2008 despite a well-below-average performance in her event.
Now that she's posting the best numbers she ever has, Franco appears poised to be one of the true stars of the London Olympics.
The more competitive Franco can be at the Olympics, the more her global appeal will rise. The more her the world craves Franco, the more the spotlight will shine on the stunning Paraguayan superstar. And with an even brighter spotlight shining on her, the word "Franco" may become globally synonymous for "breathtaking."