WWE Rumors: Randy Orton Shouldn't Be a Main-Eventer Upon Return from Suspension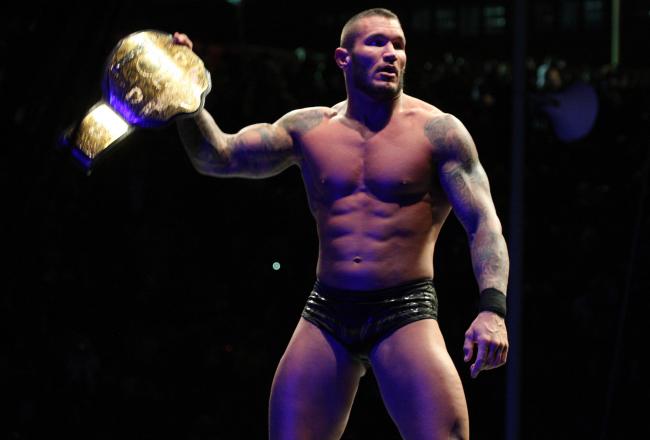 Gallo Images/Getty Images
Randy Orton is unquestionably one of the WWE's biggest stars, so it wouldn't be surprising to see him at the main-event level when he returns from his 60-day suspension for violating the company's wellness policy.
Having said that, the WWE brass would be better served to have him put other superstars over in the mid-card.
According to Richard Gray of Wrestling News World, Orton is advertised to return on the upcoming episode of Raw and is scheduled to work near the top of the card during live events.
That doesn't necessarily mean that he will be a main-eventer on televised shows, but it seems like a distinct possibility.
In one respect, putting Orton in a high-profile feud would be safe. He is guaranteed to get a great reaction from the crowd. At the same time, though, it could come back to bite the company.
Orton is one positive drug test away from being fired. If he were involved in an angle with Sheamus for the world heavyweight championship and got canned, it would throw everything for a loop.
Rather than rushing him back to the top of the card, the creative team ought to ease him into a mid-card storyline. The most obvious one at this point would be a feud with new Intercontinental champion, The Miz.
Prior to Miz leaving in order to film The Marine 3, he was cutting a promo in the ring before Orton appeared and hit him with an RKO.
There wasn't much rhyme or reason for it at the time, but it now seems clear that something was being set up for the future. Miz took a couple of months off to film the movie after that, while Orton was forced into taking a couple of months off due to the suspension.
In addition to that, there is a side storyline that could be utilized.
Orton was passed over for the role in the film in favor of Miz due to backlash because of Orton being dishonorably discharged from the marines in real life. That could be brought up in the storyline to embarrass Orton.
If not, it could simply revolve around Miz having the Hollywood "it" factor, which Orton does not.
Whichever way you slice it, Orton vs. Miz would be a very sensible feud.
There appears to be big plans for Miz. He has been given an improved look and was given the IC strap. He would benefit from beating a top guy. An angle between Miz and Orton could be crafted with Miz ultimately going over at SummerSlam and getting the major rub.
Fans of Orton may not like this since he did put over guys like Mark Henry, Wade Barrett, Cody Rhodes and Kane in some respects prior to being suspended, but he shouldn't be rewarded for violating company policy.
If anything, he should have to regain the trust of the powers that be, and being a good soldier by putting over Miz would be a great start.
What should Orton's role be upon his return?
That shouldn't be the end of Orton's generosity, though, because I would love to see him put Dolph Ziggler over in his ensuing feud. All signs point to Ziggler facing and defeating Chris Jericho at SummerSlam, but since Jericho will be touring with his band afterward, Ziggler will need a new rival.
Ziggler is Mr. Money in the Bank and needs as many big wins as possible to bolster his reputation before he cashes in. Beating Jericho would be huge, but prevailing against The Viper would be an even bigger deal for The Showoff.
Orton should most definitely be a main-eventer again in the near future, provided he can stay out of trouble. Until then, Orton should have to pay his dues once again and show that he is a team player. It may not be ideal for him at the moment, but it will ultimately help out his fellow superstars and the company as a whole.
Follow @MikeChiari on Twitter and listen to him on Ring Rust Radio.
This article is
What is the duplicate article?
Why is this article offensive?
Where is this article plagiarized from?
Why is this article poorly edited?