The Doctor's WWE SmackDown Recap: The 153 Things We Learned, Loved and Hated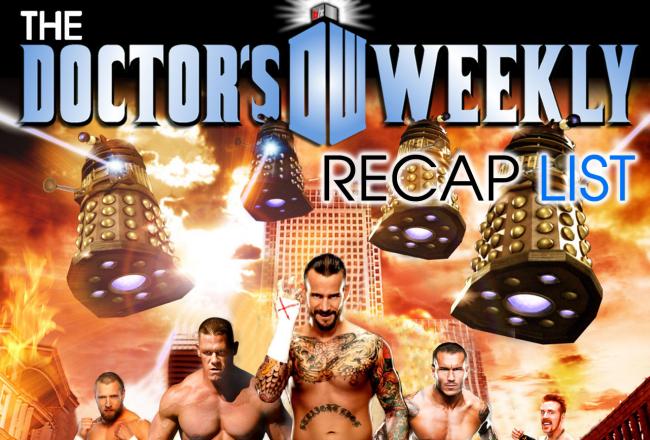 Picture by Natasha Farley (Images property of WWE, BBC and Bleacher Report)

Welcome, ladies and gentlemen, to my weekly SmackDown recap list. I always appreciate my loyal readers, but for those of you who are new, each week I recap SmackDown with a long list.
The entries are made up of equal parts observations, humor, recap, play-by-play, revelations, speculations, questions, answers and anything else I notice during the show. I sometimes comment on commercials, too, just because I get bored during them.
I try and interject some fun into these lists, so I hope you have fun reading this week's list of the 153 things we learned, loved and hated from the show.
1. Fair warning, I have worked almost 45 hours in the last three days and I am probably a little loopy.
2. The show opens with a video highlighting Raw's 1,000th episode.
3. Slick was definitely one of the highlights of Raw for me.
4. The Miz is out to start the show off with his new IC title.
5. Miz thanks Christian's fans for voting him into the match with Christian so he could win the title.
6. Christian's music interrupts rather early into the promo.
7. Captain Charisma says he wants to get his rematch tonight for the title.
8. A ref pops in the ring from out of nowhere and it looks like the match is on.
9. Miz hits a shoulder block and then trash talks a bit.
10. I love when wrestlers trash talk in the middle of the match. Mark Henry was always funny when he did it.
11. Christian puts Miz in the corner and hits about a half dozen slaps to the face of Miz.
12. I find it funny that Cole thinks Miz is already a huge movie star and his movie has not even come out yet.
13. Christian keeps control until Miz avoids the spinning DDT in the corner and hits a knee lift.
14. Ha! There is already Oompa Loompa signs for Daniel Bryan.
15. No one can make a nickname catch on like The Rock.
16. Lady parts!
17. Christian reverses the momentum with a flapjack, but Miz backdrops him over the top rope right before the commercial break.
18. Competitive match so far. Both men getting in some decent offense.
19. We return to see Miz hitting a running boot for a near fall.
20. Am I the only one who finds it slightly hilarious that Christian always slaps his opponents instead of punching them?
21. Miz gets two boots to the face when he tries for his corner clothesline and Christian climbs up to the top rope.
22. Miz stops him and tries to hit a superplex, but Christian ends up knocking him off.
23. Miz gets his knees up when Christian goes for the Frog Splash and gets another near fall.
24. Christian gets back in the game and pulls Miz back-first over the top rope and then hits a cross body for a two-count.
25. Miz rolls through a sunset flip and almost hits a kick that would have taken Christian's head off, but Christian moves and rolls him up for another two.
Rate the show from 1-5 stars
26. Lots of back and forth. I love how neither man has had the advantage for very long. They look pretty equal in this match.
27. Christian pulls Miz off the second rope and he sets up for the Spear.
28. Miz gets out of the ring and Christian chases him, only to get a kick to the face.
29. Both men break out of each other's finishers and Miz hits a thumb to the eye before rolling up Christian for the win.
30. Miz really had Christian rolled over; Christian's knees were touching the mat next to his head.
31. Miz retains and he holds his belt close after the match.
32. That was better than their match on Raw, in my opinion. Very good performance by both men.
33. Nice. Cody Rhodes is going to face Sheamus later, according to Booker.
34. If Rhodes performs well, then it could be a sign that WWE is ready to move him up to the main event on SmackDown.
35. Jinder Mahal is out first for his match with Ryback.
36. Damn! WWE really wants us to think Ryback is over. The pop they edited in for him was really loud.
37. They show the lone Ryback sign in the crowd.
38. Ryback corners Mahal.
39. Mahal gets in a few shots before Ryback hits a fall-away slam.
40. Mahal rakes the eyes and then hits a running knee for a two-count.
41. Mahal gets in some more offense by holding his knee on Ryback's throat.
42. Mahal hits a jumping elbow before applying the Camel Clutch.
43. Ryback just stands up with Mahal on his back, yells "Stupid," and then drops him.
44. Ryback is in control again, but Mahal ducks the clothesline and bails from the ring.
45. The ref counts him out and Ryback is pissed that the match didn't finish.
46. Booker can't blame Mahal for leaving. He says Mahal may have been sizing Ryback up.
47. That was not only the most offense Mahal has had in months, but it is the most anyone has had on Ryback.
48. Here is the problem I have with Ryback—there is nothing to his gimmick. He is being booked as just a pissed off muscle-head with no depth. He has been on TV for months and he hasn't given one promo that was worth anything to his character.
49. If WWE wants this guy to be the next Goldberg, then they need to put him in some matches with a few midcard stars that last longer than three minutes. Once he is tested against someone with some real experience, then we will know his worth.
50. If I remember correctly, Goldberg was U.S. champion within seven months of his debut. Ryback has been on TV as this character for seven months now.
51. We see a video of the end of Raw where Punk attacked The Rock.
52. Booker likes what Punk did. I like that Booker will put over both faces and heels while he is clearly a face announcer.
53. By the way, I made up a sandwich called the Ryback. It's fat-back bacon with a fried egg and hash browns on rye bread.
54. In the words of Damien Sandow, "You're welcome."
55. Sheamus is out first for his match with Cody Rhodes.
56. Rhodes goes behind Sheamus and Sheamus hits an elbow, which sends Rhodes to the outside.
57. Ha! Rhodes is yelling "God! Hell no!" while walking around the outside of the ring.
58. Michael Cole is acting like a babyface tonight.
59. He has put over Punk and Sheamus in the same sentence as great champions.
60. Sheamus is pushing Rhodes around for the early part of the match.
61. Sheamus hits his series of 10 blows to the chest while his opponent is draped over the top rope.
62. That needs a name. It is way too long describing that every time he does it. I think Booker called it the Irish hand grenades or something like that.
63. Rhodes runs Sheamus into the ring post and the ref counts to nine before he makes it back in.
64. Rhodes starts stomping on Sheamus as Ziggler's music hits.
65. Great timing for a commercial, WWE. It's not like we want to see what happens or anything.
66. So...do any of you watch Alphas? I like it. The new episode was good. Gary is a great character.
67. We return to see Ziggler watching from the outside of the ring as Sheamus starts to come back against Rhodes.
68. Rhodes hits a nice dropkick for a near fall.
69. Cole brings up how Cena was the first to fail at cashing in his briefcase, which means Ziggler is not guaranteed to win the title.
70. Rhodes applies a full nelson to Sheamus.
71. I'm gonna go put a lion in a Boston Crab and see how that works out for me.
72. Sheamus throws him off rather quickly and he hits a big back drop to gain some breathing room.
73. Damn! Sheamus hit a huge knee lift on Rhodes for a near fall.
74. Sheamus eyes Ziggler, and Rhodes is able to reverse the momentum.
75. Oh my God! Rhodes went for a moonsault, Sheamus moved and Rhodes basically hit the mat with his face well before the rest of his body.
76. Sheamus hits the Irish Curse backbreaker for another two-count.
77. I can't believe Rhodes is OK after the way he hit the mat. That looked like it had the potential to be a Brock Lesnar/Shooting Star Press situation.
78. Rhodes hits a few elbows to the face and then he pushes Sheamus to the outside of the ring.
79. Sheamus tries to climb to the top, but Rhodes pulls him off the turnbuckle.
80. Rhodes hits a Disaster Kick for a close fall.
81. Booker says he took that kick before and Cole says, "So that's what happened to your commentary."
82. I admit that I laughed. It caught me off guard.
83. Sheamus catches Rhodes when he tries for a second kick, and he hits White Noise followed by the Brogue Kick for the pin and the win.
84. Ziggler teases cashing in, as Sheamus taunts him to do it. He decides against it.
85. Jericho runs down wearing a Ziggler shirt and he throws Ziggler in the ring so he can eat a Brogue Kick from Sheamus.
86. It was a nice touch to have Jericho wear Ziggler's shirt.
87. Jericho gets a Y2J chant and he looks happy before he hits the Codebreaker. He takes off the shirt and drops it on Ziggler before leaving.
88. YES! YES! YES! Antonio Cesaro is in the ring when we return.
89. I missed you, Aksana.
90. Santino is out to face him.
91. Whatever happened to that sitcom WWE was planning with Santino? Wasn't Kozlov supposed to play his best friend?
92. I swear, I am not making this up.
93. Santino throws Cesaro by the arm, which causes Cesaro to viciously attack Santino with elbows and headbutts.
94. He actually did a series of headbutts just like how Kozlov used to do.
95. Santino hits a belly-to-back suplex and he starts to hit his signature moves.
96. He pulls out the Cobra sleeve and Aksana gets on the apron to distract him.
97. Cesaro hits Santino with a Stun-Gun on the top rope.
98. Wow! Cesaro hits his finisher and he gets the win over the U.S. champion.
99. I really hope this leads to him getting some more time. It seems a bit premature to throw a title at him after not featuring him for a while, but I like him getting more time no matter what the circumstances.
100. We see a clip of Damien Sandow being beaten down by DX on Monday.
101. Josh Mathews says that the attack is why DX is the most unpredictable group in history. Worst...commentating...ever.
102. We all saw what happened coming from a thousand miles away. Most predictable segment ever. It was still fun to watch, though.
103. Yoshi Tatsu is in the ring when we return from commercial.
104. Excellent! Damien Sandow is out to face him.
105. Damn. No mic. I was hoping for a Sandow run-down before the match.
106. Holy Crap! Sandow throws Yoshi out of the ring and then he throws him into the barricade with more force than I can ever recall seeing. The sound it made was sickening.
107. Sandow proceeds to hit Yoshi's head into the barricade several times before bringing him back in the ring.
108. He hits the Elbow of Disdain before he finishes Yoshi off with the neckbreaker finisher.
109. Sandow absolutely destroyed Yoshi in that match. I am glad he came back strong after being used as a martyr for DX to beat up.
100. Yes! Put a mic in that man's hands!
111. Sandow grabs the mic and addresses DX.
112. Whoa! He says "I am your martyr. You're welcome."
113. I am a little surprised he used the same word to describe himself that I used.
114. Why is the voice of Hotels.com played by Dr. Spaceman?
115. Ugh. Tout Videos are shown.
116. WWE is determined to make everyone hate social networks with all this.
117. Rey Mysterio is out for the main-event match.
118. He is facing Kane, Alberto Del Rio and Daniel Bryan to see who faces Sheamus at SummerSlam for the title.
119. I wish Bryan had kept that ring jacket that looked like he bought it at a military surplus store.
120. AAAGGGHHH! A Shazam plug. I wanna know who finally showed Vince McMahon the Internet last year?
121. WWE's next obsession—MySpace and pets.com.
122. Del Rio goes for Mysterio and Kane goes for Bryan when the bell rings.
123. Bryan low-bridges Kane and Mysterio puts Del Rio over the top.
124. Bryan and Mysterio both hit dives on to their opponents at different times, and then they go after each other.
125. Kane attacks Del Rio on the outside, and they both use the steel steps to punish each other.
126. Bryan starts kicking Mysterio until he is down. He tries for a powerbomb, but Mysterio breaks free.
127. Everyone is back in the ring, and Kane is taking on everyone successfully.
128. He gets a near fall on Bryan before diving from the top rope.
129. Kane tries to Chokeslam Bryan and Mysterio, but he ends up having to settle for suplexing them at the same time.
120. Kane is looking good in this match. So far, everyone has had some offense in what is a very high-paced contest.
131. We return from a commercial to see Kane kick Mysterio in the middle of a springboard.
132. Del Rio starts punishing Bryan in the corner with kicks and punches.
133. Bryan reverses an Irish whip by Del Rio and he hits his own series of kicks in the corner.
134. He gets a "Yes!" chant going, but he takes too long and misses a big dropkick.
135. Del Rio locks in the Cross-Arm Breaker on Bryan, but Mysterio hits a leg drop to Del Rio from the top rope.
136. Rey hits a running dropkick to Del Rio's thigh before Kane takes both men out.
137. Mysterio reverses a powerslam into a DDT to Kane.
138. Good God! Kane catches Mysterio when he leaps for a head-scissors and as he holds Rey, Del Rio hits a running dropkick to Rey's face. That looked awesome.
139. Bryan comes in after Del Rio disposes of Kane and he ends up locking in the Yes Lock on Del Rio.
140. Del Rio was going to tap and Kane grabs his hand so he can't. I have never seen that happen before.
141. Kane breaks up the hold and he hits a Chokeslam on Del Rio, only to have the pin broken up by Rey.
142. This match is pretty great. There has been so much action from everybody, and I have not seen one big mistake from anybody.
143. Mysterio sets up both Bryan and Del Rio and he hits the 619.
144. He drops the dime on Bryan, but Ricky Ricardo pulls him out of the ring and Del Rio steals the win.
145. Del Rio is the new No. 1 contender for the World Title.
146. The show ends with Del Rio celebrating his win.
147. That show had a lot of high points for me.
148. The match between Christian and Miz was good, and the main event was very impressive.
149. Cesaro beating the U.S. champion was a pleasant surprise, and Cody Rhodes looked great against Sheamus.
150. Dolph Ziggler will be successful when he finally does cash in. I am positive.
151. The Ryback match was the most interesting thing to happen with him since his re-debut, but going over Mahal won't really do a lot for him.
152. No Divas, tag-team division or Tyson Kidd could be looked at as missed opportunities.
153. I think that when you compare matches to matches and just pure wrestling, this show was actually a lot better than the 1,000th Raw.
Thanks for reading and please join me for the Raw Live Blog this Monday right here on Bleacher Report.
This article is
What is the duplicate article?
Why is this article offensive?
Where is this article plagiarized from?
Why is this article poorly edited?