Tottenham vs. Liverpool: 6 Things We Learned from Preseason Friendly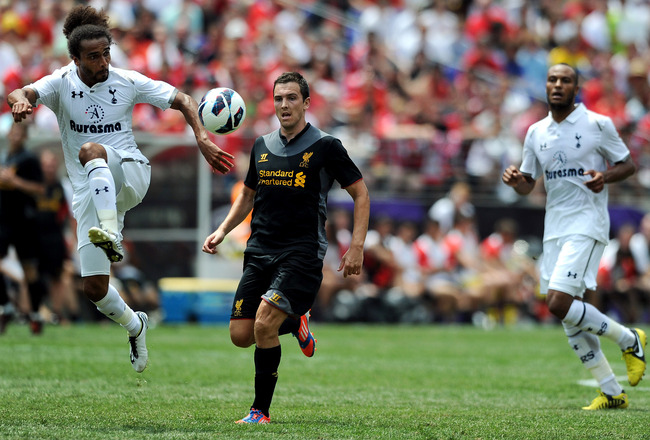 Patrick Smith/Getty Images
Usually, preseason friendlies are a bit boring. Clubs from foreign continents come five or six time zones over and play in a stadium they've probably never heard of before in front of fans who are, at best, casual.
At the end of 90 minutes, anything but the above could be said for Tottenham's first competitive match against a fellow Premier League club.
Gareth Bale, who was slotted in at the striker position this afternoon, got a shot off in the first 15 seconds and Liverpool gave Spurs goalkeeper Brad Friedel a healthy dose of shots in the first half. The crowd in Baltimore, largely Liverpool supporters, waved scarves and sang songs. I'm sure if it wasn't for the humidity, players could have been forgiven for thinking they were in northern England.
There's a lot to learn about Tottenham from their 0-0 preseason draw with Liverpool, but I give you the six biggest takeaways concerning the club's entrance into the 2012-13 season.
Spurs Will Play High-Tempo Soccer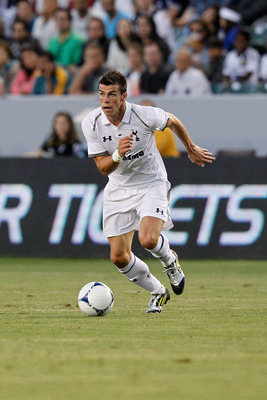 Ric Tapia/Getty Images
As I said, before 15 seconds had elapsed Tottenham's Gareth Bale had gotten a shot off against Liverpool 'keeper Brad Jones. Then minutes later, Aaron Lennon and Jake Livermore paired up for a couple of runs at goal. Harry Kane even whipped an early attempt at goal.
On the other side of the pitch, the Reds were making runs of their own, sprinting down the sidelines and launching long passes into the Spurs' third of the pitch.
This wasn't the slow, possession-heavy football many in Baltimore were expecting, and it showed that Andre-Villas Boas is ready to write a different, more exciting chapter in Tottenham's history.
Luka Modric Not Needed Anymore
Alex Grimm/Getty Images
In last season's system, Luka Modric fit in perfectly as the Croatian was given free rein to roam around the midfield and support the attack when his instincts told him so.
But with Villas-Boas at the helm, Modric would be nothing more than a welcome, but unnecessary, gift.
Jake Livermore looks like a different player in the midfield, pairing up well with Aaron Lennon throughout the first half. When Spurs get their centre-forward (...cough...Emmanuel Adebayor...cough...), Gareth Bale will go back to wing and be given permission to cheat into the middle of the field.
The joint contributions of Livermore and Bale in league play will make Modric's transfer fee—and the player Tottenham buys with it—more valuable than actually having Modric in the lineup.
...But Emmanuel Adebayor Is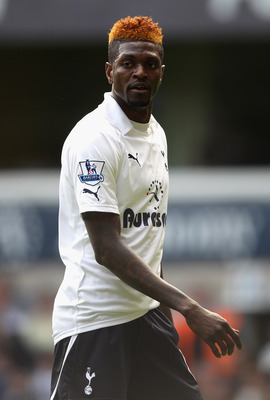 Clive Rose/Getty Images
ESPN reported earlier this month that Manchester City and Tottenham had agreed to a deal that would bring forward Emmanuel Adebayor, who was on loan with Spurs last season, to North London permanently.
Tottenham might be able to put one past the Los Angeles Galaxy, but to compete with Premier League clubs, they need a stronger option at forward and it would be really, really wonderful if it was Adebayor.
Other than the fact that Adebayor knows the system, he scored 17 goals and assisted on 11 more—accounting for 42 percent of Spurs' scores last season. He's a tall player who does best in the air, something Bale could have used in his occasional flicks into the Liverpool box.
Daniel Levy needs desperately to do whatever it takes to get the physical Adebayor signed permanently.
Defending Counterattack Still Needs Work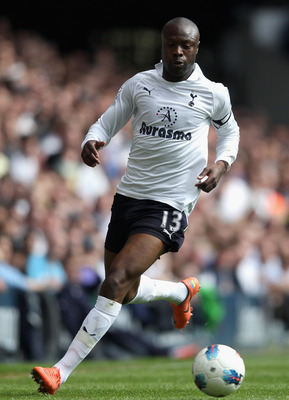 Clive Rose/Getty Images
Tottenham was without both of their defensive midfielders Saturday afternoon, and it absolutely showed with the way Liverpool kicked the ball around in the Spurs' third of the pitch.
Scott Parker was out due to injury and Sandro is playing with Brazil during the Summer Olympics. That left William Gallas and Younes Kaboul to fill the gap created by their absences.
Liverpool had their fair share of chances, especially in the first half, and if this was a league match I'm sure it would have showed on the scoreline.
Adam Morgan had far too many easy chances and Joe Cole looked very, very comfortable in front of Spurs' centre-backs.
Friedel Still Has It!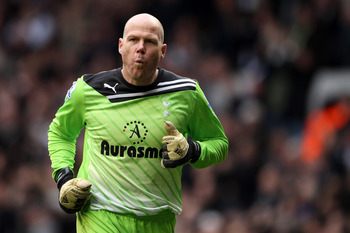 Scott Heavey/Getty Images
He's 41 years old, and that save he made on Adam Morgan's one-on-one opportunity in the 28th minute was a thing of beauty. How many 'keepers 10 years his junior would have made that?
Besides that, he had a number of solid blocks and smart lunges and was man of the match for Tottenham, in my opinion.
Friedel is the biggest reason why the Spurs walked away with a scoreless draw rather than a loss by one or two goals.
Aaron Lennon Will Be Ready to Start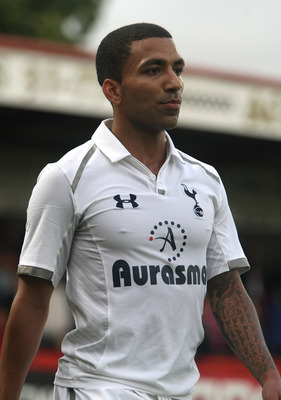 Pete Norton/Getty Images
He may not be as fast and as quick as the player opposite him, but who in the world has that on Gareth Bale?
Lennon is smart, he is physical and his near mop-up of Harry Kane's mistake in the first half of not heading in Bale's pass for a sure goal showed he's got quick reflexes.
He played nearly 70 minutes, which tells me Villas-Boas feels the same way.
Keep Reading

Tottenham Hotspur: Like this team?