Boston Red Sox: Predicting the 2013 Boston Coaching Staff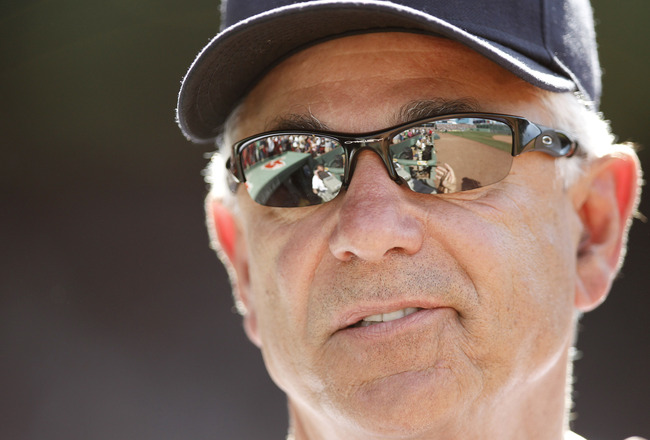 Winslow Townson/Getty Images
The Boston Red Sox haven't played well at all this season, and it looks as if they'll miss the postseason for the third consecutive year. Part of the blame sits on the shoulders of the coaching staff.
Bobby Valentine was hired during the offseason with the tough task of replacing arguably the greatest manager in Red Sox history, Terry Francona.
Valentine has had his ups and downs this year in every aspect of his job, whether it be calling players out, using certain players in head-scratching situations or just saying the wrong things to the media. Valentine has done his best for a team that's constantly injured and wildly inconsistent.
Valentine's contract expires after the 2013 season, but will he even be back for next season?
Here are my predictions for what the Boston coaching staff could look like for the 2013 season.
John Farrell, Manager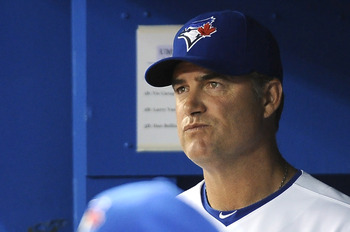 Brad White/Getty Images
John Farrell got a raw deal and should be managing the Red Sox right now. In my opinion, he'll be managing Boston next season.
Farrell left the Red Sox after 2010, thinking that Terry Francona would be managing in Boston for a while and that he wouldn't be promoted from pitching coach for some time. He signed a three-year deal with the Toronto Blue Jays and has been the manager their ever since.
Now, Francona was fired, and he's stuck in Toronto.
The Blue Jays have had just as much success as the Red Sox this season, and while Farrell hasn't necessarily done a bad job, Toronto could decide to forget about that third year and find a new manager for 2013.
If that turns out to be the case, I could see Boston making a move to lock him up as its manager for a few years. He has the respect of many of the Boston players, knows how to work with the pitchers and now has some head coaching experience under his belt.
The best-case scenario for next season is having Farrell as the manager of the Boston Red Sox.
Dave Magadan, Hitting Coach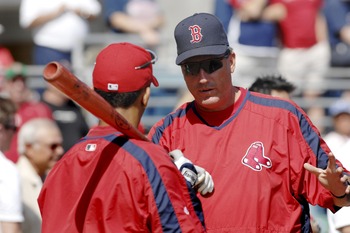 Photo Credit: Eagle Tribune
The problem for the Red Sox hasn't been their offense, even though they haven't been as productive as many would've liked. The main reason for that has been injuries, not hitting coach Dave Magadan.
Magadan is in his sixth season as Boston's hitting coach and has done a very good job during his tenure.
He's one of the holdovers from the Terry Francona reign and has still been able to keep his Red Sox hitters hitting. They're currently in the top five in both runs scored and OPS, and some of that credit goes to Magadan.
Even if Farrell takes over next season, Magadan would probably still stay with the team. The two worked together when Farrell was in Boston, and there's really no reason to let him go.
Unless there was some better opportunity offered to Magadan, he'll probably enter the 2013 season as Boston's hitting coach for the seventh straight year.
Bruce Walton, Pitching Coach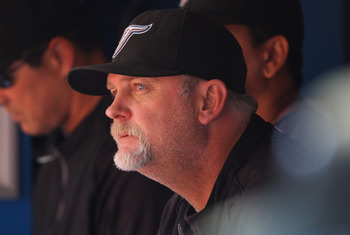 Tom Szczerbowski/Getty Images
I've clearly discussed my disinterest in Bob McClure and the terrible job that he's done this season as the Boston pitching coach.
The pitching staff has been about as bad as I can remember, playing with complete inconsistency and often hard to watch. Boston hasn't had a regular pitching coach since John Farrell left after 2010.
Curt Young didn't really do much during his one season with the Red Sox, and now McClure hasn't been effective either. Randy Niemann is the assistant pitching coach at the moment, but he doesn't seem to be trusted unless the team fired McClure and gave him the job.
Should Farrell be named manager, I think he would probably bring Bruce Walton over with him. This year is his third as the pitching coach for the Blue Jays, and he's progressed through the coaching system.
The Blue Jays starting pitchers have suffered several season-ending injuries, which has made his job much tougher.
I think he'd be a good fit in Boston, teaching some of the younger pitchers new tricks and maybe showing the veterans a thing or two also.
Brad Mills, Bench Coach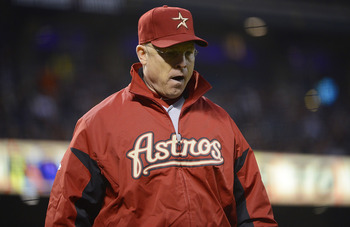 Thearon W. Henderson/Getty Images
It's well-known that Brad Mills' tenure as manager of the Houston Astros will be coming to an end shortly. Mills was dealt some bad cards in Houston and hasn't had much to work with as the Astros continue to disappoint.
With such a bad three seasons as manager, I would think it'd be tough for Mills to find another head coaching position in the majors. It would make sense for him to go back to being a bench coach, a role he filled for six years with the Red Sox.
Mills and John Farrell both worked together with the Red Sox, and although current Boston bench coach Tim Bogar did as well, Mills might be a better choice.
He has the managerial experience, whereas Bogar doesn't. Bogar would likely go back to being a base coach should he stay past this season.
It's basically guaranteed that Mills won't be back in Houston next year, and Boston would be a safe destination for the near future.
Keep Reading

Boston Red Sox: Like this team?