Baltimore Ravens: 5 Returning Veterans Who Might Not Make the Team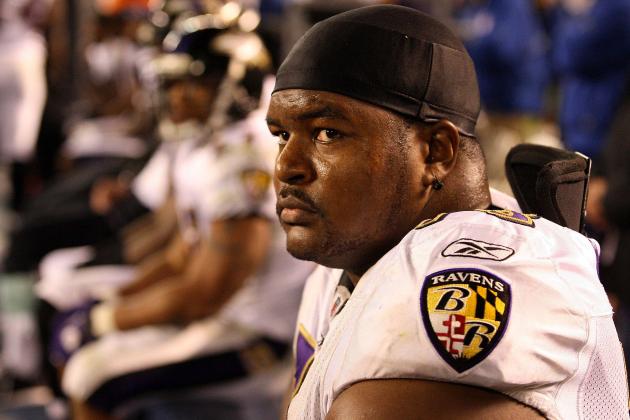 Jake Roth-US PRESSWIRE

Bryant McKinnie's no-show at camp has stolen headlines close to Baltimore, and it has put him firmly on the hot seat as a player who could be released.
Several other veterans might be in danger of not making the final roster this year, as the Ravens' new additions could push them out.
McKinnie and these four Ravens are returning veterans who are in danger of not making the team.
Begin Slideshow

»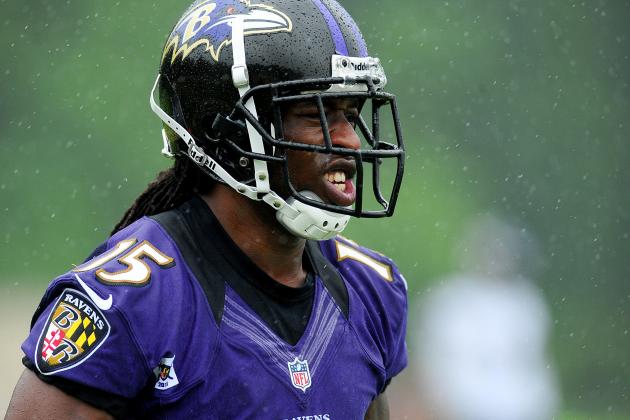 Evan Habeeb-US PRESSWIRE

LaQuan Williams could be the biggest boom-or-bust player on the Ravens right now.
With a great training camp, Williams could fight his way into the third receiver's role, but if he struggles, he might not even make the team.
Players like Tandon Doss, Jacoby Jones and Tommy Streeter all have resources tied up in them in the form of draft picks and guaranteed money.
LaQuan Williams, on the other hand, has nothing keeping the Ravens from cutting him other than the quality of his play.
Working in Williams' favor is that he is beloved by the coaching staff. However, if Williams' play last year was any indication, that favoritism may be misplaced.
Williams actually took the role of the third receiving option for a good chunk of last year, yet he seemingly had as many drops as he did catches.
Besides his poor hands, Williams also seems to lack the athletic explosion that players like Streeter, Jones and Doss have.
Ultimately, Streeter, Jones and Doss all seem to have a roster spot locked up. The Ravens may keep one more receiver, which would be either Williams or OTA standout Deonte Thompson.
Thompson has more natural ability than Williams as well as more college production, so Williams will really have to shine to keep his roster spot.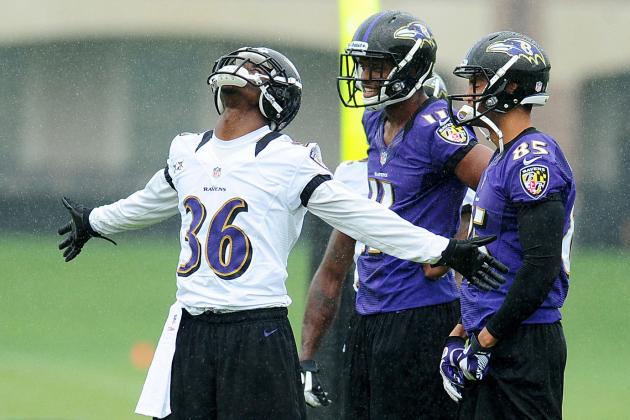 Evan Habeeb-US PRESSWIRE

Danny Gorrer is a great young player, but the numbers game might force him out after a solid season last year.
Unfortunately for Gorrer, the Ravens are stacked at cornerback. Jimmy Smith, Cary Williams, Lardarius Webb and Corey Graham are all virtually guaranteed a roster spot.
Meanwhile, fifth-round pick Asa Jackson will probably make the team as well, as the Ravens won't want to lose him on the waiver wire.
That means Gorrer will be competing simply to show that the team should carry six cornerbacks. Even then, Gorrer will have to compete with Chykie Brown to earn that role.
Hopefully the Ravens find a way to keep Gorrer, but he will likely never be a starter in Baltimore. He deserves a chance to start elsewhere, which is why the Ravens should look into trading him.
Several teams in the NFL are desperate for help at corner, and Gorrer has starting potential. No doubt the Ravens could manage to get some value out of him.
Regardless, if Gorrer does play significant downs in 2012, it probably won't be with the Ravens.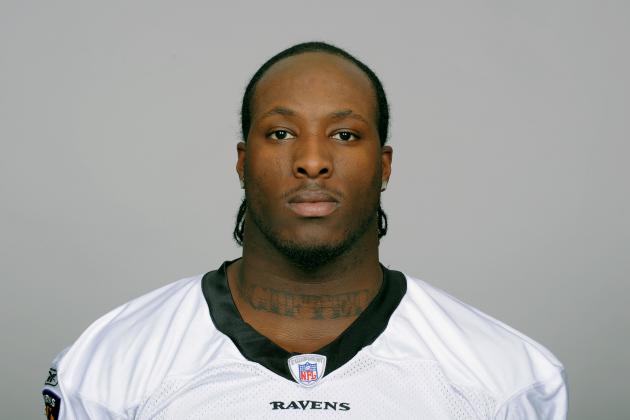 Handout/Getty Images

Sergio Kindle is one of the most frustrating and most debated players on the Ravens. He has great ability, but injuries and poor decisions have marred his career to this point.
After two seasons of injuries and poor play, the Ravens are giving Kindle one last chance. After Terrell Suggs' injury they need Kindle more than ever, but Kindle will still have to earn playing time.
Just a few weeks ago, Kindle seemed guaranteed a roster spot simply out of necessity.
Now, though, the Ravens could opt to cut Kindle in favor of recently signed linebackers Darryl Blackstock and Ricky Brown.
That means Kindle will have to show marked improvement, or he will be out of a job.
Hopefully for the Ravens, Kindle shows the pass-rushing ability that made him a second-round pick. The defense needs a spark, and Kindle has the talent to provide it.
Unfortunately, if Kindle hasn't shown starting potential yet, he probably never will.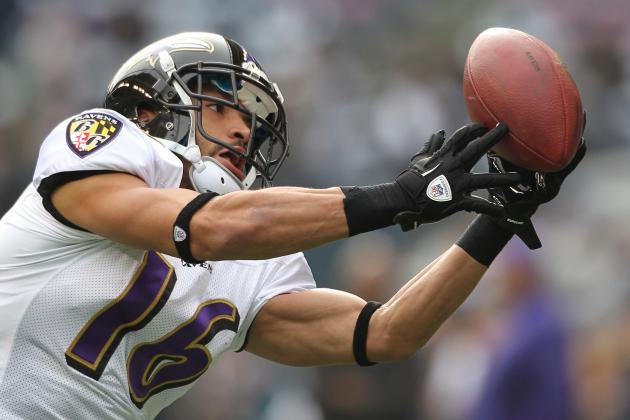 Otto Greule Jr/Getty Images

To be clear, if David Reed makes the roster, it will be as a kick returner, not as a receiver.
That having been said, Reed lost any good favor he had last season after literally fumbling away the game against the Seattle Seahawks.
Reed also had more drops than catches last year. Reed seems likely to never catch on as an NFL receiver, meaning he will have to be the best returner on the roster to earn a spot this year.
Unfortunately, Reed's lack of ball security won't just go away over time. His slight build and undisciplined style leave him vulnerable to losing the ball every time he is hit.
On the other hand, Reed did showcase nice aggressiveness and quickness as a returner. If he could hold onto the ball, Reed really is the best option as a kick returner.
Do the Ravens really want to take that chance? As a Super Bowl contender, the Ravens can't afford to have a kick returner who is so turnover-prone.
Unfortunately, the Ravens don't have many other options. Jacoby Jones' turnovers as a punt returner for the Texans are well known, while the only other options are the dull LaQuan Williams and rookie Asa Jackson.
Hopefully, Jackson shows a spark in training camp that earns him the role of kick returner, as the Ravens can't afford to let the unreliable Reed fumble away another game.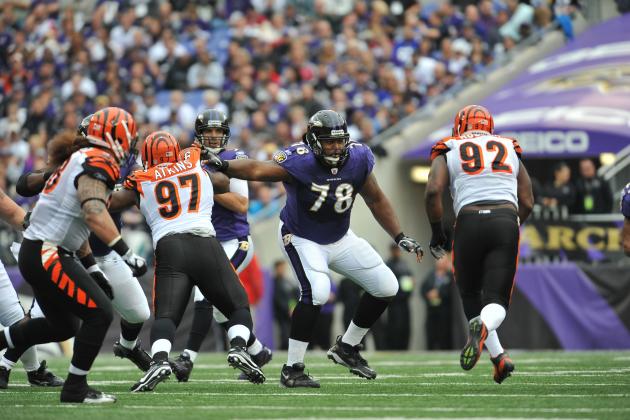 Larry French/Getty Images

For once, the Ravens seemed to have both tackle positions settled. Bryant McKinnie was solid at left tackle last season, and Michael Oher was looking forward to playing the same position in consecutive years for the first time in his career.
Unfortunately, this was not to be, as McKinnie has once again proven to be too unreliable to be counted on.
McKinnie's disappearing act has Ravens coaches and fans confused and worried. Did McKinnie really fail to live up to his promise of being in shape for training camp?
If so, that means the Ravens mistakenly doled out a $500,000 roster bonus to him. Sadly, that would be a bloated number for a bloated body, and that's a mistake the Ravens rarely make.
Ultimately, what happens next is all up to McKinnie. If he shows up in shape and ready to play, this story will go away.
On the other hand, if McKinnie's conditioning is truly the issue here, there is no way the Ravens will rely on him this season.
That would mean an already weak offensive line would be even weaker heading into the season. Michael Oher would start at left tackle, switching sides for the fourth time in his career, while Jah Reid would start at right tackle.
That would be a scary situation, so hopefully McKinnie shows up soon and in shape. If he doesn't, McKinnie will be gone and the Ravens' season might just be gone with it.