Fantasy Football 2012: Top 25 Rookies
Al Bello/Getty Images
Each year, the NFL gets its own unique boost of talent from the draft, and each year those rookies are more and more ready to contribute to their new squads. The question on many people's minds, however, is whether or not they will be ready to contribute to their fantasy teams.
Fantasy football is a billion-dollar industry where hundreds of thousands can change hands on a fumble or an errant pass. Last year, Cam Newton paid dividends for the few owners who actually took a shot at him. After an average draft position of 117 and then tying Tom Brady's point totals in many leagues, Newton isn't sneaking up on anyone this season.
Which rookies are going to help your fantasy team to a title in 2012?
25. Orson Charles, TE, Cincinnati Bengals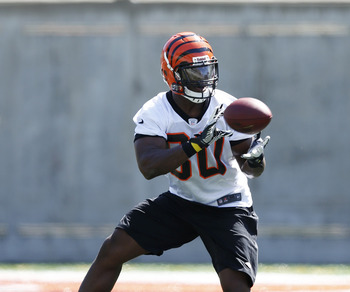 Joe Robbins/Getty Images
Fourth-round picks don't often blow up fantasy leagues, but Orson Charles has an outside chance to really contribute to the Bengals offense this year.
Charles has a lot standing in his way. Jermaine Gresham is solidified as the starting tight end, and A.J. Green is going to get the lion's share of targets (and rightfully so). In addition, Charles has a reputation of being a bit of a problem child, and he'll need to keep his head screwed on straight if he wants reps.
At his best, Charles is a matchup nightmare in the mold of Aaron Hernandez. Andy Dalton is still a work in progress as a passer, and Charles could sneak in and become a trusted target of the second-year quarterback.
Re-Draft Leagues: Keep an eye on him off the waiver wire.
Dynasty Leagues: Consider stashing him in deep leagues if you don't have young TE talent.
24. Bernard Pierce, RB, Baltimore Ravens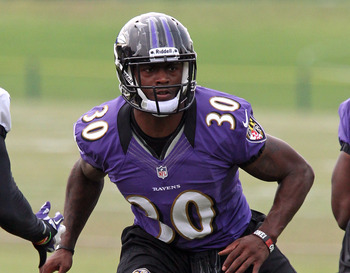 Mitch Stringer-US PRESSWIRE
Ray Rice is doing just fine as one of the NFL's last featured runners, but the Baltimore Ravens offense could use a shot in the arm and that may come by spelling Rice or letting him work more in the passing game.
Right now, Bernard Pierce and Anthony Allen are fighting for the right to be Rice's handcuff and whoever wins the competition must also convince the coaching staff he's worthy to earn reps because Rice has shown he can easily handle a full complement.
Pierce isn't going to supplant Rice anytime soon, but in case of injury or if the Ravens find a role for him in their offense, he could be a great guy to have on your fantasy roster.
Re-Draft League: Late-round handcuff for Ray Rice owners only.
Dynasty League: Late-round flyer in deep leagues
23. Lamar Miller, RB, Miami Dolphins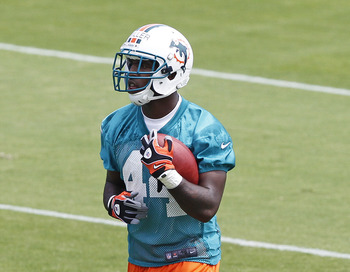 Joel Auerbach/Getty Images
Lamar Miller may look buried on the depth chart now, but Daniel Thomas and Steve Slaton had better be looking over their shoulders for this speedster out of The University of Miami. In fact, if the offense evolves to the point where Reggie Bush is no longer used as a traditional runner and more like he was utilized in New Orleans, Miller could end up spending a lot of time in the backfield.
It may seem like a lot of "ifs," but Miller has the talent to overcome long odds. A fantastic straight-line runner, Miller is dangerous when the holes are open ahead of him and can make defenders miss as well as pull away from them in the second level.
Re-Draft League: Keep an eye on him off the waiver wire, especially if you have Bush.
Dynasty League: A better long-term handcuff for Bush than Thomas or Slaton and worth a late-round flier in deep leagues.
22. LaMichael James, RB, San Francisco 49ers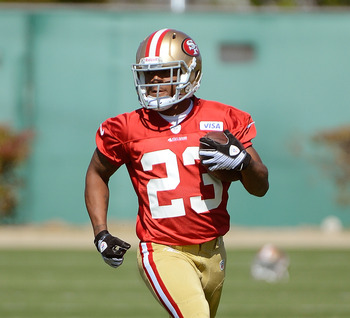 Thearon W. Henderson/Getty Images
Speaking of matchup nightmares, LaMichael James is known as one of the quickest players in football. He lasted until the late second round in the draft but has all of the skills needed to be a weapon in the 49ers offense.
Like Charles, he won't see a ton of action early on as Frank Gore, Brandon Jacobs and Kendall Hunter are all in front of him on the depth chart. However, also like Charles, James is able to exploit defenses in ways that traditional players cannot. James can line up with another running back in the backfield or out in the slot and keep defenses guessing.
If Alex Smith doesn't get the passing game going this year, the Niners will have to be creative on offense, and James could be a big part of that.
Re-Draft League: Keep an eye on him off the waiver wire.
Dynasty League: Consider drafting him if you have an extra roster spot, especially if you already have Frank Gore.
21. Russell Wilson, QB, Seattle Seahawks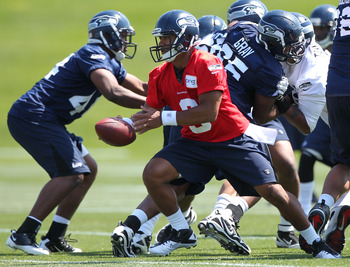 Otto Greule Jr/Getty Images
Russell Wilson has everything an NFL quarterback needs except the minimum height that most NFL coaches believe every NFL quarterback should have. Pete Carroll and the Seattle Seahawks are rolling the dice that he can overcome that deficiency.
Currently, Wilson is battling free-agency acquisition Matt Flynn and holdover Tarvaris Jackson for the right to lead the Seahawks talent-bereft offense. If Wilson manages to get the upper hand, he could immediately reward fantasy owners with his low-risk/high-reward style.
Like Newton last year, Wilson would be more liable to tuck and run (and succeed) when things get hairy than to force the ball into coverage.
Re-Draft League: Worth a backup quarterback spot in deep leagues, if he wins the starting position.
Dynasty League: Late-round pick but could move higher if it looks like he's going to play.
20. Mohamed Sanu, WR, Cincinnati Bengals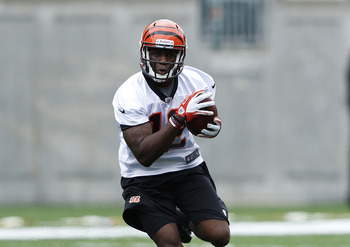 Joe Robbins/Getty Images
The second Bengal on the list, Mohamed Sanu is a better bet to get consistent targets in his rookie season. The Rutgers product lacks the elite physical tools of A.J. Green but plays the game with polish and tenacity that leaves defenders unable to keep him from racking up catches.
Sanu, like the rest of the Bengals' skill players, is dependent on Dalton taking the next step forward. Last year, Dalton's biggest responsibility was handing off and not screwing up—and he performed admirably. If the Bengals want to join the NFL's elite, they'll need him to become an elite passer, and Sanu was drafted to be a big part of that.
Re-Draft League: Keep an eye on him off the waiver wire, consider a late-round flyer in deep PPR leagues.
Dynasty Leagues: Consider a late-round flyer if wide receiver talent is thin.
19. Brandon Weeden, QB, Cleveland Browns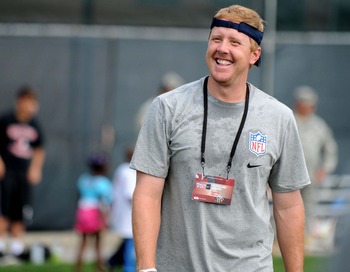 Eric P. Mull-US PRESSWIRE
Brandon Weeden was drafted with every expectation of beating out Colt McCoy for the starting quarterback spot, and that should happen sooner rather than later in Cleveland. If Weeden can give the Browns anything better than checkdowns and scared QB play, the Browns should be on the rise quickly in years to come.
This year, on the other hand, could be a bit of a mess. Like Andy Dalton for Cincinnati last year, Weeden's number one job will be to hand off the ball and not mess up. Weeden can certainly get that done, but it's going to wreak havoc if fantasy owners are counting on him.
With so few quality targets and a learning curve coming from the spread offense, wait on Weeden and only draft him in deep leagues or later in fantasy drafts.
Re-draft League: Solid backup QB in deep leagues, but take a wait-and-see approach.

Dynasty League: Mid to late-round pick up with little risk, high-reward potential.

18. Michael Floyd, WR, Arizona Cardinals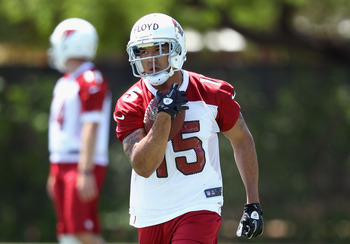 Christian Petersen/Getty Images
Early reports out of Arizona indicate that Michael Floyd isn't on track to start in 2012, and that will drop him in dynasty leagues and probably out of all but the deepest re-draft leagues—or those held in South Bend, Indiana.
Floyd has always had a ton of physical talent, but it's work ethic issues that are dogging him this time around and there's always the worry of off-the-field concerns. Because of that, drafting him early is a high-risk/high-reward situation that may never pay dividends if he can't stay out of the Cardinals' doghouse.
The other factor working against Floyd's fantasy numbers is the quarterback situation in Arizona. Neither Kevin Kolb nor John Skelton is looking like a lock to put up a whole lot of numbers, and the Cardinals may look to lean on their running game this season.
Re-Draft League: Draftable, but don't waste your pick unless he wins a starting spot or it's a deep PPR league.
Dynasty League: He's going early, but nothing more than a high-risk flyer in the middle rounds.
17. Brian Quick, WR, St. Louis Rams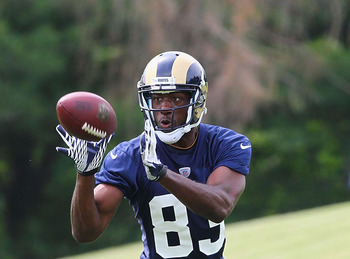 Dilip Vishwanat/Getty Images
If one believes reports out of camp (though, one should always take those with a 50-lb bag of salt), the Rams will utilize Brian Quick early and often in 2012. This report makes a lot of sense, though, as the Rams lack a ton of quality targets for Sam Bradford.
Quick is a low-floor/high-ceiling prospect, and he'll likely take a few years of acclimation to the NFL game before he has any chance of being truly elite. But if he can learn to use his size in the air (especially in the red zone), he should put up points early in his career, and that means he has a ton of potential value for fantasy owners.
Re-Draft League: Worth a late-round flyer. Pay attention to training camp preseason, because that value could skyrocket.
Dynasty League: Mid-round pick with extra value in PPR leagues.
16. Rueben Randle, WR, New York Giants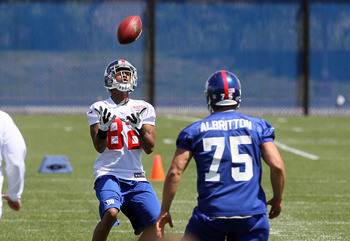 Jim McIsaac/Getty Images
The New York Giants already have a good thing going in the passing game with Eli Manning picking apart defenses whether he's throwing it to Hakeem Nicks or Victor Cruz. Losing Mario Manningham was a calculated gamble by the Giants as Super Mario has been a solid contributor for them but wasn't going to get the money he wanted from Big Blue.
Now, Ruben Randle is expected to come in and (somewhat) replace Manningham's production. He shouldn't have much problem supplanting guys like Dominic Hixon and Jerrel Jernigan in the receiver rotation.
The Giants are also looking to re-establish the running game in 2012, so the passing numbers could be down across the board, but look for Randle to make an impact this season and have his role grow bigger and better in the years to come.
Re-draft League: Worth a late-round flyer, especially in PPR leagues.
Dynasty League: Definitely a mid-round pick, even higher in PPR leagues or if he establishes himself early in training camp.
15. Josh Gordon, WR, Cleveland Browns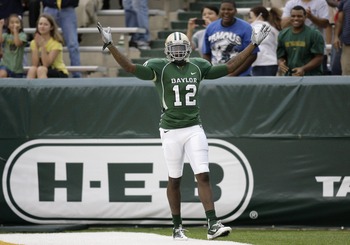 Brett Davis-US PRESSWIRE
While many rookie receivers hope to find a role (any role) in their new team's offense, some receivers show up to camp with hopes they can immediately be a focal point. The latter group is usually made up of high first -round picks, but this year, a second-round supplemental draft pick is hoping for the same.
Josh Gordon left Baylor in 2010 and ended up at Utah, where he never played a down. Drafted by the Cleveland Browns, he's hoping he can step in immediately into an offense that will start rookies at quarterback, running back and at least one offensive line spot.
Gordon certainly has the physical talent to do it and should see reps early, but he's also a wild card off the field and could just as easily provide zero return on your dynasty investment.
Re-draft League: Worth a late-round pick if he wins a starting position, high upside pick in deep leagues otherwise.
Dynasty League: A risky mid-round pick, but you could take a shot on him if you already have solid receiving talent on your roster.
14. Ryan Tannehill, QB, Miami Dolphins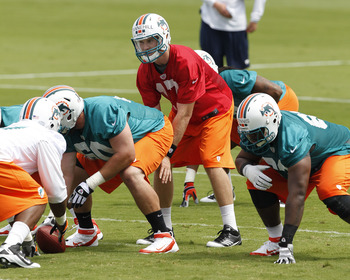 Joel Auerbach/Getty Images
Out of all the rookie quarterbacks drafted in the first round this year, Ryan Tannehill has the highest uphill battle between him and a starting position. With veterans David Garrard and Matt Moore both looking solid in camp practices, Tannehill will be made to compete, and he was never the most pro-ready.
Also, it's difficult to look around the Dolphins' roster and like the weapons Tannehill will have around him.
Long term, Dynasty owners should try to stash Tannehill, but he's probably going to stay on the waiver wire as long as he stays on the bench.
Re-draft League: Waiver wire pickup if the Dolphins' starter goes down
Dynasty League: Mid-round pick
13. Alshon Jeffery, WR, Chicago Bears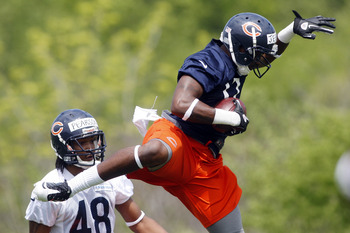 Jerry Lai-US PRESSWIRE
Like Gordon, Alshon Jeffery is ready to contribute to an NFL offense and isn't going to get any training wheels this season. Jay Cutler already has a few quality targets in Chicago, but Jeffery has a good chance to step right into the rotation.
Most importantly, Jeffery's best attributes—great hands and good body control—are magnified in the end zone, where the game becomes more about plucking the ball out of the air rather than burning anyone down the field.
Re-Draft League: Worth a late-round pick, but the upside to score a lot of touchdowns could push him higher in some leagues.
Dynasty League: Early to mid-round pick.
12. Robert Turbin, RB, Seattle Seahawks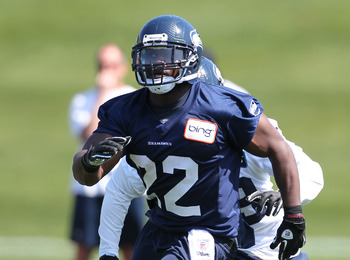 Otto Greule Jr/Getty Images
Drafted late, Turbin wasn't expected to contribute early in his career, but issues with Marshawn Lynch could change that in a hurry.
Even if Lynch isn't suspended, Turbin has been able to use that uncertainty to showcase his abilities in practice, and his skill set is pretty impressive. For fantasy players, it's important to remember that Turbin (5'10", 222 lbs) is a powerful, low to the ground runner who could end up stealing some goal-line and short yardage work.
If Lynch misses any time this season, Turbin is a great handcuff on a team that has some question marks at quarterback.
Re-Draft League: Solid late-round handcuff, higher if Lynch is going to serve a suspension.
Dynasty League: Mid-round pick as Lynch is a solid candidate to get strike three any day now.
11. Isaiah Pead, RB, St. Louis Rams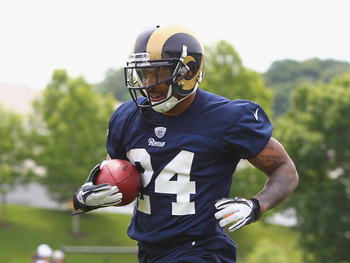 Dilip Vishwanat/Getty Images
Steven Jackson is dangerously nearing the 30-year-old wall for running back, and Isaiah Pead is a fantastic option to start stealing serious carries in order to keep Jackson fresh.
As a runner, Pead doesn't offer the same violent running style that Jackson is known for, and he isn't as good between the tackles, but Pead isn't just a sweep guy. Capable of beating defenses in both the run and pass game, the Rams will look to get Pead going early in games in order to find a good rotation.
If Jackson misses any time with injury, Pead is one of the better handcuffs one could have.
Re-draft League: Late-round pick, higher if handcuffed with Jackson
Dynasty League: High to mid-round pick
10. Stephen Hill, WR, New York Jets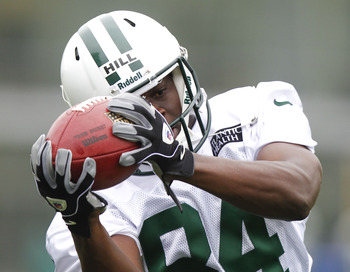 Jeff Zelevansky/Getty Images
Looking at the New York Jets' wide receiver talent, it is easy to think Stephen Hill is worth a premium pick—he's going to get his targets and probably going to get a few of them in the red zone as well. However, looking at the Jets' quarterback talent should probably cool down those thoughts in a hurry.
With Tony Sparano at offensive coordinator, the Jets are going to re-commit to the run and to the (Tim Tebow-led) Wildcat. That, more than anything, is going to steal targets from Hill and (worse yet) hurt his long-term development.
Against all of those odds, Hill is still a solid pickup for your fantasy roster because he's a phenomenal athlete and less of a headcase than Santonio Holmes.
Re-draft League: Late-round pick in traditional format leagues but could end up overplaying that draft position in a hurry.

Dynasty League: Tons of question marks but still a solid mid-round pick if you're needy.

9. Ronnie Hillman, RB, Denver Broncos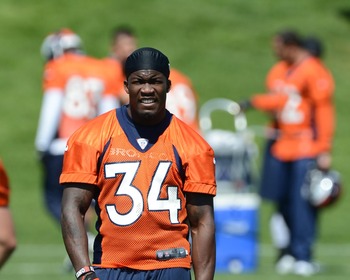 Ron Chenoy-US PRESSWIRE
A favorite of Denver's finest radio personality, Cecil Lammey, Ronnie Hillman is starting to make a lot of fans in the Mile High city, and that includes the Broncos coaching staff. While Hillman was drafted in the middle rounds, he has quickly become the clubhouse leader to complement and eventually supplant Willis McGahee.
A dynamic and shifty runner, Hillman has homerun speed as both a runner and a receiver. He isn't going to get a huge workload with Peyton Manning under center, but he will get touches and he should get every chance to succeed.
With Willis McGahee's history, Hillman could end up being the guy sooner rather than later.
Re-draft League: Becoming a popular name, so grab in the mid-rounds if you want him.

Dynasty League: Value is skyrocketing, top-100 pick.

8. Coby Fleener, TE, Indianapolis Colts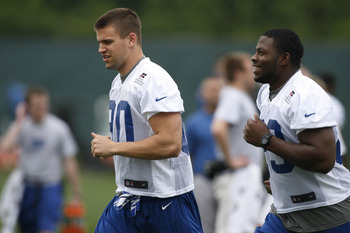 Brian Spurlock-US PRESSWIRE
Andrew Luck's favorite target at Stanford is moving to Indianapolis, where he should earn that distinction all over again as a member of the Colts.
Fleener is a solid pass protector and run blocker, so the Colts will be comfortable keeping him on the field, and Luck already has chemistry with his former teammate so the targets will be there. Of course, there is always concern that rookies will hit a wall, but Fleener is a smart young man and should transition nicely to the pro game.
Re-draft League: A solid backup TE who will get targets, late-round pick.

Dynasty League: Top-100 pick.

7. Justin Blackmon, WR, Jacksonville Jaguars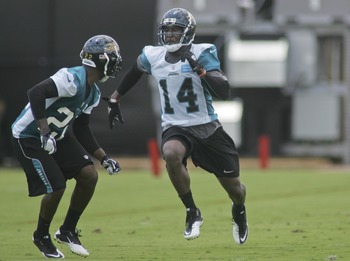 Phil Sears-US PRESSWIRE
Drafted by the Jacksonville Jaguars to be the cornerstone of their passing attack, Blackmon's value is tied to the success of Blaine Gabbert or the willingness of the Jaguars' coaching staff to move on to better options at quarterback.
On his own, Blackmon is a fantastic draft pick. He's athletic enough to separate from most pro defenders, and his knack for finding the ball in the air will lead to lots of big plays and end zone celebrations. It's just impossible to look at the guy throwing him the ball and trust Blackmon will get quality throws with any consistency.
Re-draft League: Mid-round pick, but don't reach for him.

Dynasty League: Top-100 pick.

6. David Wilson, RB, New York Giants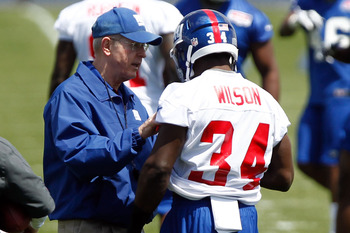 Debby Wong-US PRESSWIRE
For as much as the New York Giants are considered a defense-first, run-heavy team, the run game really stunk last year, and the team brought in David Wilson to change that.
A dynamic runner, Wilson has every tool an elite running back needs. He can pick his way between the tackles. He can hit the edge and make defenders miss. He can punish tacklers. The only thing standing between him and a full load of carries in New York is Ahmad Bradshaw, who isn't very consistent.
For now, assume Bradshaw will be the guy, but even in that scenario, Wilson is a fantastic pick. Dynasty owners should buy now, because it shouldn't be long before Tom Coughlin and his staff realize Wilson is the better of the two.
Re-draft League: Great handcuff to Ahmad Bradshaw in the middle rounds.

Dynasty League: Top-100 pick.

5. Kendall Wright, WR, Tennessee Titans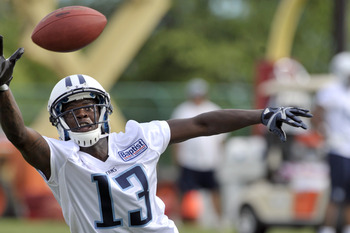 Jim Brown-US PRESSWIRE
Had this been written two weeks ago, Kendall Wright would have likely been five or more spots lower on this list. However, Kenny Britt's arrest means that Wright is now the top receiver on the Titans' roster and that he is one of the few Titans worthy of a fair amount of targets in 2012.
There are still big question marks with Wright. Will he transition well out of Baylor's wide-open offense? Will he be able to shoulder the load? Who is going to be throwing him the ball after the Jake Locker/Matt Hasselbeck competition is over?
Even with all of those questions, Wright should be a solid answer for your fantasy team's need at receiver.
Re-draft League: Mid-round pick.

Dynasty League: Top-100 pick.

4. Doug Martin, RB, Tampa Bay Buccaneers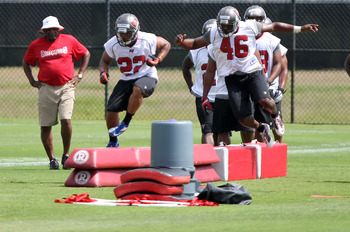 Kim Klement-US PRESSWIRE
Drafted by the Tampa Bay Buccaneers to help start yet another rebuild, Doug Martin has stepped right in as the presumptive starting running back. However, LeGarrette Blount isn't going to go down without a fight.
Where owners have to worry the most is in the red zone, where Blount (even if he isn't the starter) will make coaches think twice before they send Martin in. Blount is a big, physical runner, and coaches don't care about fantasy points when they're trying to save their starting backs from a goal-line beating.
Look for Martin to eventually win the position in Tampa Bay, but curb the enthusiasm until it is clearer how this two-headed monster will be used.
Re-draft League: A solid No. 2 or flex player, so he could go in higher rounds, but wait for his real value toward the middle of the draft.

Dynasty League: Top 50 player.

3. Robert Griffin III, QB, Washington Redskins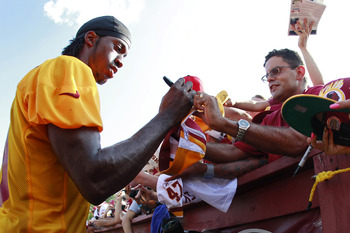 Geoff Burke-US PRESSWIRE
It's difficult not to look at Robert Griffin III and not wonder if Cam Newton's rookie success from 2011 could be repeated under similar circumstances this year.
The Washington Redskins have doubled down on Griffin's potential, bringing in a host of receivers like Pierre Garcon and Josh Morgan to provide good targets for the rookie. Of course, as with any Mike Shanahan offense, the running game isn't a question mark at all and Griffin should be able to play to his strengths in an offense that has always kept quarterbacks on the move.
Griffin is a phenomenal athlete, a fantastic passer who has a ton of upside in both real football and the fantasy stuff.
Re-draft League: Backup QB, so late-round pick.

Dynasty League: Top 50 player.

2. Andrew Luck, QB, Indianapolis Colts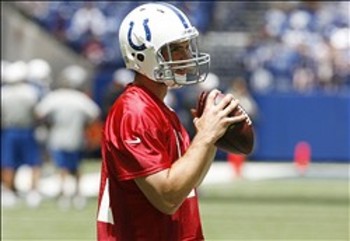 Brian Spurlock-US PRESSWIRE
According to average draft position and general hype, Andrew Luck should be a step lower on this list, as many think RGIII could be the better of the two in year one. However, Luck fought off RGIII as the first overall pick for a few reasons, and being more pro ready is one of them.
Luck is bringing his favorite target (the aforementioned Fleener) to Indianapolis with him and will be placed in an offense under Bruce Arians that was very kind to young quarterbacks like Peyton Manning and Ben Roethlisberger.
The Colts, as a team, shouldn't expect a ton in 2012, but Luck won't disappoint. He isn't the guy you want starting for your fantasy team, but if things go south, he could be a very important piece of your roster.
Re-draft League: Backup QB, so late-round pick.

Dynasty League: Top 50 pick.

1. Trent Richardson, RB, Cleveland Browns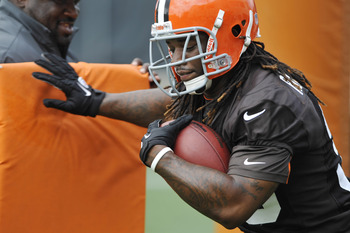 David Richard-US PRESSWIRE
The jump from everyone else on this list to Trent Richardson is huge.
Not only a good rookie option, Richardson is someone you should consider as soon as there is a run on running backs in your fantasy draft. If you end up with a quarterback or receiver early, this is a guy who could have huge upside as a low No.1 back who can slip under some radars.
The Browns have a rookie receiver and a receiving corps that is going to spend the next year or two working itself out. Until the rest of the offense comes together, the Browns are going to ride Richardson down the field drive after drive.
Because of the workload he's expected to have, and the long-term promise he already does, Richardson is a great fantasy pickup.
Re-draft League: Low No. 1/high No. 2 option, high-round pick.

Dynasty League: Top 10 pick.

Michael Schottey is an NFL Associate Editor for Bleacher Report and an award-winning member of the Pro Football Writers of America. He has professionally covered both the Minnesota Vikings and the Detroit Lions, as well as NFL events like the scouting combine and the Senior Bowl.
Keep Reading