Big Ten Football: Ranking the Conference's Top 10 Heisman Candidates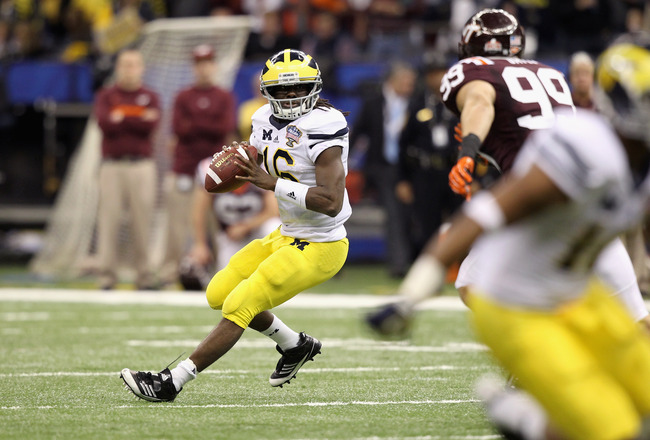 Matthew Stockman/Getty Images
The Heisman Trophy is not only about performance. It is also about perception.
For that reason, programs that feel their players have a good shot at going to the New York ceremony, amp up their Heisman campaigns.
This list will name a number of long shots, but it will also stick to reality.
That is, there is only a slim likelihood of a non-offensive skill player getting the call, and even then, said player would have to have a monstrous season. I don't see any of this year's Big Ten defensive players fitting the bill.
In effect, what follows, starting with the longest shot and ending with the player that has the best chance, are the Big Ten's most likely Heisman candidates.
10. Roy Roundtree: Wide Receiver, Michigan Wolverines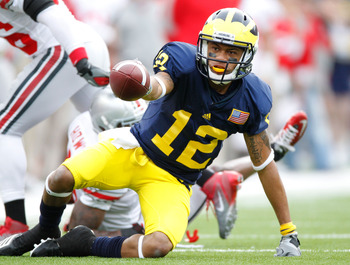 Gregory Shamus/Getty Images
Part of the key to the Wolverine offense maximizing its potential will fall on the receivers, and especially senior Roy Roundtree.
Roundtree had a huge 2010 in Rich Rodriguez's offense, posting 72 receptions for 935 yards and seven touchdowns.
Nonetheless, last season, he fell off the map, only recording 19 catches for 355 yards and two touchdowns.
If he can get back to his 2012 production, he will be the yin to Denard Robinson's yang, so to speak, and it is not uncommon for the success of a quarterback and his top receiver to both make their way to New York.
Brady Hoke has confidence in Roundtree, as he has designated the senior to wear the first "legends" number—No. 21 in honor of former Heisman winner, Desmond Howard.
9. Nathan Scheelhaase: Quarterback, Illinois Fighting Illini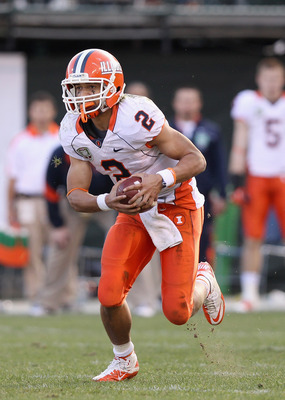 Ezra Shaw/Getty Images
Although the Illinois offense, and Scheelhaase by extension, tanked to finish 2011, Scheelhaase did prove he could play at a high level.
The then-sophomore posted an efficiency rating of 174.16 in his first six games. He also led the team in rushing with 624 yards on the year.
If Scheelhaase can play more consistently, and flourish in new head coach Tim Beckman's new offense, he, and the Illinois offense can flourish.
It is a decided long shot, but Scheelhaase has played well over a duration of games.
8. Jared Abbrederis: Wide Receiver and Punt Returner, Wisconsin Badgers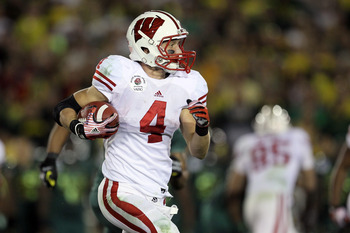 Stephen Dunn/Getty Images
The former walk-on is the top returning receiver—yards, receptions and touchdowns—in the conference.
He was also the top punt returner in the conference last season.
The nature of Wisconsin's offense doesn't call for a lot of passing. However, as teams are forced to drop safeties into the box in order to defend against the run, this opens up opportunities for receivers.
Look for new quarterback Danny O'Brien to key on Abbrederis.
If Abbrederis can further break a couple of big returns in high profile games, the Wisconsin running back might not be the only star player in Madison.
7. Le'Veon Bell: Running Back, Michigan State Spartans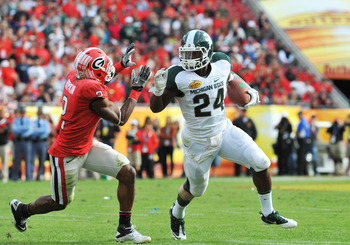 Al Messerschmidt/Getty Images
True junior Le'Veon Bell has as much experience as one could ask for, considering he's never taken on the role of the featured back.
Over the last two years he's shared the backfield with Edwin Baker, who, after last year, opted to leave early for the NFL.
Bell has been impressive in those two years, wracking up 1,553 yards rushing for 5.37 YPC and 21 touchdowns.
He has also been a able receiver, grabbing 46 receptions for 364 yards.
This season, the Spartans will break in a new quarterback and a new set of pass catchers.
That will leave the offense on the back of Bell and the most experienced offensive line in the conference (per Phil Steele).
Look for the Spartan offense to function similar to 2008, when head coach Mark Dantonio leaned on Javon Ringer for 390 carries on the season.
Needless to say, if Bell can be or even more successful than Ringer, he will force the press to take notice.
6. James Vandenberg: Quarterback, Iowa Hawkeyes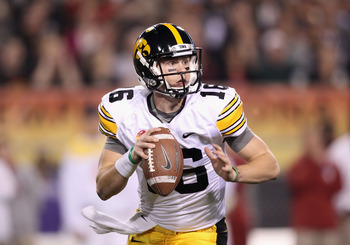 Christian Petersen/Getty Images
Iowa's running back issues have been well documented (per ESPN).
Iowa's probable defensive issues in 2012 have been covered.
Iowa has a chance to have a successful season, but if that is to happen, it will happen on the back of the passing game.
That passing game will begin and end with James Vandenberg.
He will be working with a new offensive coordinator (OC) in former Texas OC Greg Davis. Davis has had his fair share of detractors, but his track record in adjusting his offense to fit his quarterback's skill set is unparallelled.
If he can tweak what has been a typically under-performing Iowa offense enough to get the most out of JVB, then the Hawkeye signal-caller can make a push to receive an invitation to New York.
5. Rex Burkhead: Running Back, Nebraska Cornhuskers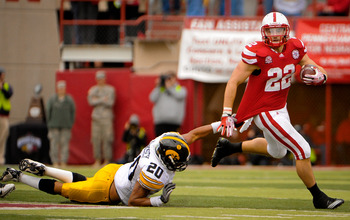 Eric Francis/Getty Images
Last year, Burkhead carried the Nebraska offense to the tune of 1,357 yards for 4.80 YPC and 15 touchdowns. He also had 21 receptions for 177 yards and two touchdowns.
This year, the Nebraska backfield is somewhat shorthanded. Burkhead is the top guy and Ameer Abdullah will do a quality job in backing him up. However, after that, it is true freshmen.
This will give Burkhead an opportunity to pad his stats.
If the Nebraska offense can have the breakthrough year that Husker fans are hoping for, Burkhead will be the beneficiary of that.
Moreover, if the Huskers can get to the championship game and ultimately, the Rose Bowl, Burkhead will be a big part of the reason why, and voters will surely take notice.
4. Taylor Martinez: Quarterback, Nebraska Cornhuskers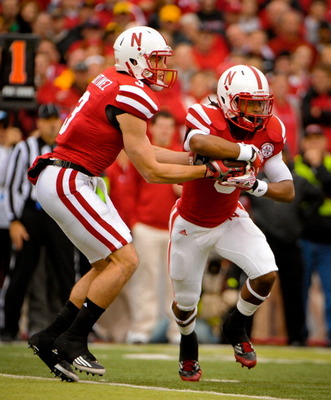 Eric Francis/Getty Images
Martinez ahead of Burkhead? Martinez even on this list?
The fact is the college football world knows what Burkhead can do, and next year, while he might be slightly more effective, he's not going to turn into Barry Sanders.
On the other hand, if the Nebraska offense is to have the previously mentioned breakthrough that Husker fans have been waiting for, a large reason for that will be the breakthrough of Taylor Martinez.
If Martinez can make the improvements he needs to make—and the receivers can play more consistently—the Bo Pelini's offense can flourish.
If that happens, Burkhead will play as well as he did last year, but Matinez will be ten times better.
For that reason, Martinez is a more likely Heisman candidate than Burkhead.
3. Braxton Miller: Quarterback, Ohio State Buckeyes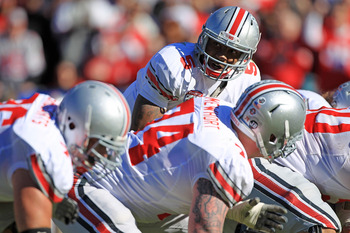 Scott Halleran/Getty Images
Last year, Miller wasn't overly impressive in leading the Bucks to a 6-7 record, but one has to remember that he was a true freshman and the season was tumultuous.
Despite his inexperience and all of the off-field problems the Buckeyes had, Miller still led the team with 715 yards rushing and finished with a respectable 138.37 passer efficiency—albeit with only 157 attempts.
This year, any Heisman campaign coming out of the Columbus will be severely hurt by the sanctions currently imposed against the Bucks, including a bowl ban and exclusion from the conference championship.
However, Miller is physically made for new coach Urban Meyer's offensive system, and if he takes to said system sooner rather than later, the offense will flourish.
And when Meyer's offenses flourish, Heisman voters tend to notice it.
2. Denard Robinson: Quarterback, Michigan Wolverines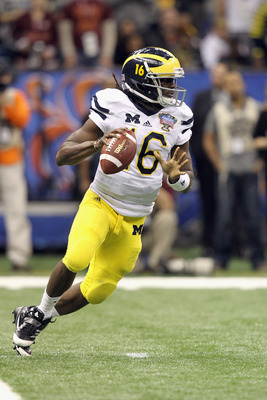 Matthew Stockman/Getty Images
In 2010, Denard Robinson, aka Shoelace, took the college football world by storm.
In his first five games, he had a 179.97 passing efficiency and rushed for 905 yards, which was good for 9.23 YPC.
He was on pace to break all kinds of records.
However, the toll on putting so much of the offense wore on him, and his shortcomings as a passer became manifest.
Robinson still finished the season 1,702 yards rushing and a passing efficiency of 149.58. He has a great season, but he, and the Michigan offense were inconsistent, which led to his and the offense getting shut down against better defenses. This led to a mediocre 7-6 season, which led to the firing of head coach Rich Rodriguez.
In 2011, the talk was whether or not Robinson could adjust to new coach Brady Hoke's more traditional scheme.
Statistically, the numbers weren't as eye-popping—139.73 passer efficiency and 1,176 yards rushing—but the end results in terms of consistency were more impressive and that showed up in the team's 11-2 record.
This year, we know Robinson has the talent and he has experience in the system.
If the Wolverines are to have a big year, much of the reason will invariably be because Robinson has a good year.
Moreover, Robinson will have plenty of national spotlight to showcase his stuff—Sept. 1 against Alabama, Sept. 22 against Notre Dame and Nov. 24 meeting against those guys from down south.
1. Montee Ball: Running Back, Wisconsin Badgers
Last year, Ball had a coming out year.
He was good in 2010, gaining 996 yards, for 18 touchdowns and 6.1 YPC, but he took the team on his shoulders in 2011.
He 1,923 yards, 6.3 YPC and a whopping 33 touchdowns. He also threw in 24 receptions for 306 yards and six touchdowns.
It was evident Wisconsin wasn't the same team without Ball, when he went down for a few drives against Michigan State during the regular season.
Last season, Ball was picked as a Heisman finalist and finished fourth in the voting.
As previously mentioned, the Heisman Trophy is as much about perception and media reception as what a player does on the field. In effect, Wisconsin has "rolled out the Heisman campaign," as CBS Sports put it.
Look for Bret Bielema to run up the score and keep his Heisman candidate in for blowouts just to pad those stats.
And expect Ball back in New York if the Badgers can manage another Big Ten Championship.
Keep Reading