5 Things to Look at When Evaluating NFL Tight Ends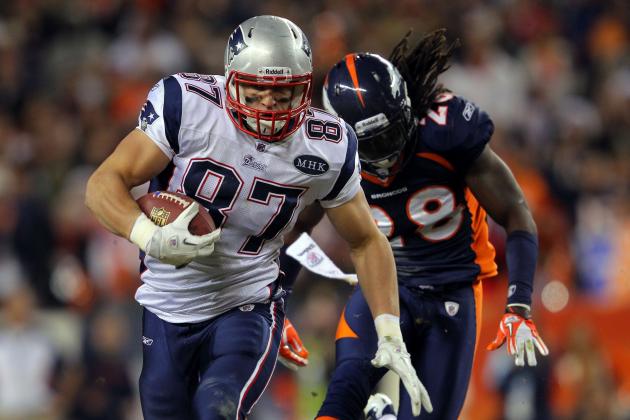 Doug Pensinger/Getty Images

The tight end position has been transformed in recent years in the NFL.
While most tight ends were once hulking bodies acting as essentially a sixth offensive lineman who could be trusted to run a quick hitch or hook route and catch a pass every now and then, now they are becoming unmatched athletes with the kind of skills that give defenders nightmares.
Tight end has gone from being a complement to other areas of the offense to the focal point in some offenses, and a far greater factor in almost all of them across the league.
That change has also resulted in a schism in what teams look for in tight ends. Some teams still chase for the more traditional complete player, who can catch and block and be a factor in all facets of the game, but some teams are eschewing the blocking duties to find unstoppable receiving threats.
That divide has been evident over the past decade with Jason Witten and Antonio Gates. Gates was the ex basketball player that teams never really managed to match up with. His blocking was never good, but he was such a weapon in the passing game that the Chargers didn't care, and he routinely put up huge receiving numbers in that offense.
On the other side of the coin was Jason Witten, who may never have put up the eye-popping numbers Gates could, but was a far more complete player, and was effective when asked to pass protect, run block and run routes. Witten was the pinnacle of the complete tight end while Gates was the poster boy for the athletic freak receiver.
Those two sides of the coin exist today too, and they are perfectly represented by Rob Gronkowski and Jimmy Graham. Both of those players put up record-breaking numbers last season as receivers, but only one of them, Gronkowski, is a complete player and a capable blocker. Gronkowski is the new Jason Witten, Jimmy Graham represents the new breed of Antonio Gates.
So let's take a look at what you need to look for to find a top tight end these days.
Begin Slideshow

»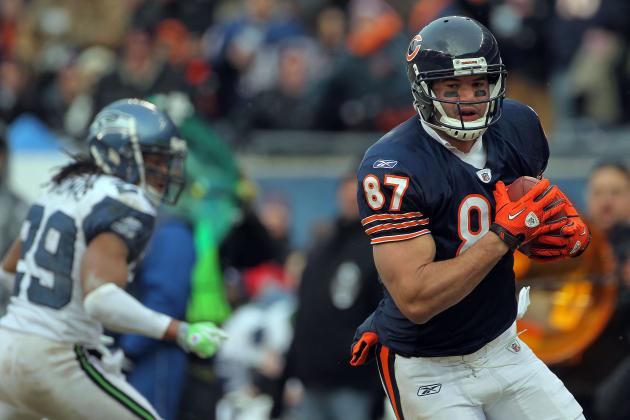 Doug Pensinger/Getty Images

The biggest threat in a tight end's arsenal today is size. That is usually what makes them so difficult to cover, regardless of the player that a defense wants to try and take him out with.
Defensive backs may have the speed an athleticism to handle modern tight ends, but they can't hope to deal with the size and wing span of players that may have six inches in height and who knows how much more in wingspan over them.
Rob Gronkowski and Jimmy Graham are both 6'6, as are Jason Witten, Marcedes Lewis and Kyle Rudolph. Heath Miller and Jeremy Shockey are 6'5. Chicago's Kellen Davis is 6'7.
An average NFL safety is a little over 6'0" tall, and most linebackers will be giving up a few inches in height to those players. They are inherently big targets with a catch radius that defenders can't match, and accurate quarterbacks can take advantage of.
The size of a modern day tight end is an obvious advantage in the passing game, but it also prevents teams from simply trying to shut them down with their most athletic coverage defenders, because those players are usually smaller and more nimble, but can't hold up at the point of attack against 250lb-pound tight ends.
That is what makes Gronkowski such a weapon.
Teams can't simply play him as a wide receiver and put their most athletic defensive back on him, because he is just as capable of lining up in tight to the line of scrimmage and blocking straight ahead, driving a smaller defensive back off the line and out of the play.
The best tight ends aren't just tall and long, but they have bulk and strength to go with that, enough weight to be a factor blocking at the line against linebackers and defensive linemen, making them more than a match for defensive backs and forcing teams into a matchup dilemma.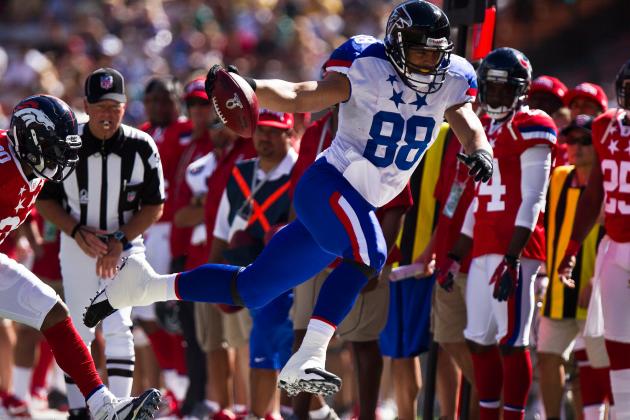 Kent Nishimura/Getty Images

Like wide receivers, great hands can hide a lot of flaws for a tight end. You don't have to be able to generate a whole lot of separation if a quarterback is confident in your ability to catch anything thrown in your direction. Tony Gonzales has been able to extend his career and never really fell off as a receiver despite diminishing athleticism because he has the best hands in the NFL among tight ends.
Gonzales is a smooth hands catcher, capable of plucking the ball out of the air in front of his body without risking it bouncing off his pads or allowing defenders to get in to disrupt the catch.
While Jermichael Finley had a dozen dropped passed last season, seasoned veterans like Antonio Gates dropped just a single pass all season, proving that it wasn't just his athleticism that led to his success over the years.
Gates may have had a rare blend of skills coming over from basketball, but an underrated part of his game has always been his hands. He is a natural receiver who rarely drops the ball and makes himself into a reliable target for his quarterback.
Tight ends are vying to be a quarterback's safety valve, and in order for them to do that they have to prove they can be thrown the ball even into tight coverage or closing windows and be able to secure the catch and make sure defenders don't have a play on the ball. One of the first things teams look for when analyzing tight ends today is how reliable their hands are.
Given the contact and contested nature of catches across the middle of the field, these guys need to have strong hands able to pluck the ball out of the air and keep hold of possession in traffic.
It may sound obvious, but it remains a vital trait for a tight end.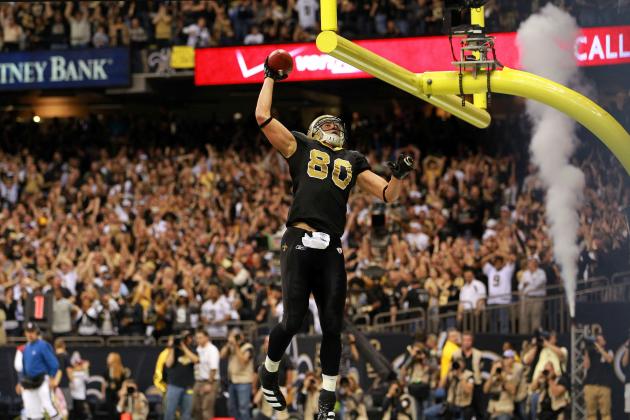 Ronald Martinez/Getty Images

Once you have a big tight end with good hands, next up on the list of traits is athleticism. This is what separates guys from being just a regular part of the offense to being game-breakers.
Jimmy Graham is one of a new breed of tight ends. He has the athleticism to dictate that defenses simply don't have anybody that can match up with them one-on-one and win the battle regularly.
The 49ers matched Patrick Willis up with Jimmy Graham as much as they could in the playoffs last year, and Patrick Willis is the best inside linebacker in football, and a rare athlete, but he couldn't stop Graham.
He certainly slowed him down, but Graham still had three catches for 87 yards and two touchdowns on throws into Willis' coverage, and when you look at what Willis is giving up in size terms, it's not surprising. Though their 40 times are about a wash (both ran in the low 4.5s), Willis is giving up at least five inches in height and around 25lbs to the tight end.
Needless to say, the gap is even greater when it comes to wingspan and overall catch radius. Willis might be the best that the NFL can offer in terms of linebacker help, and he's simply overmatched when it comes to a guy like Jimmy Graham.
Defenses don't have players that look like Jimmy Graham or Aaron Hernandez, and right now they are spinning their wheels trying to come up with a way of shutting them down. The rare blend of size and athleticism that these players bring to the table has put them way out ahead of the pack and thrust them into the spotlight of their offenses until the league can figure out a way to shut them down.
If a team is looking for the next great tight end, they want him to have eye-popping athleticism, and that's why those combine-warrior players tend to start flying up draft boards.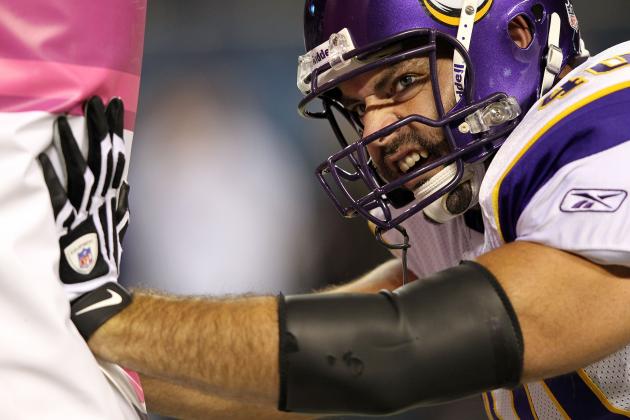 Jamie Squire/Getty Images

Though some offenses would like to forget it at times, tight ends are still blocking for much of their snaps in the NFL. Even if they're a receiving weapon like Jimmy Graham, who isn't going to be asked to pass-protect much during the course of a season, he is going to be blocking somebody every time the Saints run the ball.
Some teams have elected to use their second tight end as essentially a pure blocking tight end for these situations, and they can bring them on the field in heavy formations or when they want to be sure of winning at the point of attack.
However, the problem with that strategy is that it tells the defense exactly what is coming.
If you have a receiving tight end and a blocking tight end and you switch between the two of them, you essentially tell the defense whether the next snap is a run or a pass, which no offense wants to do. Your primary tight end therefore needs to be able to handle himself in the trenches and win at the point of attack regardless of who he is blocking.
Aaron Hernandez wasn't getting the job done as an in-line blocker last season for the Patriots. He wasn't giving defenses any reason not to treat him purely as a wide receiver and remain in nickel packages as long as he was in the game, because he couldn't beat even the smaller defenders when he was blocking in-line at the line of scrimmage.
The Patriots' answer to this was to convert him from a TE/WR hybrid to a RB/WR hybrid and line him up in the backfield where he could run the ball. His blocking was poor enough to force New England essentially to change his position to preserve the matchup advantage that he gave them.
At the other end of the scale, Rob Gronkowski was one of the best blocking tight ends in the league last season, and as much of a threat as he was catching the ball, he could also be lined up beside a tackle and be left to crack block a defensive lineman on his own.
That kind of blocking prowess gives an offense options and versatility.
Some teams may be allowing blocking to fall way down on their list of priorities for tight ends in recent years, but they are doing so at a cost, and the best tight ends will always be able to block, because it brings an added headache to defenses that receiving alone doesn't.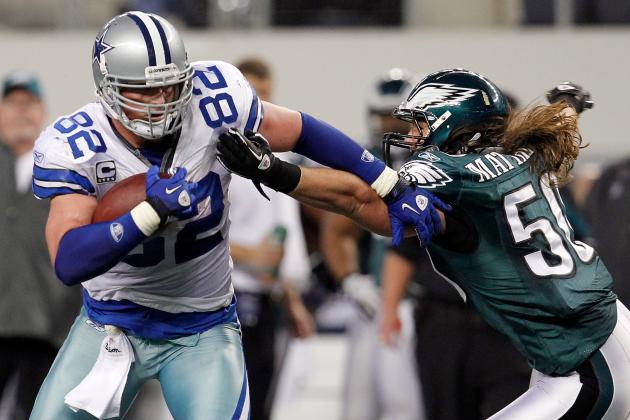 Tom Pennington/Getty Images

Everything a tight end does requires him to have his feet firmly underneath him and have a supreme balance and quickness in short areas.
Whether it be making a quick move to lose a linebacker in close coverage or getting quickly out of a stance to be in the correct blocking position on a run play, tight ends need to be able to move their feet quickly and maintain balance doing so.
The best players at the position have that inherently, and it is an extremely difficult thing to teach if somebody doesn't have it. Jason Witten may never have been the most athletic or dynamic tight end over the past years, but he always had an excellent balance and foot speed in everything he did.
Playing at the line of scrimmage, the key for blocking is to play within yourself with your feet firmly underneath you, and that can be hard to do with big, athletic defensive linemen trying to push and pull you off balance to defeat your block.
Though a large part of blocking ability is will and want-to, there is some fundamental techniques to it as well. Being able to keep your feet firmly planted underneath you is one of the secrets to maintaining your balance and being able to counter moves that are thrown at you.
This is one of those traits that is closely tied to a few of the other ones you look for, but a top tight end in today's game needs to have it in order to be among the best.