Ohio State Football: Power Ranking 5 B1G Players Buckeyes Should Fear the Most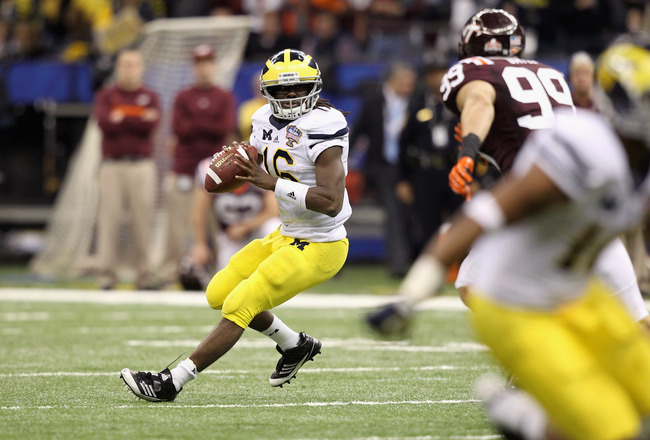 Matthew Stockman/Getty Images
The Buckeyes had to deal with their fair share of difficult players last year in the Big Ten when they struggled in their 6-7 season.
They lost to teams they hadn't lost to in several years and had trouble with several opposing players as the year went on.
This year is a new era of Buckeye football with Urban Meyer as the coach. But they still have to look up at a few teams as they begin their climb back up to the top of the Big Ten by the time they are postseason-eligible in 2013.
Here are five players that the Buckeyes still need to worry about this season.
5. Rex Burkhead, RB, Nebraska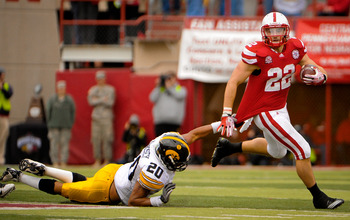 Eric Francis/Getty Images
In Ohio State's first game against Nebraska as members of the Big Ten, a huge part of the Huskers comeback win was the play of Rex Burkhead.
Burkhead had 178 yards of total offense—119 rushing—and two touchdowns to give Nebraska a big win at home as they pulled off a rare comeback over the Buckeyes.
Burkhead was almost impossible to stop in the second half of the game as he was able to exploit the Buckeye defense on the perimeter, which became a theme of the entire season.
His performance along with that of Taylor Martinez was why Nebraska won last season, and why they will be a dangerous team again in 2012.
4. Kawann Short, DT, Purdue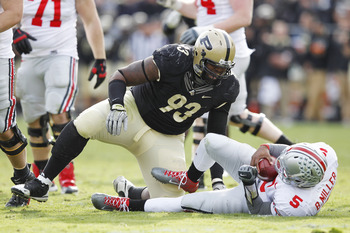 Joe Robbins/Getty Images
The Ohio State season came crashing down in West Lafayette as Purdue upset Ohio State for the second time in three years, and DT Kawann Short was a huge reason why.
The big lineman was almost unblockable, as he had three sacks in the Boilermakers' 26-23 overtime win.
Just like how Ryan Kerrigan performed in 2009 when Purdue last beat Ohio State, Short was a major problem for the offensive line all game long, getting into the backfield at will.
Ohio State's offensive line will need to shape up big time in order to contain Short next time the teams meet.
3. Montee Ball, RB, Wisconsin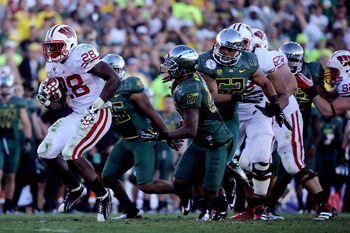 Kevork Djansezian/Getty Images
Wisconsin running backs can always be a problem for any team, and Heisman Trophy finalist Montee Ball will be a guy Ohio State needs to keep an eye on when the Buckeyes travel to Camp Randall this year.
The Buckeyes actually slowed down Ball the way almost no one else could, as he only gained 85 yards on 17 carries and two total touchdowns in their upset 33-29 win.
Ohio State shut down Wisconsin's run game very well last year even though Russell Wilson kept the Badgers in the game.
Games in Camp Randall are a different story, especially if the Badgers are contending for a national championship game spot. Wisconsin is a different team at home, which means the run game will be very tough to stop.
That makes Montee Ball an even more dangerous weapon this year.
2. William Gholston, DE, Michigan State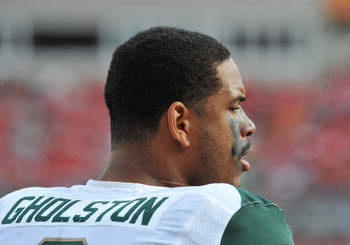 Al Messerschmidt/Getty Images
Vernon Gholston's cousin, William, announced himself to the college football world last year as he helped lead the Michigan State defense to a dominant showcase against a helpless OSU offense.
Gholston had a sack and three tackles for loss, among the nine sacks the Spartans had, in a 10-7 win over the Buckeyes in the Horseshoe.
He was only a small part of the Spartan defense that completely shut down the Buckeye offense, but his presence was enormous, and he is only going to get better.
If Ohio State is going to be able to get revenge up in East Lansing this season, they have to account for No. 2 all the time, and make sure he is contained.
1. Denard Robinson, QB, Michigan
Gregory Shamus/Getty Images
Almost every team has had problems dealing with Denard Robinson during his time at Michigan, and this year he broke out and had a great game against the rival Buckeyes.
Robinson threw for 167 yards and ran for 170 more with five total touchdowns, leading the Wolverines over the Buckeyes, 40-34, for their first win over OSU since 2003.
His Michigan career took off from a wins standpoint in 2011 as he and the Wolverines beat Virginia Tech in the Sugar Bowl, and his performance over the Buckeyes went a long way toward that.
Ohio State's defense shut him down the year before, but Robinson ran wild in The Big House last season.
All eyes will be on Robinson in Round 3 in the Horseshoe, as Ohio State looks to end its shortened season on a high note by getting revenge on Robinson and Michigan.
Follow me on Twitter @bielik_tim for the latest college football news and updates.
Keep Reading

Ohio State Football: Like this team?