What to Expect from Every Returning Washington Redskin in 2012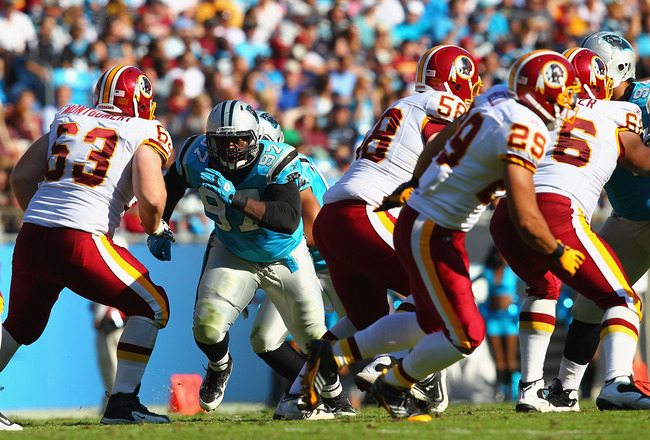 Dilip Vishwanat/Getty Images
You know what is the biggest surprise of this training camp? There's over 45 returning players.
A team that was once notorious for their lack of chemistry with the 53-man roster endlessly changing, the Redskins and Mike Shanahan have stressed continuity, competition and patience.
Does continuity equal success? Actually, it does.
There's no more excuses for the adjustment to the 3-4 defense. The offensive line will be intact from last year and the team has transformed from one of the oldest to now one of the youngest.
To the world outside of the passionate Redskins fan base, the success of their season is reliant on Robert Griffin III, which is very well true.
However, Mike Shanahan and the front office has laid a foundation to surround the talented quarterback with core players; players that are familiar with the newly renovated culture at Redskins Park and the overall scheme.
Below are expectations of every returning Redskin from last season and before that. Enjoy.
Quarterback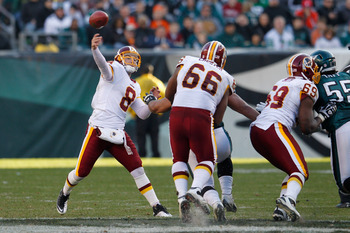 Rob Carr/Getty Images
1. Rex Grossman
You know what I'm expecting/hoping from Rex Grossman this season? That he never enters the game takes a snap or does anything involved with the first-team offense.
Grossman's time as a starter in the NFL is over. I know I may sound harsh, but that is basically a fact at this point.
Other than that, Rex is now entering his fourth year in Kyle Shanahan's offense. Despite his erratic statistics, it is evident that he is fully aware of the system.
So as he enters the final stretch of his career, Grossman needs to take on a new role: mentor. That may sound funny to you, because Rex is certainly not the mentor type, but he has been in this league for a long time and even played in a Super Bowl.
He needs to show Robert Griffin III the ins and outs of this offense and be working with him on a regular basis.
Running Backs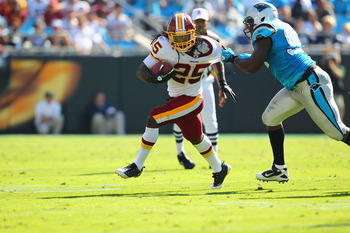 Dilip Vishwanat/Getty Images
1. Tim Hightower
2. Roy Helu, Jr.
3. Evan Royster
4. Darrel Young
I've stated this before and I will again: it is nearly impossible to get an accurate read of Mike Shanahan's plan with his use of running backs.
Either way, the Skins might be lacking that true number one running back, but his offense has shown that they won't need one.
At one point in the season, all three backs (Hightower, Helu and Royster) will have their game. Shanny likes using momentum in his running style, this will keep all of their legs fresh throughout the year.
Tim Hightower's production is entirely dependent on whether or not he is fully recovered from his torn ACL last year.
If so, then I see Hightower getting the bulk of the early carries. He's the veteran of the group and is the most versatile.
I wouldn't say I have high expectations, but I expect him to have a productive season in an overall limited role.
Roy Helu is the most talented of the group, but showed some durability issues after being the featured back for a few games.
If Helu is able to turn that corner, than I expect him to receive the most carries out of the three. He's the best playmaker.
I envision Evan Royster's role on the offense to be similar to last year. We won't see him have a 20-carry game in the first half of the season, but he'll turn it on at the end when Hightower and Helu need a rest.
Darrel Young has been fun to watch. I admit that I held a grudge against him because he replaced one of my favorite Redskins Mike Sellers, but there's a lot to like about his game.
He's been a lead blocker, contributor on special teams, receiver out of the backfield and can even give you a few short yardage carries. (Which I think they should seriously consider, they don't have a power back.)
I understand that fullback is not an every down position anymore, but I expect Young to separate himself in that regard.
Tight Ends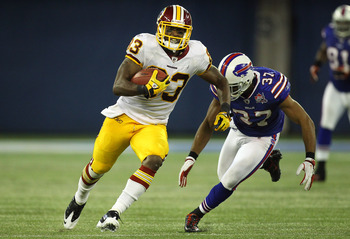 Tom Szczerbowski/Getty Images
1. Fred Davis
2. Chris Cooley
3. Niles Paul
4. Logan Paulsen
For the third year in a row, this is supposed to be the most talented position on the offense.
Fred Davis and Chris Cooley have both proven that they can be a dynamic pass catcher, but they have been unable to coexist.
As long as he isn't an idiot anymore, Fred Davis should make the Pro Bowl and needs to make it for that matter. He's getting paid like a top-tier tight end and he certainly has the talent to do so.
Not to mention a rookie quarterback's best friend is a reliable tight end.
For the first time in his career, Chris Cooley has doubters and he should for that matter. He's battled injuries two out of the last three years and he's not getting any younger.
Out of Davis and Cooley, it's Cooley that's going to need to adapt to a different role this season. Not just in the X's and O's, but as a leader too. He's one of the longest tenured Redskins on the team and will need to set an example for the youngsters.
Niles Paul remains a question mark. This will be his first season as a tight end (he was previously a receiver).
I'm very curious to see how this experiment works out. His special teams play is already highly valued, but can he adjust to blocking defensive ends and linebackers?
Athletic tight ends have dominated the NFL recently and Paul has that potential, just not yet. As of now, he'll be special teams ace and could be used in specific offensive packages, but nothing more at the moment.
If I were Mike Shanahan, I would give Paul as many reps as possible at tight end in the preseason. Let him get used to the position in live action.
Logan Paulsen is never going to be a star in this league. As an undrafted free agent, Paulsen has shown the ability to be a blocking tight end, but not a lot else.
With the emergence of Niles Paul, I don't see a spot on the roster for Paulsen.
Wide Receivers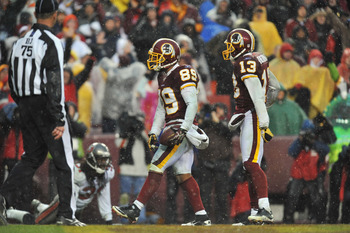 Larry French/Getty Images
1. Santana Moss
2. Leonard Hankerson
3. Anthony Armstrong
4. Terrence Austin
5. Brandon Banks
6. Aldrick Robinson
Given his familiarity with the offense, Santana Moss will probably be the starter alongside Pierre Garcon in the opener.
I understand that he should start initially and you will not find a bigger Santana Moss supporter than me. That being said, Santana is not an every down receiver anymore. He should be primarily used in the slot, where he has shown he can be dangerous.
Leonard Hankerson is the X-factor of the receiving corps. I love his game and his potential, but we haven't seen enough yet.
Has he recovered from his hip injury? Has he improved his hands? He had drop issues in college and in the preseason.
If healthy, I expect Hankerson on the field as much as possible. He would be the perfect complement to the deep threat of Garcon. I see him as your standard possession type receiver, which is definitely needed.
Anthony Armstrong was a fan favorite after the 2010-2011 season. He definitely regressed last season, but Armstrong has some advantages: he's cheap, versatile and a good teammate.
With Garcon, Josh Morgan, Moss and Hankerson, I don't see Armstrong having a major role on the team. Either way, he'll be used on special teams and for depth purposes.
Terrence Austin wowed everyone last year with his performances in the preseason. After that, Austin wasn't able to make an impact in the regular season.
The only way Austin can play himself onto the roster is if he is given an opportunity as a kick returner and competes with Brandon Banks. Other than that, I would be surprised if he's used in the offense.
Brandon Banks is technically in this category. He's too small to be used in the offense and he's ran himself onto the roster as a returner.
Banks will once again have to battle in training camp if he wants to make the team. I don't expect him to make it this year. He regressed last season and his inability to play anywhere else is detrimental to his career.
I don't know what to expect from Aldrick Robinson.
I wouldn't be shocked if he ends on the practice squad again, which is fine. Robinson has been learning the slot position this offseason, which will be occupied by Santana Moss.
Giving Robinson another year to develop could be beneficial to the young receiver.
Offensive Tackles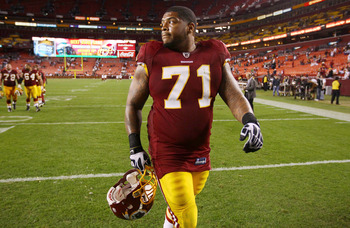 Win McNamee/Getty Images
1. Trent Williams
2. Jammal Brown
3. Tyler Polumbus
4. Willie Smith
Similar to Fred Davis, as long as Trent Williams is not a complete moron, he should have a Pro Bowl type season.
Trent now has the biggest task on the roster as he has to protect the blind side of the our knight in shining armor: Robert Griffin III.
Prior to his suspension, I finally saw Trent Williams proving why he was the fourth overall pick in the 2010 draft. The talent is obviously there—this is make or break year for him.
I can't believe Jammal Brown is still on the roster. After two injury plagued seasons, I don't have very high expectations for Brown going into the season.
He has been inconsistent upon his arrival to Washington, but it has been reported that he is finally healthy. Naturally, he missed the first practice of camp.
So of course I hope I'm wrong, but we're more likely to see Tyler Polumbus or Willie Smith sooner or later.
Backup veteran tackles have never been very effective in Washington throughout the years. That being considered, I actually like Polumbus.
He performed well in limited duty last season and can also play guard. That's exactly what you want from your backups, someone who can play multiple positions and step in when needed.
I expect to see Polumbus in the starting lineup at some point in the season, at either right guard or tackle. It's unrealistic to think we can go a whole season without sustaining injuries; they're a part of the game, unfortunately.
I really like Willie Smith.
Last year, Smith was one of the top rated rookie free agents and we were lucky to sign him.
While he spent the majority of the season on the practice squad, Smith stepped up at the end of the season and played very well considering his obstacles.
Eventually, I see Smith becoming the starting right tackle or at least the swing tackle, where he could go in for a few plays if either Trent Williams or the right tackle gets nicked up.
Offensive Guards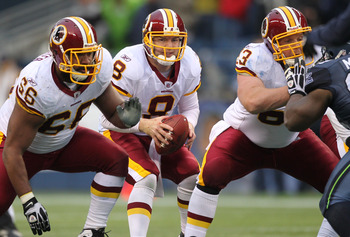 Otto Greule Jr/Getty Images
1. Kory Lichtensteiger
2. Chris Chester
3. Maurice Hurt
Before Lichtensteiger's injury last season, he was playing at the level that Mike Shanahan expected from him.
Entering his third year with the team, Kory is familiar with the zone blocking scheme. Of course, this is all contingent on his recovery—if healthy, he'll be the starting left guard.
I admit that I am not the biggest Chris Chester fan.
His contract doesn't equal his skill set. Anyways, Chester proved to be durable throughout last season and will predictably improve in another year in Kyle Shanahan's offense.
I did not expect Maurice Hurt to get a lot of playing time last season. After injuries, Hurt gained some much valuable experience for a former seventh round draft pick.
With the selections of Josh LeRibeus and Adam Gettis, Maurice Hurt will have his back against the wall. Hurt has been getting reps at tackle as well, which could increase his chances of making the team.
I really don't know what to expect of Hurt thus far. If I had to make a decision, I think he ends up making it, with Gettis going to the practice squad. Either way, I don't see a lot from him this season.
Centers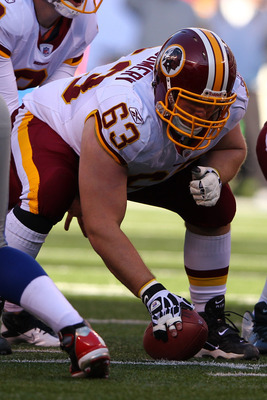 Ronald Martinez/Getty Images
1. Will Montgomery
2. Erik Cook
I admit, I have been adamant on the upgrade to the center position. Will Montgomery is mediocre at best. However, he's another veteran of this unit.
I know LeRibeus is getting reps at center, but I doubt he will replace Montgomery from the starting role. He has also shown the ability to play guard.
So I expect Montgomery to start, but I believe he can serve better as an eventual backup.
Erik Cook is technically on the roster.
He had an opportunity to play last year after injuries were suffered on the offensive line. Cook was terrible. He's simply a body during training camp. I highly doubt there will be a spot for him on this roster.
Defensive Ends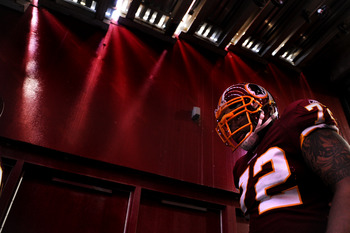 Patrick Smith/Getty Images
1. Stephen Bowen
2. Adam Carriker
3. Jarvis Jenkins
4. Kedric Golston
5. Kentwan Balmer
6. Darrion Scott
This is my favorite unit.
You have a combination of youth and veteran experience, none of which have peaked yet. I've stated on numerous occasions, that I am hoping for a rotational approach this year.
As of now, Stephen Bowen is probably the most productive defensive end out of the five. He'll be entrenched as a full-time starter.
I expect him to continue to pressure the quarterback and improvement against the run. Even though Bowen is technically a veteran, last year was his first year as a starter. He's got plenty of years left.
I'm also a big Adam Carriker enthusiast. He's the best run stopper on the defensive line. While he's not going to stick out, he's a solid player and appears to love being a Redskin.
I expect Carriker to be the initial starter, but I see Jarvis Jenkins working his way into the lineup.
Jarvis Jenkins is the biggest "what if" on the defensive line. Prior to his ACL injury last preseason, Jenkins was a training camp stud.
He was not only sticking out in comparison to the other rookies, but he was dominating offensive linemen. As long as he can stay healthy, we'll be seeing a lot of him.
Just thinking outside of the box: Why not play Bowen, Carriker and Jenkins all at the same time? That could be effective during pass situations.
Anyways, I expect Mike Shanahan and Jim Haslett to take baby steps in grooming the talented defensive lineman as the eventual every down player.
One of the longest tenured Redskins on the defense, Golston has been a model player since arriving in Washington back in 2006.
Golston won't receive any substantial playing time on the defense, he'll be used on special teams and for locker room purposes as well.
Again, I'm being thorough, but I don't see Kentwan Balmer making the roster unless they decide to keep five defensive ends.
However, injuries are what brought Balmer to the Redskins in the first place, which could very well happen again.
The same goes for Darrion Scott. He's filled in during spot duty over the past two years, but with Jarvis Jenkins returning from injury, Scott's chances are slim.
Nose Tackles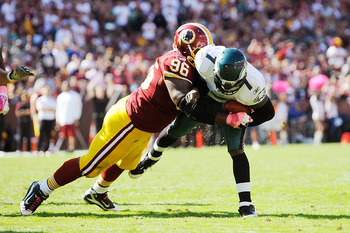 Patrick McDermott/Getty Images
1. Barry Cofield
2. Chris Neild
Through extensive research on the 3-4 defense, it can be argued that the nose tackle position is of the most importance in this particular scheme.
Barry Cofield was signed long-term to fulfill that need. In his first season at that position, he was solid.
I expect him to improve in his second year in Washington while being more acclimated with the defense and now a full offseason to get prepared.
Chris Neild was a big surprise last season.
After earning few reps in last year's preseason, Neild appeared to be destined for the practice squad. Well, he must have shown something in practice and filled in admirably in limited duty in the regular season.
Similar to the defensive ends, it is imperative to keep a fresh defensive line. I expect Neild's reps to increase this season.
Outside Linebackers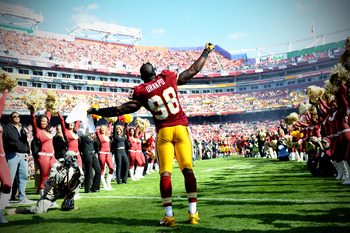 Patrick Smith/Getty Images
1. Brian Orakpo
2. Ryan Kerrigan
3. Rob Jackson
4. Markus White
This might be the most talented group on the team.
Putting pressure on the quarterback is a key component of good defenses amongst the league and with powerful offenses in the NFC East it needs to be emphasized.
Brian Orakpo is definitely capable of a double-digit sack season. He has the talent, strength and speed. He's been one of the better defensive players on the roster, but I know he can be excellent.
I'm giving Orakpo the benefit of the doubt this year, he'll earn his 10-plus sacks this season.
The same goes for Ryan Kerrigan. What I thought was a very impressive rookie campaign, considering he was playing a new position.
Ryan is an old school type of a player, using brute force to get to the quarterback. He's transitioned well against the run, too.
I also think Kerrigan has double digit sack potential. Will he get there this year? It's hard to say, he'll definitely be close. I'm predicting 9.5 sacks.
Who is the second remaining player of the infamous 2008 Redskins draft? That's Rob Jackson. He'll be the first man up if Kerrigan or Orakpo need a breather or an injury of course.
I like Jackson's intensity and he's certainly paid his dues through years on the practice squad. He's not going supplant either Orakpo or Kerrigan, but he's a solid role player.
Last year's seventh round draft pick Markus White drew praise from coaches in practice from last year. After spending the majority of his first season on the practice squad, White has a chance to become another solid bench player and contributor on special teams.
I expect a lot of playing time for White in the preseason for coaches to get a better assessment of the former Florida State product.
Inside Linebackers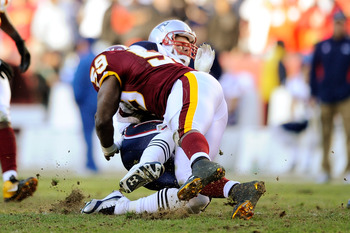 Patrick McDermott/Getty Images
1. London Fletcher
2. Perry Riley
3. Lorenzo Alexander
I think I've run out of compliments for London Fletcher. Regardless, age is anomaly when it comes to the team's captain.
He's going to lead the team in tackles again and hopefully start winning some games, something that Fletcher deserves more than anyone.
A lot is expected of Perry Riley this season. He finally took over the starting spot from the underachieving Rocky McIntosh and now he'll have to prove that he's starting quality linebacker.
Riley has all the physical tools that are needed; what he'll need to improve on is the mental side of the game. In his second year as the starter, I can only expect Riley to advance in his development.
I don't know where to exactly put Lorenzo Alexander. Either way, he's one of my favorite players and is by far the team's best special teams player.
As much as I admire an athlete like Alexander, I know that he won't have many opportunities with the first team defense. However, he's one of the most respected guys in the locker room and I'm still expecting him to do all the little things that go unnoticed.
Cornerbacks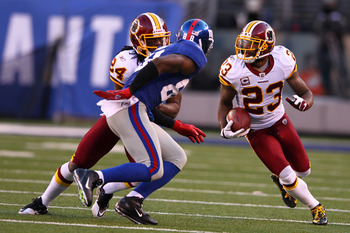 Al Bello/Getty Images
1. DeAngelo Hall
2. Josh Wilson
3. Kevin Barnes
4. Brandyn Thompson
Just thinking outside of the box, but I actually think DeAngelo Hall has some serious potential playing free safety towards the latter part of his career.
Not now, just food for thought at the moment.
Anyways, Hall needs to make plays this season. I know I can be overly critical of him, but when you have a $55 million dollar contract and are not a top-tier corner, I'm going to voice my strong opinion.
While the defense steadily improved from the year prior, they lacked turnovers.
I expect Hall to rebound from that missing aspect of his game. I also hope he'll act like the leader that he believes he is capable of.
Josh Wilson is the best cover corner on the team, in which he seemed more and more comfortable with the defense as the season progressed.
Coming into his second year in Burgundy and Gold, Wilson is the perfect complimentary corner to DeAngelo Hall, who is more of a risk taker.
Wilson will have another solid campaign and will be virtually underrated.
I had high hopes to Kevin Barnes, which could have been blind allegiance being a Maryland fan. That being said, Barnes had a golden opportunity last year and didn't perform to the level that was expected.
So where does that leave Barnes this year? He won't have a lot of competition, but Cedric Griffin will be fighting to be third on the depth chart when we get to week one.
Given Barnes' versatility, I expect him to remain on the roster, but I doubt he'll be earning a lot of playing time in the regular season.
A seventh round draft pick last year, Brandyn Thompson was a holdover. I really don't have high expectations for the former Boise State Bronco.
He'll have training camp to prove his worth, but he's a longshot.
Safeties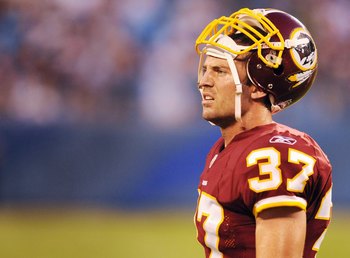 Steve Dykes/Getty Images
1. Reed Doughty
2. DeJon Gomes
Reed Doughty has come a long way after being a sixth round draft pick out of Northern Colorado. He has the ability to play both free and strong safety and is another valued member on special teams.
Even though I'm a big Doughty fan, I know he's best suited in a reserve role or in unique defensive packages. With the additions of Tanard Jackson and Brandon Meriweather, that's where Doughty will remain.
DeJon Gomes is an interesting prospect.
I was impressed overall with Gomes' production while earning significant time, but it obviously wasn't enough to earn the coaches trust as a starter.
That being said, Gomes remains a project on this defense, but I like his upside.
Kicker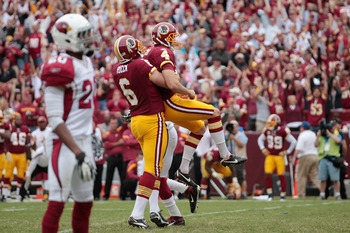 Rob Carr/Getty Images
1. Graham Gano
Well it looks like I'm continuing my streak and writing about the kicking situation. So, here's what I expect from Graham Gano.
He's going to kill it in the preseason again and beat out Neil Rackers because there's not enough pressure. Most of his kickoffs will go into the end zone and then he'll miss inexcusable field goal attempts with the game on the line while putting me through torture.
Punter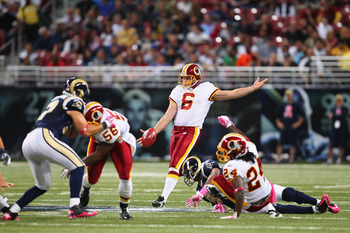 Dilip Vishwanat/Getty Images
1. Sav Rocca
Our best free agent acquisition last season? Okay, that's a bit much, but I have no issues with Sav. He's been a reliable punter and holder.
Plus, he's a former Australian Rules football player so that's awesome.
Long Snapper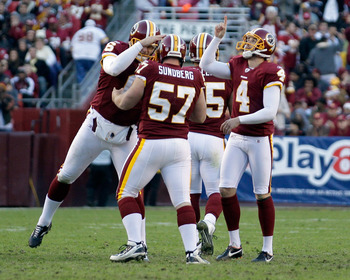 Rob Carr/Getty Images
1. Nick Sundberg
Let's see if I can write more than one sentence about Nick Sundberg.
He's been great in his two seasons in Washington and I don't expect that to change.
This makes it three sentences, good job, Tom.
Keep Reading

Washington Redskins: Like this team?