15 NFL Stars That Could Have a Career Resurgence with New Teams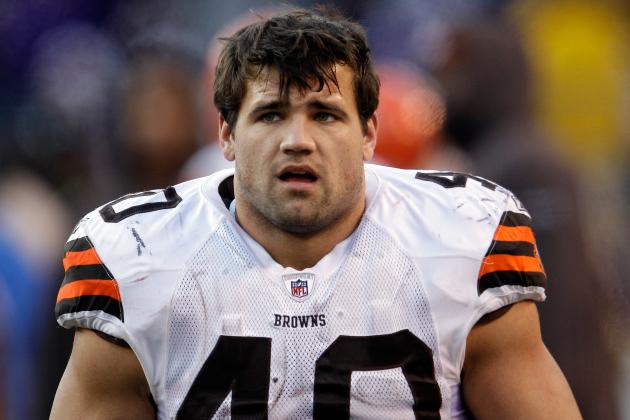 Rob Carr/Getty Images

As training camps begin to open up, NFL fans can start to fee it. Football season is finally here!
During this time of players studying playbooks, running countless drills and sleeping in dorm rooms, we fans get ready to debate which rookies should start, which veterans should be cut and what the strengths and weaknesses are on the offense and defense.
Though the focus at times may be on that sexy new rookie, every team has brought in a veteran looking to improve or even resurrect their career before they are out of football for good.
So what players are ready to see a resurgence? Here are 15 players most likely to resurrect their careers.
Begin Slideshow

»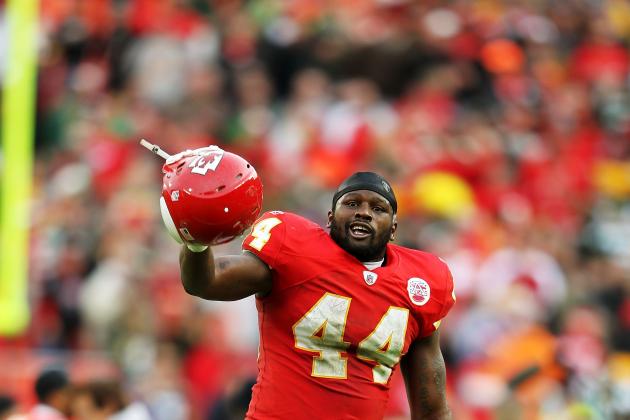 Jamie Squire/Getty Images

Four seasons ago, Le'Ron McClain was running to the Pro Bowl with the Baltimore Ravens when he rushed for over 900 yards. However, since then, he has run for 316 yards total.
Now to be fair, his role has often been to be a blocker. But the guy clearly has the skill to run. And he may get that chance in San Diego as he replaces Mike Tolbert.
At 27 years old, McClain still has a few prime years left. However, going onto his third team in three years, the time is now to make his mark, or the next place he may find himself is a starring role for a USFL team.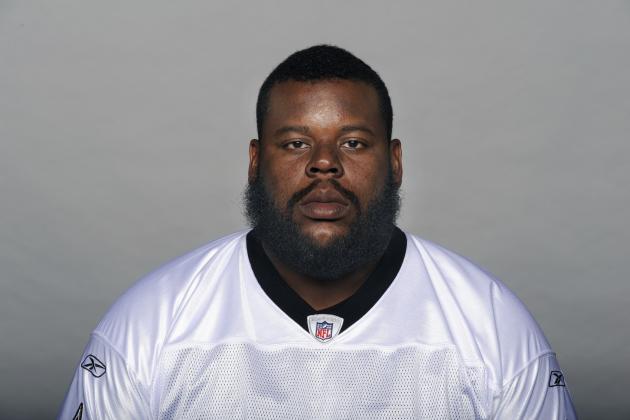 Handout/Getty Images

There was a time when Shaun Rogers was one of the most feared defensive lineman in the league. However, in recent years, his statistics and role on a team have consistently faded.
After a failed stint in New Orleans, Rogers' likely last chance in the league is in New York where he will be joining perhaps the best defensive line in football. If there is any place to turn a career around for a defensive lineman, this is the place.
No matter who is around him on the defensive line, Rogers will almost certainly take on only single coverage.
For Rogers, a 12-year veteran, this is it. In New York, if he cannot do it here, then he will likely never be able to do it...anywhere.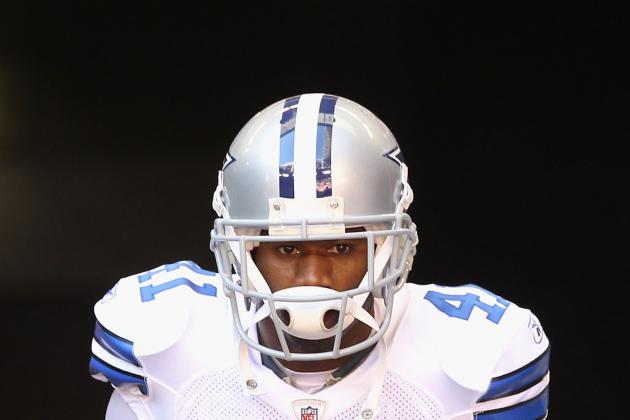 Christian Petersen/Getty Images

Speaking of guys on last chances, enter Terence Newman, a two-time Pro Bowler formerly of the Dallas Cowboys.
Though his last appearance in Hawaii was in 2009, his career since then has been shaky at best. At 33, Newman knows playing for the Bengals is likely his last chance.
But entering a Bengals team with an emerging defense, he may not be relied on as much as he was in Dallas, which could serve him well.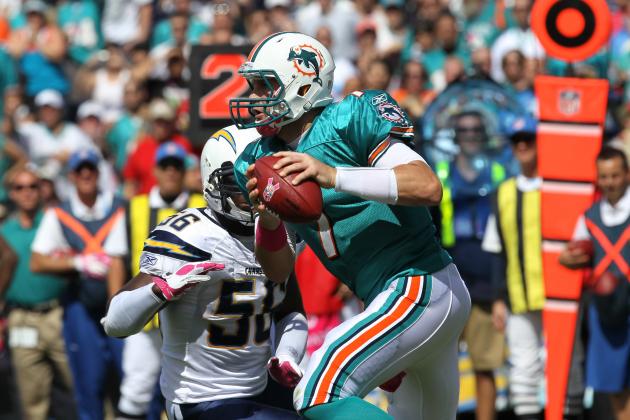 Stephen Dunn/Getty Images

As of right now, Chad Henne is the backup quarterback in Jacksonville. But if Blaine Gabbert continues to struggle, Henne may end up taking snaps before you know it.
Henne has had a topsy-turvy career. He has gone from potential savior in Miami to a bust the fans could not wait to say goodbye to.
The former Michigan University standout clearly has talent. The question is, will he be able to put it together with the Jags if he gets the opportunity? To me, I believe there could be a quarterback controversy here after a few weeks.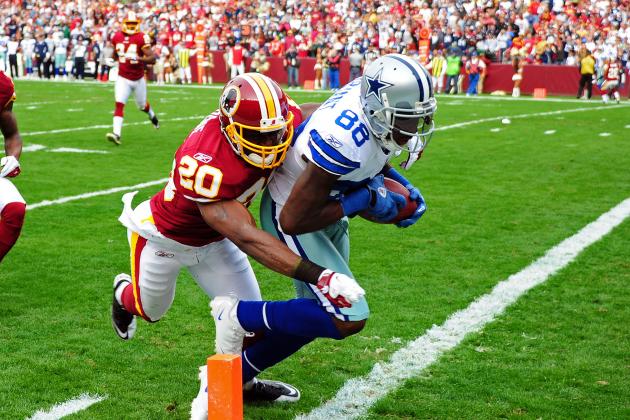 Scott Cunningham/Getty Images

It was not long ago that O.J. Atogwe was considered one of the better safeties in the NFL. However, when he left the St. Louis Rams for the Washington Redskins, he kind of disappeared.
He still had a fair season in D.C., but the talk of him being one of the leagues best fizzled. That could change, though, as he joins a Philadelphia Eagles defense that emerged as one of the league's best the last several weeks of the 2011 season.
At 31, Atogwe still has some time left to be a very productive player in the NFL The question is, will he continue to fall back to being just another safety, or will he start to be the Pro Bowl-caliber safety he once was?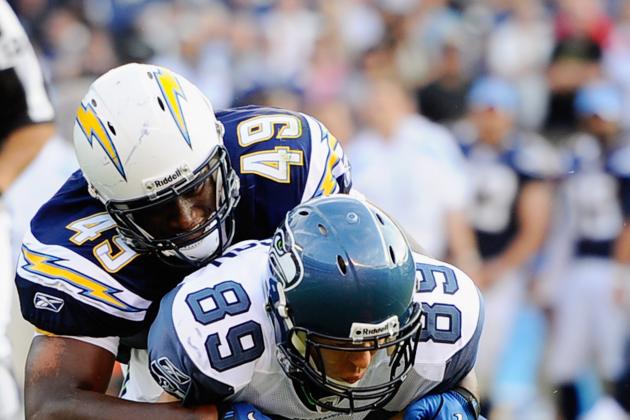 Kevork Djansezian/Getty Images

Just a few years ago, people were talking about Carlson as one of the next big tight ends in the NFL when he was a member of the Seattle Seahawks.
He had a great rookie 2008 season, catching 55 passes and five touchdowns. Since then. his stats have gone down, and last year the Seahawks brought in Zach Miller to replace him.
Now in Minnesota, he has a new lease on life and, along with second-year tight end Kyle Rudolph, could help Christian Ponder in an ultra-competitive NFC North.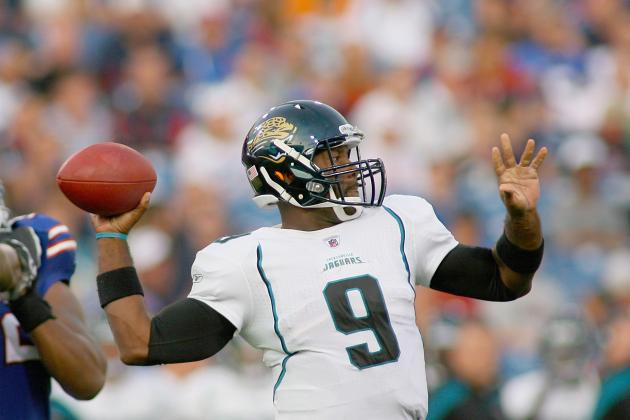 Rick Stewart/Getty Images

If you want to look at a guy who can have a career resurgence, look no further than David Garrard, who wasn't even in football last year.
Though he was initially an afterthought to be the starter in Miami, there have been murmurs that there is an open quarterback competition between he, Matt Moore and rookie Ryan Tannehill.
For Garrard, the bar may be set lower than others on this list, considering that last year he was watching the game instead of playing. In most cases, being the No. 2 guy in this case would be a success.
But in Garrard's case, there is at least a chance he could start. Wouldn't it be funny that he and Chad Henne end up starting for the other's former team?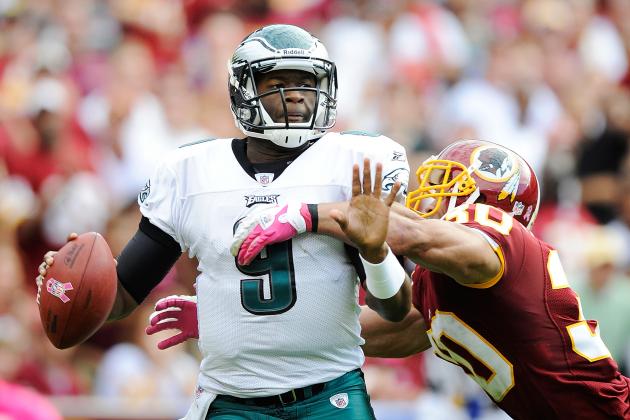 Patrick McDermott/Getty Images

When LaRon Landry came into the league in 2007 with the Washington Redskins, people felt he could become one of the best safeties in the league. When he had 95 tackles that year, he seemed to back it up.
Those stats remained consistent, and he put up All-Pro numbers in 2010 before injuries cut his season short. Then 2011 came around, another injury-plagued year where his play slipped.
Now he's out of Washington and will be in New York playing with Rex Ryan's aggressive defense. This is a perfect place for Landry, still one of the harder hitters in the league, to turn things around and look like the guy who could be playing in Pro Bowls every year.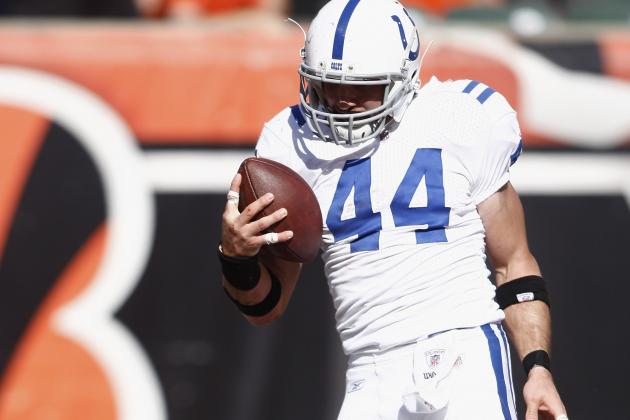 John Grieshop/Getty Images

It does not seem long ago that Dallas Clark was thought of as one of the best tight ends in the NFL. But after two injury-plagued years sabotages his production, Clark became part of the purge in Indianapolis where that franchise has hit the reset button.
He now goes to Tampa Bay, another team trying to start over. At 33, Clark is certainly staring at the sunset of his career. But with a new place, and a dangerous receiver like Vincent Jackson also entering the fold, this could be a true chance for redemption for Clark.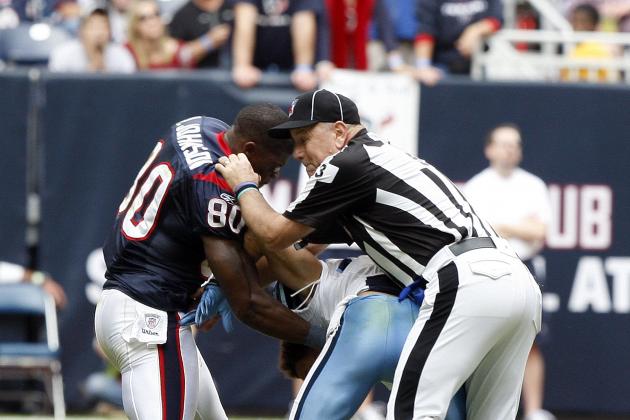 Bob Levey/Getty Images

In a clear case of a coach loving his former player, St. Louis Rams coach Jeff Fisher has brought in his former cornerback Cortland Finnegan, a guy he drafted when he coached the Tennessee Titans.
Finnegan has enjoyed a fine NFL career, but he is most known for getting his butt kicked by Andre Johnson in a game in 2010. His production after the 2010 season also dipped as almost every major statistic went down.
Now in St. Louis, Finnegan will look to re-establish himself as one of the better cornerbacks in the game.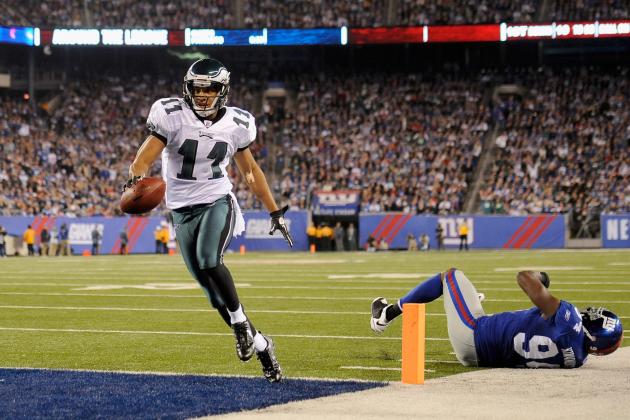 Patrick McDermott/Getty Images

Is St. Louis the land of resurgent veteran players? Perhaps, as Steve Smith is ready to be the guy that was making Pro Bowls with the New York Giants.
Roughly 28 months ago, Smith was a star for the Giants, catching over 100 passes. In 2010, Smith was on his way to another fine season when he sustained a major knee injury that he did not seem to have recovered from when he appeared in just nine games with the Philadelphia Eagles last year.
Now healthier and ready for action, Smith is looking to become the No. 1 wideout he once was.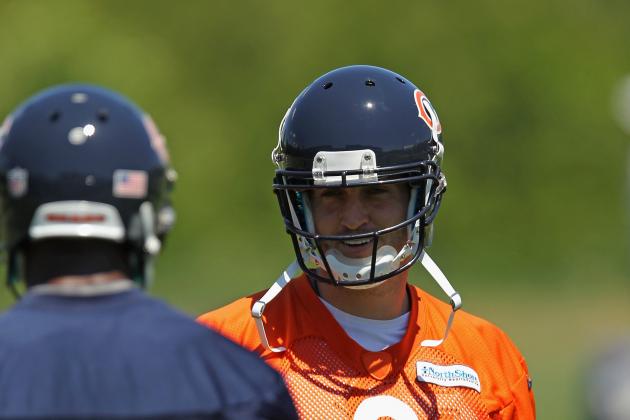 Jonathan Daniel/Getty Images

Unlike a lot of guys on this list, Brandon Marshall still enjoyed a productive 2011 season with the Miami Dolphins. But his production was nothing like it was when he was part of perhaps the most dynamic duo in football when teamed with Jay Cutler in Denver between 2007-09.
Now he is teamed up with him once again in Chicago, and Bears fans around the world are expecting to see Marshall return to the form that saw him catch over 100 passes.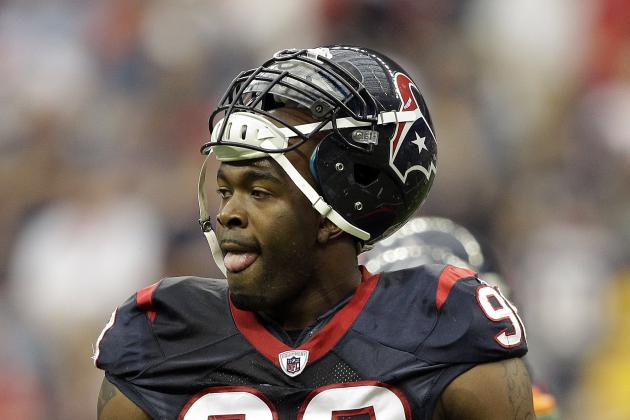 Bob Levey/Getty Images

Mario Williams was a guy who appeared to be meeting the high expectations placed upon him when he was drafted first overall by the Houston Texans in 2006, when the whole world thought they would take Reggie Bush.
Still, the team that drafted him did not make many efforts to retain him this offseason. For Williams, he has put together numerous solid seasons and was on his way to a great 2011 before a torn pectoral muscle ended his season.
Perhaps unlike anyone else on this list, Williams is looking to not only have a personal resurgence, but his signing is looking to help usher a resurgence for the Buffalo franchise as a whole.
For the first time in years, a star player in his prime wanted to come to Buffalo. If Williams can come back and continue to put up the numbers that helped him command tens of millions of dollars on the open market, then it will likely mean newfound success for a franchise that has not sniffed the playoffs this century.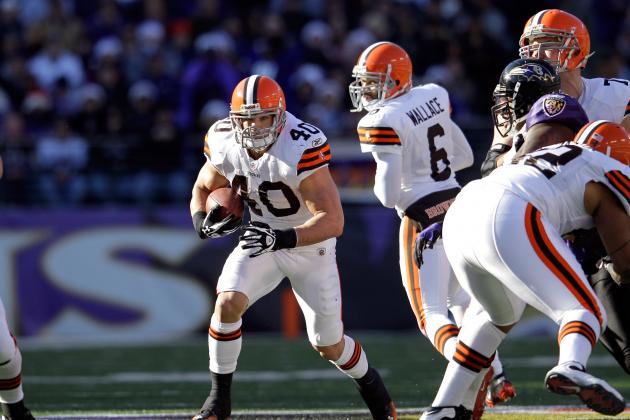 Rob Carr/Getty Images

Talk about a whirlwind two years for Peyton Hillis. In 2010, Hillis was on top of the world. He surprised us all running for almost 1,200 yards with the Cleveland Browns. His physical rushing style and numerous highlight reel plays catapulted him to stardom to the point people voted him in as the Madden 2012 cover.
But it all came apart in 2011. Between injuries, contract disputes and countless issues with management, Hillis and his popularity went off a cliff.
Now he is in Kansas City, looking to put 2011 out of everyone's memory. Kansas City has a long history of great running backs, and he joins a team that is built to run.
If Hillis comes to K.C. motivated, he may make people forget about Jamaal Charles quite quickly.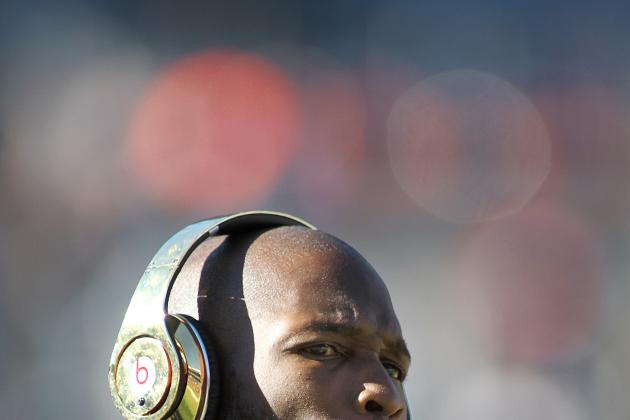 Marc Piscotty/Getty Images

Ah, the man formerly known as Chad Ochocinco who was formerly known as Chad Johnson.
If you want to look a guy that could have a resurgent 2012 season, it is Johnson, who had an absolutely disastrous 2011 season. He is now in Miami and is being looked at as the guy to replace Brandon Marshall.
It is doubtful he, at age 34, will be able to replicate the 80-plus receptions Marshall had in his two seasons in Miami. But if Johnson could even get to the neighborhood of 60 or 70, people will begin to forget his very forgettable time in New England.
If nothing else, Johnson is almost sure to come to Miami motivated. Should he fail, his next ventures will be probably starring in a reality show with Terrel Owens or calling Sporting K.C. in the MLS to see if they need a new striker.