Giants vs. Dodgers: Comparing the Pitching Staffs Before the Weekend Showdown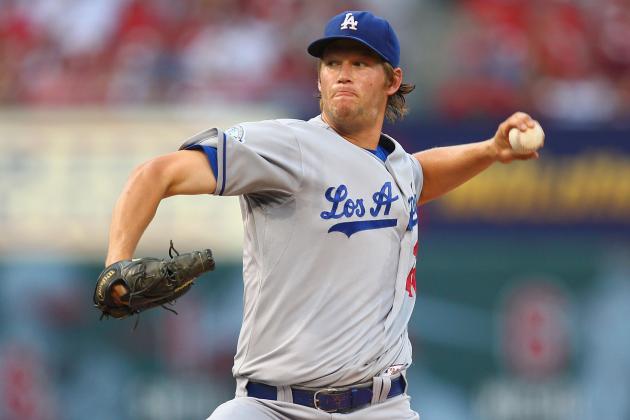 Dilip Vishwanat/Getty Images

On Thursday, I broke down the position players for the San Francisco Giants and Los Angeles Dodgers in advance of their showdown this weekend.
Now let's take a look at each starting pitcher and the bullpens for both squads.
The Dodgers have the slight edge in the pitching department heading into the weekend series. Their 3.32 team ERA is third in the National League, while the Giants are fourth at 3.45.
Dodger starters are second in the NL with a 3.38 ERA, and the bullpen ranks third at 3.19. The Giants are fourth in both starter ERA at 3.50 and reliever ERA at 3.33.
Defensively, the slight edge goes to the Giants, who have converted the most outs on balls in play in the National League. According to Baseball Prospectus, the Giants have converted 72.5 percent of balls in play into outs, compared to 71.8 percent for the Dodgers, who are fifth in the NL.
Begin Slideshow

»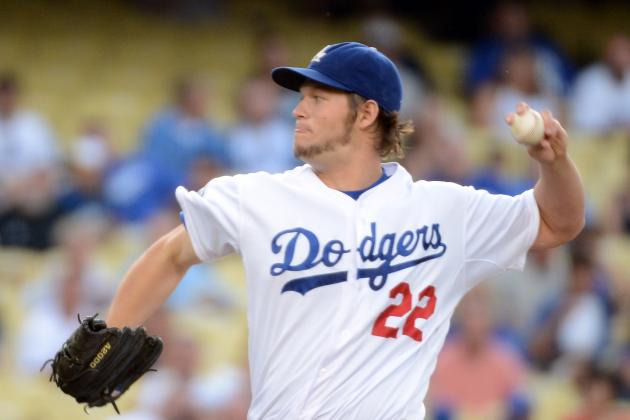 Harry How/Getty Images

How can you possibly choose between Clayton Kershaw and Matt Cain? Kershaw has better pure stuff than Cain right now, which is mostly due to the fact that he's three years younger than Cain.
Using only this season's results, the advantage goes to Cain because he currently has a better ERA, a higher strikeout rate and a lower walk rate than Kershaw, though Kershaw has allowed fewer home runs. Kershaw was better than Cain and just about every pitcher on the planet last season when he won the NL Cy Young Award.
Advantage: Giants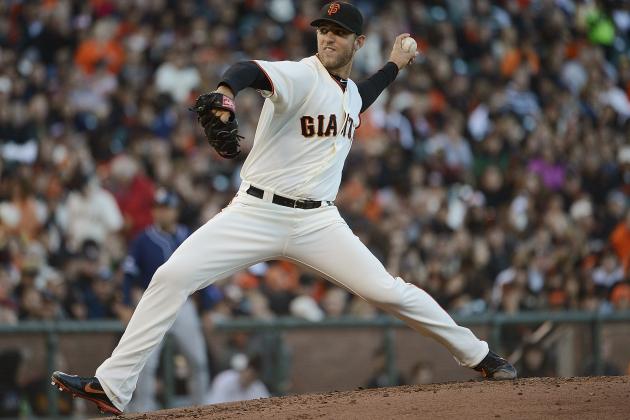 Thearon W. Henderson/Getty Images

Madison Bumgarner has been outstanding this year for the Giants. In 136 innings, he has put up a 3.10 ERA and a 4.48 strikeout-to-walk ratio.
Chad Billingsley has continued to be an enigma for the Dodgers with results that don't match his outstanding stuff and peripherals. He's allowed a .338 Batting Average on Balls In Play (BABIP), which has inflated his ERA to 4.15 despite a very good 2.97 strikeout-to-walk ratio. He's only allowed nine home runs in 110 innings, showing that he has the ability to keep the ball in the park, too.
This is the fourth straight season that Billingsley's ERA has been higher than his Fielding Independent Pitching (FIP), which suggests that command within the strike zone is the likely culprit for his issues.
Advantage: Giants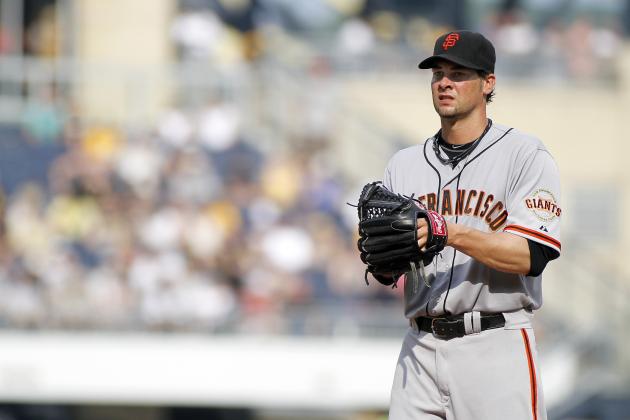 Justin K. Aller/Getty Images

Unlike Billingsley, Ryan Vogelsong continues to outpitch his peripherals. He leads the Giants with a 2.26 ERA and 17 quality starts in 18 tries this season.
In 2010, while the Giants were celebrating a World Series, Vogelsong was out of baseball after he was released from the Phillies' and the Angels' farm systems. The Giants gave him a minor league invite to spring training last season, and after Barry Zito went down with a foot injury at beginning of the season, Vogelsong got the call back to the big leagues.
In 46 starts over the past two seasons, he's given the Giants 36 quality starts with a combined 2.52 ERA. That isn't too bad for a guy that came into 2011 with a career 5.86 ERA, multiple arm surgeries and a trip to Japan on his resume.
Chris Capuano is also undergoing a resurgence in the twilight of his career after missing two seasons before returning to the mound late in 2010. Ned Colletti shrewdly signed him to a two-year deal this winter, and Capuano has delivered for the Dodgers, putting up a 2.81 ERA and a 3.03 strikeout-to-walk ratio in 125 innings of work.
Advantage: Giants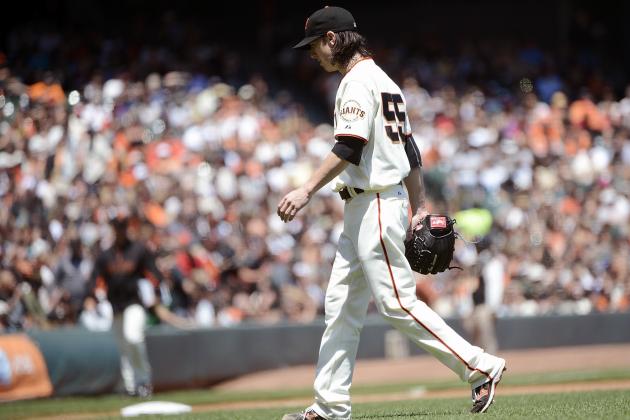 Thearon W. Henderson/Getty Images

No starter in baseball has disappointed as much as Tim Lincecum has this season. His 5.88 ERA is dead last in the National League, and his 29 percent quality start percentage is dead last in all of baseball.
It all comes down to fastball command for Lincecum. Sure, he's lost velocity, but when he has good command, he still misses more bats than most. However, when his fastball gets up and towards the middle of the zone, he gets lit up. Unfortunately, he hasn't had command of his stuff very often this season.
Aaron Harang was another solid pickup for the back of the rotation this offseason by Colletti. Harang has had some control problems, but he's missed enough bats and kept the ball in the park enough to limit the damage. He's given the Dodgers 12 quality starts and a solid 3.39 ERA.
Advantage: Dodgers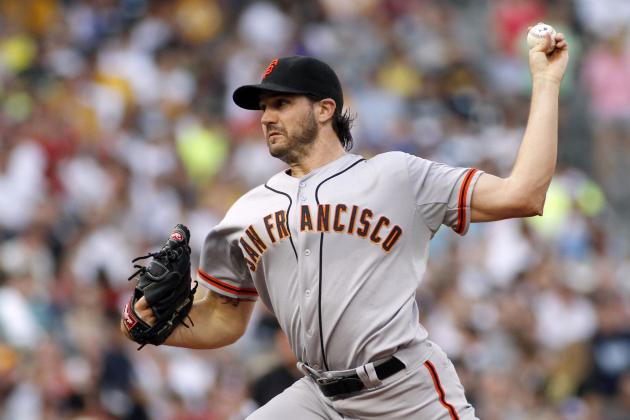 Justin K. Aller/Getty Images

It looked like the end was near for Barry Zito last season when he put up a 5.87 ERA and had to make two trips to the disabled list for the first time in his career.
He's put it back together this season by increasing his slider usage to generate more ground balls and to keep the ball in the park. He still doesn't miss many bats with his 84 mph heater, and he walks too many hitters due to his shaky control.
Somehow, Zito has given the Giants 112 innings with a 3.75 ERA and 11 quality starts in 19 games started. It isn't pretty, but by some miracle, it's been effective.
Meanwhile, the Dodgers don't currently have a fifth starter after trading away Nate Eovaldi in the Hanley Ramirez deal. Ted Lilly is currently on the disabled list with a shoulder injury, though he is likely to begin a rehab assignment soon.
If Lilly gets healthy, or if the Dodgers acquire someone like Matt Garza or Ryan Dempster as has been rumored, the advantage clearly will belong to the Dodgers. However, with Ed Undecided currently penciled in as the fifth starter for tomorrow night's game against the Giants, the advantage goes to Zito.
Advantage: Giants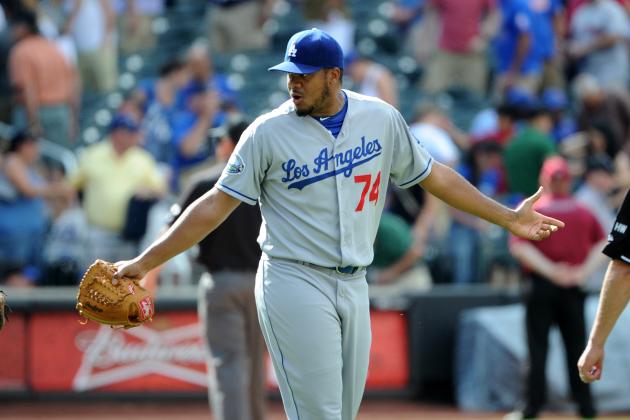 Christopher Pasatieri/Getty Images

The bullpens are very evenly matched, with the advantage in strikeouts and ERA going to the Dodgers and the edge in control going to the Giants.
The Dodgers are better in the ninth inning with closer Kenley Jansen. Jansen set the all-time single-season record for strikeouts per nine innings (K/9) last season when he put up a K/9 of 16.1. This year, that's down to 13.5 K/9, still good enough for sixth best among relievers.
The Giants have the edge in the eighth inning with Sergio Romo and lefty specialist Javier Lopez.
Romo has put up a 0.60 ERA and a strikeout rate of 10.5 K/9, while Lopez has held lefties to a .218 batting average.
Josh Lindblom (3.09 ERA), Scott Elbert (2.45), Ronald Belisario (2.63), Jamey Wright (3.73), Javy Guerra (3.58) and the newly acquired Randy Choate (2.30) round out a very solid bullpen for Los Angeles.
Jeremy Affeldt (2.31 ERA), Clay Hensley (3.31), George Kontos (2.00), Brad Penny (3.97) and closer Santiago Casilla (3.16) give Bruce Bochy plenty of solid options out of his bullpen as well.
Advantage: Dodgers