Dallas Cowboys: 5 Reasons Why a Terrell Owens Return Would Derail Playoff Hopes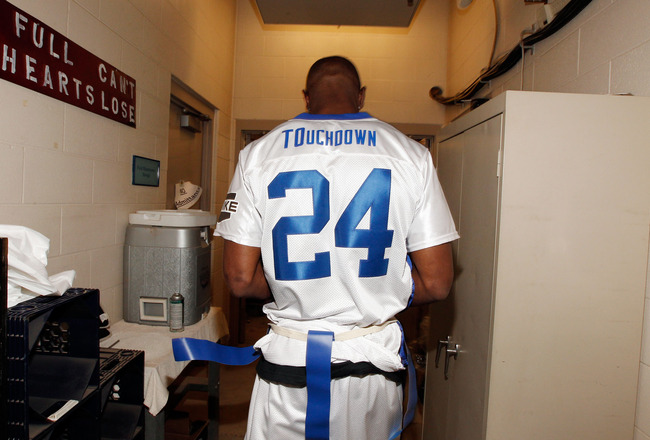 Christopher Polk/Getty Images
The Dallas Cowboys and Terrell Owens made for a marriage that mirrored something like a Jennifer Lopez relationship. It looks good on the surface, it may produce a few good results, but you know that it's going to end badly.
Was that wrong?
At any rate, I hope that you get the picture.
He's 38 years old, has a plethora of money issues and a potentially weak knee.
Should I continue? Here are eight reasons why a T.O. return would guarantee a no show for the Cowboys in the playoffs.
Age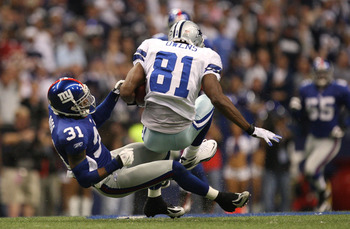 Ronald Martinez/Getty Images
Owens is 38 years old and will turn 39 in the middle of the 2012 season. He doesn't have the same zip and quickness as he did when he played with the Cowboys back in 2007.
Owens likes to be the center of attention, and his position with the Cowboys, at best, would be to work in the slot.
He is not the same receiver, and to place an aged receiver on a team full of impressionable young players would be a disaster.
Money Issues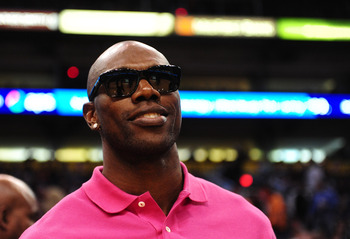 Mark J. Rebilas-US PRESSWIRE
Mr. Owens has well-documented problems with money. He was recently threatened with jail time if he didn't pay his back child support.
Would that be an issue or distraction for him on the field?
I believe that Owens still has passion for the NFL, but he may have too many personal issues to make a difference on the field. Then again, football may serve as a distraction needed for him to focus.
But at this juncture in his life and career, a return to Dallas with a bad knee, age and money issues would only serve his bank account well and not the team.
Bad Influence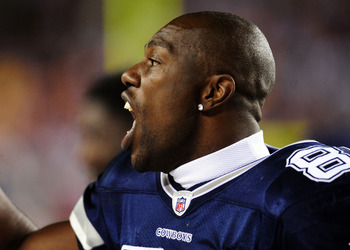 James Lang-US PRESSWIRE
Receiver Dez Bryant is having legal issues, and the Cowboys have a stable of young receivers trying to make the team.
Having Owens on the team would not only deter the development of these receivers, but he could possibly serve as a bad influence to Bryant and the rest of the receiving corps.
While I like Owens as a player and always believed he was misunderstood as a person, the Cowboys have no reason to bring him for a possible run at the playoffs.
Bryant and Austin are fine, and the team will evaluate their talent for the slot.
No need to add him for future; potential locker room issues.
Potential Issue with Jason Witten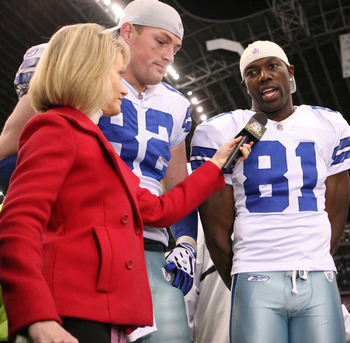 Nelson Chenault-US PRESSWIRE
I'm sure that Witten is mature enough to get by any underlying problems these two men may have.
Last week, Witten was asked about the potential of Owens re-joining the team, and he said that he's "indifferent."
"It would be indifferent for me. I think it would be hard for me to make a comment on it really. I'm just out of that situation and let those guys handle that."
Think that their verbal confrontation a few years ago has something to do with Witten's nonchalant attitude?
Bringing back that type of dynamic to the Cowboys team would not be good for their chances at a Super Bowl.
Simply Not a Good Fit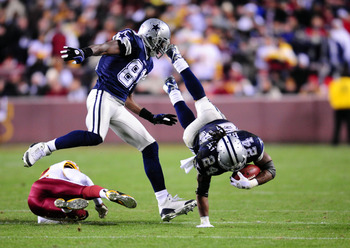 James Lang-US PRESSWIRE
Owens was great while he was a Cowboy. He caught his current age in touchdowns, 38, and brought excitement and thrill to the team.
I enjoyed watching 81 have his way with the star on the side of his helmet. Admittedly, I am a fan of Owens. I've always enjoyed watching him play and believe that he can still contribute to a team.
Just not this one.
The Cowboys have moved beyond the Owens era ,and while there is help needed in the slot, adding an aging, emotionally fragile receiver is really not the answer.
Allow for the younger guys to compete and show and prove themselves.
An eye toward the playoffs and a possible Super Bowl should not include Terrell Owens. He should be in the team's rearview mirror.
Keep Reading

Dallas Cowboys: Like this team?