South Carolina Football: Why Steve Spurrier Needs to Win Another SEC Crown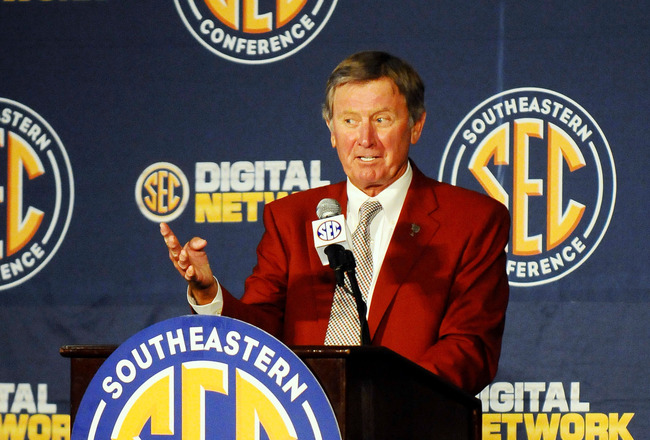 Kelly Lambert
The South Carolina head football coach has built up an impressive career over the years.
He's amassed six SEC championships, eight SEC East division championships and one national championship. He's even got an ACC championship under his belt.
His career at South Carolina started slowly as he built the program to a level he grew accustomed to while at the University of Florida. An SEC East title in 2010 and 11-win season in 2011 has the Head Ball Coach ready for another outstanding year for the Gamecocks.
While he's already considered one of the greatest coaches in this conference, he could cement his legacy with an SEC championship at South Carolina. This is a feat that's been mentioned as unfathomable from outside the Gamecock Nation.
Here are a few reasons why Steve Spurrier needs to win another SEC title.
No. 1: Silence the Doubters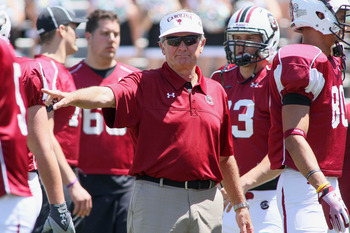 Jeremy Brevard-US PRESSWIRE
When Steve Spurrier took over as head football coach at South Carolina after the 2004 season, people thought he was crazy to be the Gamecocks' head coach.
They all believed this school to be the coaching graveyard.
Well, it appears this was the challenge that Spurrier needed. He's seen this program amass new highs that were once thought impossible, but he did go through his struggles along the way.
However, there are still doubters out there. People still think Spurrier, and the Gamecocks, will fail with the added attention that comes from the school's recent success.
Can you imagine what an SEC championship would do to silence the doubters? The victory would give Spurrier another SEC title and the Gamecocks their first. It likely would have come over the likes of Alabama or LSU.
This would put South Carolina on the map for the national landscape of college football. This is why Spurrier needs another SEC title.
No. 2: To Put His "Stamp" on South Carolina Program
Douglas Jones-US PRESSWIRE
Steve Spurrier made a goal when he was hired as the South Carolina head football coach.
He wanted to break the all-time wins record of 64 held by former coach Rex Enright. Right now, Spurrier has 55 wins and could surpass that win total this upcoming season.
The ultimate goal, though, is to win an SEC championship.
An SEC championship would allow Spurrier to put his "stamp" on the Gamecocks football program and he would leave here as the greatest coach in South Carolina history.
He built his legacy at Florida and will be known for all he's done there.
But Gamecocks fans will remember him for what he's done in Columbia. An SEC title would only add to the legacy of Steve Spurrier at South Carolina.
No. 3: Build South Carolina for the Future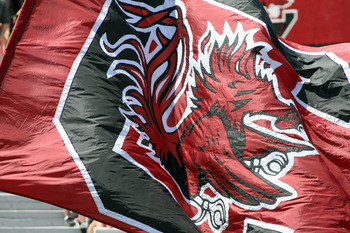 Jeremy Brevard-US PRESSWIRE
Former head coach Lou Holtz gave South Carolina fans hope.
Steve Spurrier has turned that hope into a reality.
There is a different feel around the Gamecocks football program these days. Records have been broken the past few seasons, recruiting is at an all-time high when it comes to quality talent, facilities are constantly improving and so on.
Spurrier is a big reason for this new vibe for the Gamecocks.
The way Spurrier is able to build this program will give the future coach a much better chance at being successful. An SEC title is the ultimate crown in today's college football. It brings instant respect and recognition across the country.
Winning the SEC title at South Carolina will give South Carolina a much better chance at winning when Spurrier decides to retire from the Gamecocks. It will allow the school to use one of the best recruiting tools in the game today.
Spurrier would be proud to give South Carolina a great chance at continued success after he's gone. The SEC title could be a key piece to the puzzle for the Gamecocks.
No. 4: Another Shot at a National Championship
Douglas Jones-US PRESSWIRE
Wouldn't it be great to see Steve Spurrier go out as a national champion at South Carolina?
The best way for that to happen is to finish the season as the SEC champion. It's been pretty regular during the SEC's dominance of college football that if you win the SEC championship, you'll play for the national championship.
It's as simple as that.
We saw some dominant Florida teams under Coach Spurrier, but he only came away with one national championship.
South Carolina and Spurrier's best chance at another national championship runs through the SEC championship game. When you hear Spurrier talk, he mentions the goal of the SEC championship.
He knows where that game could ultimately lead him.
Which is why his focus is on the SEC championship.
Keep Reading

South Carolina Football: Like this team?