NBA Schedule 2012-13: Twitter and Hoops World React to Schedule Release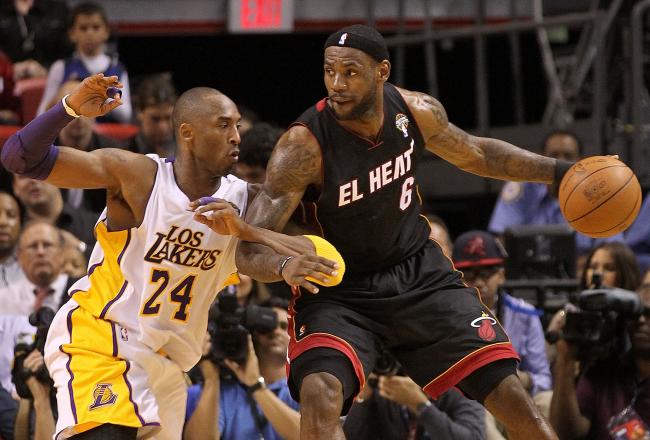 Mike Ehrmann/Getty Images
The 2012-13 NBA schedule has officially been released, and the excitement and anticipation for events that won't kick off for another three months are already sky-high.
(Click here for full schedule.)
The season will kick off Oct. 30 when the Boston Celtics visit the defending champion Miami Heat in a rematch of the Eastern Conference finals. The Dallas Mavericks will be at the Los Angeles Lakers in the other televised opening-night game.
Other notable games include Christmas Day affairs with a slew of juicy matchups (via Yahoo! Sports' Marc Spears):
XMas Day NBA Games: Boston @ Brooklyn; Knicks @ Lakers; Thunder @ Heat; Houston @ Bulls; Nuggets @ Clippers.

— Marc J. Spears (@SpearsNBAYahoo) July 26, 2012
Naturally, Twitter was abuzz with split-second reactions dissecting the best and worst features of the slate. Here are some of the most memorable tweets.
The New York Knicks will be on the road on Christmas Day against the Los Angeles Lakers, and Matt Moore of CBS Sports believes it's another NBA conspiracy:
I like how the schedule guys are like "OK, Lakers. We're giving you the Knicks. Can you beat THE KNICKS on Christmas?!"

— Hardwood Paroxysm (@HPbasketball) July 26, 2012
Moore also provides us with the amount of prime-time games for the Lakers and Miami Heat:
Miami with 10 TNT appearances, Lakers with 9. Miami with 5 ABC Games, Lakers with 6. Miami with 10 ESPN games, Lakers with 9.

— Hardwood Paroxysm (@HPbasketball) July 26, 2012
Mark Medina of the Los Angeles Times wonders which team Dwight Howard will be playing for when the Lakers play the Magic:
Orlando plays the Lakers on Dec. 2. Which teams will Dwight Howard and Andrew Bynum be on?

— Mark Medina (@MarkGMedina) July 26, 2012
St. Patty's Day is always a big deal in Boston, and the party will have to continue another day as Ethan J. Skolnick of the Palm Beach Post points out:
Ray Allen's return to Boston is March 18. Celtics fans will still be liquored up from St. Patrick's Day/Night.

— Ethan J. Skolnick (@EthanJSkolnick) July 26, 2012
One of the biggest losers of the new schedule is Denver. Aaron J. Lopez of Nuggets.com has the gory details of a brutal two-month stretch:
Looking at #Nuggets schedule, November and December will be biggest challenge. They're on the road for 22 of first 32 games.

— Aaron J. Lopez (@Lopez_Nuggets) July 26, 2012
While the Nuggets have it tough early, Marcus Thompson of the Bay Area News Group details the forgiving schedule for the Golden State Warriors down the stretch:
Warriors end season with 16 of 22 at Oracle. Have seven-game homestand in early March (vs. TOR, SAC, HOU, MIL, NYK, DET and CHI)

— Marcus Thompson (@gswscribe) July 26, 2012
According to Bulls.com, the team will be playing at home on a certain day for the first time since the Michael Jordan era:
For the first time since the 1997-98 campaign, Chicago will play at home on Christmas Day: bit.ly/OnrUAw

— Chicago Bulls (@chicagobulls) July 26, 2012
CNBC reporter Darren Rovell wonders why the NBA is putting such an emphasis on Halloween night:
Seriously, NBA? Nine home openers on Halloween? If you're looking to knock out kids & families, that's great planning.

— darren rovell (@darrenrovell) July 27, 2012
The Indiana Pacers are coming off their best season in quite some time, and coach Frank Vogel certainly isn't shaking in his boots after glancing over the 82-game list for the new year. At least that's what G.M. Kevin Pritchard tells us:
I love Coach's take on 12-13 schedule: "There's nothing on here that scares me." Watch at on.nba.com/OnuCpL

— Kevin Pritchard (@nbakev) July 26, 2012
And the winner for tweet of the night goes to 2012 Phoenix Suns first round pick Kendall Marshall. It sounds like the lack of primetime games for the Suns is going to cost his parents some dough:
Hope my parents ready to buy that NBA League Pass if they wanna watch me play this year lol

— Kendall Marshall (@KButter5) July 26, 2012
Intriguing Matchups
Nov. 1: New York Knicks at Brooklyn Nets
Dec. 17: Houston Rockets at New York Knicks
Jan. 16: Brooklyn Nets at Atlanta Hawks
Jan. 17: Miami Heat at Los Angeles Lakers
Jan. 30: Los Angeles Lakers at Phoenix Suns
March 16: New York Knicks at Denver Nuggets
March 18: Miami Heat at Boston Celtics
March 22: Boston Celtics at Dallas Mavericks
Creating the schedule is always a daunting task, and naturally it didn't please everybody. But there is no question the slate is chock-full of must-see TV that has fans craving for games right now.
Let the countdown to the 2012-13 season begin!
This article is
What is the duplicate article?
Why is this article offensive?
Where is this article plagiarized from?
Why is this article poorly edited?