Los Angeles Lakers: How Each New Acquisition Will Fit into the 2012-13 Rotation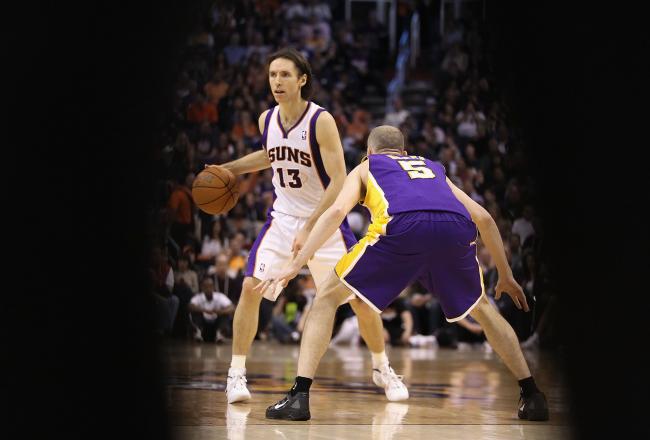 Christian Petersen/Getty Images
The Los Angeles Lakers haven't exactly had a hectic offseason compared with other teams around the NBA, but adding the former two-time MVP Steve Nash and the former Sixth Man of the Year Antawn Jamison were huge improvements to the roster.
Mitch Kupchak and Co. may not be done making moves and could even add the "Dwightmare," Dwight Howard, via trade moving forward.
However, since my ability to predict the future is not perfected yet, analyzing the new acquisitions we know will be a part of the Lakers' locker room next season and how they'll fit in the 2012-13 rotation will have to suffice.
Steve Nash
Ideally, Nash's role on the 2012-13 Los Angeles Lakers will be similar to what it has been for years in Phoenix, which is having the freedom to run the offense in order to make all of his teammates better.
The acquisition of Nash, coupled with the fact that Phil Jackson is now a full season removed from the head coaching gig in Los Angeles, should translate to the obituary of the triangle offense.
Instead of isolation one-on-one sets, Nash can single-handedly open up the court and create a free-flowing offensive system that runs through him.
The Lakers new head coach Mike Brown was widely criticized during his first year in Los Angeles even though he had some admittedly big shoes (and big chair) to fill. If Brown understands how to utilize his new V8 engine next season, the Lakers will be in good shape.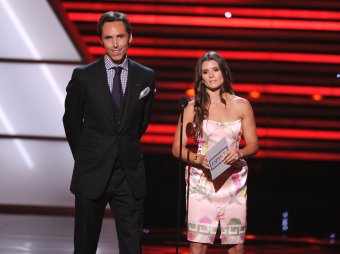 Steve Nash embraced his inner Hollywood at the 2012 ESPY Awards.
Kevin Winter/Getty Images
However, Brown needs to be aware that the engine he now has to run his machine has more than a few miles on the odometer.
Nash is now 38 years old and will turn 39 in February of next year. Last season with the Suns, Nash averaged 31.6 minutes per game and stayed healthy enough to play in 62 of a possible 66 games under the watchful eye of Alvin Gentry. That number should be a good barometer of where Nash needs to be next season for the Lakers.
Keeping Nash at around the 30-32 minute threshold will be important considering his career-high minutes per game was just 35.4 minutes per contest in 2006. He's never been a guy known to notch huge minutes, even in his prime.
Nash is the first truly capable floor general the Lakers have had in years, so if Kobe Bryant can take a back seat with the Canadian point guard out on the court and revert to dominating the ball when Nash takes a breather, the offense should run like a well-oiled machine based on pick-and-rolls and open looks.
Antawn Jamison
Antawn Jamison is more than a few years removed from his Sixth Man of the Year award that he won in 2004. Nevertheless, sixth man will be Jamison's role once again next season for the Lakers, so perhaps he can find the fountain of youth for the upcoming campaign.
How will Antawn Jamison fair in next year's Sixth Man of the Year voting?
Although Jamison did pour in 17.2 points per game for a bad Cleveland Cavaliers team a season ago, he shot a career low 40.3 percent from the field (well below his career average of 45.1 percent).
Even given the 36-year-old forward's statistical decline a season ago, Jamison is a huge improvement to a Lakers second unit which was undoubtedly the team's Achilles' heel.
The Lakers leading scorers off the bench last season were Matt Barnes (7.8 points per game) and Steve Blake (5.2 points per game). Jamison immediately makes the Laker bench more formidable for next season, not only as a scorer but as a veteran leader.
Jamison could play power forward or even move over to small forward to provide a scoring punch behind the defensive-minded Metta World Peace.
Don't be surprised if Jamison is in the running for the Sixth Man of the Year award nine years removed from winning it previously.
Jordan Hill
Although Jordan Hill is not exactly a new acquisition, considering he joined the Lakers last season, the former University of Arizona Wildcat only played 19 games in a Laker uniform (postseason included) so he's still a relatively new piece to the puzzle.
Hill was re-signed to stay in Los Angeles this summer and Lakers' management must be happy to have him.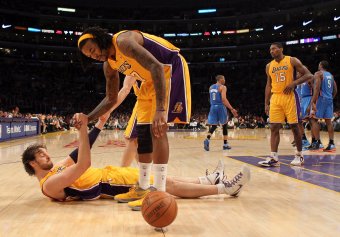 Jordan Hill endeared himself to his teammates in limited time with the Lakers last season.
Stephen Dunn/Getty Images
In seven regular season games (one start), Hill only averaged 11.7 minutes per game. However, in limited minutes, Hill was extremely effective averaging 4.7 points, 4.4 rebounds and 0.9 blocks per game during that span.
Although that is an admittedly small sample size, Hill's place in next season's rotation is all but solidified.
With an athletic and lanky 6'10" frame, Hill is probably better suited playing power forward. However, outside of Andrew Bynum next season, the Lakers are lacking at center and will probably ask Hill to move to the 5 when he comes off the bench.
This should help Hill's offensive production, but at just 235 pounds, Hill could struggle against bulkier centers on the defensive end.
Regardless of whether Hill plays more at the 4 or the 5, look for him to see the court more often than 11 minutes per game next season as he provides a fair share of the Lakers' frontcourt depth.
Darius Johnson-Odom
The 55th player taken in the 2012 NBA draft was acquired by the Lakers via trade with the Dallas Mavericks. The Lakers sent cash considerations to Dallas believed to be valued at $500,000, according to ESPN.
Darius Johnson-Odom was a dynamic scorer during his senior year at Marquette, averaging 18.3 points per game.
He has good range and a sound jump shot, but he struggled mightily during the NBA Summer League and posted an 0-for-8 shooting display in a 40-point loss to the Golden State Warriors.
Also, Johnson-Odom stands at just 6'2" as a pure shooting guard.
The former Marquette standout doesn't have ideal size to play shooting guard at the NBA level and could struggle against taller, longer defenders. In addition, although Johnson-Odom is a gritty defender, his effort won't help him if opposing guards are simply able to shoot over him.
Other youngsters like Andrew Goudelock, Christian Eyenga and Devin Ebanks will likely get more playing time next season, so expect Johnson-Odom to learn the game this year and be relegated to minutes during garbage time.
Robert Sacre
As the last player taken in the 2012 NBA draft, I don't expect this year's "Mr. Irrelevant" to find the same success that Sacramento Kings' point guard Isaiah Thomas found last season.
The seven-foot center out of Gonzaga joined just about every other player on the Lakers' Summer League roster by having a less than stellar showing.
In a 50-point blowout loss to the Miami Heat's Summer League team, Robert Sacre played 32 minutes and grabbed just one rebound. As a seven-footer, you should get more than one rebound by accident if you play 32 minutes. Of course, the Heat torched the Lakers for 106 points, so there weren't many rebounds to be had.
In addition, Sacre had a plus/minus ratio of minus-50 in those 32 minutes. This means that during the time Sacre was out on the court, the Lakers were outscored by 50 points.
With Andrew Bynum, Pau Gasol, Jordan Hill, Josh McRoberts and Antawn Jamison solidifying the Lakers' frontcourt, don't expect Sacre to get more than a handful of minutes throughout the entire season (if he makes the roster at all).
This article is
What is the duplicate article?
Why is this article offensive?
Where is this article plagiarized from?
Why is this article poorly edited?

Los Angeles Lakers: Like this team?