Christian Ponder's Biggest Weakness and How He Can Improve It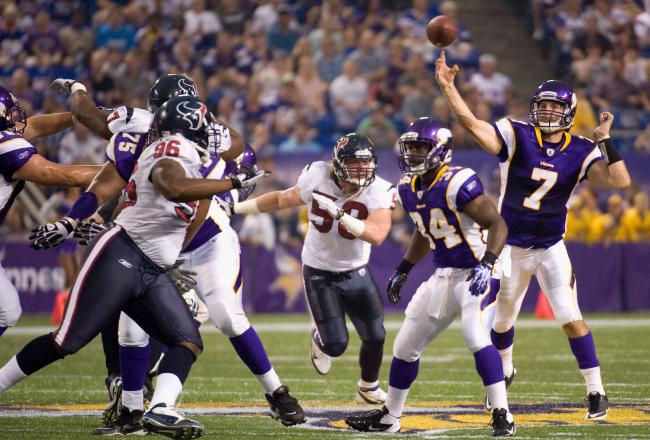 Hannah Foslien/Getty Images
If Christian Ponder feeds off of getting disrespected, then he should have a pretty full belly by the time the NFL regular season rolls around in September.
Anyone who listens to sports talk radio doesn't have to wait long these days to hear some fantasy football chatter. Who are the sleeper picks for the coming season? Who are going to be the biggest busts?
While it's all just speculation at this point, it's fun to give a listen and hear who the so-called experts think will be the boom-and-bust players in the NFL in the 2012 season.
As for Ponder getting no respect, well, he's ranked as the 253rd-best player available on ESPN's fantasy football chart. That's two spots behind a young man named Jerrel Jernigan, who will be in a battle to be the New York Giants fourth or fifth wide receiver.
Ponder is ranked behind 12 kickers. He's ranked as the 29th-best quarterback, far behind two rookies who've never taken an NFL snap, and eight spots lower than Matt Flynn, the former Packers back up who's had one good game.
Does any of that matter? No, of course not. Fantasy football is based on numbers and projections, and Ponder didn't put up any numbers last season. Anyone who followed the Vikings will tell you that evaluating Ponder's rookie season comes with so many caveats that it's barely worth talking about.
Having said that, Ponder enters training camp and the 2012 season solidly entrenched as the starting quarterback for the Minnesota Vikings and the single most important player for a franchise that is going through an overhaul from the Brad Childress era that bottomed out in 2011 with a 3-13 record.
Where Does Christian Ponder Need to Improve the Most?
How much of that record was a reflection on Ponder? Looking at his numbers, you'd have to say plenty of it: A paltry 153 yards a game passing, just 6.4 yards per completion, as many interceptions as touchdowns and a dismal quarterback rating of 72.1.
Yes, most of Ponder's numbers were collateral damage from playing on an awful offense. No, he's not completely absolved from being a part of that awful offense.
Ponder's worst stat from the 2011 season, and the one he needs to bring up the most to become a viable NFL starter, is completion percentage. Ponder's 54 percent can only be described as terrible, and none of his other numbers will rise if he doesn't complete a much higher percentage of his throws.
NFL defenses miss nothing these days; if an offense has a weakness, they'll exploit it over and over. It became clear pretty early on that the rookie quarterback wasn't a high percentage passer, and defenses responded by pinning their ears back and going for blood.
Again, Ponder's numbers, although attributed to him, were certainly more "team" numbers than most quarterbacks'. Ponder never had any time to throw and rarely had anyone to throw to. Those two things will combine to wreak havoc on your stat line.
The Vikings will enter 2012 with a much better offensive line and an upgraded receiver corps. Ponder's second-year numbers will most certainly be a better reflection of him as a quarterback.
So how does Ponder improve his completion percentage? Obviously, there's no simple answer to that; it's a combination of many things. For starters, he (and the Vikings offensive play callers) has to stop giving downs away. Ponder's percentage on first down dropped down to just 50.9 percent, and his quarterback rating on first down was the worst of all eligible NFL quarterbacks, an insane 20.5 rating. In his own division, Aaron Rodgers first-down rating was 76; Matthew Stafford's 75.
The Vikings have made personnel moves aimed at making Ponder's numbers go up. They will pair tight ends Kyle Rudolph and John Carlson often, and with those two and Percy Harvin all running intermediate routes, Ponder should have plenty of options to get rid of the ball quickly.
With a higher completion percentage, Ponder's average yards per game will come up, and it has to, by a lot, for the Vikings to improve. Ponder threw for just 153 yards per game, a number that is almost inconceivable in today's pass-happy NFL. Drew Brees and the Saints averaged 332 yards per game in the air. You simply can't compete with a team that averages just about 180 more passing yards per game than you.
OK, comparing him to Brees just isn't fair, but there are other comparisons that should make him blush. Ponder threw for six yards less a game than Curtis Painter, 41 yards a game less than Kevin Kolb and 73 yards less a game than Rex Grossman. Are you getting the picture?
Painter is the woeful backup who led the Colts to the worst record in the league, Kolb, the dubious high-priced free agent signing who was a huge bust in Arizona and Grossman continues to be the last chance journeyman who proved for the umpteenth time that he's not a starter in Washington.
Ponder threw for 33 yards less per game than Tarvaris Jackson. Vikings fans know exactly who he is.
There's really no arguing that Ponder's 2011 numbers were brutal. There is plenty of arguing about all the various reasons the numbers were so bad. Some of it on Ponder; some of it on those around him. The list of quarterbacks that have put up poor numbers in their rookie year or in their first year as a starter is endless. Those that have taken two or three years before the light goes off in their head is almost as long.
The pieces around Christian Ponder have certainly improved heading into 2012. It's time for him to show that he's far more valuable than the 253rd player in the league.
This article is
What is the duplicate article?
Why is this article offensive?
Where is this article plagiarized from?
Why is this article poorly edited?

Minnesota Vikings: Like this team?