Oakland Raiders: 5 Keys to Training Camp
Head Coach Dennis Allen
Thearon W. Henderson/Getty Images
Note: According to the Sacramento Bee, Oakland Raiders assistant offensive line coach Steve Wisniewski has resigned because of personal reasons.
With training camp slated to begin in less than 48 hours, there is optimism with many in Raider Nation, as new coach Dennis Allen is set to embark on what is truly a new era in Oakland Raider football. For the first time since 1963, Al Davis will not be the overseer of the team, and with general manager Reggie McKenzie having true authority over personnel, it will be interesting to see just how the Raiders begin the 2012 campaign.
That all said, training camp is the proverbial horse before the cart. There are still many unanswered questions the team needs to answer as the first preseason game approaches against the Dallas Cowboys. And the most intriguing and/or pressing needs are as follows (not in any particular order).
What Will Oakland Look Like on Defense?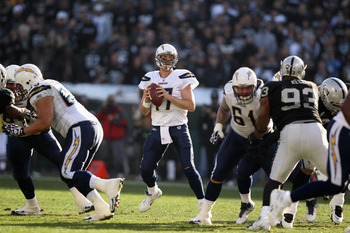 Clean pocket, no pressure = crushing losses
Ezra Shaw/Getty Images
As soon as Dennis Allen was hired, the major question became "Will the Raiders switch to a 3-4 base defense?"
I think the bigger question should have been just how much the Raiders will vary their defense. Unlike a team that has built its reputation on its defense (take Pittsburgh, for example), the Raiders probably would be better suited actually not having anything set in stone defensively.
My reason for saying that is simple: For the better part of 30 years, the Oakland Raiders have been the single most predictable team on defense in the National Football League. You could expect a pass rush of four linemen, big linebackers and press coverage with a single high free safety over the top. NFL offenses began to exploit that in the 1990's, let alone the miserable 2000's.
Now, with carte blanche to run anything they want, Allen and defensive coordinator Jason Tarver have the ability to be whatever they feel suits the players they have best. It truly is an inverse of what the Raiders have been when Al Davis was alive, when players (see Warren Sapp in 2004 or DeAngelo Hall in 2008) were forced into roles that did not accentuate their abilities.
Theoretically, that means seeing improved production from underachievers like Michael Huff and Rolando McClain. But, I actually think it works two-fold: Reggie McKenzie can get a better evaluation of who can actually play (as opposed to being hamstrung by an antiquated scheme) and, quite simply, who can't.
The biggest change the Raiders will need going forward is pressure. With Shawntae Spencer and Ron Bartell penciled in as the starters, it will be even more important for Oakland to get to the quarterback. More importantly, what will Tarver come up with to prevent teams from being able to exploit a decade long Achilles heel for the Raiders: porous run defense. Expect that the entire camp and preseason will be about tweaking things to see exactly what fits and what does not. In other words, expecting immediate improvement might be setting Raider Nation up for failure.
How Does Carson Palmer Pick Up the Mike Shanahan-Style West Coast Offense?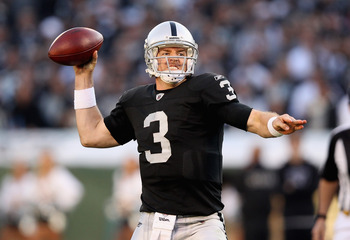 It's your show, Carson
Ezra Shaw/Getty Images
When people think of the West Coast offense, there is still the stereotype that it is run from the pro set (i.e. split running backs, two wide receivers, one tight end) and you dink and dunk the ball down field in the passing game. Truthfully, with Mike Holmgren being the lone exception in Seattle and, to a lesser extent, as an executive in Cleveland, that style really no longer exists.
As a matter of fact, the scheme the Raiders will run traces itself back to a team that tormented Oakland in the late 1990's: Mike Shanahan's Denver Broncos. Terms that came into vogue were "one-cut" (the running back making one cut on a zone block and running downhill), "stretch" (running plays designed to go very wide and make that one cut back against the flow of the defense) and something familiar to the Raiders already: the play-action pass.
How does this affect Carson Palmer? Well, to be frank, Palmer is not a natural fit into this scheme. Players that thrived include Jake Plummer, Jay Cutler and even an older John Elway. Palmer is much more of a stationary, pocket passer by trade. That said, he is an above-average play-action passer. And if there is a player the Raiders can look to who benefited from this scheme, it is Houston's Pro Bowl QB Matt Schaub.
Like Schaub, Palmer is not going to out run many defenders. But like Schaub, Palmer has an at times dominant running game. Under Greg Knapp, the Raiders are going to attempt to be a run first team that rides Darren McFadden. However, the key is going to be what Palmer does on the play-action pass, particularly when he rolls out, because that is going to be a staple of this new offense.
There will be plenty of chances to strike deep, but even more important, Palmer's decision-making is going to be vital if the Raiders want to improve on their 8-8 record. That means utilizing the tight end (think David Ausberry, who can be an absolute stud in this system) and getting intermediate chunks instead of trying to hit home runs every play. As great as McFadden is when healthy, the truth is, Palmer is the key to this offense.
As seen when Arian Foster went down, this version of the WCO can still produce yards on the ground with or without a superstar runner. But without a competent signal-caller, there are too many stalled drives, which does not bode well for the Raiders.
Will the Rookies Get to Shine on Defense?
Nate Stupar and Miles Burris
Thearon W. Henderson/Getty Images
Conventional wisdom suggests players taken after the third round are taken for depth and value, not to fill immediate needs. Well, the Raiders have immediate needs, no matter where help arrives, so there is a definite opportunity for players to step in and contribute. Of the Raiders' four defensive selections in the 2012 NFL draft, I feel three have a chance to play quickly on the defensive side.
First and foremost, the player with the most intrigue defensively is outside linebacker Miles Burris. Seen by some as a potential Clay Matthews-lite, Burris will have the opportunity to come in right away and rush the passer. The reason is simple: The Raiders do not have much in the way of linebackers. With Rolando McClain's situation still in flux, Aaron Curry is the only definitive week one starter at this moment.
From what I have observed, Burris can potentially be used the way Coach Allen used Von Miller last year in Denver. That means lots of linebacker blitzing and quarterback pressure. If Burris can be 50 percent of what Miller is, the Raiders will have definitely gotten their money's worth. Until then, the focus will be on grasping the nuances of a varied scheme and being able to contribute as quickly as possible.
The second defensive rookie with a real chance to contribute is Christo Bilukidi. Do not be fooled by the late-round selection. I truly feel like Bilukidi has a chance to really grow from an eighth or ninth guy on the line (as he is currently) to a solid starter in the league. First and foremost, he is versatile enough to play end, but quick enough to generate rush from the tackle position (cheaper Tommy Kelly, anyone?).
But like many other players heading into this camp, Bilukidi will get a long look because there will be more turnover after this season is over. Richard Seymour is almost certainly in his final year as a Raider. There is a chance Kelly is as well. So Allen and Reggie McKenzie are going to take a hard look at guys who bring versatility at a bargain price. That means you will see plenty of Bilukidi.
Last but not least, watch out for defensive end Jack Crawford. No, he did not blow away people with his numbers at Penn State. Quite honestly, he is not a dominant position player off the edge.
But the reason I think Crawford can see time is because he is a good player against the run. I love Lamarr Houston, but there are times when he is moved off of his spot from the left end position. The Raiders have been lacking players who are disciplined enough to maintain gap control and hold their spot, allowing someone else to make a play. Crawford brings that and, much like Bilukidi, comes at a bargain price, allowing for a long observation from the new regime.
Who Is the Raiders' Backup Running Back?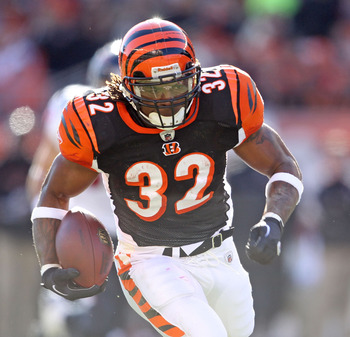 Is Cedric Benson to Oakland a formality? Not necessarily
Andy Lyons/Getty Images
For the last three seasons, the only thing the Raiders knew for sure in the run game was that Michael Bush would fill in when Darren McFadden went down with an injury. With Bush now in that role in Chicago, that is no longer the case. There is definitely a void at a position the Raiders have needed filled, and history suggests will need filling against in 2012.
Of course, McFadden can buck his own personal history and play 16 games while finally extracting every bit of the vast, MVP potential he has running and receiving the ball. However, it does behoove the Raiders to be prepared in the event that does not happen.
In house, the Raiders have Mike Goodson, acquired from the Carolina Panthers for Bruce Campbell on March 30. Oakland also has the electric Taiwan Jones, the second-year back from Eastern Washington. The knock on Jones is that his frame is too slight to be more than a third-down back. But hey, if McFadden is healthy, that is precisely what he would have the opportunity to be.
Goodson's flaw has been his propensity to fumble and fumble often. In 125 total carries during his three-year career, Goodson has fumbled six times. That is much too frequent and will need to be alleviated if he expects to be a legitimate backup for the Raiders.
There is also the oft-rumored Cedric Benson, who the Raiders have been not so secretly kicking the tires on throughout the offseason. Benson would be much more of a complimentary runner to McFadden and has the experience of being a starter for the Bengals and Bears. However, with training camp this close, it seems as though Benson would be a fall back plan if Goodson or Jones are not productive.
Another option to watch out for as camp develops is Marcel Reece. Already seen as a Swiss Army knife-type of player, Reece could very well get a few carries here and there to compliment his abilities as a receiver. That said, Reece fits much more as an H-Back/fullback option in this offense
Can the New Coaching Staff Address the Raiders' Lack of Discipline?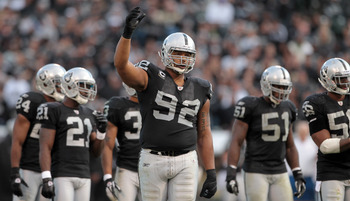 Seymour needs to be a leader with positive actions
Ezra Shaw/Getty Images
Big plays, big penalties. It was one of the unofficial mantras of the Oakland Raiders during the 1970's. The rationale for why the Raiders have been so often penalized range from the logical (aggressive play was encouraged by Al Davis) to the truly conspiratorial (the NFL has a vendetta against the Raiders). As always, the truth lies somewhere in between the extremes.
That said, the Raiders are coming off a 2011 that was ignominious even for them. In total, the 2011 team committed 163 penalties, an NFL record in a 16 game season. Playing as many close games as they did (nine games were decided by seven points or less), giving away an average of 84.8 yards in penalties per game is simply unacceptable. Whether the coach was Art Shell, Mike White, Joe Bugel, Jon Gruden, Bill Callahan, Norv Turner, Lane Kiffin, Tom Cable or Hue Jackson, the penalties were a constant source of frustration.
So now, Dennis Allen has the opportunity to make discipline a focus from the beginning. There will be no players able to run to Al Davis as there has been rumored in the past. No worries about coaching authority being undermined from the top. Allen has the opportunity from the beginning to make discipline a fundamental element of the Raiders.
There is no magic bullet to alleviate this problem, but there can be swift response to those who are not willing or able to get with the program. Personally, I think it is more important than ever not to beat yourself. Being talented enough to overcome penalties does not mean it is okay to be in a position to have to do it. Even if the Raiders cut their penalties by 25 percent, they would still rank in the bottom three in both penalties and penalty yards. That is how far out in front the team was than the rest of the league.
Change comes gradually, but accountability needs to be immediate. Fines, loss of playing time, even the threat of cutting guys should be real. This is an organization in the midst of a wide ranging turnover, and the best way to show that a new day has really come is to show the players that the old, negative ways of doing things simply won't be tolerated.
Conclusion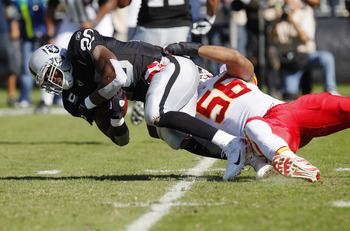 This must be avoided at all costs
Brian Bahr/Getty Images
Saturday represents the official start of a brand new day on the field for the Oakland Raiders. Although there are other elements of the team to be uncovered (i.e. the battle for the backup QB position), these are the most pressing components of the new team.
The optimism comes from the fact that good or bad, coaches have true autonomy to run a system that is NFL modern and allows for tweaking as they see fit. The pessimism comes from the reality that the Raiders did lose a lot of good players, who may have also benefited from this new way of thinking. Replacing those players will not be easy or happen right away. But that is why they have camp and play in the preseason.
So going forward, we all know Dennis Allen and Reggie McKenzie have a lot on their plates not just for 2012, but beyond. I am curious to know what the rest of Raider Nation thinks about what the team can/should/will do as we all begin to see just what the fruits of all this change will bear out.
Keep Reading

Oakland Raiders: Like this team?