Experts, Twitter React to Peyton Manning's 1st Broncos Camp Practice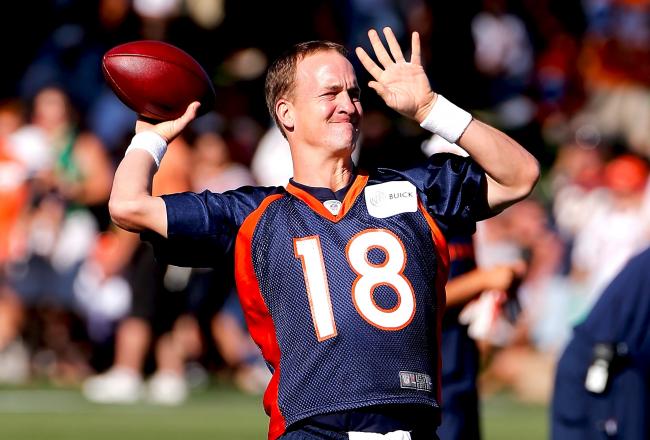 Peyton Manning mania has hit the interwebs, and he's already burned his first defense. Twitter got too low in his stance and Manning's first throw went right over the top of of the social-networking giant.
When service was restored, Twitter erupted with Manning tweets:
Finally, Twitter is back up (need t. camp reports!). Hope it stays that way. Did Peyton Manning crash the servers? I mean, he is THAT good.
— Matt B. (@MattOnNFL) July 26, 2012
Football experts were watching Manning's snaps like a Tiger Woods tournament-clinching putt:
Quiet everybody. Peyton Manning is about to take a snap!
— Eye on Football (@EyeOnNFL) July 26, 2012
Manning wasn't just blowing up Twitter. Fans came to Dove Valley in record numbers just to watch him throw passes in shorts and a helmet:
Official attendance for today's #BroncosTC practice was 4,372. That topped the previous record of 3,103 that was set Aug. 1, 2010.
— Denver Broncos (@Denver_Broncos) July 26, 2012
With anticipation at an all-time high, the coaches toyed with the fans a little bit:
And in peyton mannigs first 11 on 11 drill - 5 handoffs to rbs
— Mike Klis (@MikeKlis) July 26, 2012
Peyton Manning's warm up will be slow and deliberate. Like a fine Brie wrapped in fig leaves. #NFLTrainingCamp2012

— RumfordJohnny (@RumfordJohnny) July 26, 2012
It wasn't long before Manning got into the swing of things:
Peyton's first 11-on-11... Defense only going about half speed... I counted 24 plays... Manning 12/14 passing.Hit Decker most often.

— Scott Hanson (@ScottHanson) July 26, 2012
Ball is going where Peyton wants it. Deep ball looked decent (2 long TD's to A. Caldwell). Did have 1 near pick (DT Ty Warren jumped up).

— Scott Hanson (@ScottHanson) July 26, 2012
Peyton manning has thrown well
— Mike Klis (@MikeKlis) July 26, 2012
It's not all that surprising that Peyton Manning can throw a football against a defense going half speed. It's almost expected that Manning would have a good training camp, even once the Broncos ratchet up the intensity. Manning is still a great quarterback:
Disclaimer: it's day 1.His arm is as fresh as it will be.Practice was helmets only.But Peyton looked like Peyton.#NFLtrainingcamps

— Scott Hanson (@ScottHanson) July 26, 2012
Peyton looked like Peyton, and that's what Broncos fans want to hear. Next, we'll be hearing that Peyton looked like Peyton in preseason games and, ultimately, Peyton looked like Peyton in the regular-season games. There's a long way to go, but the early signs are positive for the Broncos.
There's little reason to doubt Manning at this point; it's still early and he can clearly still throw the ball. Seeing Manning take a hit, get up and throw a pass in the face of pressure on the next play is something we're not likely going to see until the regular season.
Until then, Manning will work on getting comfortable with his receivers, offensive line and surroundings, hoping that when he does get hit, he'll be thinking about the next play instead of his surgically repaired neck.
This article is
What is the duplicate article?
Why is this article offensive?
Where is this article plagiarized from?
Why is this article poorly edited?