Departure of Steve Wisniewski a Blow to Raiders Offensive Line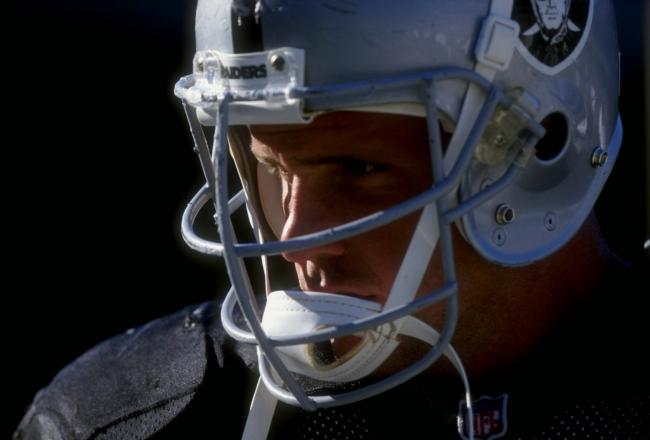 David Taylor/Getty Images
If you think your job is hard, consider the working conditions of an assistant football coach. It's not easy. The pay is above-average; not great unless you are a coordinator. The work hours are brutal, 12-14 hours per day, seven days per week during the football season. It's fun, when the team is winning. It's not so fun when the team is losing.
There is no stability. Coaches get three years to make a losing franchise a winner. Every three years, your entire family could be moving. Some situations are more stable at the top, but they don't hesitate to use assistant coaches as a scapegoats. Wisniewski wasn't a career coach, and he was in a special situation having been an All-Pro for the Raiders.
Although Wisniewski's situation was special, the job is taxing physically and mentally, and it's still hard on the families. Coaching is not for everyone, and now we know it is not for Wisniewski.
Wisniewski entered coaching full-time just last year. Al Davis gave him a chance after he was a strength and conditioning intern for Jim Harbaugh at Stanford. A lot was made of Wisniewski staying on Greg Knapp's staff as assistant offensive line coach because he had helped coach a surprise position group last year. It's irrelevant now. The demands of coaching were too much.
How much will Wisniewski's departure impact the offensive line?
Don't blame Wisniewski; he did the right thing at the right time. For the Raiders, they are now without an assistant offensive line coach. Not every team has an assistant offensive line coach, and the Raiders still have head offensive line coach Frank Pollack. There is probably a young and eager assistant willing to help in 2012.
Wisniewski is a loss because while Pollack was teaching schemes, Wisniewski could have been teaching technique. Wisniewski was a unique coach, having been a great offensive lineman himself. Losing that experience will be difficult to replace because there is a difference between knowing what to do and how to do it. Wisniewski knew both. It will be next year before the Raiders are able to go shopping for a key assistant, and few will come with Wisniewski's credentials.
If there is a silver lining, Wisniewski wasn't a zone-blocking lineman when he played, and he coached mostly man-blocking techniques last season. The Raiders aren't losing much in the way of experience in the new blocking scheme, and that should enable the team to get through the year without any major issues.
It's not all that surprising that coaching ended up being too much for Wisniewski. He's a family man and a minister at team chaplain's Napolean Kaufman's East Bay church. Wisniewski has responsibilities outside football. Wisniewski was the type of player and person that inspired greatness, and not having him around will be a blow to the Raiders. Thankfully, with training camp fast approaching, no one has any time to think about it.
The team announced Wisniewski would remain with the team as an ambassador (via Paul Gutierrez, CSN Bay Area).
This article is
What is the duplicate article?
Why is this article offensive?
Where is this article plagiarized from?
Why is this article poorly edited?