The Dallas Cowboys are just days away from starting training camp in sunny California, with one of the team's many goals being the improvement of certain flaws within their defense.
America's Team saw its playoff hopes dashed due to several defensive miscues and has dedicated much of this offseason to making sure that doesn't happen in 2012.
Here are the four biggest holes in defensive coordinator Rob Ryan's defense as of now.
Safety
The safety position has been a small issue since former strong safety Roy Williams' skills started to decline several years ago. While Gerald Sensabaugh has performed decently enough to receive a contract extension, he hasn't made a huge impact.
Barry Chuch and Matt Johnson are two names that Cowboys fans hope can take over the starting jobs from Sensabaugh and Brodney Pool, sometime during the season, due to their young age and potential.
Regardless of who is out there, the team needs to be able to rely on their safeties, because it doesn't do Ryan's defense any good if he has a pair of shut-down cornerbacks with two shaky safeties as his last line of defense.
Defensive End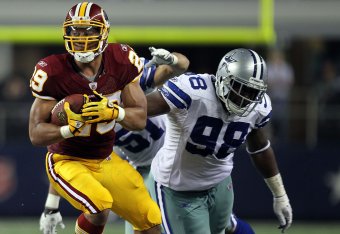 Ronald Martinez/Getty Images
With all the talent of guys like Sean Lee, DeMarcus Ware and Jay Ratliff lining up in the attempt to reach the opposing quarterback, they have received little help from the defensive end position.
That reasoning is likely what lead to the Cowboys' war room selecting Tyrone Crawford in the 2012 NFL Draft.
Dallas is hoping the pair of the rookie and veteran Marcus Spears can improve upon the lackluster performance out of this position just a season ago. Having Ratliff at defensive tackle looking to break through the opponent's offensive line is a great asset to possess, but one man can only do so much on his own.
Ratliff will need one, if not both, of Spears and Crawford to step up their game and to help put some sacks and tackles for losses on the stat sheet.
Lack of Turnovers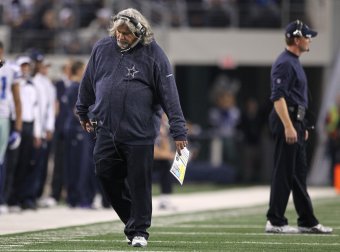 Matthew Emmons-US PRESSWIRE
For whatever reason, it seems the Cowboys have trouble consistently producing turnovers on defense. Three of the past four seasons, Dallas has finished outside of the top-15 NFL teams in terms of interceptions.
The team did however post the seventh best total back in 2010, ironically during the team's worst regular season record in that time span.
This situation might be helped with the new blood in the secondary like Morris Claiborne, Brandon Carr and Brodney Pool coming to town, but it's something that needs to be improved.
Turnovers have an element of luck built into them occurring, but I think every 'Boys fan would like to see their linebackers and corners going to tackle with a fist-formed to punch the ball out of a running backs hands. If the unit can replicate their 2010 turnover totals, then they'll be giving more time for the team's star-studded offense to go to work and to put points on the scoreboard.
Tackling
Perhaps the biggest offender in failing to tackle in 2011 was likely now former-cornerback Terence Newman, but the whole defensive unit needs to look at last year's game film and learn from their mistakes.
You know your team needs to get better at tackling when your former Pro Bowl safety and future Hall of Famer Darren Woodson is telling you so. Back in June, Woodson spoke with Tyler Dunne of the Milwaukee Journal Sentinel, saying that the Cowboys "are garbage at tackling, they won't hit a soul."
Luckily for Dallas, this is one of the most basic and easy skills in the game for a coach to teach and drill into their players' heads. While it may be the easiest, this is one of the most crucial problems with Ryan's defense that needs to be fixed before the calendar switches over to September.