Boston Celtics: Predicting Personnel for Situational Lineups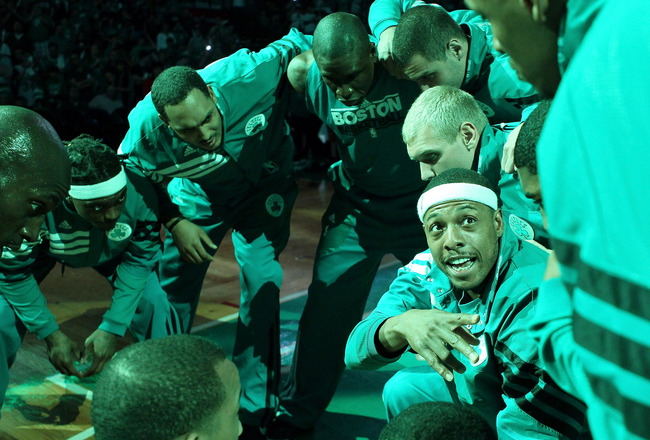 Elsa/Getty Images
Situationally speaking, the Boston Celtics appear prepared to handle almost anything the NBA can throw at them.
Boston earned a spot in the Eastern Conference Finals because of experience and intelligence more than bare talent. That intelligence has a lot to do with their situational lineups and how they use certain personnel groupings.
The benefit of having a long-term coach like Doc Rivers is he knows his team inside and out. He has experienced almost every basketball scenario over the past eight seasons in Boston. When the time comes for a move to be made, he knows who can handle what situation.
Starting Lineup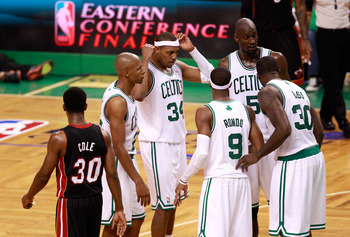 Jared Wickerham/Getty Images
Season Opening Starting Five:
PG: Rajon Rondo
SG: Courtney Lee
SF: Paul Pierce
PF: Brandon Bass
With Avery Bradley sidelined while rehabbing his shoulders, Courtney Lee will slide into a starting role. Jason Terry has been too talented a backup recently to shift roles. The Celtics would be smart to let him come off the bench no matter the situation. Outside of that, the lineup is identical to last season's.
Season Closing Starting Five:
PG: Rajon Rondo
SG: Avery Bradley
SF: Paul Pierce
PF: Jared Sullinger
C: Kevin Garnett
Barring any health issues, Boston should have a lineup resembling this by season's end. Bradley will return to play alongside Rajon Rondo, as the two continue growing together. Another change I would like to see is starting Jared Sullinger to force Brandon Bass into his more natural reserve role. Sullinger has the talent to do this—it will just take consistency for him to emerge as Boston's starting power forward.
Small Ball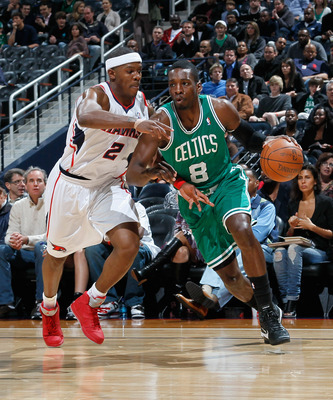 Jeff Green has the height to play PF.
Kevin C. Cox/Getty Images
PG: Rajon Rondo
SG: Avery Bradley
SF: Paul Pierce
PF: Jeff Green
C: Chris Wilcox
The small-ball lineup will look a lot like Boston's regular lineup, since they're a small team to begin with. Rajon Rondo and Avery Bradley each hover right around six feet and are lightning fast with or without the ball.
Paul Pierce maintains his spot at small forward since he can do everything anyone else on the roster can from that spot. Jeff Green's versatility will enable him to play power forward against smaller teams. He has the body to man-up against average Fours and the athleticism to create mismatches on the other end.
The final spot is debatable. You can clearly keep Kevin Garnett in the game, since he is a more natural power forward anyway. However, I very much liked the athleticism Chris Wilcox showed before his injury last season. He was running the court superbly with Rondo and Bradley and created a lot of easy buckets in transition. He is, of course, seven years younger than Garnett and has a lot less mileage on his feet. When Boston goes small, Wilcox gives them the best chance in an up-tempo game.
Big Lineup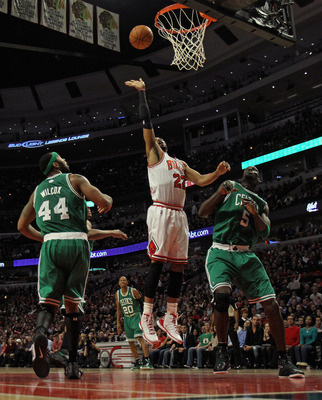 Jonathan Daniel/Getty Images
PG: Rajon Rondo
SG: Paul Pierce
SF: Jeff Green
PF: Kevin Garnett
C: Chris Wilcox
Boston will once again be an undersized team. They were small throughout the lineup last season and will be once again. Since Fab Melo is unproven and Jason Collins just doesn't appear to have it anymore, both seven-footers can't play in this lineup.
The departure of both Ryan Hollins and Greg Stiemsma hurts here, but Chris Wilcox's return allows the Celtics another big, athletic body. He can man the center spot, while Kevin Garnett slides back into his familiar role as power forward. The return of Jeff Green gives Boston a bigger athlete who can play both the power forward and small forward roles. Neither Brandon Bass nor Jared Sullinger have the athleticism to play the three spot, so naturally the 6'9" Green takes it.
The addition of Green here forces Paul Pierce into the shooting guard spot, which he can play with little trouble. Of course, Rajon Rondo remains on the court no matter the situation.
Three-Point Shooting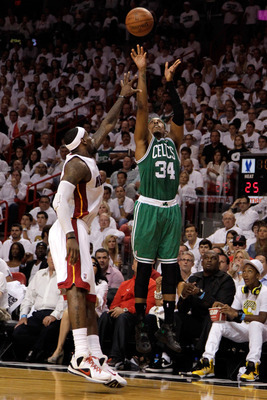 Paul Pierce can hit a dagger three with the best of them.
Mike Ehrmann/Getty Images
PG: Jason Terry
SG: Keyon Dooling
SF: Courtney Lee
PF: Paul Pierce
C: Kevin Garnett
Unless the situation is desperately calling for a three-pointer, I don't believe Rajon Rondo comes out of the game. There is no one in the league I trust more to get someone an open look than Rondo. However, in the spirit of argument, Rondo's range is still lacking. Pulling him out leaves an opening for Jason Terry to play the point.
The newcomer is, of course, a three-point specialist who boasts a 38 percent career clip. Avery Bradley nailed more than 40 percent of his threes last season, but he still cannot be trusted in crunch time. Keyon Dooling hit multiple big threes in last season's playoff run. He wound up connecting on 11-of-28 in the postseason, but has the experience and cache necessary to earn this spot.
Courtney Lee has shot better than 40 percent from beyond the arc in three of his four NBA seasons. At 6'5", it is not unreasonable for him to take on the small forward spot, especially in a three-point situation.
Paul Pierce remains the most trustworthy end-of-game threat on the roster. A lot of that comes with his three-point stroke, which is one of the best in the league. Beyond winning the Three-Point Shootout in 2010, Pierce has a respectable 37 percent career clip.
The Celtics don't have a long-range threat in the frontcourt, but if I were to trust a big to step out and sink a trey, it would be mid-range assassin Kevin Garnett. He connected on three-of-nine threes last season and hit one in the playoffs as well. If need be, Jared Sullinger shot 16-of-40 from the distance last season at Ohio State.
Defensive Lineup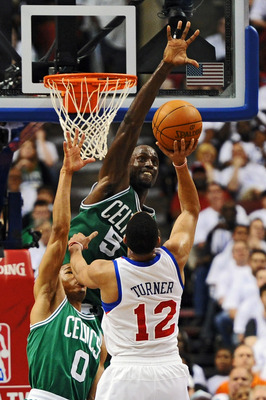 Boston's two best defenders.
Drew Hallowell/Getty Images
PG: Rajon Rondo
SG: Avery Bradley
SF: Paul Pierce
PF: Jeff Green
C: Kevin Garnett
The backcourt is the key to this unit. Rajon Rondo owns four All-Defensive Team spots (two firsts, two seconds). Assuming he can seamlessly return from shoulder surgeries, Avery Bradley will be joining Rondo on those teams in no time. The second-year guard's most notable attribute is his perimeter defense. Despite his diminutive stature, Bradley's effort and quickness enable him to be a consistent pest on the defensive end.
Brandon Bass' defense was suspect last season and Jared Sullinger is too unproven to play in this lineup. Even though age is slowing him, Paul Pierce must remain in to get defensive stops. He still has some veteran moves and the best part of the Celtics defense is that he, Rondo and Kevin Garnett all know each other so well.
Jeff Green's versatility allows him to defend a lot of different players. If he is good to go after a season off, his athleticism is something that will remind Boston of Tony Allen—but with five more inches. Of course, the defensive back-bone of the Celtics, Garnett, remains in the game at center. Here he can handle the strength of opposing players better than he could at power forward.
The point of debate in this situation is rebounding. With Green at the power forward spot, you sacrifice a lot of rebounding ability. If this particular defensive unit is faltering, I am not opposed to moving Sullinger in and benching either Pierce or Green.
Free Throw Shooters
Chris Graythen/Getty Images
PG: Jason Terry
SG: Courtney Lee
SF: Paul Pierce
PF: Brandon Bass
C: Kevin Garnett
This is probably the one situational lineup in which you could hold Rajon Rondo off the court. His free throw shooting has not improved to the point of him being a reliable option—though he showed an ability to escape pursuit in a few free-throw shooting situations last season. He is also a valuable asset inbounding the basketball.
Still with the other talented shooters on the roster, Rondo is expendable here. Jason Terry, a career 85 percent free-throw shooter, can slide into the point guard position if need be. He'll be flanked by Courtney Lee, who has shot 83 percent from the line in his four years. He beats out Avery Bradley, who is still unproven in crunch-time.
Paul Pierce and Kevin Garnett are standards and have both hit more clutch free throws than I can count. As for the power forward spot, it must go to Brandon Bass. Not only is he a career 82 percent free-throw shooter, he has hit an astonishing 92 percent of his freebies in the postseason.
Garbage Time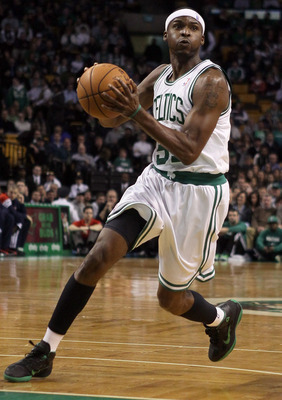 Dooling won't see too many meaningful minutes.
Elsa/Getty Images
PG: Keyon Dooling
SG: Dionte Christmas
SF: Kris Joseph
PF: Fab Melo
C: Jason Collins
This seems to be the unit that will be seeing time at the tail end of blowouts. Dooling has the experience running the point and will be able to keep the three younger players involved. Joseph and Melo have the experience of playing together at Syracuse and will see if they can rekindle some of that magic. Collins will be battling for minutes at the center spot, but will most likely start behind Kevin Garnett and Chris Wilcox on the depth chart. He and Melo could flip-flop in the frontcourt.
Overall, this unit is potentially exciting because of the three young players. Last year's garbage time was taken by subpar veterans like Marquis Daniels and Sasha Pavlovic. At least during Gino Time, fans get a glimpse of potential this season. Christmas turned a lot of heads this summer and, along with Joseph and Melo, could really make a mark this season in Boston.
Keep Reading

Boston Celtics: Like this team?