How Chris Bosh's Role Changes with Additions of Ray Allen and Rashard Lewis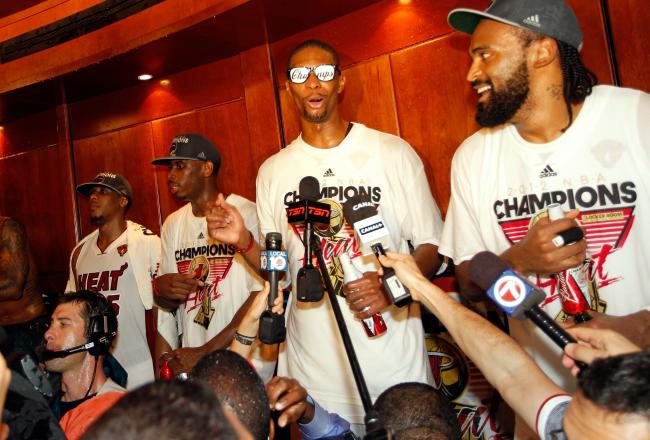 Mike Ehrmann/Getty Images
Yesterday, I spent a great deal of time analyzing just how the signing of Ray Allen impacts the roles of LeBron James and Dwyane Wade.
I came to the conclusion that all of those players are pretty good and will be fine. With Allen and Rashard Lewis on the Miami Heat, the team has only improved exponentially because of the belief that they'll stretch the floor, leading to open lanes for Wade and James. The offense has had its concerns, but the majority of those concerns should be eradicated if Allen and Lewis pan out.
We spent all this time focusing on how Allen and Lewis affect the adjustments Wade and James will have to make, but what about the Heat's often-forgotten hero in Chris Bosh?
It's satisfying to see that all it took for people to realize how important Bosh is, was for him to sit out a few postseason games. The Heat went 5-4 in those contests, struggling mightily against Kevin Garnett, who was allowed to roam free on the defensive end. Because Bosh wasn't on the floor, Garnett was allowed to leave his assignment and throw double-teams at Dwyane Wade.
Once Bosh came back, however, it was a completely different story. Garnett had to begin honing in on Bosh because of his scoring ability from inside and out which left Wade and James to be single-guarded without having to worry about the paint being packed as much as it was prior to Bosh's return. In the end, it led to a Heat series victory with Bosh scoring 19 points on 11 shots in Game 7.
What Bosh provides to the Heat is essentially what the likes of Allen and Lewis provide but at a shorter distance. Not only does he stretch the floor as the Heat's most consistent midrange shooter, but because he's a power forward, he also attracts the influence of opposing bigs.
As a result, the lane opens up just a little bit more for Wade and James to work with. It's the same thing that's going to happen when Ray and Rashard are on the floor. Their notoriety as lethal shooters will force defenders to respect the perimeter (leading to more open looks for the likes of Bosh) while they spend the majority of their time within the three-point line.
I previously stated how Allen and Lewis will thrive off of the post ups of Wade and James. When it comes to working with Bosh, however, it's not as straightforward. Bosh isn't too lenient on posting up and is more prone to facing up and taking defenders off the dribble. Because he's a dual-threat on offense, it's only going to force defenders into a more difficult quandary on how they run their defense.
As if it wasn't difficult enough to guard this team already. Bosh stretching the floor with a 20-foot midrange jumper was one thing, but having to defend that AND Ray Allen or Rashard Lewis' three-point touch? That's a tall order, even for the league's most elite defenses.
One characteristic we should see now that the Heat have two elite three-point shooters is more time featuring Bosh at the five. While it may be far-fetched to some to believe that Bosh, sometimes regarded as passive, is capable of playing at center for significant stretches, he proved last year that he can do it just as well as anyone else.
It's not like the Heat have much of a choice. They don't have any true centers to rely on, and at 6'11", Bosh has the size to consistently compete for rebounds. Not only that, but he can take centers off the dribble with ease because of his quickness. His jump shot also drags defenders out of the lane and out of their comfort zone.
Once Bosh hits the floor, having a true center is dangerous for an opponent because not only do the Heat like to run, but they also like to get looks for their stretch four in order to keep him happy. With so much speed and quickness on the floor, a team with a lumbering center doesn't always pan out as anticipated.
Take a look at the past NBA Finals. Kendrick Perkins was believed to be a huge piece of the equation to beating the Heat going into the series, yet he only ended up playing more than 20 minutes on two occasions. It became so because of the Heat utilizing Shane Battier, requiring the Thunder to send out someone who can defend the perimeter, and Perkins being useless because of Miami's all-around speed.
With Bosh playing at the five, it opens up room for Rashard Lewis to get himself acquainted with a possible finishing lineup. While we'll have to wait and see how well Lewis responds from an awful 2011-12 campaign, he could end up being an extremely valuable piece for the Heat if he can consistently hit shots like he used to in his days with Seattle and Orlando.
Having Lewis and Bosh in the lineup opens up the floor in a big way for the Heat, as both players contain jump shots worth respecting. Since both players stand at 6'10" or higher, they'll require the attention of defenders with the height and length to impede their shooting ability. While it may deter them from shooting, it certainly won't deter the Heat's slashers from penetrating the lane.
Of course, it may be doubtful that Lewis is in during crunch time. The Heat value defense too much which is why it would be expected to see either Shane Battier or Udonis Haslem in the game, instead. Lewis is mostly going to be relegated as someone who can help initiate the offense from beyond the arc, stretch the floor and utilize his size to keep defenders out of the paint.
With Lewis on the team, Bosh is also going to have a lot of attention taken off of him. Outside of LeBron James when he runs the four or five, the Heat haven't given Bosh a companion who can take some of the pressure off. Udonis Haslem, Joel Anthony, Ronny Turiaf, Dexter Pittman, etc., have all either underachieved or don't have the offensive repertoire worth respecting.
Lewis is someone who can provide some scoring. While he may not be a great scorer near the basket, he's still a member of the frontcourt who can actually provide something on the offensive end; and that's only going to help Bosh, as well as the team as a whole. Having a fellow frontcourt member who can share some of the scoring load is only going to help Bosh as his career with the Heat progresses.
The Heat haven't had this type of support in the "Big Three" era, especially in the frontcourt. While Rashard Lewis isn't much, it's far better than any other big man who has been a part of this Heat team since 2010. Even if he isn't a conventional power forward, Lewis will still aid this team in rebounding while still being able to contribute on the other end of the floor.
Versatility from the Heat power forwards and centers has been at a loss outside of Bosh and Haslem (whenever he's hitting his jumper which didn't come too often last year).
As for how Bosh will thrive alongside Ray Allen? Just set strong screens—something he may have to end up doing a lot more next year—and find ways to get him open. If Bosh were to attempt to go more towards posting up, then he'd be able to free up Allen for open opportunities rather than staying out 20 feet and bringing some attention to the perimeter.
Bosh may find himself in a Kevin Garnett type of role, as the big man expected to get his teammate open when the situation required it.
Even though these are two major signings for the Heat, it's hard to believe Chris Bosh's role will change at all.
As a result of these two joining the team, we may see Bosh spend more time playing at the five, setting a few more screens and getting some additional rest. The impact should be minimal, and it would be unexpected to see Bosh changing up his game at all. He's a player who likes to spend his time within the perimeter, taking midrange jumpers and occasionally driving.
It would be hard to believe that Bosh's role changes after he just spent two years making the adjustments to becoming a third wheel. He should end up being featured in the role he has become accustomed to which mostly involves him occasionally receiving the ball and getting a crack at creating a scoring opportunity of his own.
Bosh is still going to be the third scorer on this team, too, so let's get that out of the way before any sort of ridiculous talk comes up.
He's also still the most significant player on this team, and the Heat don't win without him. He's the lone source of consistent help at the four and five; and he has become an essential need for the Heat when it comes to stretching the offense, making his presence felt on defense, and being among the team leaders in rebounds.
Will his role change with the Heat? Not in the slightest. However, the most we can expect are minor changes in the Heat's overall offense which will affect Bosh at some point.
This article is
What is the duplicate article?
Why is this article offensive?
Where is this article plagiarized from?
Why is this article poorly edited?

Miami Heat: Like this team?