NBA Trade Rumors: Most Likely Players to Be Dealt at Next Seasons' Deadline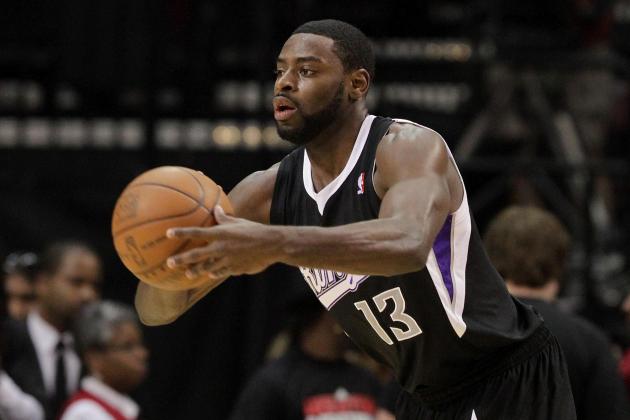 Troy Taormina-US PRESSWIRE

The end of the 2012 NBA offseason won't signal the end of roster changes for the 30 teams in The Association. Plenty of star players, like these five, will be switching teams at next season's trade deadline.
Even if they begin the 2012-2013 campaign on the same roster that they finished last season on, these players all seem likely to be dealt for various reasons.
They won't be the only five to change hands, but they will be the five most glamorous players to do so.
Begin Slideshow

»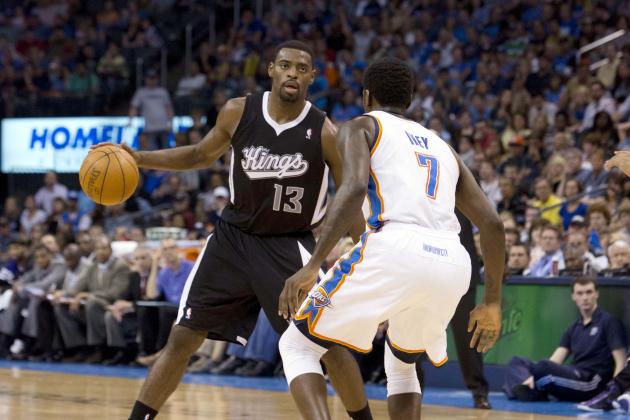 Richard Rowe-US PRESSWIRE

Team: Sacramento Kings
Position: PG/SG/SF
Age: 22
2011-2012 Per-Game Stats: 16.5 points, 4.6 rebounds, 4.5 assists, 0.5 blocks, 1.3 steals
Set to become a restricted free agent during the 2013 offseason, Tyreke Evans is a great young player, but he plays in a ridiculously full Sacramento Kings backcourt.
Evans and his ability to play multiple positions would generate the largest return in a potential trade while freeing up more playing time for Isaiah Thomas, Marcus Thornton and maybe even Jimmer Fredette.
The point guard's career has been largely disappointing ever since he joined the exclusive 20-point, five-rebound, five-assist club during his rookie season. His play has dropped off and he has failed to live up to the excess expectations.
A fresh start would do wonders for Evans while freeing up the backcourt in Sacramento.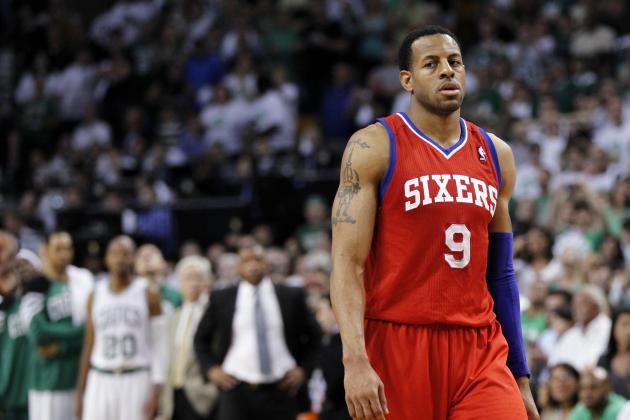 Greg M. Cooper-US PRESSWIRE

Team: Philadelphia 76ers
Position: SG/SF
Age: 28
2011-2012 Per-Game Stats: 12.4 points, 6.1 rebounds, 5.5 assists, 0.5 blocks, 1.7 steals
If it seems like this swingman has been on the trading block throughout his entire career, it's because he pretty much has.
Andre Iguodala is one of the league's premier perimeter defenders and a more than capable offensive player. It's just that he's not an alpha dog, a guy capable of carrying his team when his fellow starters are experiencing off nights.
If there was ever a time for Iggy to be traded, it would be during this upcoming season.
The Philadelphia 76ers seem to have decided to collect swingmen or tweener forwards, which lessens the amount of impact Iguodala can have while allowing the young players to develop.
Between Iguodala, Maurice Harkless, Thaddeus Young, Nick Young, Dorell Wright and Evan Turner, there are only so many minutes to go around.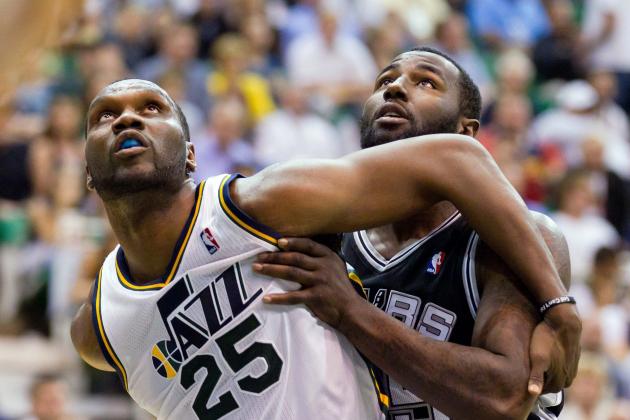 Russ Isabella-US PRESSWIRE

Team: Utah Jazz
Position: C
Age: 27
2011-2012 Per-Game Stats: 19.2 points, 9.6 rebounds, 2.2 assists, 1.7 blocks, 0.8 steals
Al Jefferson has developed into one of the league's elite big men, but he's going to be an unrestricted free agent after the 2012-2013 season. Unless he signs an extension with the Utah Jazz, he'll most likely go with the trade-and-extend route.
As good as the 27-year-old center may be, he's more of a luxury than a necessity for the Jazz.
Through the draft and their own wheelings and dealings, the Jazz have the rights to both Enes Kanter and Derrick Favors. Both of the young players have high upside and could develop into players of the same caliber as Jefferson.
The kicker is that they're both significantly less expensive to keep on the roster at this stage of their careers.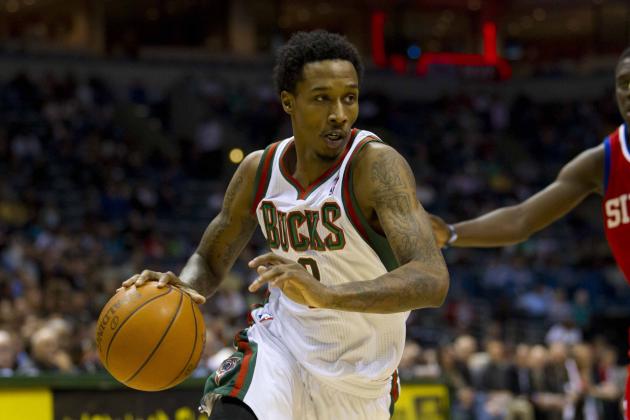 Jeff Hanisch-US PRESSWIRE

Team: Milwaukee Bucks
Position: PG
Age: 22
2011-2012 Per-Game Stats: 19.1 points, 3.4 rebounds, 5.5 assists, 0.3 blocks, 1.6 steals
Brandon Jennings became eligible for a contract extension on July 1, but nothing has come out of either his camp or the Milwaukee Bucks' organization. All has been quiet on those fronts.
Earlier in the year, Gery Woelfel of the Journal Times reported that Jennings was open to signing an extension with the Bucks, but that it was by no means a guarantee:
There are some NBA observers who believe Jennings will reject an extension and inevitably leave Milwaukee. Of course, those perceptions are based primarily on comments made by Jennings himself earlier this season.

That's when Jennings hinted he wasn't content in Milwaukee and that he might want to showcase his talents in a city with more glitz and glamour.

Said Jennings at the time: "I am going to keep my options open, knowing that the time is coming up. I'm doing my homework on big-market teams."
Jennings is a player who likes to throw up shots whenever possible, and it wouldn't be surprising at all if he grew discontent playing alongside Monta Ellis. After all, the former Golden State Warrior has a similar mentality and might clash with his backcourt mate over the course of a full season.
The left-handed point guard has spent his entire—albeit short—career with the Bucks, but don't expect that to last too much longer.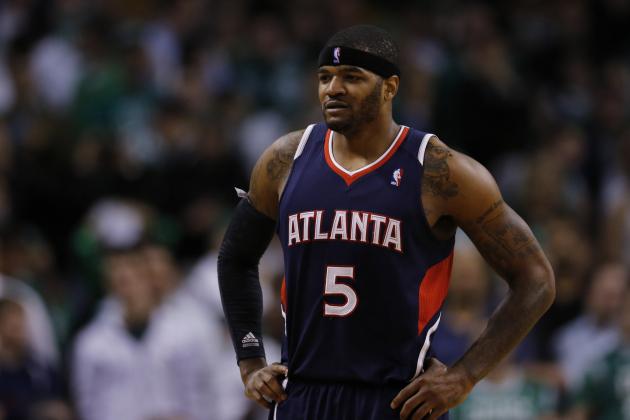 Greg M. Cooper-US PRESSWIRE

Team: Atlanta Hawks
Position: PF
Age: 26
2011-2012 Per-Game Stats: 18.8 points, 9.6 rebounds, 3.9 assists, 1.7 blocks, 1.4 steals
An article about potential trades just wouldn't be complete if it didn't contain Josh Smith's name.
The ridiculously athletic forward arguably blossomed into the Atlanta Hawks' best player last season while Al Horford was sidelined with a pectoral injury and Joe Johnson remained burdened by his albatross of a contract.
His contract is set to expire at the end of the season, and new general manager has shown that he's willing to trade anyone and everyone to kick off his new regime.
With only a couple players under contract for the 2013-2014 season and beyond, Ferry is poised to make a run at a number of key free agents, but an extension with Smith could hinder that pursuit.
Ferry has made it clear that Smith is a part of his plans for the next season, but according to Slam Online, Smith has given no hint that he wishes to remain a Hawk for any more than this upcoming campaign.