USA Olympic Basketball Team: Why NBA's Athleticism Transcends International Game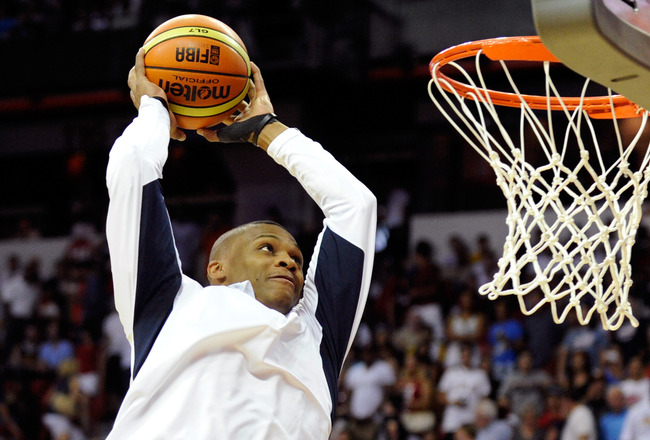 David Becker/Getty Images
There are over 40 current and former NBA players playing in the 2012 London Olympics, and most of them have elite athleticism that gives them a distinct advantage in international competition.
All 12 of Team USA's players are NBA stars, so there's a surplus of speed and leaping ability on the roster.
But the Americans aren't the only ones with some NBA athleticism in these summer games. 10 other Olympic squads have NBA players, and some of them possess terrific agility and explosiveness.
So how exactly do all these physical tools work so well? Here's a breakdown of why the NBA's athleticism transcends the international game.
Airtight Man-to-Man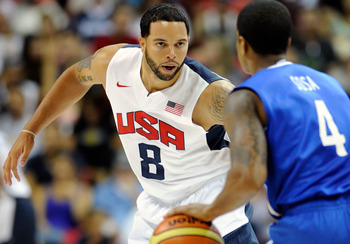 David Becker/Getty Images
When international players encounter NBA-caliber defense for the first time, it's often overwhelming.
Most NBA stars have such great lateral quickness and agility that they can stay in front of almost every European or South American guard. The ball pressure on the point guard and the airtight defense on the forwards make it difficult for opponents to generate any kind of momentum.
Having a couple of NBA players on your team (like France, Spain and Argentina do) is nice, but when you put a whole unit of them together (like Team USA), the results are staggering.
In just five exhibition games, Team USA forced a whopping 107 turnovers. They made it extremely difficult for every team, including Argentina and Brazil, to run their offenses effectively.
Fast-Break Blur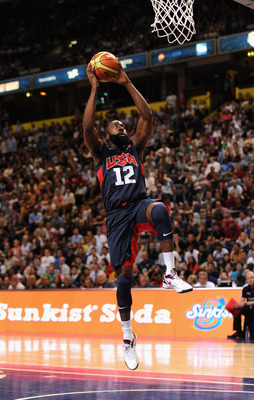 Stu Forster/Getty Images
The airtight defense and turnovers often lead to fast-break opportunities, and that's where the NBA's athleticism is on full display.
Once NBA stars get on a two-on-two, two-on-one or three-on-one fast break, heaven help the opponent standing in their way. The ball is usually up the floor and in the hoop faster than their coach can yell "get back!"
Agile NBA players like Leandro Barbosa, Nicolas Batum, Serge Ibaka and Luol Deng will excel for their respective teams because they can get out and run.
Every single member of Team USA is a prolific fast-break player. The run-outs lead to a lot of easy buckets and a healthy margin of victory against most challengers.
Elevation on Jump Shots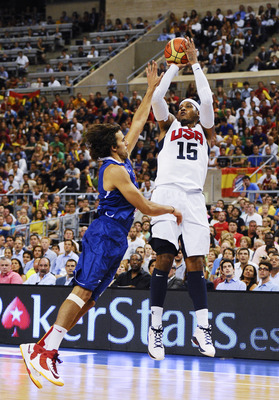 David Ramos/Getty Images
One of the perks of having elite, NBA-caliber athleticism is the ability to elevate for a jump shot.
Sometimes the most technically sound defense is rendered useless when a player like Kobe Bryant or LeBron James goes skyward for an outside shot.
NBA players are used to shooting over athletic defenders, so when less athletic international players guard them, it's a piece of cake.
When the ball movement isn't crisp, or when the game slows down, elite athletes are able to compensate by creating mid-range or long-range shots out of thin air.
Help Defense in a Pinch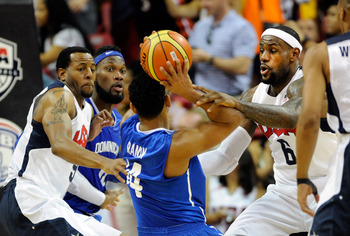 David Becker/Getty Images
International players are often unprepared for the quickness and explosiveness of the weak-side defense that NBA players provide.
For Coach K, it's a luxury to have players like Andre Iguodala and Russell Westbrook flying in from the side to bring help defense. Just when the opponent thinks he's beaten Team USA to the bucket, a help defender is there to protect the rim.
This great hustle and block by Westbrook is a perfect example of NBA talent catching a non-NBA player off-guard.
Slicing Through the Defense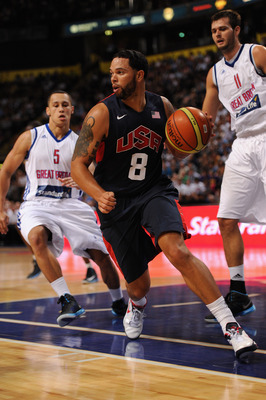 Stu Forster/Getty Images
Dribble penetration is something that most NBA guards have mastered, and the athleticism and agility advantage only magnifies this skill against non-NBA talent.
For example, an above-average athlete like Manu Ginobili is one of the best players in his entire country because he combines basketball skill with exceptional body control.
Team USA is blessed with a swarm of players who can get past their defenders and into the teeth of the defense. Nine of its 12 players are elite ball-handlers who are quick enough to blow past their man and create opportunities in the paint.
A lightning-quick first step and the ability to change direction on a dime make guards like Chris Paul and Deron Williams unguardable for most players.
Finishing in Traffic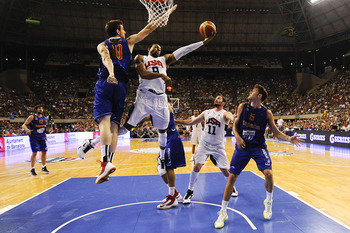 David Ramos/Getty Images
Once athletes get into the heart of a defense, there's usually a decent chance they're going to finish the play. If not, they're either going to draw a foul or kick the ball out to an open teammate.
The explosiveness and body control of NBA All-Stars like Kevin Durant and Carmelo Anthony give them the ability to jump and twist themselves to the hoop, even if the defense is aggressive.
Look for international NBA players like Serge Ibaka, Anderson Varejao and Ronny Turiaf to thrive against lesser opponents because of their athletic attacks to the rim.
Also, look for the athletic wings of Team USA to score plenty of points in the paint even though they're at a size disadvantage.
Follow Daniel on Twitter: @Danielobleacher
Keep Reading