Fantasy Studs Destined for Down Year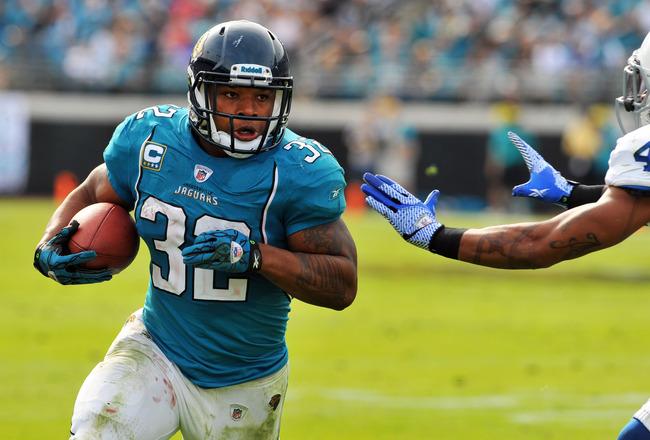 Al Messerschmidt/Getty Images
It happens every year in fantasy football.
You do the research, check the stats, consult the "experts," make your first-round pick and then watch in helpless horror as the supposed foundation of your fantasy squad crumbles, leaving your season in ruins.
Sometimes there's just nothing to be done, as injuries or just plain bad luck can wreck a fantasy campaign with alarming speed.
However, sometimes the proverbial writing is on the wall, and each of the following NFL stars has at least one red flag that should give fantasy owners pause before burning an early draft selection on them this summer.
Cam Newton, QB, Carolina Panthers
Ronald Martinez/Getty Images
There was no bigger or more pleasant surprise in fantasy football last year than rookie quarterback Cam Newton of the Carolina Panthers.
The first overall pick in the 2011 NFL draft took both the National Football League and fantasy football by storm, throwing for over 4,000 yards, posting a top-five fantasy finish and setting an NFL record for rushing touchdowns by a quarterback with 14.
However, the arrival of fullback Mike Tolbert will all but certainly eat into Newton's rushing totals, especially near the goal line.
That may be great for Newton's NFL longevity, but it doesn't help his fantasy prospects this year. And unless his passing scores increase significantly, Newton is a dicey proposition this season as a first- or second-round pick.
Maurice Jones-Drew, RB, Jacksonville Jaguars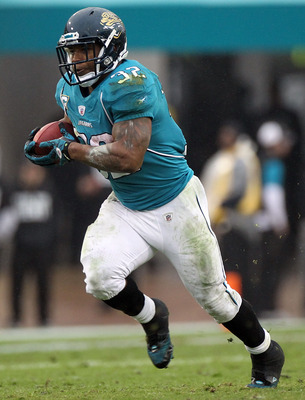 Sam Greenwood/Getty Images
Jacksonville Jaguars running back Maurice Jones-Drew was the NFL's leading rusher in 2011, racking up over 1,600 rushing yards and finishing the season as fantasy football's fourth-ranked running back.
However, that was then, and this is now.
Although the seventh-year pro still has two years left on the $31 million contract he signed in 2009, Jones-Drew has decided that last year's big numbers merit bigger numbers on his paycheck, and the 27-year-old is prepared to hold out of training camp to get them.
According to Mike Freeman of CBS Sports, Jones Drew is "considering testing the will of Jaguars leadership."
Given that Jaguars owner Shad Khan told The Florida Times-Union that the team "has no plans to give running back Maurice Jones-Drew a new contract," this situation has all the makings of the sort of ugly holdout that can wreck a fantasy season before it even starts.
Jordy Nelson, WR, Green Bay Packers
Jamie Squire/Getty Images
Wide receiver Jordy Nelson exploded into NFL prominence in 2011, as the fifth-year veteran shattered his career highs across the board with 68 catches for 1,263 yards and an eye-popping 15 scores.
Nelson finished last season as fantasy's fourth-ranked wide receiver in leagues that award a point per reception, but fantasy owners hoping for a top-five repeat are likely in for a disappointment.
Sure, the Green Bay offense is as prolific as they come, but there are a lot of mouths to feed and Nelson's high touchdown total from last year is the sort of gaudy stat that isn't generally sustainable.
This isn't to say that Nelson won't have a good year, but it isn't going to be good enough to justify selecting him among the top 10 wide receivers in fantasy drafts.
Rob Gronkowski, TE, New England Patriots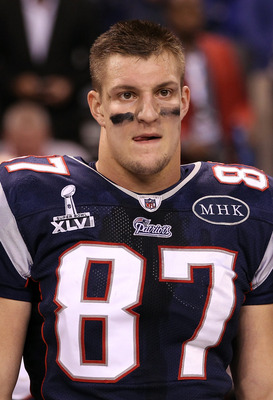 Ezra Shaw/Getty Images
I've beaten this horse so many times that at some point in August I expect New England Patriots tight end Rob Gronkowski will show up at my door, rip off my arms and beat me to death with them.
Listen, there's no denying that Gronkowski is an incredible talent, as evidenced by his record-setting 17 touchdown catches in 2011.
Therein lies part of the problem. Record-setting seasons just don't happen every year, but many fantasy owners are burning a first-round fantasy pick on the third-year pro expecting that Gronkowski will once again lay waste to the tight end position.
Factor in the improvements that the Patriots have made at wide receiver and the presence of another all-world tight end in New England in Aaron Hernandez, and the odds of a statistical regression are just too great to justify making "Gronk" your first fantasy pick.
Trent Richardson, RB, Cleveland Browns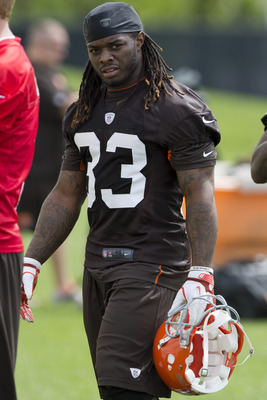 Jason Miller/Getty Images
It seems strange to call Cleveland Browns running back Trent Richardson a "fantasy stud," since he has yet to take a single carry in the National Football League.
However, the third overall pick in April's NFL draft is being drafted like one, going in the first round of many fantasy drafts this summer.
Granted, Richardson topped 2,000 total yards last year, and the youngster is undeniably talented.
With that said, Richardson gained those yards at the University of Alabama, and Richardson isn't in Tuscaloosa anymore.
He's in Cleveland, otherwise known as the fifth circle of NFL hell.
The Browns' offense will most likely be awful in 2012, and teams that are playing from behind all the time don't generally get many opportunities to establish the ground game.
That sets Richardson up to be a huge letdown for fantasy owners drafting him in the hopes of procuring a top-10 running back.
Someday? Probably.
This year? No chance.
Keep Reading