WWE Divas: Analyzing AJ and Her Worth to the Company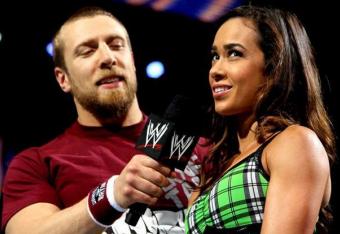 photo from wwe.com

The rise of AJ Lee may be one of the most surprising wrestling related stories of 2012.
Let's face it, on paper the former WSU wrestler is very much the antithesis of what WWE have usually craved in their female performers. For one thing, AJ, a lifelong wrestling fan, came from the indie scene; she wasn't signed from a modelling agency or out of a beauty pageant like so many of the current Divas.
Her nerdy, down-to-earth image is also in sharp contrast with the overtly elegant way the company has chosen to portray their women in the past. The tomboyish AJ is a good looking girl, for sure, but, much like Amy "Lita" Dumas before her, she come off as easy to relate to and stands out for exactly that reason.
Perhaps it was the colossal success of Lita in the early 00's that convinced the booking team to give AJ a shot. Or maybe she won them over through her hard work and (impressive) promo skills.
Who knows? But, regardless of the reason, WWE went in a drastically different direction with AJ than they usually do with their women, and as we have seen, chose to push the NXT star to the moon in her current angle with Daniel Bryan.
Plastered all over television and pay-per-view, AJ has become one of the most pushed women in company history. As over as they were, not even Trish Stratus and Lita were the recipients of this first-class treatment during their runs.
But what is her truth worth to WWE?
Well, for one thing, she may have helped make management slightly more open minded about the women they sign in the future.
Time was when, if you were a women on the indie scene and didn't have the right look (i.e. someone who could be on the cover of Maxim or, in the non-PG era, Playboy) you didn't have a shot at making it in WWE, regardless of how talented you were.
However, as we have seen, WWE have been attempting to add more atypical women from the independent scene onto their roster: Shimmer's Buggy Malone and ROH's Sara Del Ray recently signed contracts. Maybe AJ—who, as noted, never truly fit the Diva mould—has helped make management realize that they need a more eclectic bunch of girls if their women's division is ever likely to thrive.
In her pairing with Daniel Bryan—and occasionally CM Punk—AJ has also helped revive the concept of a manager. WWE has, in the past, pushed their women to be wrestlers—regardless of whether or not they were suited to it or not—but now it seems like they have become open to using women as valets, as well (Rosa Mendes' success as a manager may also have been a part of this).
Of course, not everything is good.
It has been suggested that AJ has been over-exposed by WWE in recent times—and undoubtedly there is a sliver of truth in this. Indeed the Bryan/Punk program was focused solely on her at many points, meaning the two wrestlers and Punk's WWE Championship was pushed firmly into the background.
This problem looks set to continue, after Vince McMahon announced on this week's 1,000th episode of Raw that AJ was announced as the new Raw general manager. It is incredibly easy to envision a scenario in which AJ is once again all over the main event scene, much to the detriment of the overall product.
Ideally though, WWE will recognize that they have over exposed AJ and limit her on-screen contributions. She can be an asset in the GM role; she just has to be used properly. Teddy Long, who ran SD for several years, is a good template for AJ's new GM character: He was popular and went over well with the fans, came out and made (tag team) matches, but generally kept out of the way and let the wrestlers take the spotlight.
AJ's worth to WWE has been a mixed bag. She's a very different sort of Diva and has a solid role on the show, which is refreshing. But she's also been over exposed to a ridiculous degree, to the point where she's taking away from the title scene and its performers. With all this in mind, it will be interesting to see how the company handles her in the future.
This article is
What is the duplicate article?
Why is this article offensive?
Where is this article plagiarized from?
Why is this article poorly edited?