Men's basketball at the London Games is off to a soaring start.
The first day of games saw a handful of exciting finishes and tremendous plays.
Now that we have seen each team on the Olympic court, we can truly gauge their talent level and chances to claim the most prestigious award in the world: a gold medal.
Here are the results and box scores of every game on the first day of competition.
Nigeria vs. Tunisia
Nigeria edged Tunisia 60-56 in a battle of teams that are expected to finish at the bottom of Pool A at the end of group play.
Neither country has the talent or experience to make an extended run in this year's tournament and their chances at gold are minute.
Brazil vs. Australia
In the second game of the day, Brazil survived a challenge from Australia, claiming a 75-71 win.
Both nations are considered among the middle of the pack in the London Games.
Australia plays tough and has a never-say-die attitude, but they lack talented big men, as they are without their star center Andrew Bogut.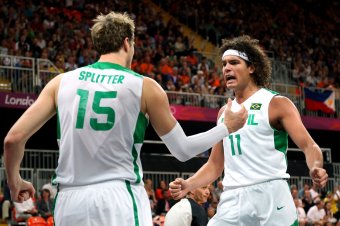 Christian Petersen/Getty Images
On the other hand, Brazil boasts a terrific combination of big men, led by NBA veterans Nene and Anderson Varejao. However, the nation lacks athleticism among their guards and are likely to be beaten in transition by the better teams in this year's tournament.
Brazil have a much higher ceiling than Australia. They were on the verge of beating Team USA just a few weeks ago and they could easily have the best combination of big men in the Olympic Games.
United States vs. France
Team USA flexed their muscles on Day 1, as they crushed France 98-71.
The Americans are undoubtedly the favorite to capture the gold medal. They boast a roster of NBA All-Stars, including reigning MVP LeBron James and defending scoring champion Kevin Durant.
The only flaw the United States possess is their lack of size, but they have the athleticism and talent level to mask that issue.
France were expected to be one of Team USA's toughest competitors in the group stage, but they were walloped in their opening game.
Who Will Win Gold in London?
The French should still be in the running for a medal, but they lack the scoring threats and big men to capture gold.
Spain vs. China
Spain beat up on a mediocre China team, 97-81.
The Spanish are considered one of the only teams who can match up with the Americans. They boast tremendous big men and athletic guards.
China are an average team with an average roster. They lack significant scoring threats and the athleticism to compete with top-end nations like Spain.
Russia vs. Great Britain
Russia had an impressive showing in their opening match, as they dominated Great Britain 95-75.
Russia have a terrific combination of size and athleticism. They are led by former NBA star Andrei Kirilenko, who is playing the best basketball of his career right now.
Kirilenko went an unbelievable 14-for-17 from the floor against Great Britain, and he ended the game with a tournament-high 35 points.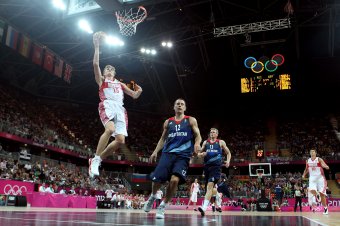 Christian Petersen/Getty Images
The Russians are the dark horses of the tournament, but they would need a miracle to capture gold.
Great Britain, despite having celebrated scorer Luol Deng, have no shot of making it past the quarterfinals.
Argentina vs. Lithuania
Argentina are another powerhouse that had a tremendous first day of action.
The South American nation dominated Lithuania from start to finish.
The Argentinians boast a veteran roster with a load of experience. They may not have the size or athleticism of other countries, but they are one of the most complete teams in the tournament.
Argentina have shown they can compete with the United States before. They shocked Team USA in the 2004 Olympic gold medal game and lost by just six points to them a few weeks ago.
Manu Ginobili and company are capable of stunning the world and winning it all in London.
Lithuania, on the other hand, lack the experience and overall talent to make a run. They do have Jonas Valanciunas though, and with him, anything is possible.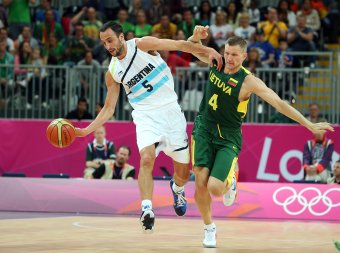 Christian Petersen/Getty Images
Breakdown
After the first day of action, the contenders have separated themselves from the pretenders. Here is a listing of where each Olympic nation stands in their chances of claiming a gold medal after Day 1.
Favorites: United States
Other Serious Contenders for Gold: Spain and Argentina
Dark Horses: Russia and Brazil
Middle-of-the-Road Nations: France, Lithuania and China
No Chance of Claiming a Medal: Great Britain, Nigeria, Tunisia, Australia