2012 Men's Gymnastic Olympic Team: Names You Will Recognize for Years to Come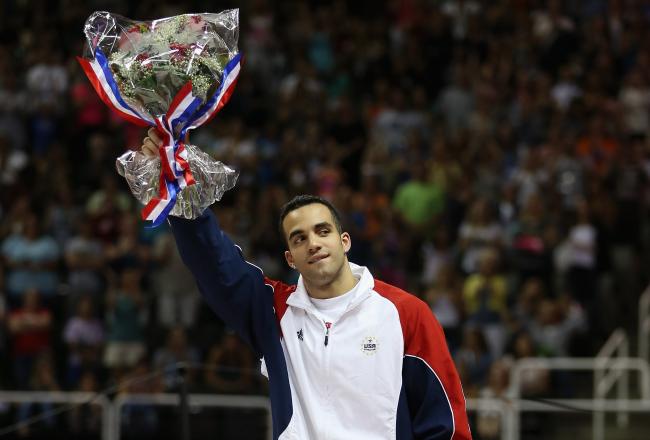 Ezra Shaw/Getty Images
The gymnastics events always deliver on the promise as one of the Olympics' most entertaining events, and we remember gymnasts for years because of the amazing things that they do during competition. This year will be no different, as several members of the U.S. team will compete for gold medals.
There is the excitement and awe-inspiring wonder as we watch the gymnasts work the high bar routine. It is astonishing to watch them, as they take on extreme danger when they release from the bar. That is part of the draw, and it is one of the most exciting events to watch in the entire Olympics.
Danell Leyva and Jon Orozco are high-fliers, gymnasts who do extraordinary things in the high bar event. They will be in contention to medal at this event, and in the all-around. They are going to be the apple of the nation's eye during the majority of the men's gymnastics events.
The U.S. team is loaded with talent, and it should compete for a medal during these games. A gold medal is a reachable goal if they perform to their best abilities. For those of us who love the U.S. team, there is nothing like watching while a team wins the gold medal.
We are going to see a lot of Leyva and Orozco on television during the 2012 Olympics, and some of what we see will be moments filled with pressure-packed intensity. The power of these athletes is staggering, as is the willingness for them to out their bodies on the line.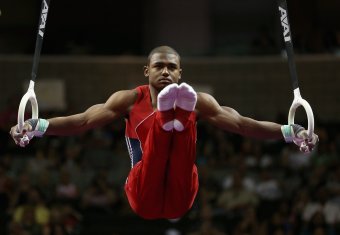 Ezra Shaw/Getty Images
Levya and Orozco automatically qualified because of their top two finishes after two days of nationals and trials competition. They are the leaders of the U.S. team, and they will carry this team as far as it goes. There is a sense that the U.S. team can do exceptional things.
Amy Van Deusen of espn.com reported that Kevin Mazeika, U.S. men's gymnastics national team coordinator, said that the 2012 U.S. team was stronger than the 2008 men's team that won bronze.
"It's certainly one of the best teams we've ever fielded," Mazeika said. "We have incredible depth in the men's program right now, and it's pushed these guys to the highest possible level."
There is a strong sense of team within this group, as some have been competing with each other since they were children. The comfort they take in competing for each other is fantastic, and it will show during competition.
Amy Van Deusen also reported on how Orozco feels about the makeup of this team, and where it finds its strength.
"Our biggest strength of all is how connected we are as a team, not only inside the gym, but outside the gym, as well," said Orozco. "We really bond well during competitions, and that's what makes us a great team. It's what will keep us progressing. If we do, I think we'll land in the top spot."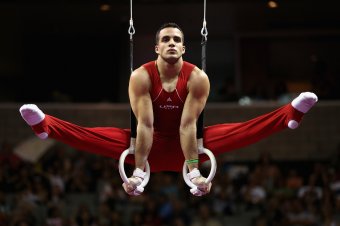 Ezra Shaw/Getty Images
Orozco is an unlikely hero, but Americans are going to fall in love him when they hear his story. He is the youngest of five kids from the Bronx, New York. He took up gymnastics as a 7 year old, as part of a program for disadvantaged youth. Orozco won the U.S. Junior National Championships in 2007, as a 15 year old.
Orozco gave an interview with Evan Lambert of people.com and talked about growing up in the Bronx, and the sacrifices that his family has made for him. His story is incredible, as he has had to fight, sometimes literally, to get to where he is as an athlete.
Leyva is a performer, and a gymnast who can steal the entire show if he performs well. He is an engaging personality, but he is much more than just a gymnast. Bonnie D. Ford of espn.com wrote an article on Leyva that tells just how much more he is than just a gymnast.
Linda Robertson of miamiherald.com wrote an article on Leyva's background. It tells a truly compelling story of defection and dedication. Leyva's mother Maria Gonzales left Cuba so her son could have a better life. She arrived in Miami in 1993.
Leyva's stepfather, Yin Alvarez fled from a Cuban gymnastic team in 1992. Alvarez and Gonzalez were married in 2001 and together they train gymnasts at Universal Gymnastics in Miami. Robertson quotes Alvarez as saying:
"People here complain about paying their bills," Alvarez said. "In Cuba, you have no electricity, you can't afford a car or have a mortgage. So I am happy to pay my bills! People here are looking for the golden egg and don't realize they are holding the chicken."
Alvarez is known for his endearing style of coaching. He celebrates every aspect of Leyva's routines, and he can be seen excitedly running around while his stepson is performing. It is an exciting duo, and they will be fun to watch.
Leyva is the reigning world champion on parallel bars. He also finished first in the all-around at the U.S. nationals in St. Louis in 2012. He is a winner, and he is going to be one of the most exciting athletes to watch in London.
Orozco and Leyva each have fantastic stories about how they got to London, and they are going to become some of the most remembered athletes from 2012 London Olympics.
This article is
What is the duplicate article?
Why is this article offensive?
Where is this article plagiarized from?
Why is this article poorly edited?