Mexico vs. Korea Republic: 6 Things We Learned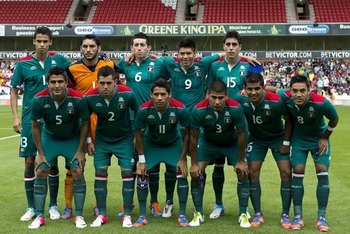 Photo: Mexsport
Tough start for Mexico at the football Olympic tournament. The team had little idea of what to do with the ball and showed a lot of deficiencies, especially in the attacking line.
A tie was certainly not the result the squad and the fans were expecting, especially since Mexico has never defeated South Korea in the Olympics.
There are a lot of things that Fernando Tena needs to adjust if he wants to aspire for a medal.
The team must prove why they won the CONCACAF Pre-Olympic and the 2012 Toulon Tournament. So let's find out six lessons we learned from the Olympic opener...
Giovani Dos Santos Must Be a Starter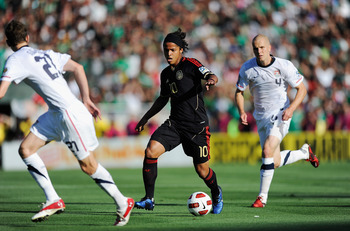 Kevork Djansezian/Getty Images
He may not play as much as his teammates, but Giovani dos Santos has a lot of resources when he is on the pitch.
Today, Fernando Tena decided to use him until the second half. From the moment he came in, dos Santos was a very unbalancing player, who created attacking opportunities.
Furthermore, Gio gave El Tri depth, which the team hadn't shown in 65 minutes. Dos Santos needs to start every game because, despite his young age, he has a lot of experience, something this team lacks.
Carlos Salcidos Is Still the Leader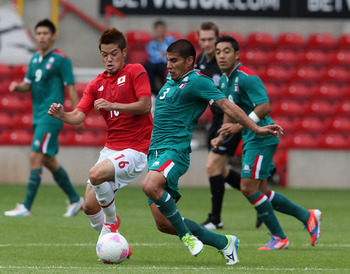 David Rogers/Getty Images
Carlos Salcido proved that he is still a player that El Tri needs. The 33-year-old played in front of the center-backs, Diego Reyes and Hiram Mier, relieving some of the pressure of the South Korean attack.
Salcido also helped the team in the midfield. He tried to keep the ball as much as possible and added himself to the few attacking options Mexico had.
His experience was key in the result; he made a lot of efforts to control the ball and organize his teammates.
Oribe Peralta Isn't in Good Shape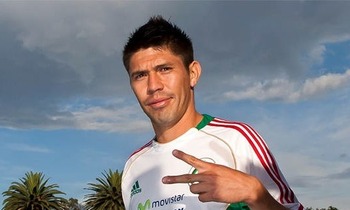 Photo: Mexsport
The Oribe Peralta we saw today is far from the one that played the Pan American Games. The Santos Laguna striker comes from an injury that left him out from May 20 to June 16, when he played the final match of the Mexican league.
It is clear that Oribe is out of rhythm to start any match. He can be a better option as substitute. If Giovani dos Santos starts and Oribe comes in for him, Fernando Tena will have more attacking options from the beginning.
Peralta may be an experienced and lethal forward, but if he's out of shape far from helping the team he becomes a liability.
Raúl Jiménez Is a Fresh Option to the Attacking Zone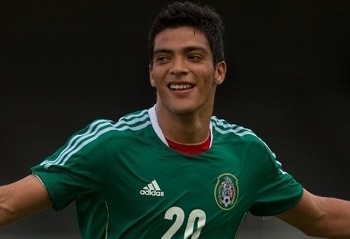 Photo: Notimex
Raúl Jiménez had around eight minutes to show his speed and ability to create plays. He gave the team a new face and even had a chance to give Mexico the victory, but his right-footed shot went straight to the right pole.
Jiménez may not be a finisher like Marco Fabián, but his creativity and fearless style of play is something El Tri can use more.
Jesús Corona Was the Right Choice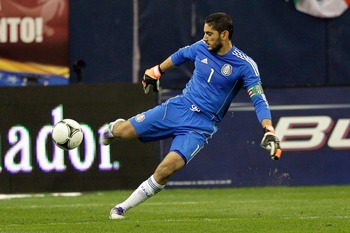 Bob Levey/Getty Images
Many thought that Guillermo Ochoa was the man for the goalkeeper position, but Jesús Corona has proven to be a reliable and secure player.
Today he had a couple of key appearances and gave the squad a lot of calmness when they needed the most.
South Korea put Corona on the spotlight with constant attacks from different fronts, all of them properly addressed by Chuy.
Héctor Herrera Makes a Difference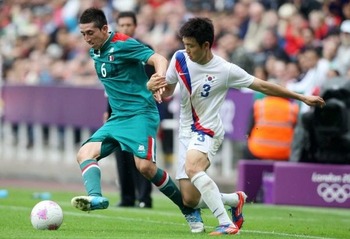 Photo: Scott Heppell / AP
If there's a player that's totally committed, that's Héctor Herrera. The Pachuca midfielder brings a lot to the table: from defensive plays to attacking strategies.
Herrera was one of the few Mexican footballers that dared to try new things, like long-distance shots and runs through the sidelines.
Fernando Tena needs him more than ever, especially with players like Marco Fabián somehow absent.
Keep Reading