Philadelphia Flyers: 7 Concerns Facing the Team Going into 2012-13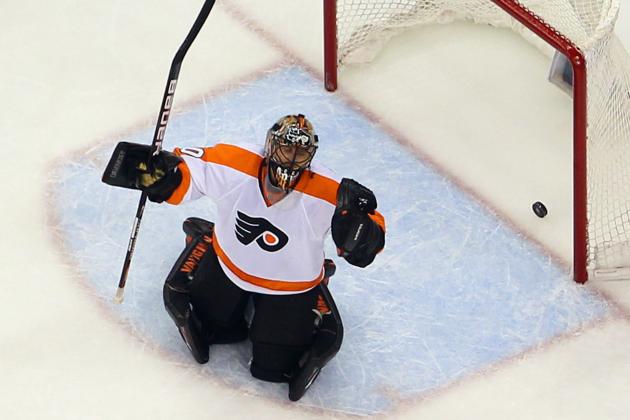 Bruce Bennett/Getty Images

In 2011-12, the young Philadelphia Flyers exceeded all expectations by finishing with the third-best record in the Eastern Conference and a valiant defeat of the hated Pittsburgh Penguins in the first round of the playoffs.
The remarkable season came to an abrupt halt when the New Jersey Devils reared their ugly heads, humiliating the Flyers in five games where Philadelphia, quite frankly, looked like a junior squad trying to keep up with NHL All-Stars.
The Flyers enter 2012-13 with a little more comfort, as the faces of Brayden Schenn, Sean Couturier, Matt Read and others have become recognizable and their potential has begun to be realized. If the team had so much success with the "freshman" squad, imagine what they're capable of when they are ready for varsity.
Still, not all is calm in Philadelphia as the free agency winds die down and the new season peaks over the horizon.
Expectations, as always, are high in the City of Brotherly Love, but the Flyers still have seven major concerns facing them as we approach the 2012-13 season.
Begin Slideshow

»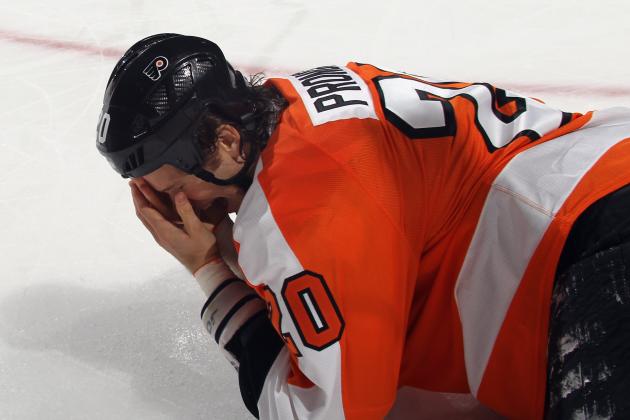 Bruce Bennett/Getty Images

Last year, the Flyers played much of their season without their captain, Chris Pronger. Pronger, who was given the reins of the team after Mike Richards was traded to the Los Angeles Kings, played in only 13 games in 2011-12, and has been inactive since November 19th.
Playing without Pronger is something the team is used to at this stage of the game, but his absence has left a hole on the Flyers' blue line.
The team is without a true power play quarterback, and it was defensive sloppiness that ultimately betrayed the Flyers in their series against New Jersey.
A failed attempt to acquire Shea Weber leaves the Flyers with an abundance of defensive depth, but a lack of defensive direction. The team needs more aggression from Braydon Coburn, more energy from Kimmo Timonen, more composure from Andrej Meszaros…
Rarely last season did the Flyers' defense truly look like a "unit" without Pronger acting as the glue that held the squad together.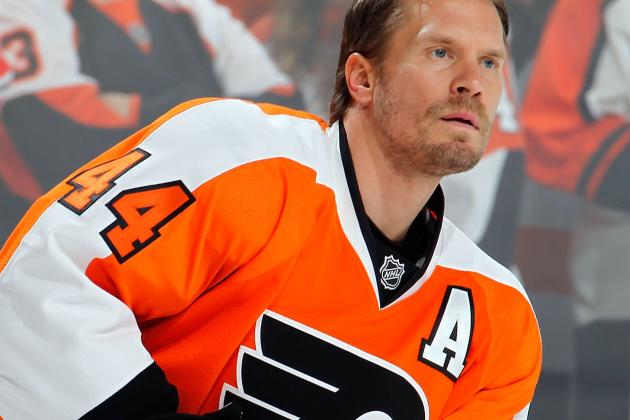 Paul Bereswill/Getty Images

In Pronger's absence, the natural defensive leader is Kimmo Timonen, who has been a Flyer since 2007-08 and has garnered the respect of the entire Flyers fan base.
Timonen is a natural leader, a responsible defender and a major scoring contributor, having totaled at least 37 points in every season he has spent in Philadelphia.
He is also 37 years old, and during the playoffs last year, he began to show it.
This year, with a bigger workload in Pronger's absence and a defensive crew missing another point machine in Matt Carle, Timonen's level of responsibility is actually higher despite his age becoming an issue.
Will he be able to hold up through 82 games? If his production wanes, will his on-ice presence still be as valuable for the Flyers?
Is this his last season in a Flyers uniform?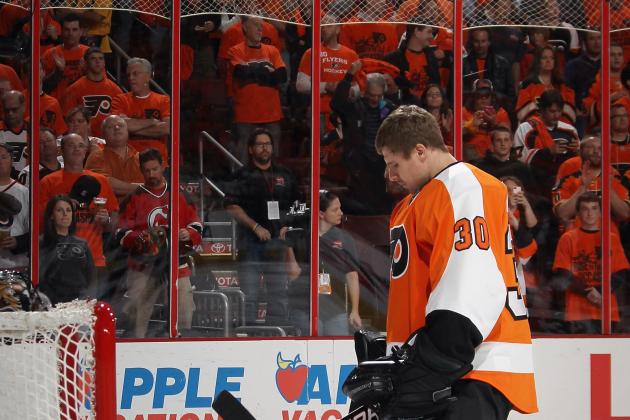 Bruce Bennett/Getty Images

Ilya Bryzgalov's struggles are so well-documented that they don't warrant repeating here.
Instead of looking back at Bryz's first year in Philly, it only makes sense to look forward, especially given that there are still eight more years on that contract.
Optimistic fans look at the shaky first year and chalk it up to culture shock as Bryzgalov transferred from Phoenix, where hockey goes to die, to Philadelphia, where goalies and opposing fans go to die. These fans also point out his brilliant streak in March, when he went 10-2-1 in 13 starts with a 1.43 GAA and .947 SV%.
Pessimistic fans simply point to the rest of the year and the playoffs. Bryz's postseason GAA was 3.46 and his save percentage an abysmal .887%.
Regardless of how you view it, Bryz's 2011-12 season is done. But in order for the fans to put it behind them, Bryzgalov is going to have to elevate his game for 2012-13, big time.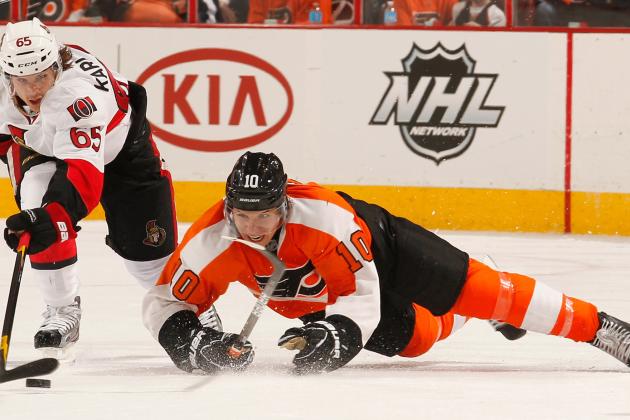 Rob Carr/Getty Images

Many of Philadelphia's concerns going into 2012-13 are completely warranted, based on issues the team faced last year.
But, somewhere in the backs of their minds, the Flyers must be concerned about whether or not last year's strengths become this year's weaknesses.
The team's rookies exceeded all expectations by the end of 2011-12, but the term sophomore slump exists for a reason. Sometimes the cold, harsh reality of the big leagues takes a full year to hit.
Matt Read scored a whopping 24 goals and 47 points as a rookie, but can he replicate that production when given more offensive responsibility in 2012-13?
Brayden Schenn got off to a slow start, but finished the season by showing off his goal scoring touch. After scoring his first goal at the Winter Classic, Schenn finished with 18 points in 54 regular season games and truly shined in the playoffs, finishing with nine points in 11 games.
Does Schenn's momentum carry over this year, or was that run merely a hot streak in the middle of an otherwise unimpressive start to his career?
Sean Couturier finished with 27 points last year, impressive numbers considering he turned 19 in December and spent most of the season on the third and fourth lines. His most impressive feat was shutting down Hart Trophy winner Evgeni Malkin during much of the Flyers' first-round series with Pittsburgh.
But Couturier is no longer the league's best-kept secret, and opposing offenses and defenses will be gunning for him in all 82 games this season. Will Couturier continue to show the spark that has made Paul Holmgren refuse to deal him, or will he finally look like a boy playing amongst men?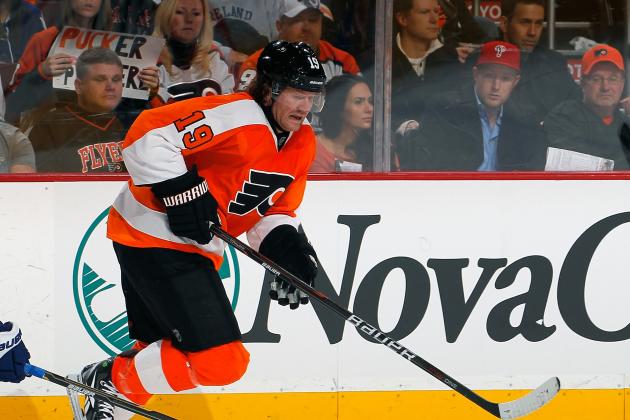 Paul Bereswill/Getty Images

24, 30, 14, 24.
Those are the goal totals for Scott Hartnell in each of his seasons as a Flyer, before he lined up next to Claude Giroux on the first line and finished 2011-12 with 37 goals.
Last year, Hartnell finished tied for sixth in the league in goal scoring, on the same list as names like Stamkos, Ovechkin, Kovalchuk and Perry.
Claude Giroux made him brilliant, and Hartnell returned the favor.
But it is still hard to picture the scrappy ginger as a bona fide goal scorer, and without powerhouse Jaromir Jagr on the opposite wing, will Hartnell be able to get himself open for passes from Giroux?
If Hartnell cannot repeat his amazing 2011-12 performance, Giroux's talents may be going completely to waste.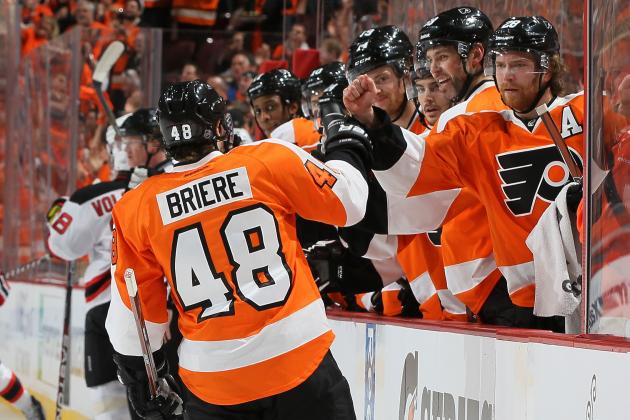 Jim McIsaac/Getty Images

Before the 2011-12 season started, most Flyers analysts predicted the team's offense would take a hit while the defense stepped it up.
Check out this now-laughable analysis from ESPN: "The theory is this revamped Flyers offense won't need to rely as much on offense given the presence of Bryzgalov in goal."
As we all know, Philly ended up third in the league in goals, while Bryzgalov's presence and the defense as a whole proved to be the team's liabilities, not strengths.
So the question is, with the goaltending and defense practically the same, can the offense repeat its performance? Will the development of the rookies, along with Giroux, Jakub Voracek and Wayne Simmonds keep offensive production at a high, or will the team plateau as opposing defenses begin to figure out this new squad?
Certainly, the Flyers would love not to need 264 goals to break the 100-point mark. But if they do, are the offensive pieces in place?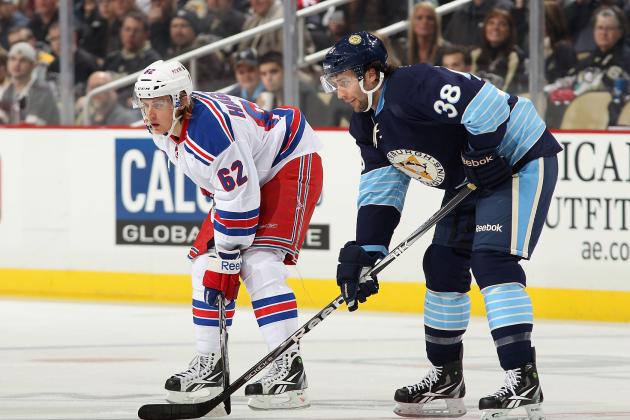 Christian Petersen/Getty Images

Here's an idea of how good the Atlantic Division is: practically no one is picking the defending Eastern Conference Champions to finish higher than third. Bleacher Report's own Brad LeClair has the New Jersey Devils two spots out of the playoffs.
That's how good this division and conference are.
The Pittsburgh Penguins are healthy and, despite the departure of Jordan Staal, are poised to seek a little revenge after an embarrassing showing against the Flyers in the first round of the playoffs. The Pens finished 2011-12 first in scoring despite having Sidney Crosby on the ice for only 22 regular season games.
The New Jersey Devils can never be counted out, as Martin Brodeur returns for another season and rookies Adam Larsson and Adam Henrique look to become the new faces of the franchise alongside Ilya Kovalchuk and Patrik Elias.
And then, there is New York.
The Rangers went 6-0 against the Flyers in 2011-12, culminating in the frustratingly truthful "You Can't Beat Us" chant last February. This year's Rangers squad is poised to be even better, having landed perennial 30-goal scorer Rick Nash in exchange for Artem Anisimov, Brandon Dubinsky and Tim Erixon.
On top of it all, Broadway still boasts one of the league's best defenses and the defending Vezina Trophy winner in Henrik Lundqvist.
The Flyers will need to prove themselves truly elite to keep up in this rough division.