St. Louis Rams: 5 Potential Sleepers to Watch for in Training Camp
Dilip Vishwanat/Getty Images

Training camp approaches, and the St. Louis Rams will have a lot of decisions to make for their starting lineup before the season begins. The Rams have lacked overall talent over the past few years, but the new big wigs in the organization are plenty willing to take gambles on players with ability despite concerns about size, production or off-the-field issues.
That's good news for the Rams, because inevitably someone will emerge from the band of misfits and become a very productive player. None of these players are guaranteed starting spots on the opening day roster, but all of them have the potential to do so with strong camp performances.
Begin Slideshow

»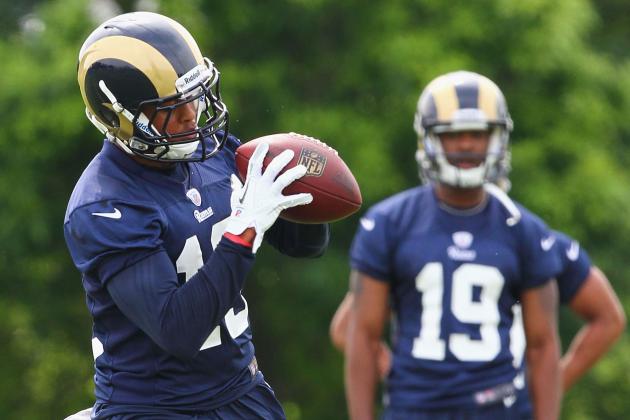 Dilip Vishwanat/Getty Images

Wide receiver will be one of the most open-ended battles in training camp. The Rams lack quality veteran wideouts, leaving the starting positions wide open.
Givens, the Rams' fourth-round pick this year, was very productive in college. In three years of starts at Wake Forest, he caught a total of 83 receptions for 1,330 yards and nine touchdowns. He lacks consistent effort but has the ability to climb on defenses and make plays down the field.
He has above-average separation skills, something the Rams aren't too familiar with lately. He may have slipped farther down the draft due to the questions about his work ethic and willingness for contact. He's going to be given more opportunity than most rookie wide receivers and could conceivably crack the starting lineup.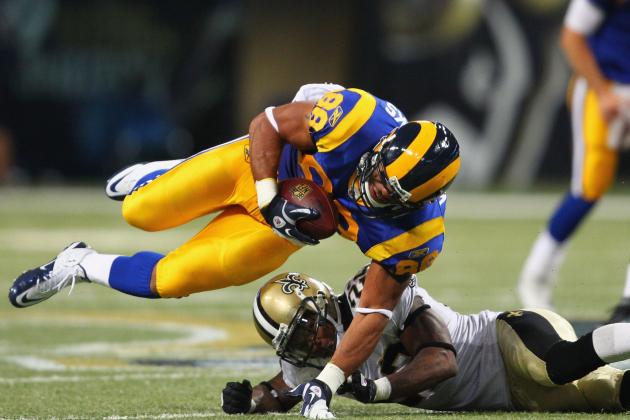 Dilip Vishwanat/Getty Images

The second-year tight end looked phenomenal during the preseason last year. He caught everything and looked like a potential steal for the Rams.
That changed quickly into the NFL season. Kendricks had a subpar regular season, catching 28 passes for 352 yards.
There is still plenty of hope for this young tight end, however. A change in offensive systems could work wonders for Kendricks. Last year rookies had to endure an offseason without training camp, and with Josh McDaniels' system there's a good possibility that Kendricks simply didn't catch on. He often looked out of place and dropped an irregular amount of passes.
He is gifted and going into a full offseason and training camp could see a marked improvement in his performance. The Rams have indicated they may use more tight end oriented sets this year.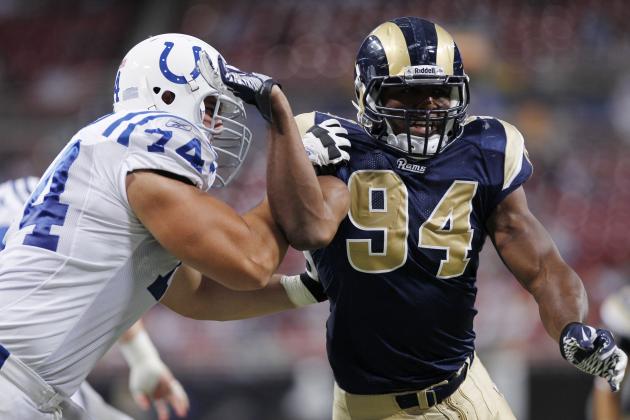 Joe Robbins/Getty Images

Quinn didn't have a spectacular rookie season, but he definitely had his moments.
He accrued 5.5 sacks, and most Rams fans will probably remember his blocked kicks and punts from last year. When he was on the field, Quinn's presence could be felt.
Quinn's upside is enormous, especially lining up opposite of defensive end Chris Long.
If Quinn shows the same tenacity from special teams and his limited snaps last year, there's a good chance he'll become a very productive player this year.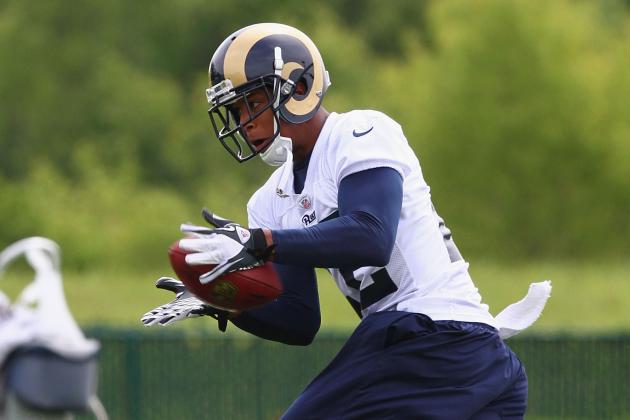 Dilip Vishwanat/Getty Images

Cornerback might be one of the positions where the Rams have quality competition outside of the No. 1 job that Cortland Finnegan now commands.
Janoris Jenkins and Trumaine Johnson, thought to be two of the best sleepers at cornerback in this past draft, have a chance at the starting job. Jenkins wills surely be the favorite, but Johnson has a legitimate chance to see himself on the field for significant snaps.
Johnson, like some of his fellow draft class, saw some off-the-field issues in his time at Montana. Scouts graded him very well, and he likely slipped to the third round due to some of those issues. He was extremely productive in the Big Sky conference, nabbing 15 interceptions in four seasons.
The Rams had a plethora of injuries at corner last year, and Johnson will likely compete to be the third corner on the roster. He'll need to show he can perform consistently better than Bradley Fletcher and Jerome Murphy, two of the regular starters from last year. Given their performances, Johnson has the opportunity to shine with his ball-hawking ability at camp.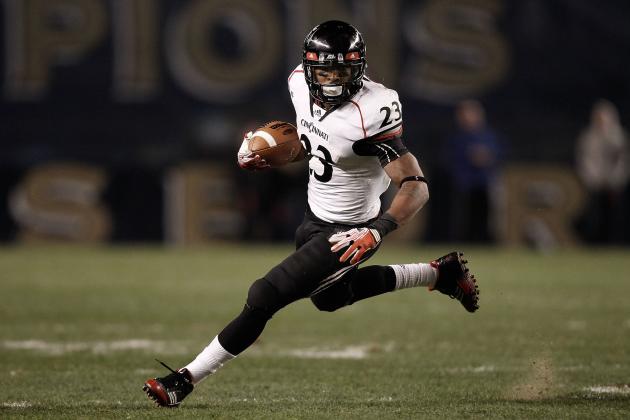 Jared Wickerham/Getty Images

Perhaps the Rams' biggest offensive sleeper this year will be the speedy and explosive Pead.
Pead has the kind of home-run hitting ability the Rams offense lacks. Pead posted a nice 4.47 40 at the combine, but his true ability lies in making defenders miss and a willingness to take contact and spin out of arm tackles. He's a shifty runner, and he'll undoubtedly be used to spell Steven Jackson this year.
The Rams could utilize two running back sets much more effectively with the addition of Pead. As with most sleepers, his increased opportunities at camp will allow him to see the field early and often. There are very few playmakers on the Rams offense right now, and Pead could set himself apart.