Iowa Football: Top 6 Reasons the Rest of the Big Ten Hates Iowa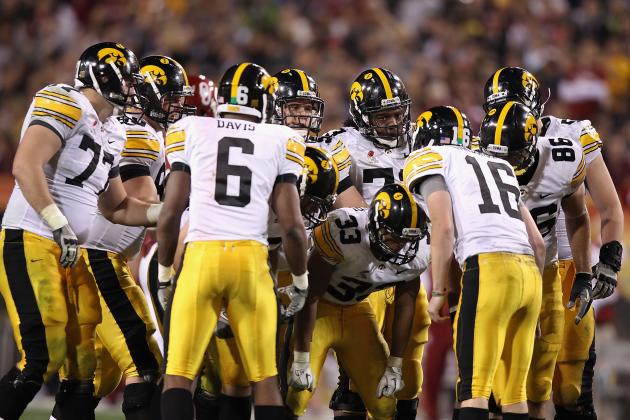 Christian Petersen/Getty Images

Nobody hates the Hawkeyes. Why would anyone hate our team?
Yes Virginia, someone does hate the Hawkeyes. There are a variety of reasons why, but the Iowa Hawkeyes are hated by their Big Ten rivals.
Can you really blame them? If a team had cost your Hawkeyes the Big Ten title a few times or a national title (wait a minute, here's another article!), would you be filled with love in your heart for them?
Let's be real here, football is a passionate game. The SEC is not the only place in the nation where teams just don't like each other.
I'm not saying it's a violent thing, nor even an uncivilized thing. It's not like you go around smashing car windows because they have a Michigan sticker on their bumper.
It's definitely not a destroy-things-kind-of hatred. Just not fuzzy wuzzy is all.
If you meet fans from the teams Iowa plays regularly who say they really don't dislike Iowa or they think Iowa is a great program, it usually means they beat you regularly. Which means you should hate them.
Follow me through the next few screens and learn the six reasons the rest of the Big Ten hates the Iowa Hawkeyes.
Begin Slideshow

»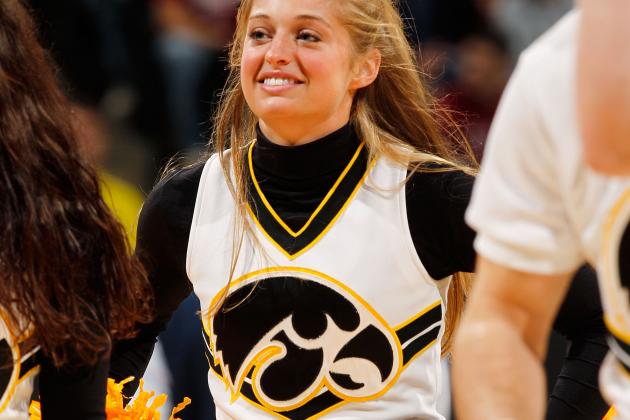 Jonathan Daniel/Getty Images

Now, I will be the first to say that all colleges that have teams have school spirit. And that really isn't a big reason to hate another team. But, I wanted to say something more about Iowa in that regard.
Iowa City, where the campus is located, bills itself as "the world's biggest small town." The city caters to the school because it is the major source of income for the town.
So, Iowa's campus and the town around it has that small town Midwestern feel. It's a great college atmosphere and watching sports here is good, college fun.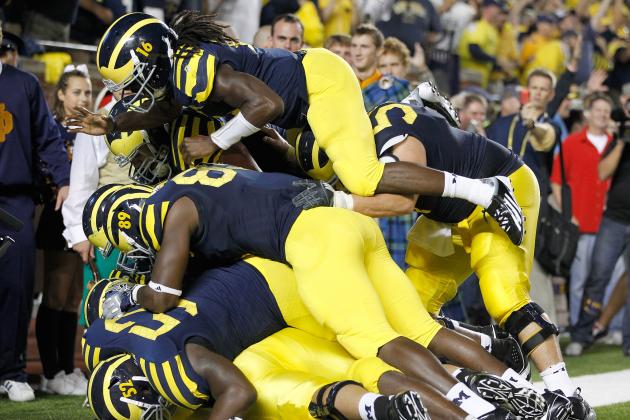 Gregory Shamus/Getty Images

Last year, Brady Hoke came to Michigan to revive the Wolverines. And also to prove to the rest of college football that Michigan is still an elite program.
To put it into Hoke's own words during his introductory press conference: "This is Michigan, for God's sake!"
Much to everyone's surprise, Hoke's first team did more than to just stop the bleeding. They won football games. So many in fact, there is talk of them qualifying for the Big Ten Championship Game.
When Michigan rolled into Iowa City, the Hawkeyes were reeling. The week before, they had lost to Minnesota (22-21) in a game they thought they had won.
Michigan, fresh off a 36-14 shellacking of Purdue, was on a roll. The Wolverines had jumped up to No. 13 in the polls.
Just beat the Hawkeyes and their slumping defense, then Illinois the next week and the Nebraska game would be for all the legend's marbles.
The Hawkeyes played their hearts out and were up 24-16 late in the game. Michigan then drove down the field to Iowa's 3-yard line with 16 seconds left. Iowa held on four consecutive plays and won. Michigan missed out on the championship game in Hoke's first year, finishing 11-2.
Also worth mentioning here, is the 1990 game won by Iowa (24-23), which cost Michigan and gave the Hawkeyes the Big Ten title.
Another painful Michigan memory was the 1985 loss to Iowa (12-10). That was Michigan's only loss that year (10-1-1) and it likely cost them a national championship, as they finished ranked No. 2 in the AP.
There are other heartbreak games between these teams, but you get the idea.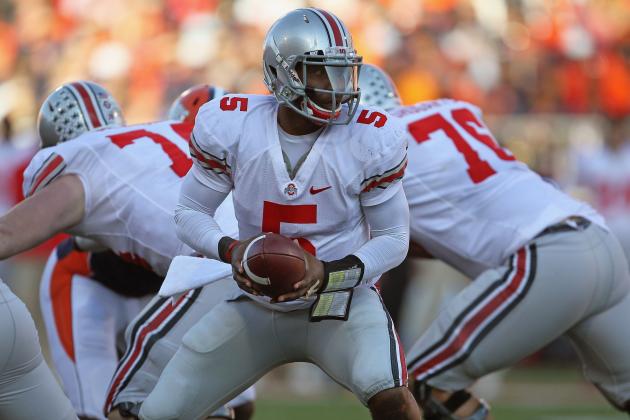 Jonathan Daniel/Getty Images

Ohio State is the other historical Big Ten power who has lost championship rings and trophies because of Iowa. The three most notable are:
In 1952, Iowa beat Ohio State (8-0) to cost the Buckeyes the Big Ten championship and a Rose Bowl Bid.
In 1956, Iowa beat Ohio State (6-0) to cost the Buckeyes the Big Ten Championship and a Rose Bowl Bid.
In 1960, No. 5 Iowa beat No. 2 Ohio State (35-12) to cost the Buckeyes the Big Ten Championship and a Rose Bowl Bid.
There have been several other loses to Iowa by Ohio State. However, the ones here are the most historical in terms of national prestige.
They are also the ones that dredge up the most old hate.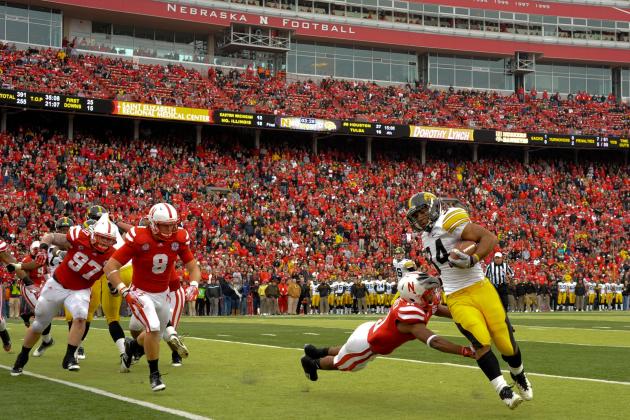 Eric Francis/Getty Images

Ever hear someone say "everybody loves a winner!"
Sure, in Vegas, unless you're the casino. What I mean to say is everybody loves a winner as long as it's their team. If Iowa isn't your team and they are a winner, chances are very good you don't love them.
You don't want to be the team that everybody loves in your college football conference. If you are that team, you are highly likely to be a loser.
Vanderbilt is that team in the SEC. Most seasons, everybody loves to play Vandy. It normally means your team will get to heal up and get a win. Who is that team in the Big Ten? It sure isn't Iowa.
Iowa also has a nasty habit of winning in years when they are not expected to win. Or, in broadcasters terms, they often exceed expectations.
When you exceed expectations, you generally tick some other teams off; teams who had hoped to heal up and get an easy win that week.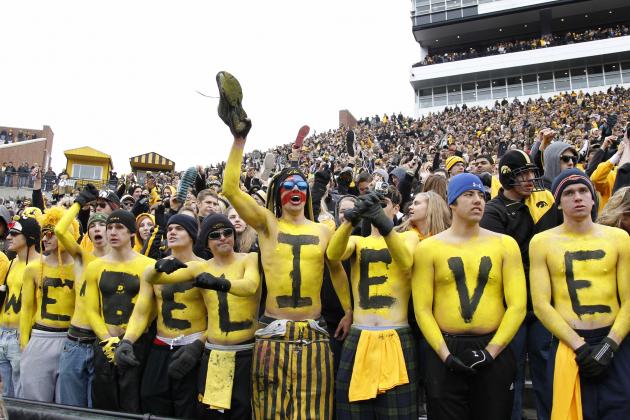 Joe Robbins/Getty Images

Kinnick Stadium in Iowa City holds 70,585. And last season during a rare down year for the Hawkeyes, even against lesser opponents, 70,585 is how many showed up for the games.
Iowa fans also travel well. So, the big bowls like to invite Iowa because they know they will either sell out or at least sell out the Iowa allotment. Also, it means a big in rush of tourism for the host city.
Rain, snow or shine, good season or not so good, Iowa fans show up. Team spirit and team support is great at home or when the team travels.
Not every one of your team's opponents appreciate that.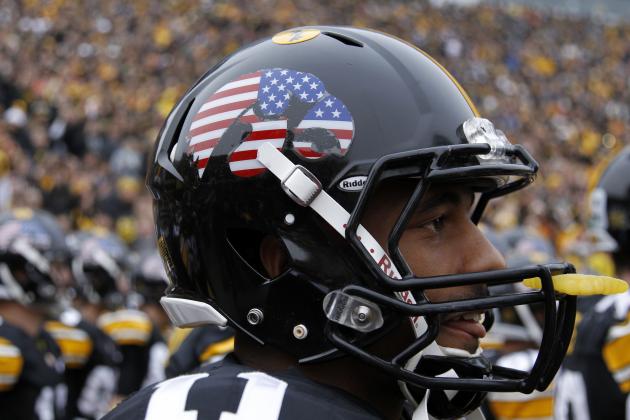 Joe Robbins/Getty Images

The regular ones look better than everyone else in the Big Ten. But this one is beyond cool...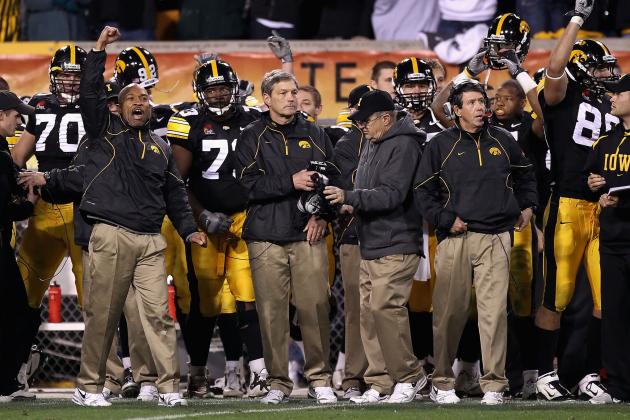 Christian Petersen/Getty Images

You want to tick your competitors off? Just replace a legendary winner of a coach, with well, another soon to be legendary winner of a head coach.
Several other Big Ten schools have tried that in recent years with little to no success thus far.
At Iowa, Kirk Ferentz took over from an Iowa Coaching legend, Hayden Fry, in 1999.
In many cases, when a coach does this it just doesn't work out. The expectations are normally high and the new coach often doesn't meet them in time.
By 2002, Ferentz had led Iowa to his first Big Ten title and the school's first since 1990. His '02 team also had 11 wins, which set a school record for a single season. In 2009, his team tied that record (11-2).
Ferentz has been named Big Ten Coach of the year in 2002, 2004 and 2009. Up until this year, he has had few turnovers in staff.
This year, Iowa is replacing both the offensive and defensive coordinators. Ken O'Keefe, former offensive coordinator, took an NFL position, while long-time defensive coordinator, Norm Parker, retired due to health concerns. Norm is being replaced by 13-year defensive back coach, Phil Parker (no relation).
Ferentz and his staff will survive these changes and be fine. In the meantime, coaching continues on.
The Iowa defensive line is its least experienced unit currently. The staff will be working to get them up to par when fall practice starts.
Though they are young, there are some highly-touted players there. Over time, this unit will likely become a strength again.
To see how the new defensive coaching changes are going, watch the progress of this unit throughout next season. The offensive change will be obvious, just watch the scoring.
The overall condition of the Iowa program, from coaching, administration to players, is very good. Just what the rest of the programs in the Big Ten wanted to hear—Not!