The Most Overhyped Signings of NBA Free Agency 2012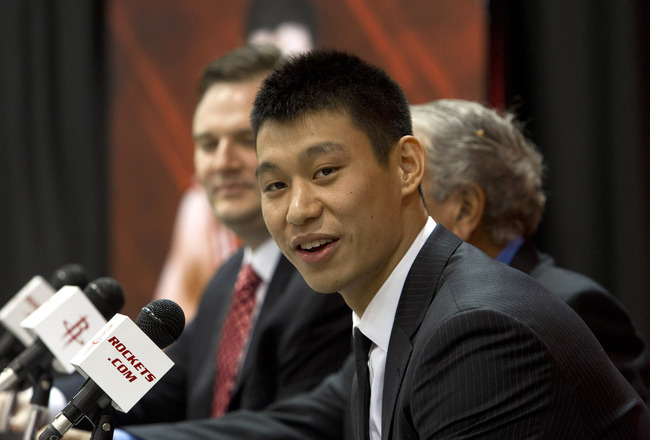 Bob Levey/Getty Images
With every NBA free agency period comes a heaping new pile of bad contracts for fans and media to criticize.
Bad general managers sign exorbitant deals with mediocre players as the collective "we" sit atop our ivory perch and degrade their "stupidity." This armchair GM phenomenon essentially spawned fantasy sports and is probably the most engaging thing about the NBA offseason.
But sometimes a signing isn't necessarily bad, just completely overhyped by the media and fans. What are the most over discussed contracts of the 2012 NBA free agency period? Follow along to take a look.
7. Omer Asik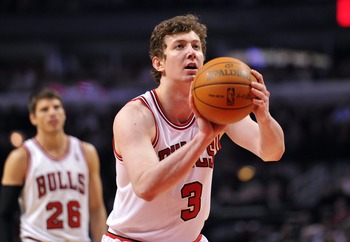 Mike DiNovo-US PRESSWIRE
2011-12 Stats: 3.1 PPG, 5.3 RPG, 0.5 APG, 0.5 SPG, 1.0 BPG, 50.6 FG%
Contract Information: Three years, $25.1 million
Team: Houston Rockets
Asik's contract can't rank any higher on this list because just about everyone with a working cerebral cortex agrees this is a bad deal. But, boy, it could get horrible really quick.
Because Asik has just two years of NBA experience, it's a false narrative that he's a young guy. He's actually 26 years old.
Basketball players at that age basically are who they are. They can add little wrinkles to their game (e.g. LeBron's post game), but their potential is basically tapped out by 25.
That means Asik is essentially a foul-prone defensive specialist with an absolutely broken offensive game and strong rebounding skills.
You could justify the last year of his deal as a $14.8 million trade piece. But all that does is give the Rockets the right to take another team's bad contract.
So, yeah. Giving Asik $25.1 million makes no sense. So congrats on your paper, Omer. You "earned" it.
6. Jason Kidd
Brett Deering/Getty Images
2011-12 Stats: 6.2 PPG, 4.1 RPG, 5.5 APG, 1.7 SPG, 0.2 BPG, 36.3 FG%
Contract Information: Three years, $9 million
Team: New York Knicks
When Kidd signed in New York, he was sold to Knicks fans as the perfect mentor to Jeremy Lin. Kidd's an 18-year veteran, a guy who once had the best all-around game in the NBA and someone who can help Lin cut down on his deficiencies.
One problem: Lin is off to Houston and Kidd may end up starting if New York gets the 2011-12 version of Raymond Felton. And that's the absolute worst-case scenario for the Knicks.
Kidd has become the cliche old veteran who simply survives on reputation and basketball IQ. He has very little else to offer at this point in his career. His 13.11 PER last season ranked him tied for 211th in the league and (spoiler alert) 39-year-old guys don't resurrect overnight.
Let's just hope this doesn't turn into a Gary Payton in Miami situation and move on.
5. Deron Williams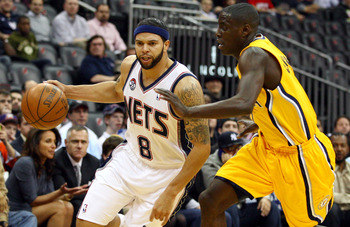 Chris Chambers/Getty Images
2011-12 Stats: 21.0 PPG, 3.3 RPG, 8.7 APG, 1.2 SPG, 0.4 BPG, 40.7 FG%
Contract Information: Five years, $98 million
Team: Brooklyn Nets
A contract being overhyped does not necessarily make it a bad deal. In today's NBA, Deron Williams easily constitutes a maximum contract. And, more importantly, the Nets had to get their start point guard back to justify any of their personnel decisions the past two years.
But we've also seen the past two years that Williams isn't the type of transcendent talent who can lift bad talent to even mediocrity. D-Will is a star, not a superstar.
That's why bringing in Joe Johnson and re-signing Gerald Wallace and Brook Lopez are as important if not more important than Williams. For the Nets to compete next season, their point guard needs other good talent surrounding him. He won't prop up a team by himself.
Plus, no one walks away from an extra $20 million guaranteed. D-Will never really considered leaving, anyway.
4. Steve Nash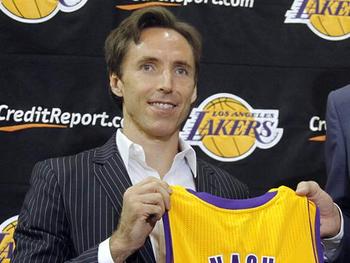 Photo Credit: AP
2011-12 Stats: 12.5 PPG, 3.0 RPG, 10.7 APG, 0.6 SPG, 0.1 BPG, 53.2 FG%
Contract Information: Three years, $27 million
Team: Los Angeles Lakers
It seemed when the Lakers pulled off their sign-and-trade with the Phoenix Suns for Nash, the L.A. collective was ready to reenact the classic "T.J. Houshmazilly...championship!" commercial.
Not so fast.
Nash is certainly a massive upgrade over now-departed Ramon Sessions. That much is fact. But he will be 39 years old by the time next season's playoffs hit and the Lakers did little else to improve outside of signing Antawn Jamison.
Other than Andrew Bynum's post presence, there's very little reason to think that the Lakers' "Big Four" is any better than Oklahoma City's, the Western Conference representative who wiped the floor with L.A. last season.
Nash may have re-opened a championship window, but his presence is no guarantee.
3. Roy Hibbert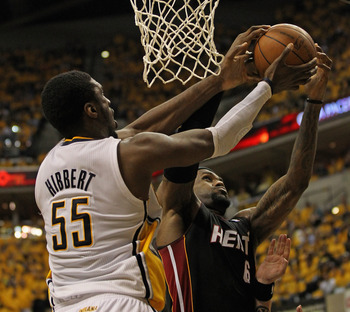 Jonathan Daniel/Getty Images
2011-12 Stats: 12.8 PPG, 8.8 RPG, 1.7 APG, 0.5 SPG, 2.0 BPG, 49.7 FG%
Contract Information: Four years, $58 million
Team: Indiana Pacers
Just because it's understandable that the Pacers wanted to hold onto their 25-year-old center doesn't make the contract any better.
Paying Hibbert, who is the very definition of above average, $58 million is the type of decision that will keep Indiana in the Eastern Conference's second-tier for its entirety. That deal means the team has $45 million invested next season in Hibbert, Danny Granger, David West and George Hill.
Heeeelllo mediocrity.
2. Nicolas Batum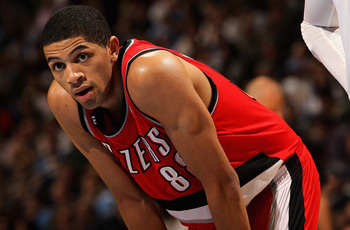 Doug Pensinger/Getty Images
2011-12 Stats: 13.9 PPG, 4.6 RPG, 1.4 APG, 1.0 SPG, 1.0 BPG, 45.1 FG%
Contract Information: Four years, $46 million
Team: Portland Trail Blazers
Yes, Batum is a 23-year-old small forward who has gotten better in each of his four NBA seasons. He's become a knockdown shooter over the years as well, improving to a 39.1 percent clip from the three-point line last season.
But Batum is also an overrated defensive presence who started a blood feud between the Blazers and Minnesota Timberwolves for the right to overpay him by $4 million a season.
Getting very good production from a guy you're paying like a second-tier star is how NBA teams falter. The Blazers would have been better off letting Batum walk and continuing their rebuilding process without him.
1. Jeremy Lin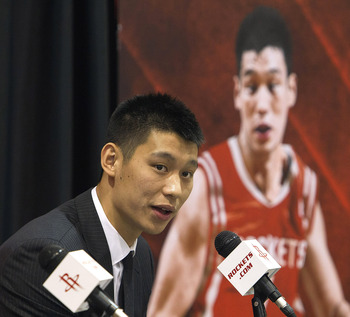 Bob Levey/Getty Images
2011-12 Stats: 14.6 PPG, 3.1 RPG, 6.2 APG, 1.6 SPG, 0.3 BPG, 44.6 FG%
Contract Information: Three years, $25.1 million
Team: Houston Rockets
The only NBA player to get more writers tapping the plastic keys this summer than Lin is rumor monger Dwight Howard.
While we know that Howard is the best center in the NBA and second most physically dominating force in the league, we actually know very little about Lin.
We know he went on a magical run that resurrected the 2011-12 Knicks season. We know that his story crafts a pretty little narrative that we media folks love. But we don't know whether he'll actually be an NBA starting point guard.
The fact is Lin's stats outside of that initial 11-game run are pedestrian at best, and the team improved in his absence. He won't have to deal with any Carmelo Anthony's in Houston usurping his possessions, but Steve Novak and Tyson Chandler will be absent as well.
We just don't know what we're getting next year. And maybe that's why Lin is captivating in the first place.
Keep Reading