Predicting Manchester United's Top Goalscorers for Next Season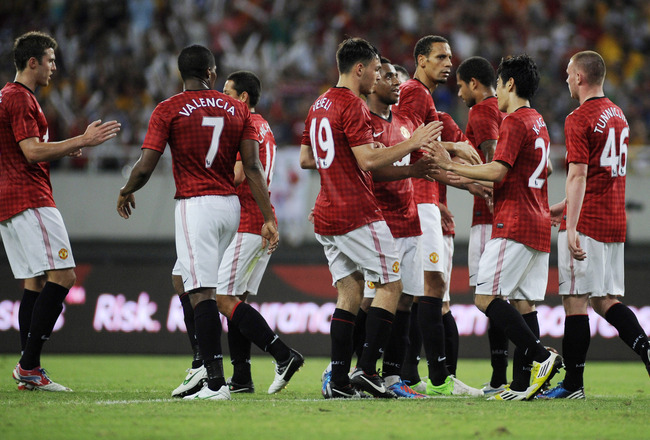 Hong Wu/Getty Images
With the start of the new Premier League year now less than one month away, the excitement is building around the cities and towns of England once again. The transfer window has already seen a vast array of tremendous talent coming to the English top flight, with more than enough time left to see plenty more follow in their footsteps.
The dramatic (and from a United fan's perspective, somewhat traumatic) last few minutes of the 2011-12 season means that we are going into the 2012-13 campaign with more expectation and anticipation than ever before.
Can Manchester City retain their title and prove that last season was the start of a dynasty, rather than a one-off wonder? Will United use that crushing defeat to their fiercest rivals as a spur to take their 13th Premier League Crown?
And what of Chelsea, who have made the most waves in the transfer market this season, straight off the back of winning the UEFA Champions League? All in all, this will be one of the most hotly contested, and perhaps best quality, Premier League seasons in history.
And what does that mean? Well, hopefully more goals! Last season United's Wayne Rooney ended up as the runner-up in the golden boot, scoring an impressive total of 27 goals.
This tally was beaten only by Manchester United transfer target, and current Arsenal player, Robin van Persie.
But who will netting those all important strikes for the Red Devils come next year? Here are my thoughts.
4th Top Goalscorer: Ashley Young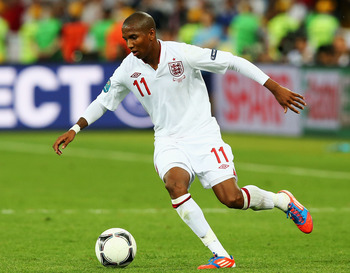 Martin Rose/Getty Images
Ashley Young had more than his fair share of critics during Euro 2012, and rightfully so. Young looked out of place on the pitch alongside the likes of Zlatan Ibrahimovic, Andrea Pirlo and Karim Benzema. His passing was sloppy and he seemed incapable of maintaining possession of the ball for more than a few moments.
In a nutshell, it wasn't the Ashley Young that made a genuine impact for United during his debut season.
Having suffered an injury relatively early into the 2011-12 campaign, Young took a few weeks after his recovery to really get back to the form he had been showing prior to taking the knock. Unfortunately, during this period Young acquired some vehement critics who couldn't seem to see past this patchy spell.
The Euros only "confirmed" his inability to perform on a world-class stage for those people, but the die-hard United fans, who have closely watched Young's progression over the course of the domestic campaign for United, know that he has the potential to have a huge impact for Fergie's men.
Young is notorious for his long-range curling goals to the top corner of the net. He can hit some absolute screamers, whilst at the same time having a relatively cool head in one-on-one situations for a winger.
Once again, I expect Young and Valencia to top the assist charts for United, but with Valencia's almost refusal to shoot often in front of goal, Young will pip him over the course of the season when it comes to his total amount of goals.
Goal prediction for the season (all competitions): 12
3rd Top Goalscorer: Danny Welbeck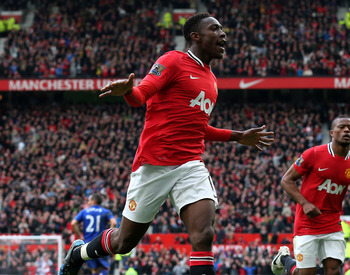 Alex Livesey/Getty Images
Danny Welbeck was possibly one of England's best player during the Euro's. Welbeck gained a lot of fans who saw that the young man—who had had a few issues in front of goal during the 2011-12 season—had been working hard not only on his finishing abilities, but also his slick interchanging with teammates.
With the addition of Shinji Kagawa to the United side, we may well be seeing a 4-3-2-1 that results in talisman Wayne Rooney acting as the sole striker. As such, it may become the case that Danny will actually be making fewer starts and getting far less game time than he did last year.
That does not mean however, that Welbeck will become one of United's unused and forgotten players. In fact, far from it, with Welbeck almost certainly becoming one of Sir Alex's most important players in terms of changing a game.
Assuming that Rooney is fit and in form, Welbeck will only see football for the Red Devils alongside his striker partner—a move that would require Fergie to completely alter his formation.
If a game isn't going how United want, then this option on the bench to bring on a proven goal-scorer and match turner to spice things up a bit is a terrific asset to have in your pocket.
As such, this sort of appearance, coupled with Carling Cup and possibly FA Cup regular starts, means that Welbeck will still more than fill his boots for the former Premier League Champions.
Goal prediction for the season (all competitions): 15
2nd Top Goalscorer: Shinji Kagawa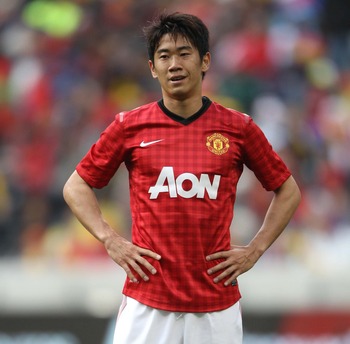 Gallo Images/Getty Images
The buzz around this summer transfer has been unlike any I've seen since the arrival of Wayne Rooney, all the way back in 2004. Let's hope from a United point of view that the Japanese international has as much success for the Reds as his Liverpudlian teammate has done.
Kagawa plays in an attacking midfield/second striker position. It's basically the most attacking version of an attacking midfielder you could possibly imagine. Some had theorised before United's preseason friendlies that Shinji may have been brought in to act as a replacement on the wing for the possibly exiting Nani.
However, with no further news of the Portuguese international leaving Old Trafford, it looks as though Kagawa will play in his preferred position, just off the centre forward.
During their friendly with Shenhua Shanghai FC (Didier Drogba and Nicolas Anelka's current side), Kagagwa scored his first goal for United, collecting the ball on the volley, before letting it bounce and powering it past the Chinese side's goalkeeper into the top corner of the net.
Clearly the former Borussia Dortmund man has an eye for goal, scoring 21 times in 49 Bundesliga appearances for the Schwarzgelben. Fergie has hailed Kagawa as one of his most important and impressive players so far in preseason. Hopefully he will be able to bring that same form into this year's Barclays Premier League.
Goal prediction for the season (all competitions): 18 goals
Top Goalscorer: Wayne Rooney
Michael Regan/Getty Images
Hardly a surprise that United's leading goal-scorer for almost every season since his arrival at Old Trafford tops this list. With it being more than likely that Rooney will be playing a lot of next season as a lone striker, this gives Wayne even more of an opportunity to bag an impressive tally of goals.
It would be a big ask for Wayne to improve upon his 27 league goals from last year, but if anyone can do it, Rooney can. The transfer market has been ablaze recently with rumours that current Arsenal front man Robin van Persie (last year's Premier League Golden Boot winner) may be on his way to Old Trafford.
If this does happen, then this list may be shaken up a bit, with the Dutchman certain to score goals should he become a Red Devil. However, no matter what, whether RVP arrives or ends up with City or Juventus, Rooney will always be Manchester United's first-choice striker.
With the likes of Valencia, Young, Nani, Cleverly and Kagawa all acting as an output for Rooney's attacking prowess, the sky is very much the limit for the 26-year-old.
Goal prediction for the season (all competitions): 35 goals
Keep Reading

Manchester United: Like this team?