Usain Bolt, 10 Track & Field Athletes Who Won't Replicate Their 2008 Performance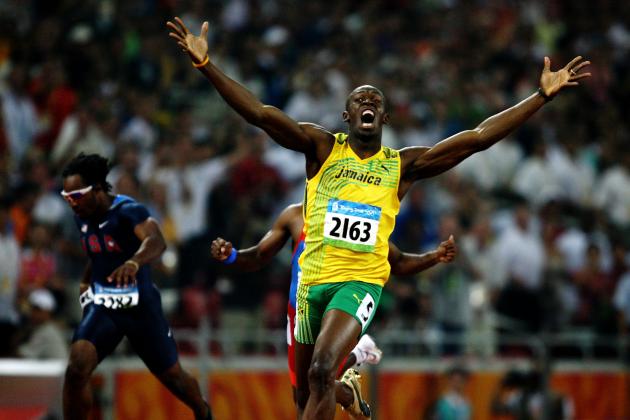 Clive Brunskill/Getty Images

The 2008 Olympic Games will be remembered by many track and field fans as the year Jamaican sprinter Usain Bolt rewrote the record books, setting world records in both the 100-meter dash and 200-meter dash en route to winning Olympic gold medals in both events.

Bolt may still be the world's greatest sprinter, and he will certainly be pursuing golds and records in both events once again. This year, however, with a strong field gunning for him in both events, it is unlikely that he will be able to dominate the way he did at the Beijing Games.

Read through the following slides to find why Bolt and 10 other Olympic gold medalists should not have the same success in London that they had in Beijing four years ago.

Note: This slideshow only includes athletes who are competing in the same event(s) they won in the 2008 Olympic Games.
Begin Slideshow

»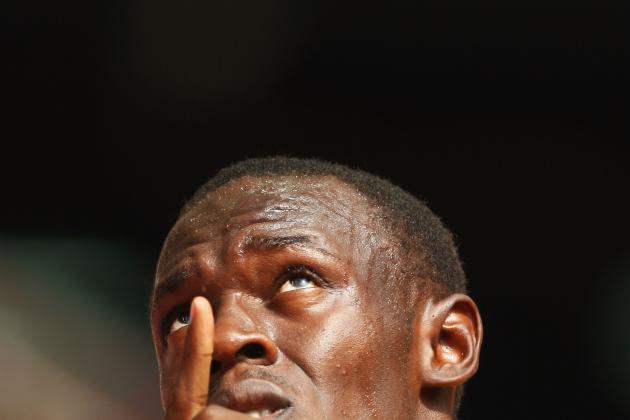 Michael Steele/Getty Images

Bolt is still a major favorite to win gold in both the 100-meter dash and 200-meter dash, but at Beijing he set a high standard for himself that will be very difficult to live up to.
His winning times of 9.69 seconds in the 100 and 19.30 in the 200 both broke the existing world records at the time (Bolt improved upon both of his world records at the 2009 IAAF Outdoor World Championships).

A new Jamaican top dog, however, has emerged in the sprints this year.
At the 2012 Jamaican Olympic Track and Field Trials, Yohan Blake defeated Bolt in both the 100 and 200, while running world-leading times of 9.75 and 19.80 in the process.

Bolt has the second-fastest time in both events this year, and is certainly capable of defeating Blake in either event.
However, I believe Bolt will only win one individual gold this year, with Blake winning the other sprint event—but with how close the two sprinters are, it could really go either way, with each winning one event or either winning both events.
Stu Forster/Getty Images

Stephanie Brown-Trafton has thrown farther this season than any U.S. thrower ever has before, with a throw of 222 feet, 3 inches at the Altius TC Throwdown in Wailuku, Hawaii.
However, while Brown-Trafton has thrown farther this season than she did at the 2008 Olympic Games where she won gold, the rest of the world has stepped up their discus throwing considerably in the past four years.

Even with the American record-setting throw, five other discus throwers have thrown farther than Brown-Trafton this season. Additionally, her winning throw from Beijing would only rank as the 38th-farthest throw in the world this year.

Brown-Trafton did not even have her best throw of the 2008 season in Beijing, but poor performances from the world's top two throwers that season, Belarus' Iryna Yatchenko and Romania's Nicoleta Grasu, enabled her to claim victory.

This season, however, she is really going to need many things to fall her way, including throwing a personal best, if she is going to beat Russia's Darya Pischalnikova, Germany's Nadine Muller and Croatia's Sandra Perkovic.
Pischalnikova, Muller and Perkovic are the world's top three throwers, and none of them competed in Beijing.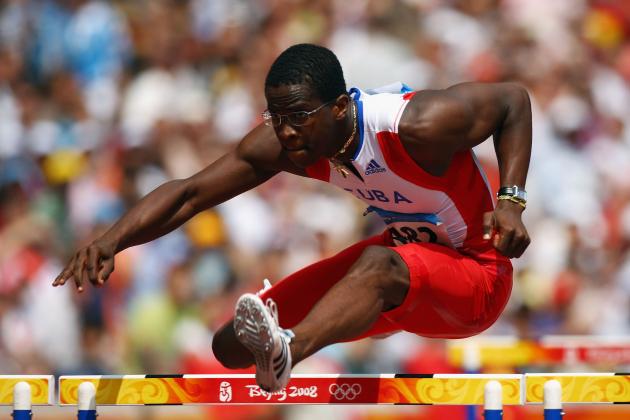 Michael Steele/Getty Images

Cuba's Dayron Robles is the world-record holder in the 110-meter hurdles. He is also the 2008 Olympic gold medalist in the event, and would have won the event at the 2011 World Championships had he not been disqualified for interference.

This year, however, Robles has not been close to the world's top three hurdlers: Aries Merritt and Jason Richardson of the United States, and China's Liu Xiang. Robles' best time this season of 13.18 seconds is only the 29th-fastest time in the world this year, while 10 other hurdlers have run faster this season.

Given Robles' history of success, he should not be counted out as a medal contender at the Games, but it appears very unlikely that he could defeat Merritt, Richardson, Xiang and the world's other elite hurdlers to defend his Olympic gold.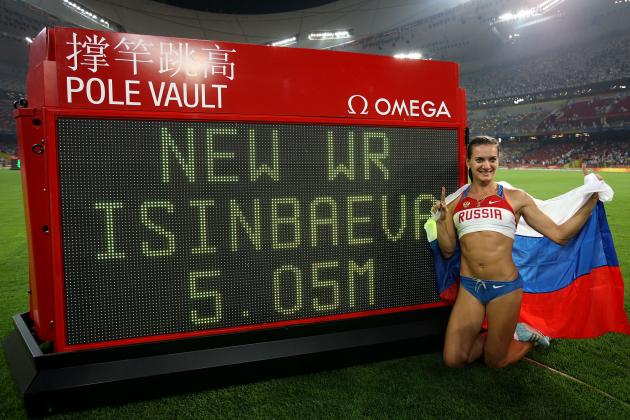 Michael Steele/Getty Images

Russian women's pole-vaulter Yelena Isinbayeva set the world record with a tremendous mark of 16 feet, 6 3/4 inches at the 2008 Olympic Games.
Isinbayeva has continued to have success since, including gold-medal-winning performances at the 2009 World Championships and 2012 World Indoor Championships, but she is not currently in a position to defend Olympic gold and pursue an improvement of her world record.

Isinbayeva's best vault this year is only 15 feet, 7 inches, and at her most recent competition, the Diamond League meet in Monaco, she failed to complete a single vault.

Isinbayeva must improve upon her recent performances significantly to beat Germany's Silke Spiegelburg, United States' Jenn Suhr and Brazil's Fabiana Murer, the three favorites to win Olympic gold.
Even if the world-record holder pulls off a surprise gold-medal victory, she will most likely come nowhere near her record-breaking performance from Beijing.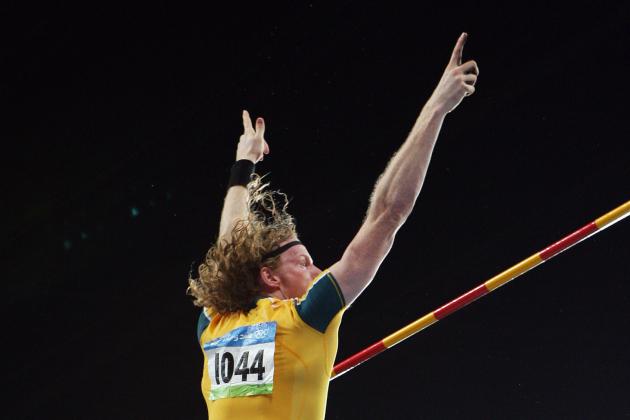 Mark Dadswell/Getty Images

The Olympic pole-vault record was also set on the men's side in Beijing, courtesy of Australia's Steven Hooker with a vault of 19 feet, 6 3/4 inches. Hooker, however, has struggled in recent seasons, having what Reuters' Nick Mulvenney called a "miserable two years."

Hooker's best jump this season is only 18 feet, 7 1/4 inches, a mark which has been bettered by eight other pole -aulters in 2012.
Considering his recent struggles, it is very unlikely that he can beat the likes of France's Renaud Lavillenie, Germany's Bjorn Otto and Germany's Malte Mohr, all who have at least three marks better than Hooker's best this season, to win gold and chase another Olympic record.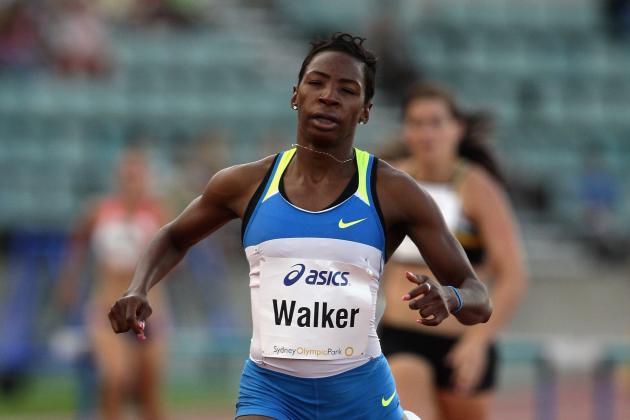 Mark Dadswell/Getty Images

In 2008, Jamaica's Melanie Walker was the world's best in the women's 400-meter hurdles. She went in the Olympics as the world leader, then extended her world lead by a huge margin by breaking the Olympic record in a gold-medal-winning performance with a tremendous time of 52.64 seconds.

Four years later, however, Walker is no longer a favorite to win Olympic gold. Walker's best time this season is only 54.44 seconds, a mark that has been bettered by 10 other women this season, and is only the 20th-fastest time in the world.

If Walker is to pursue another Olympic gold, she must get much closer to her 2008 times, as she currently trails the world-leading time, 53.40 seconds by Russia's Natalya Antyukh, by more than a full second.

Unfortunately for Walker, she is unlikely to prevail in a tough field led by Antyukh and fellow Russian Irina Davydova, along with United States' Lashinda Demus and Bulgaria's Vania Stambalova, all of whom rank within the top five women's 400-meter hurdlers in the world this season.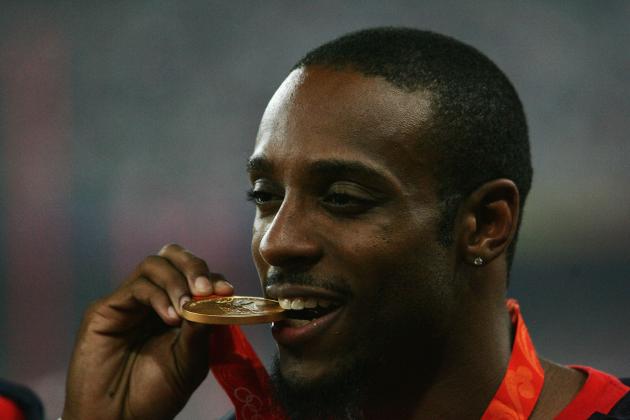 Jeff Gross/Getty Images

Angelo Taylor looked very strong in the first 300 meters of the men's 400-meter hurdles final at the 2012 U.S. Olympic Track and Field Trials, but in the final stretch, Taylor faded back to the pack quickly and was actually beaten to the line by Michael Tinsley.
Taylor qualified for London with a second-place finish in the race, but at 33 years of age, he is unlikely to defend his Olympic gold.

Taylor won the Olympic title in Beijing with a fantastic time of 47.25 seconds, but he is more than a second off of that time this season with a best mark of 48.43.
Meanwhile, Puerto Rico's Javier Culson has established himself as a major favorite to win Olympic gold, with back-to-back world-leading times of 47.78, and five of the world's seven-fastest times this season.

If any man in the 400-meter hurdles is to challenge Culson for gold, it will be Great Britain's David Greene, who has the other two of the world's seven-fastest times, but both of which came in losses to Culson. Taylor's best mark also came in that same meet, but more than half of a second off the pace set by Culson.

Taylor is still a strong medal contender who could be the favorite for bronze, but it would be a massive upset if he came away from London victorious over both Culson and Greene.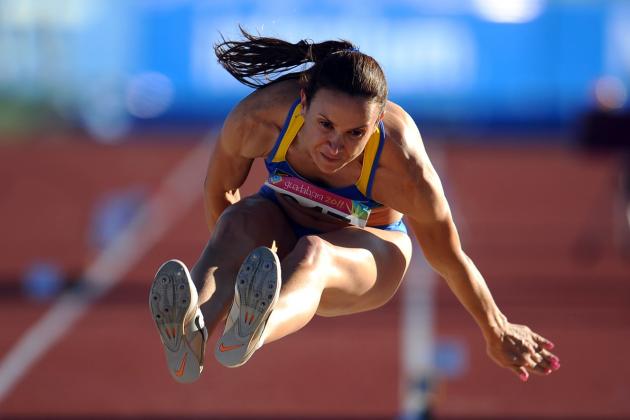 Dennis Grombkowski/Getty Images

2008 Olympic women's long jump gold medalist Maurren Higa Maggi of Brazil won in Beijing with an impressive leap of 23 feet, 1 1/4 inches, but this year a new favorite has emerged in the event, while Maggi has been far off of her 2008 marks this season.

Brittney Reese of the United States, who finished fifth in Beijing, has established herself as the world's best female long-jumper. The two-time reigning indoor and outdoor long jump world champion has the world's two best jumps this season, including a best mark of 23'5 1/2".

Meanwhile, Maggi's best jump this season is only 22 feet, 3 3/4 inches. She will need to improve her performance drastically to challenge Reese in London, which seems very unlikely to happen.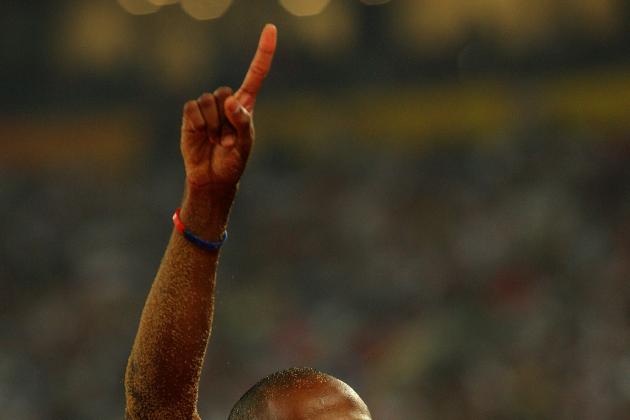 Stu Forster/Getty Images

Panama's Irving Saladino was consistently the world's best long jumper in 2008, and he won the ultimate prize of Olympic gold in the event that year with a jump of 27 feet, 4 1/4 inches.

Saladino, however, has struggled this season, as a result of January surgery on his left knee, according to Reuters (via the Chicago Tribune). Saladino was recently victorious at the Diamond League meet in Monaco, but his leap of 26 feet, 9 1/4 inches has been bettered by 27 other jumpers this season.

Saladino cannot be counted out of contention as a former gold medalist coming off of a victory, but it appears to be a long-shot for him to defend his Olympic gold against a strong field led by Great Britain's Greg Rutherford, the world leader, along with Russia's Sergey Morgunov and Germany's Sebastian Bayer.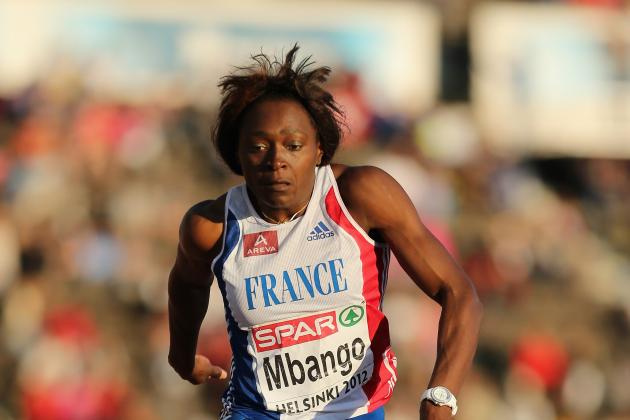 Ian Walton/Getty Images

While competing for Cameroon at the 2008 Olympic Games, Francoise Mbango Etone set an Olympic record in women's triple jump with a gold-medal-winning jump of 50 feet, 2 1/2 inches.
Four years later, and now competing for France, Mbango Etone is unlikely to be among the event's top finishers.

Mbango Etone has not come close this season to where she was four years ago, with a best jump of only 46 feet, 9 3/4 inches. Thirty-five other women have triple-jumped farther than Mbango Etone this year, making it debatable whether she should even still be considered among the world's elite.

Mbango Etone should be expected to step up her game in London, but she is much too far off from the world's top jumpers to contend for another Olympic gold and chase her Olympic record.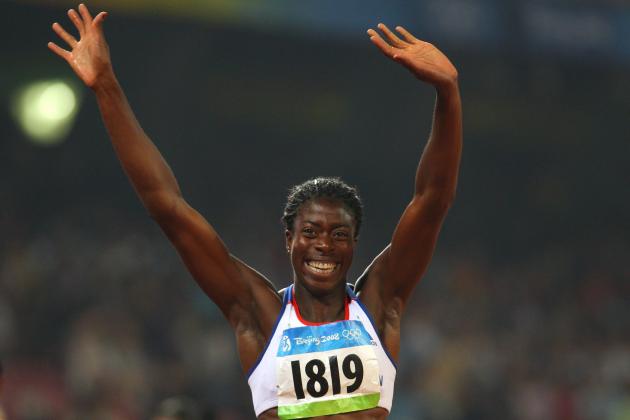 Stu Forster/Getty Images

It would certainly be special if Great Britain's Christine Ohuruogu could defend her Olympic gold in the women's 400-meter dash in her nation's capital of London at the 2012 Games, but for Ohuruogu, who ranks outside of the top 10 women in the world in the event, the title defense is unlikely to occur.

Six women have broken 50 seconds in the 400 this season. Ohuruogu is not one of them, and each of them have accomplished that feat multiple times. It seems Ohuruogu would be hard-pressed to beat all six of those women to win another Olympic gold.

In fact, Ohuruogu has not broken 50 seconds in the 400 since 2008, making her a serious long-shot to win against a field including Russia's Antonina Krivoshapka, who has a world-leading time of 49.16 seconds, and United States' Sanya Richards-Ross, whose times this season include 49.28 and 49.39.

Ohuruogu will have to step up her game in a serious way, and hope the top runners do not run their best times, if she is going to come up with a surprise victory on her home soil. Do not expect that to happen.

Thanks for reading!

Dan Hope is an NFL draft Featured Columnist for Bleacher Report, and also a member of B/R's 2012 Olympics Coverage Team. Follow him on Twitter @Dan_Hope.