NBA Summer League 2012: Josh Selby and 5 Second-Year Players Ready to Step Up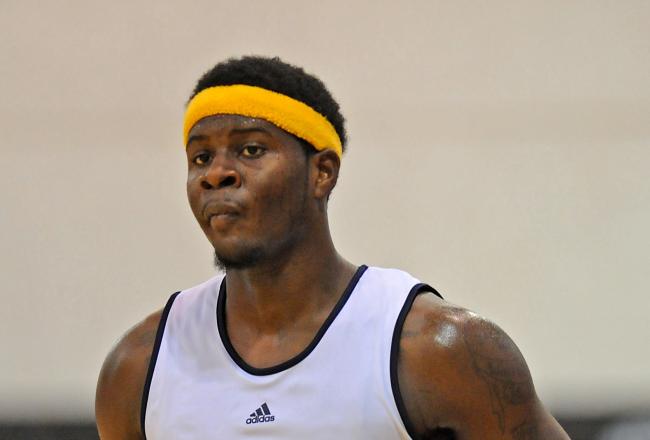 Josh Selby
Jayne Kamin-Oncea-US PRESSWIRE
The NBA Summer League 2012 in Las Vegas gave us our first view of some key rookies in their first performances in an NBA uniform. The event also included a host of second-year players, some of whom showed that they are ready to shine. We'll review who NetScouts Basketball feels were the top six second-year pros at the event.
6. Jordan Hamilton (Denver Nuggets)
Hamilton, the former Texas Longhorn, has excellent size for an NBA 2-guard and showed that he is ready to become an important part of Denver's rotation. He averaged 19.2 points, 6.4 rebounds and 3.6 assists playing in all five of the Nuggets' games.
Hamilton showed a very versatile game. At 6'7", 220 pounds, he's big enough to move to small forward and is an effective rebounder. He can score all over the court, sees the floor well and is a good passer both in transition and in the half court. He'll be a valuable part of Denver's game plan this coming season.
5. Cory Joseph (San Antonio Spurs)
Joseph showed the ability to be a solid point guard in the league. He'll need to wait some playing behind Tony Parker, but we expect to see both Joseph and Parker on the floor together more often in the future.
Joseph, a strong 6'3" also from Texas, started and played most of each of San Antonio's five Summer League games. He scored 17 points, grabbed 4.4 rebounds, dished 5.2 assists and had 1.8 steals per game. Joseph was very active, showed an improved shooting touch and was very effective running the offense.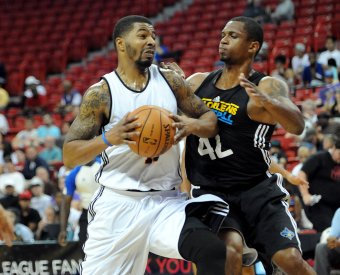 Markieff Morris
Jayne Kamin-Oncea-US PRESSWIRE
He deserves significantly more playing time next season. Whether he gets it playing behind Parker is the question.
4. Markieff Morris (Phoenix Suns)
Morris has the perfect power-forward physical profile at 6'10" and 245 pounds. He's very long and is a solid rebounder and shot-blocker. He tied as the second-best rebounder at the event with 9.8 per game. He also scored 19.8 points and blocked two shots per game.
Markieff was the lower-profile of the Morris twins coming out of Kansas, but it appears he may be the better professional. He showed improved scoring ability from around the basket out to 20 feet.
Look for Morris to make his mark with the Suns this coming season.
3. Tobias Harris (Milwaukee Bucks)
Harris showed us why the Bucks front office was so high on him. A versatile, strong forward at 6'8" and 226 pounds, Harris is another player who can score in a variety of ways. He averaged 20.8 points and seven rebounds, and shot over 53 percent from the field.
Which Second-Year Player Will make the Most Impact Next Season?
Harris was the youngest Buck on their NBA Summer League roster. He just turned 20 years of age while at the event. By comparison, Bucks rookie John Henson is one-and-a-half years older than Harris. Harris has an extremely bright future and we can see him developing into an All-Star down the road.
2. Klay Thompson (Golden State Warriors)
It was fun watching Thompson in the two games he played before the Warriors shut him down. He averaged over 20 points on 10-for-14 three-point shooting. Thompson really improved as a result of getting a lot of playing time in the final part of last season.
At 6'7" Thompson has excellent height for his position, and has developed into a good rebounder and seems to see the floor very well. He had nine assists in 60 minutes of action. With Thompson, rookie Harrison Barnes and a healthy Stephen Curry the Warriors will be exciting to watch from the perimeter next season. They likely will be one of the most improved teams in the NBA.
1. Josh Selby (Memphis Grizzlies)
Selby was incredible throughout the event, scoring 30 points or more twice and shooting 56 percent from the field, including 64 percent from deep (27-of-42). He almost won the last game for the Grizzlies in limited minutes, hitting three late three-pointers with one after a steal off the in-bounds pass. Selby will push for increased playing time this year at both guard positions.
Selby was named NetScouts Basketball co-MVP of the NBA Summer League 2012 (along with Portland's Damian Lillard).
There several other second-year players that did well and should get a greater opportunity to help their teams this season. Jimmy Butler and Malcolm Thomas (Chicago) and Nolan Smith (Portland) are in that group. Kawhi Leonard (San Antonio) looked excellent in his two games (25 ppg) but we didn't include him in this group as he's already starting for the Spurs.
This article is
What is the duplicate article?
Why is this article offensive?
Where is this article plagiarized from?
Why is this article poorly edited?