Philadelphia Flyers' general manager Paul Holmgren is getting a taste of how the other half lives. Usually accustomed to landing the big fish in the NHL pond, Holmgren is having no luck this summer.
First he waved around big checks for Ryan Suter and Zach Parise, only to see them sign with the Minnesota Wild. When that didn't pan out, he threw an offer sheet at restricted free agent Shea Weber that was practically designed to bankrupt the Predators if they matched. But match they did, agreeing and putting themselves on the hook for $27 million over the next 12 months.
So now what? The free-agency pool is getting awful shallow, and it seems like the big-ticket trades are not really there for the Flyers.
The organization does have a fallback plan, and that is to go with most of the team they had iced last season and hope that their incoming class of sophomore players can improve on what they did as freshmen.
The Flyers iced 11 rookie skaters last season, with Matt Read leading the pack with 79 games played—on the low end, Brandon Manning only took to the ice in four games for the hockey club.
Read is a player the Flyers will be leaning on the most. Last season he netted 24 goals and added 23 assists. His 47 points put him fourth in the rookie scoring race, trailing only Gabriel Landeskog, Ryan Nugent-Hopkins and Adam Henrique. A sophomore slump will not be something the Flyers will be very tolerant of from Read.
Sean Couturier is one sophomore the club hopes to have advanced numbers from in 2013. Couturier played in 77 games last season and scored 13 goals and 14 assists while leading the Flyers' rookies with a plus 18 ranking.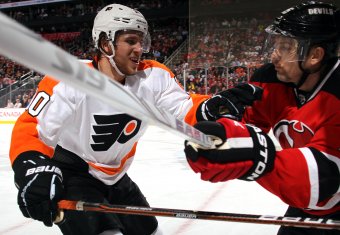 Bruce Bennett/Getty Images
Another second-year player the Flyers will be counting on to pick things up is Brayden Schenn. Several preseason polls had Schenn as a favorite for Rookie of the Year honors—hype that Schenn failed to live up to.
Schenn was the centerpiece in the trade that sent Mike Richards to the Los Angeles Kings. And while Richards raised the Stanley Cup at the end of his season with the Kings, Schenn suffered through injuries that limited him to 54 games with the Flyers. In those games he put up 18 points.
The pressure is clearly on the Flyers' second-year players—for not only did the Flyers miss out on this year's top free agents, they also saw James van Riemsdyk (trade) and Jaromir Jagr (free agency) depart, and will now be looked upon to replace that scoring.
Unless Holmgren can pull a rabbit out of his hat—something that would not surprise me in the least—the 2013 season will be very interesting for the Flyers.