4 Hype-Free Headlines as the 49ers Enter Training Camp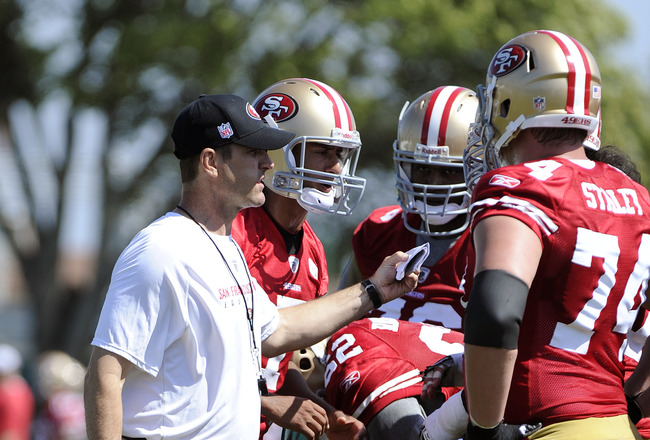 Thearon W. Henderson/Getty Images
49ers training camp starts on Friday. In a related story, the sun is shining; birds are chirping; the world is right again.
Even in the darkest days of the aughts, the start of camp was a time for boundless optimism from the faithful and the chance for local scribes to sell you on the team's positive storylines: Shaun Hill is a winner. Mike Singletary is a master motivator. Candlestick Park has "character."
Now that San Francisco is once again a legit Super Bowl contender, 49ers fans don't need to view the world through red and gold colored glasses.
With that in mind, let's do it Chuck D style and look at "4 Hype-Free Headlines As the 49ers Enter Training Camp."
The Schedule Is Brutal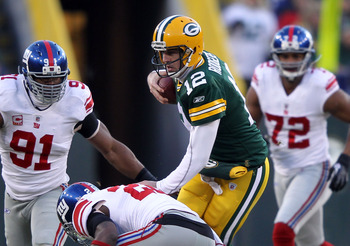 Jamie Squire/Getty Images
The 49ers will be a better team than last year but finish with a worse record. Them's the breaks when you get dealt a first-place schedule and draw the toughest cross-division matchup in football.
Of San Francisco's 10 out-of-division tilts, five will be against teams that made the playoffs last year (Patriots, Giants, Saints, Lions and Packers), and two more will be against teams (Bears and Bills) who made major upgrades in the offseason.
Sure there are the usual matchups with the NFC West cream puffs, but even those don't look as tasty as before. Seattle has a new QB; St. Louis has a new coach, and Arizona still has Larry Fitzgerald.
The good news for the 49ers is in today's NFL, it's more important to be hot at the end, then good all the way through.
So if San Francisco is 4-4 on Halloween, don't panic, Jim Harbaugh will have this team ready come playoff time.
You Can Win a Super Bowl with Alex Smith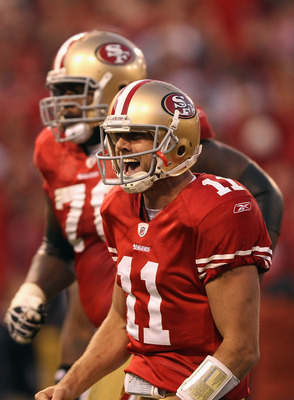 Ezra Shaw/Getty Images
I'm not even going to dust off the tired Trent Dilfer, game manager with a great defense argument. Alex Smith is just straight-up good enough to lead this team to a title.
Putting aside the 13-3 record, the shortened offseason, the lack of receivers and the last minute win in Detroit, Smith cemented himself as a Super Bowl quality QB in that Saints playoff game.
No. 11 had three separate career defining moments in one quarter: the naked bootleg, the 47-yard strike to Davis and The Catch III.
For some reason, Vernon emerged from that game as the superstar, while Smith's remarkable performance was largely washed away following a rain-drenched, overtime loss to the Giants a week later.
This was the same Giants team that beat Aaron Rodgers and Tom Brady by wider margins.
The reality is it's just easier for the national narrative to return Smith to an unproven draft bust, than acknowledge the new player he has become under Harbaugh.
Is he an elite NFL passer? Probably not. Can you win a Super Bowl with him? Absolutely.
Frank Gore Is Old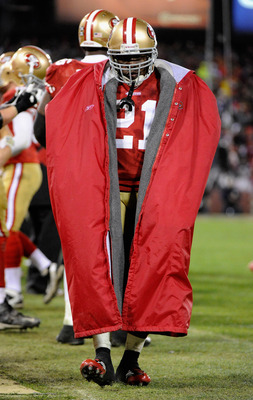 Thearon W. Henderson/Getty Images
If Frank Gore was a quarterback, or a lefty reliever, or an R&B singer, he would be entering the prime of his career.
Unfortunately, Franky G. (which would be an awesome R&B name) is an NFL running back. At 29, with 100 games under his belt, the top of the hill is fading fast in Gore's rear view.
The 49ers now face two scenarios with the franchise's all-time leading rusher.
They can plug him in again as the every-down back, hope they can squeeze out one more vintage Gore season, then put their workhorse out to pasture. (For example, see Tomlinson, LaDainian.)
Or they can transition Gore to a short-yardage specialty back and hope to get three more solid years out of No. 21. (For example, see Bettis, Jerome.)
I vote for scenario number two, both because I love watching Gore play and because I'm confident that the trio of LaMichael James, Kendall Hunter and Brandon Jacobs/Anthony Dixon can pick up the first-and second-down slack.
As a franchise, the 49ers have always made a point of getting rid of great veterans a year too early instead of a year too late.
I'm not an ostrich when it comes to the hard reality of sports business. That's a prudent strategy, but I think it still sucks.
I wish someone could Men in Black me so I forget forever the sight of Ronnie Lott or Jerry Rice in a Raiders Jersey.
Gore has meant as much to the 49ers as any player to put on the gold helmet. The franchise owes him the chance to stick around as long as he can, in a role where he can still be effective.
The Preseason Means Nothing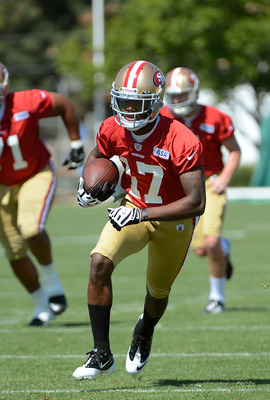 Thearon W. Henderson/Getty Images
Like every NFL addict, I'll tune in to the preseason games to get my fix, buzzing over the third-quarter performance of Josh Johnson, drunk off that deep-ball catch by A.J. Jenkins.
But the 49ers are good again, which means there are only three goals for the preseason:
Don't get hurt.
Don't show teams anything they can use on tape.
Don't get hurt.
Fortunately, Harbaugh gets it and even last year, when the team was unproven, his preseason playbook looked like something you'd find in Tecmo Bowl.
If come this September you meet anyone who is talking about the 49ers preseason record, walk away slowly and ignore everything they've ever said.
49ers fans don't need to live in the diluted world of camp headlines and imaginary hopes any longer. They've got a legit franchise to root for again.
Keep Reading

San Francisco 49ers: Like this team?