New York Yankees: 5 Yankees Who Must Step Up Following a-Rod's Injury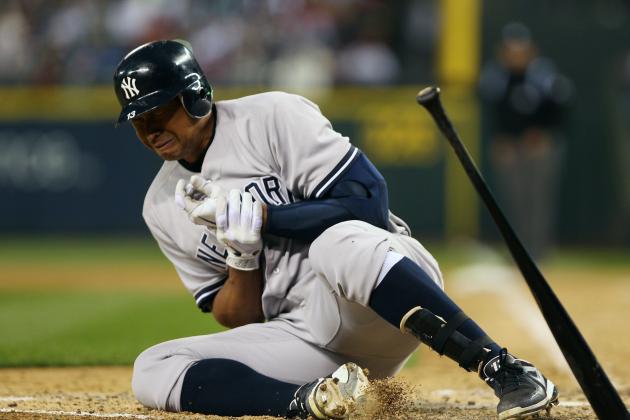 Otto Greule Jr/Getty Images

And down goes another New York Yankee.
With Alex Rodriguez falling victim to a broken hand, he joins a growing list of Yankees who have been injured at some time during the year.
A list that reads almost like an All-Star roster with stars such as Mariano Rivera, Michael Pineda, Joba Chamberlain, Andy Pettitte and Nick Swisher all out injured for the time being or for the rest of the season.
Throw in injuries suffered by Brett Gardner, CC Sabathia, David Robertson and Eric Chavez throughout the season and it's a miracle that the Yankees are leading the division let alone owning the best record in the majors.
The Yankees are in first place simply because players have stepped up when called into duty. Whether it's Rafael Soriano turning back the clock and turning back into a dominant closer filling in for Mo or Phil Hughes playing at his most consistent level in years, guys have stepped up admirably.
With A-Rod going down for up to eight weeks, according to Wallace Matthews of ESPNNewYork.com, everyone will have to chip in a little to make up for his bat. A-Rod definitely isn't the player he was even two years ago, but his presence is still a key for the Yankees.
Begin Slideshow

»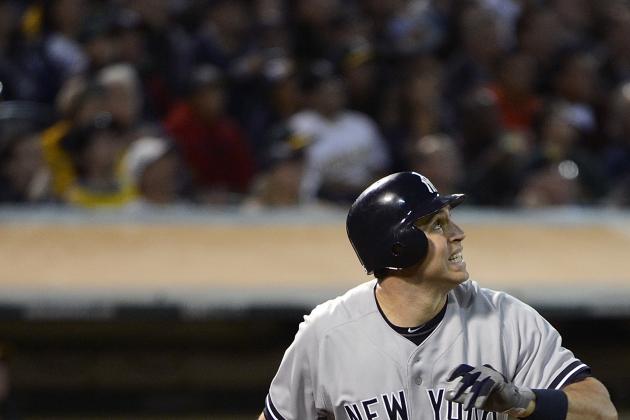 Thearon W. Henderson/Getty Images

It's been no secret that Mark Teixeira has struggled ever since the 2009 playoffs came around. After a great first season for the Yankees, Teixeira has failed to recapture the form that made him one of the most expensive players in the world.
While he has continued to drive in runs this year, Teixeira has struggled to produce clutch hits and his batting average leaves a lot to be desired.
As a dominant middle-of-the-order hitter, Teixeira will need to step up as the third or fourth hitter in the lineup without protection from A-Rod, as well as protect Robinson Cano.
If Teixeira finds his 2009 form it will go a long way in limiting the impact of A-Rod's injury and may get Rodriguez some extra time to heal instead of rushing back.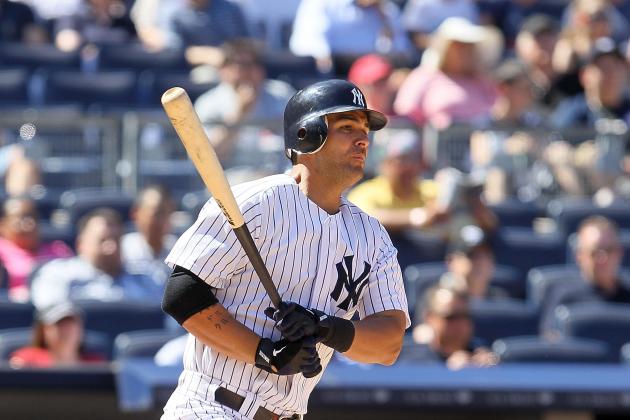 Jim McIsaac/Getty Images

The man who will replace A-Rod at third base will be required to replace much of his offense as well.
A part-time player since his move to the Yankees last season, Chavez figures to get the most playing time he's had since his glory days in Oakland.
As a replacement hitter when A-Rod needs rest or when he is the DH for the day, Chavez has performed well—hitting .269 with eight home runs and 20 RBI in 155 at-bats. After starting the year hot, Chavez has cooled down considerably as his at-bats have increased.
As he is expected to be an everyday player now, Chavez desperately needs to increase his batting average against lefties, otherwise his increase in playing time will be cut quickly.
This is a great opportunity for Chavez to prove he still has something left in the tank as a major league baseball player, for his and the Yankees sake, hopefully he does.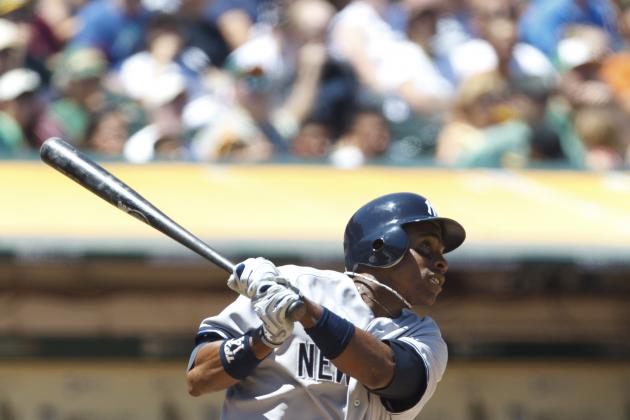 Jason O. Watson/Getty Images

With A-Rod's injury and the acquisition of Ichiro Suzuki it looks like Curtis Granderson will be used as a middle-of-the-order hitter by Joe Girardi.
About damn time in my opinion.
Granderson has been greatly misplaced as a top-of-the-order hitter as he struggles to hit for average, strikes out a lot and most importantly he is a power hitter these days.
Since the start of last season, Granderson is second in home runs with 68 just two behind Jose Bautista who has 70. Throw in a perfect swing for hitting homers in Yankee stadium and Granderson makes logical sense as the No. 5 hitter in A-Rod's absence.
Granderson would also provide great protection for Robinson Cano, as pitchers would not want to walk Cano if Granderson is on deck. Furthermore, batting behind Jeter, Teixeira and Cano would give Granderson a great chance to hit with runners in scoring position. Unlike most of his teammates who struggle with runners on second or third, Granderson thrives, batting 14 points higher than his average in those situations.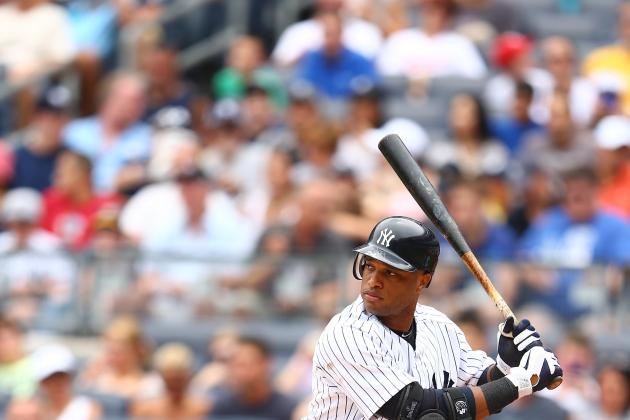 Al Bello/Getty Images

The logical replacement for A-Rod is the guy who has pretty much replaced him already, Robinson Cano.
As Cano has truly developed into one of the best players in the league, the Yankees have given him more responsibility than ever and he has handled it well.
Moved into the cleanup role, Cano is having one of his best seasons ever. Currently sitting on career highs in on-base percentage, slugging percentage and OPS, Robbie has moved himself among the top candidates for AL MVP this season.
On track for a career-high 36 home runs, there remains a glaring hole in Cano's season; his ability to hit with runners in scoring position.
A .335 hitter with the bases empty, Cano's average drops over 100 points when there are runners in scoring position, and as the cleanup hitter that simply will not cut it.
If Cano can improve his hitting with RISP, he can make a great run at MVP honors as well as give the Yankees a much-needed boost with A-Rod out.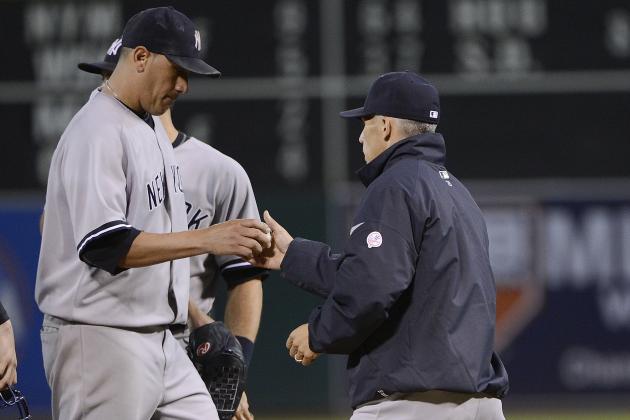 Thearon W. Henderson/Getty Images

Yes, I know he is the manager, but how Joe Girardi manages the team for the rest of the season will largely determine how much success the Yankees have this year.
So far Girardi has had his best year in New York, masterfully managing his older players like A-Rod and Jeter all while keeping an injury-ravaged roster together and playing hard.
However, with the injuries piling up rapidly, Girardi's ability to adjust on the fly will be tested like never before.
How he reconfigures the batting lineup without A-Rod and with new acquisition Ichiro Suzuki will go a long way in determining how the Yankees finish the year. Furthermore, with older players like Raul Ibanez, Andruw Jones and Eric Chavez expected to have increased roles, Girardi's fondness for rotating players, resting key guys and adjusting for favorable matchups will have to be limited.
Getting the No. 1 seed heading into the playoffs should be the main goal for the Yankees right now, and with A-Rod expected to be back by then, the Yankees should have a great chance at winning No. 28.