San Diego Chargers' Fantasy Sleepers
Ron Chenoy-US PRESSWIRE
It's a season of change in San Diego on the offensive side of the ball. Darren Sproles was the first to leave town and found a nice home in New Orleans last year, and Mike Tolbert and VIncent Jackson found new teams in free agency this year.
The Chargers had to bring in several key free agents at the most high-profile fantasy positions to make up for the loss of these key players. Coupled with Philip Rivers, the Chargers hope the offense will be as good or better than last season. If the Chargers replicate 2011, there are several players that could have fantasy upside beyond their draft position, aka, fantasy sleepers.
Eddie Royal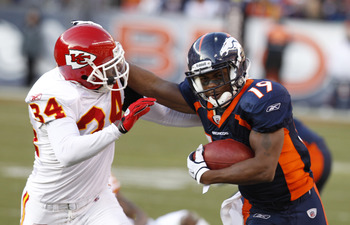 Andrew Carpenean-US PRESSWIRE
The biggest surprise of the offseason program in San Diego has been the buzz surrounding Eddie Royal. Royal was expected to fight for a job and contribute, and no one was seriously considering him to be a major offensive threat, but his offseason performance has the local media abuzz. Fantasy players should take note whenever the local media gushes about a player like Royal that is still young and has flashed big potential in the past.
Royal had a great rookie season, but hasn't been able to duplicate that success without Jay Cutler. It's hard to fault Royal when the quarterbacks in Denver have been Tim Tebow and Kyle Orton, both sub-par quarterbacks that are completely different than Cutler. In many ways Rivers is a better version of Cutler and that could mean big dividends for Royal, the Chargers and fantasy owners.
According to FantasyPros.com, Royal's average draft position is 262nd, but his consensus ranking, based on dozens of fantasy experts, is 204th. In either case, a receiver ranked this low isn't going to make the typical fantasy roster; his value is only going to trend upwards with such a large disparity between his draft position and the expert rankings.
Royal is a 10th-round target by the most optimistic of experts, with the second-tier of experts having him as a 13th-round value. Target him starting in the 12th round, because there's a chance he will be worth far more.
Curtis Brinkley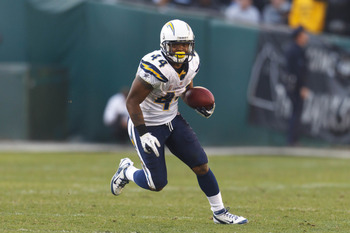 Jason O. Watson-US PRESSWIRE
If you want a super sleeper, Brinkley is your man. It took similarly-sized Darren Sproles three years before Norv Turner started using him, so don't discount Brinkley just because he hasn't done much in his first two years.
Brinkley saw his most extensive action in Week 17 against Oakland in a game that meant nothing to the Chargers, and it could be a sign that the Chargers plan to use him more in 2012. Jackie Battle and Ronnie Brown shouldn't concern Brinkley, as they were brought in to take Tolbert's role.
Brinkley becomes an option in deep points-per-reception leagues, particularly if Ryan Mathews were to miss any time due to injury. An injured Mathews would likely result in Brinkley sharing time with Battle or Brown.
Jackie Battle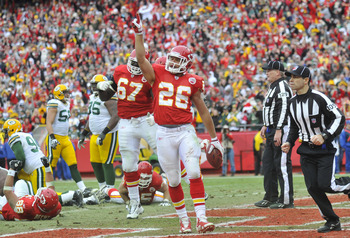 Denny Medley-US PRESSWIRE
The Chargers are apparently going to let Ronnie Brown and Jackie Battle compete for a roster spot. Battle got his first extensive action last season as a running back, but he's also capable of playing fullback.
Battle is two years younger than Brown, with a lot less miles. He's the type of running back the Chargers need behind Ryan Mathews. If Mathews were to go down with an injury, the Chargers could use a combination of Battle and Brinkley to make up for the loss, much like the team did with Mike Tolbert and Darren Sproles when Mathews missed time in 2010.
If Mathews struggles, he could potentially lose carries near the end zone with Battle vulturing his touchdowns like Tolbert did in 2010. We'll have to see how Mathews fairs as the every-down running back for the first time.
It's also possible Brown wins this battle and Battle goes back to being a nobody. Still, this is a situation that is worth monitoring, especially if you are buying Mathews as a fantasy super star.
Robert Meachem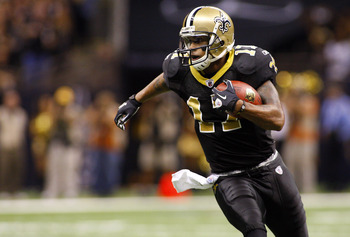 John David Mercer-US PRESSWIRE
Meachem has been productive in New Orleans, but he's never developed into a No. 1 receiver. That could be because the Saints ran a lot of short routes and he just didn't get enough opportunities in a passing game bent on spreading the ball to different receivers.
In San Diego, Meachem was brought in the be the No. 1 option for another very good quarterback, but this time he should get more opportunities down the field and there are fewer players thirsty for receptions.
Meachem is ranked 29 spots lower on FantasyPros.com than the man he replaces, Vincent Jackson. That seems odd because Meachem has the potential to replace all of Jackson's production and has a far superior quarterback. They are both No. 1 options, but Meachem should have the edge and not Jackson.
For now, Meachem is still being undervalued by fantasy players and it's not a bad idea to grab him as your second receiver and by the sixth round.
Philip Rivers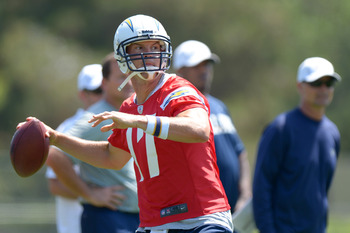 Jake Roth-US PRESSWIRE
Not a sleeper in a traditional sense, but Rivers is being severely undervalued because of a down year in 2011. Rivers is being drafted behind Michael Vick, Tony Romo and Eli Manning, and it's clear his fantasy value took a hit by throwing 20 interceptions last year. He's still a top flight quarterback that can win you a fantasy football championship even if he hasn't been able to bring a championship to San Diego.
Given his lowered value, I'd snap up a top running back or two and a receiver before trying to grab Rivers. If your league doesn't penalize interceptions, Rivers should be an even greater value.
Despite losing a few players on offense, the Chargers are arguably stronger at the receiver position and Rivers should have no trouble rebounding. The concerns about Rivers are understandable, but it's going to make him an incredible value should those concerns be overblown.
Keep Reading